Slash your grocery budget and eat better with these foods from scratch! Learn which homemade food to make yourself, with recipe ideas and price breakdowns.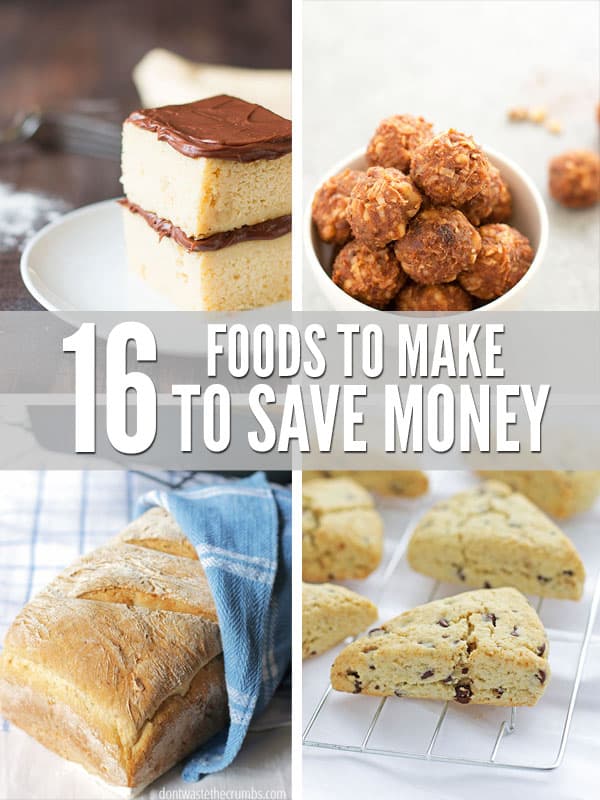 One thing I learned early on after switching to real food, is that it requires a lot more time in the kitchen.
You CAN save a lot of money by making most meals and snacks (like homemade Larabar bites) from scratch, but the downside is it can take A LOT of time.
More time spent planning, preparing, cooking, and cleaning up… I'm guessing you don't have all day to spend in the kitchen, right?
Whether you're busy with little ones, school-age kids, multiple jobs, or other important aspects of life, it is a challenge to manage some extra time to cook from scratch. Sometimes it just isn't worth it – your sanity IS important!
But if you are determined to make homemade food and can squeeze in a few chunks of kitchen prep, it will make a difference in your grocery budget.
Still, some food just tastes better from scratch. Some ingredients we want to avoid whenever possible. And if you are determined to make home-cooked food and can squeeze in a few chunks of kitchen prep, it will definitely make a difference in your grocery budget.
Homemade Food vs. Store-bought Food
When you are deciding whether it's better to make homemade food or buy it from the store, consider these three factors.
What you eat or don't eat often. Your time is best spent making food from scratch that your family will actually eat. You may discover that your family thinks the homemade version tastes better from scratch too!
The nutritional value. When you make food at home, like salad dressings, you are able to avoid weird ingredients and processed sugars. Prioritizing foods your family loves that have a high nutritional value is time worth spending in the kitchen.
The amount of savings. The amount of savings for you will vary depending on where you source your ingredients, but overall your budget will look much better when you plan to make more foods from scratch.
How to Save Money with Homemade Food
Saving money cooking from scratch is simple. Once you've determined the three factors above, make a list of the foods you'd like to consistently make from scratch. Begin trying recipes and saving money!
There are 16 foods that I regularly make from scratch. I found that keeping these foods in my routine helps to keep my grocery budget right around $330 each month for my family of four.
Note: I teach a whole lesson on cooking from scratch in Grocery Budget Bootcamp. This 8-week course goes in-depth on balancing food priorities, the value of your time, and how to make the most of your budget!
The Best Foods to Make From Scratch on a Budget
It's possible to make nearly any food from scratch, but the best place to start is to pick something your family eats a lot or something that will save you the most money. Once you're used to making that food from scratch, you can pick another one to try! These are my best delicious homemade food picks.
Easy Homemade Bread
With as little as four ingredients, you can make your own bread and avoid the unhealthy fats and processed sugars found in store-bought bread. You can also save A TON of money if your family eats bread on a regular basis.
And if using yeast is a little overwhelming, this beginner's guide to yeast can help.
Our favorite, simple bread recipes include:
Facts:
Time: varies
Cost: as little as 79¢ per loaf
Extra Tips: Most breads can be started while you are cooking something else in the kitchen. Get the dough going and allow it to rise while the kitchen is already warmed up from cooking. Making bread on the same day every week makes meal planning much simpler, and if you can make extra bread one week, freeze it for the next!
Yogurt
Yogurt is full of probiotics and healthy fats and is a real food staple in my kitchen. I have it every morning in my smoothie, but you can turn it into Greek yogurt, use it as a base for dressings, and substitute it for sour cream in recipes. It also freezes really well (this is the method I use to freeze yogurt). Here's how to make homemade yogurt.
Facts:
Time: 5 minutes hands-on + 24 hours incubating + 5 minutes storing
Cost: $9.72 for one gallon
Extra Tip: Making yogurt doesn't require any fancy equipment. I use a heating pad and incubate yogurt once a month on my countertop.
Tortillas
Homemade tortillas are a family favorite. Besides just tacos, we love to use tortillas for wraps and breakfast burritos to mix up the meals.
You don't need any fancy equipment to make tortillas either. We get it done with a rolling pin and a griddle, but we used our hands and a skillet when we were in Costa Rica. (I do have my eye on this tortilla press which would make my tortilla making even easier!)
Facts:
Time: 15-20 minutes depending on batch size
Cost: $1.25 for about 20 tortillas
Extra Tips: Like many other baked goods, tortillas freeze well. I love to make up a big batch at the beginning of the month and have them ready to go. I can pull out just what we need when we need it.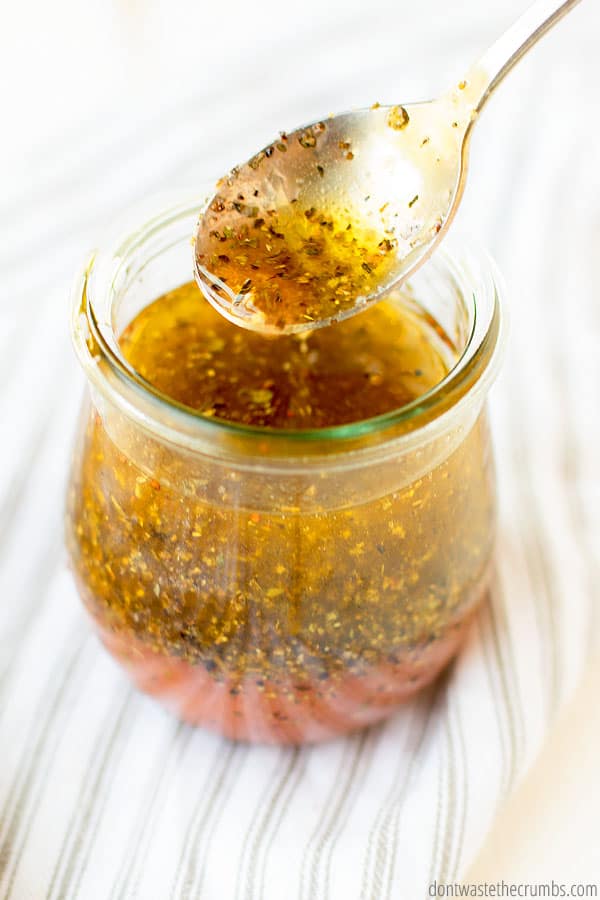 Salad Dressing
Homemade salad dressings are simple to make and a practical way to cut out processed ingredients.
Here are some of my favorite homemade dressings:
Facts:
Time: 5 minutes or less
Cost: $3 or less per batch
Extra Tip: Make a few dressings at the beginning of the month so they are ready to go. Salads are much more appealing with a delicious topping!
Rotisserie Chicken
It seems really convenient to grab an already-cooked rotisserie chicken off the rack at the checkout line. But honestly, you aren't getting the most bang for your buck.
Most rotisserie chickens are very small (3-4 lbs) and often coated in less-than-desirable seasonings. A homemade whole chicken in the slow cooker is much more cost-effective.
Here are over 30 meals to make with rotisserie chicken.
Facts:
Time: 5 minutes hands on + 8 hours cooking + 10 minutes shredding (optional)
Cost: $2.00 per pound for organic chicken
Extra Tips: You can get bigger birds and stretch the meat to make more meals. Also, save the bones from your whole chicken and make it into chicken stock.
Chicken Stock
If you eat chicken or soup, you need to be making chicken stock. It's essentially free food and doesn't require much of your time. Chicken stock is a kitchen staple for real food families.
Facts:
Time: 5 minutes hands-on + 24 hours cooking + 10 minutes storing
Cost: 1 cent per quart
Extra Tips: Use up kitchen scraps to add extra nutrients to your homemade stock.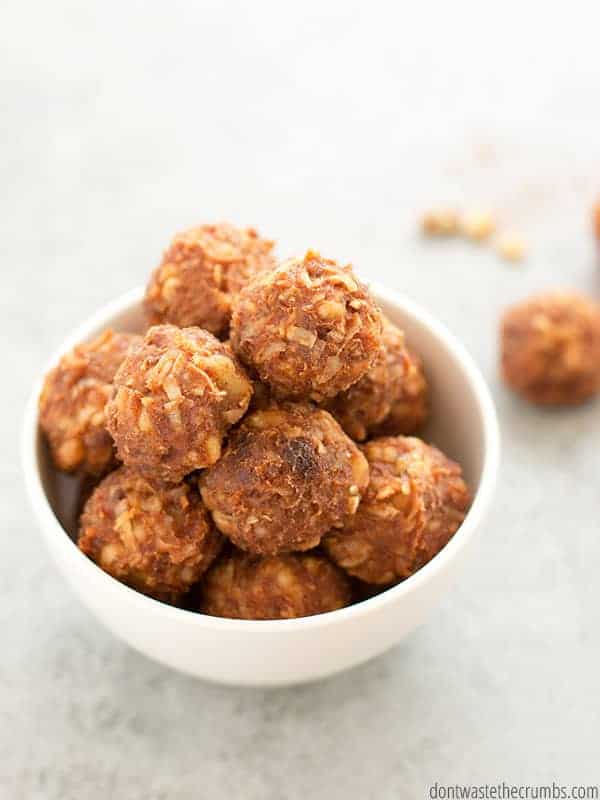 Snacks
When the kids are hungry on an extended outing, you need snacks if you want to avoid the drive-thru. Many snacks are extremely easy to make from scratch. And I know exactly what's in them which makes me confident I'm feeding my kids well.
Here are my favorite snacks to make at home:
Facts:
Time: 10 minutes hands-on + 30 minutes freezing
Cost: Granola bars $0.32 each
Extra Tip: Bars, bites, and trail mixes are a great way to use up random nuts and dried fruits in the pantry. Throw in an assortment of flavors to give your snacks a one-of-a-kind taste!
Salsa
Homemade salsa is in high demand at my home. The savings on a big batch of salsa makes it well worth the time spent making it.
Facts:
Time: 5 minutes
Cost: $2.50 for about 24oz
Extra Tip: You can adjust the spiciness of your salsa by adding more or fewer jalapenos.
Beans
The savings add up fast when you incorporate a lot of bean-based foods into your real food menu. Beans are an inexpensive protein, so even if your family isn't a huge fan of beans straight up, you can add them to soups, treats, or even smoothies!
Our favorite bean recipes include:
Facts:
Time: 16 hours soaking + 1 ½ hours cooking
Cost: $1 per pound
Extra Tip: Making a big batch of beans for the month and freezing them in smaller portions saves you a lot of time spent in the kitchen. De-gas and cook traditionally on the stovetop or make them in the Instant Pot or slow cooker to reduce kitchen heat in the summer.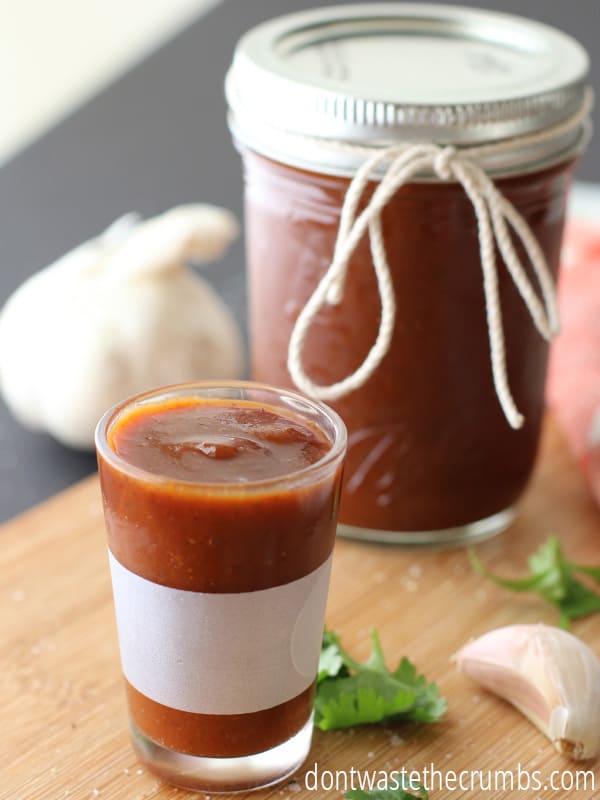 BBQ Sauce
Like most store-bought condiments, BBQ sauce can have a lot of weird ingredients and processed sugars. Making your own BBQ gives you knowledge of the ingredients and the flexibility of flavor to suit your taste.
Facts:
Time: 10 minutes
Cost: $2.20 for about 24oz
Extra Tip: Making a delicious BBQ sauce requires tomato sauce or ketchup. Ketchup can also contain many of the weird ingredients you find in condiments, so be sure to check the labels.
Homemade Baking Mixes
Making baked goods from scratch is worth it for me on all levels. My mini chocolate chip scones are to die for and aren't complicated to make. I'd much rather take a few extra minutes to put together my own mix instead of opening a pre-made mix from the store. No nasty ingredients and I can tailor to our favorite flavors!
Here are my favorite homemade mixes:
Facts:
Mayo
It's hard to find mayonnaise at the store that tastes great and isn't loaded with bad oils and weird ingredients. This fail-proof method is easy to adapt to what you have in the pantry and to accommodate food allergies.
Facts:
Time: 2 minutes
Cost: $1.21 for about 16oz
Extra Tip: This recipe is easy to double if you need a lot of mayo for a party or recipe.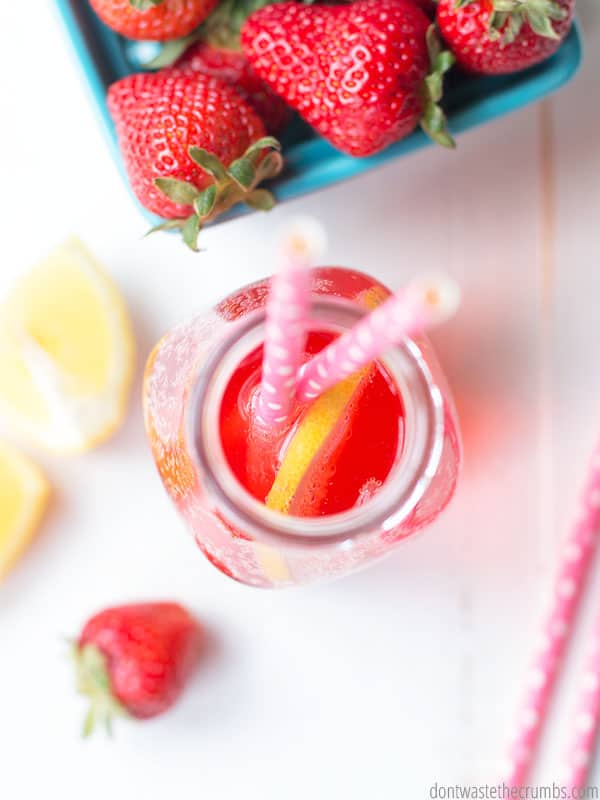 Kombucha
Kombucha is a fermented tea. Following this kombucha recipe saves you TONS of money compared to buying a jar at the store. And aside from the fermentation, making kombucha doesn't require a lot of time.
An added benefit of making your own kombucha is mixing up your favorite flavors!
Facts:
Time: 5 minutes hands-on + 2 hours steep + 4-7 days ferment
Cost: Pennies per 16 oz
Extra Tips: To save on the initial expenses of getting started, you can find some of your supplies at thrift stores or other shops. Or you can get a starter kit.
Popsicles & Ice Cream
Frozen treats are a necessity over the summer.
Here are some of my family's favorites:
Facts:
Time: 10 minutes hands-on + 6 hours to freeze
Cost: 10 cents each
Extra Tip: Save fruit juice from canned fruits like pineapples or puree overripe fruits to add to your next batch of popsicles. It gives you a wider variety of flavors without having to buy juice!
Apple Cider Vinegar
Instead of throwing away the peels and cores of apples, you can make apple cider vinegar right in your pantry. We use it in dressings and chicken stock, but it's useful beyond the kitchen for things around the house like natural conditioner and removing moles!
Facts:
Time: 5 minutes hands-on + 3 weeks fermentation
Cost: 2 cents per quart
Extra Tip: Stock up when apples are in season and store apple cores and peels in the freezer until you are ready to make a batch of vinegar. Start a new batch when you are about halfway through the last quart.
Comfort Food to Make From Scratch
You may have noticed most of the foods listed above are ingredients or meal components. I did that on purpose because making those types of food from scratch is where you'll really make a difference in your grocery budget!
There are a few homecooked meal favorites that we always make from scratch and not from a box. A homemade dish wins every time in my book!
Homemade Food Tastes Better from Scratch
Often, homemade food tastes way better than store-bought and is much better for you.
The foods you prioritize to make from scratch may be different from mine. Come up with your own list of "best foods to make from scratch" and consider what your family eats, the nutritional benefits, and the savings you make when you decide to spend extra time in the kitchen.
Remember, your time is valuable and so is your sanity!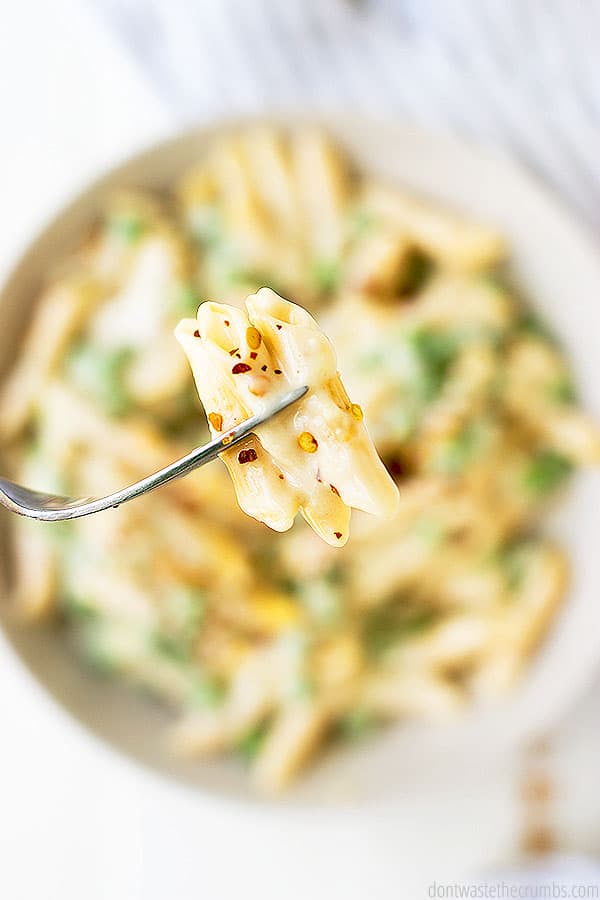 Home Made Food FAQs
What does "food from scratch" mean?
"Food from scratch" simply means you made it yourself from ingredients rather than having something already prepared for you. I like making certain homemade food to avoid certain yucky ingredients.
What is worth making from scratch?
As you can see from the list in this post, you can make quite a few foods to make from scratch! What's worth making for you will depend on what your family eats most often, the specific ingredients you're trying to include or avoid, and how much you can save by making a specific item.
More Staple Food Recipes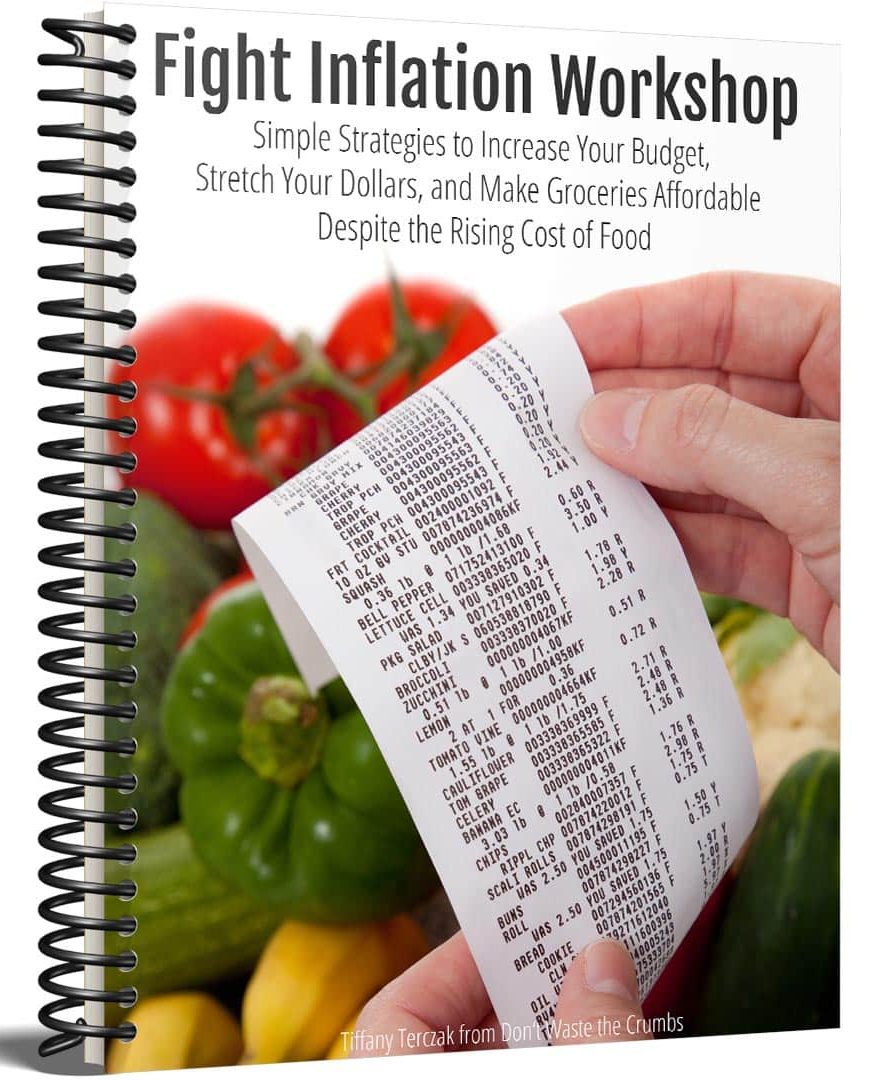 Fight Inflation Workshop
Sign up for my FREE
Fight Inflation Workshop
and learn simple strategies to save money, even with rising food costs!