Tutorial for making Instant Pot chicken stock using a whole chicken or chicken bones. It's the easiest way to make bone broth in your pressure cooker! Use chicken stock to make Instant Pot Chicken Noodle Soup.
The Instant Pot has become a fabulous tool in my kitchen to help get healthy REAL FOOD on the table – fast. After the Instant Pot whole chicken, Instant Pot brown rice and Instant Pot beans, I think that I've discovered one of my favorite recipes: Instant Pot chicken stock!
I used to make slow cooker chicken stock, but it takes a full 24 hours to make one batch. If you only have a slow cooker, then this isn't a bad way to make chicken stock at all. I've been doing that for YEARS and I've gotten along just fine.
But I LOVE the fact that I can make chicken stock in under an hour (including coming to pressure, cooking and pressure release). This means that I can make a triple batch of Instant Pot chicken stock BEFORE LUNCH!!
How to Make Instant Pot Chicken Stock
Not only is chicken stock in the Instant Pot (AKA: electric pressure cooker) very quick and easy, It's also:
Versatile. Use any vegetable scraps that you have on hand, or use none. You're still going to get an amazing stock.
Delicious. Chicken stock adds the most amazing depth of flavor to recipes. Use it in place of water as a base for soups, rice, casseroles.
Healthy. Bone broth is full of nutrients, collagen, amino acids and minerals. All wonderful things for our bodies.
Ingredients for Instant Pot Chicken Stock
Chicken bones (from one whole chicken, or saved bones)
Vegetables and aromatics, if desired (onion, celery, carrots, etc., can be whole or scraps/peels)
Water
Psst! Want to kick this up a notch? Try finishing this recipe with a pinch of finishing salt! I love Ava Jane's Kitchen because it doesn't have microplastics (gross, right?) and it's SO GOOD! Plus, you can get a bag for just 1¢!! Just add a pinch – or a teaspoon -to this flavorful broth! (Get your penny bag of salt on this page.)
Notes on Homemade Chicken Stock Ingredients
The only ingredient you MUST have to make Instant Pot chicken stock are chicken bones.
A lot of people add carrots, celery, onions and garlic… even herbs to enhance the flavor. I'll jump on board with that and say that chicken stock made with these aromatics is truly delicious, but they're not required and I certainly wouldn't suggest you waste carrot and celery on chicken stock if it's the end of the month and you're down to just a few grocery dollars left.
However, you can save money by saving the ends and peels of these specifically for stock. I keep a freezer bag in my freezer just for these things. It lets me add amazing flavor to my chicken stock without wasting a single penny.
How to Make Chicken Stock in the Instant Pot
Place all the ingredients in the Instant Pot and fill with water to the max line.
Seal the pressure valve, and press the "soup/broth" button. Or use the manual button.
Adjust the timer to cook for 30 minutes.
When the timer has gone off, naturally release the pressure (i.e. do nothing). This usually takes about 15 minutes. Pour the contents of the Instant Pot through a colander into a large pot.
Freeze or can the chicken stock if you are not using right away. If you still have bones, repeat this process as desired.
How to Use a Whole Chicken for Instant Pot Chicken Stock?
Sometimes I don't have any chicken bones or scraps in the freezer, because I may have literally made stock just a few days before and used it all up!
In this case, just adjust your meal plan. For example, I might put chicken alfredo and southwestern chicken salad on the menu and start the week off by making Instant Pot whole chicken.
I put two oranges cut in half at the bottom, all the cloves from a head of garlic, and fresh herbs that I got marked down at Kroger (a poultry blend of sage, thyme, rosemary and bay leaf) on top of the chicken. You guys – the smell from this chicken was out of this world!! I don't think I've ever been so excited to have salad for dinner, LOL!
As soon as the chicken was cool, I picked all the meat off and put the bones right back into the pot.
That's exactly what you see in these photos. Other than taking the oranges out, everything is the same.
I'm re-using the garlic.
Re-using the herbs.
Re-using the chicken bones and skin (plus the innards that I set aside before cooking the whole chicken).
I'm even re-using the juices that came out of the chicken when I first cooked it!
What I added to the leftover chicken bones is three carrots, one onion and the light green inner portion of a head of celery (about three ribs worth, plus the leaves).
Again, you don't HAVE to add these aromatics. They're entirely optional and ONLY if you have room in your budget or leftovers ends in the freezer.
How to Get More Chicken Bones for Instant Pot Chicken Stock
I don't make Instant Pot whole chicken every week, but we do eat chicken and we keep ALL of the chicken bones. It doesn't matter how the chicken was cooked, we keep the bones. We even keep the bones leftover from dinner plates!
Every single chicken bone goes into a gallon plastic freezer bag labeled "chicken stock" that I keep in the freezer. When the bag is full, that's my sign to make chicken stock.
Note: Some people even save store-bought rotisserie chicken bones, and also the chicken carcass from an oven roasted chicken.
How Many Times Can You Reuse the Bones?
Remember that you can re-use the bones to make even more chicken stock!
You can! In fact, when I make Instant Pot chicken stock, I make a triple batch. I buy organic chicken from the grocery store and have learned that I can get about three rounds of stock before my bones turn to mush.
Every bird is different though, so you'll have to play with it to see how many batches of stock you can get.
For example, I made stock for my sister-in-law and was only able to get two solid batches of stock. She buys her chicken from a local (to her) Amish farm and after two rounds, there were literally no bones left!
My Instant Pot Chicken Stock Routine
Notes: I use a fine mesh strainer to catch any solid remnants as I ladle stock into a large measuring glass. Then I pour the stock into the yogurt containers.
You don't HAVE to use a measuring glass, but I like to know how much stock I froze in each container so I know I'm using the right amount for recipes.
Recipes Using Instant Pot Chicken Stock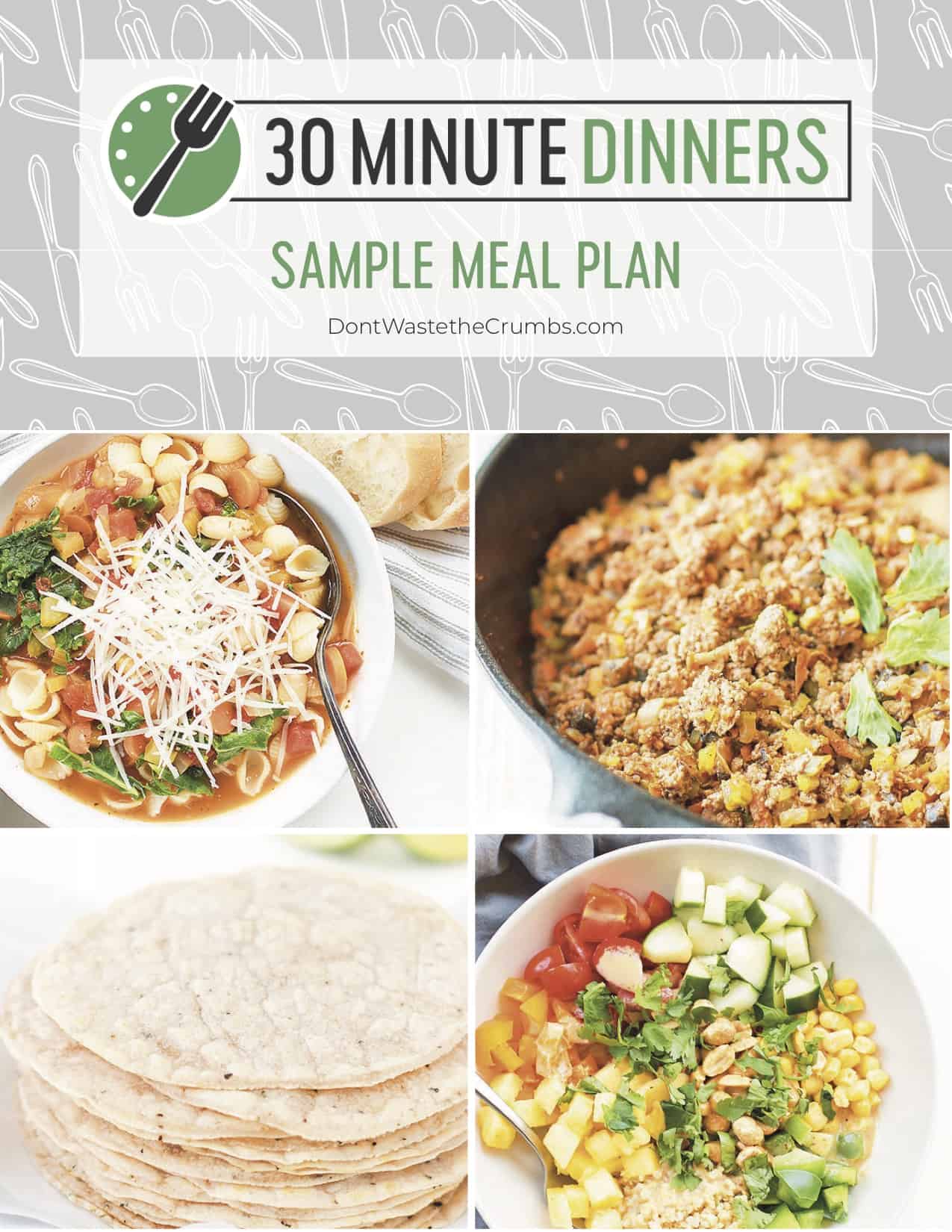 30 Minute Dinners Sample Meal Plan
Sign up to get instant access to my
30 Minute Dinners Sample Meal Plan
, complete with recipes and step-by-step instructions!
Watch How to Make Homemade Chicken Broth
Instant Pot Chicken Stock
What's your chicken stock routine? Do you add aromatics to your stock? I'd love to hear how you make chicken stock work in your house – leave your experience in the comments!