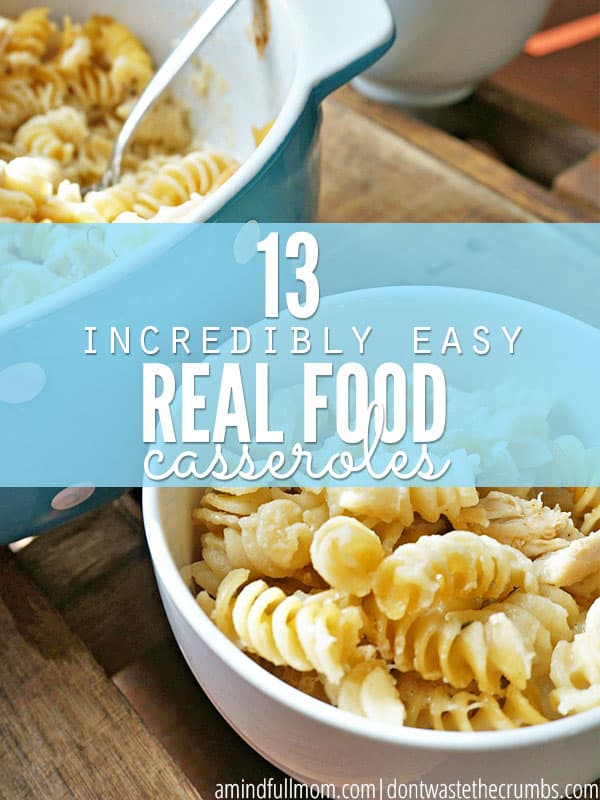 Everything You Need to Know About 13 Easy Real Food Casseroles
The winter months are all about comfort food to me.
I want chilis, soups, or casseroles. But comfort food has gotten a bad rap. Especially casseroles.
Most people think of casseroles as being full of fat, processed foods, and preservatives. NOT so!! I promise you that with a few simple swaps, you can serve your family up a casserole that will surely be deemed "comfort food" without all those nasty additives.
Eating clean does not mean that you have to give up casseroles. Today I am sharing with you my top 10 casseroles that are easy, tasty, and made with REAL food!
Chicken Casseroles
I can't help but think of canned cream of chicken and rice casseroles being served at the church potlucks that I went to growing up–not really what I want to put into my body. These chicken dishes are still creamy, yet so much tastier (and better for you) than anything served at the potlucks I went to as a child!
Psst! Here's my recipe for homemade cream-of-anything soup… including cream of chicken!
Brown rice, cooked chicken, and lots of cheese all swimming in a decadent, yet healthy cream sauce. This is a dish that everyone loves. And I mean loves to the point of licking the plate clean.
Amish Chicken or Parmesan Chicken Casserole
This is an old-fashioned dish that my mom used to make that all four of her children would beg for! And it is so simple. I have elevated it a bit by the addition of white wine and fresh thyme.
This is my Papa's dish–so near and dear to my heart! He made everything from scratch and this is his recipe to a T–because you just don't mess with perfection!
Spice things up with these enchiladas. Tortillas that have been filled with moist, shredded chicken are submerged in rich Enchilada sauce and then smothered in cheese for an easy, family meal worthy of any Mexican Restaurant.
Note: Creamy Chicken and Rice, Amish Chicken, Chicken Enchiladas, and Chicken Pot Pie all call for pre-cooked chicken and chicken stock. I use my homemade broth and either the meat from my Oven Roasted Rotisserie Chicken or Roasted Chicken Breasts.
This is one of my all time favorites. It is a one pot dinner that has potatoes, spicy chicken, cheese, and bacon. You finish it with homemade Ranch dressing and just WOW!!
Chicken and Spinach Enchiladas
This is how I got my kids to like spinach, and now they don't even realize when I substitute kale or collards instead! Salsa verde is the key to this recipe, but it tends to be spicy. You can cut back a little in the recipe for those with sensitive palates, and serve extra at the table.
Meatless Casseroles
These are the perfect go-tos for Meatless Mondays, vegetarians, or just to save a dollar by cutting back on meat costs.
A casserole that comes together in the slow cooker? YES PLEASE!!! This is so easy, so tasty, and leaves the oven out of the equation.
Easy Creamy Squash Pasta Bake: If your family doesn't like squash or greens, give this one a try. They're mixed with noodles and covered in a creamy sauce that will make everyone ask for seconds!
Baked Ziti with Zucchini and Kale: A total of NINE vegetables are in this baked pasta dish, and that's just the beginning. Excellent for using up leftover marinara or any vegetables hiding in the fridge. Tip: If the veggies are hard (like carrots), boil until they're soft and then layer in the dish.
Meat Based Casseroles: Beef/Pork
A hearty casserole filled with shredded meat (like leftover carnitas) and topped with a homemade cornbread that captures the flavors of a tamale without all the work.
You can not go wrong with a lasagna that is made in 10 minutes and tastes so good!! I promise you, this will become a go-to in your house!
So there you have it – 13 casseroles that prove you can eat real, nutritious foods and have some of your favorite comfort foods!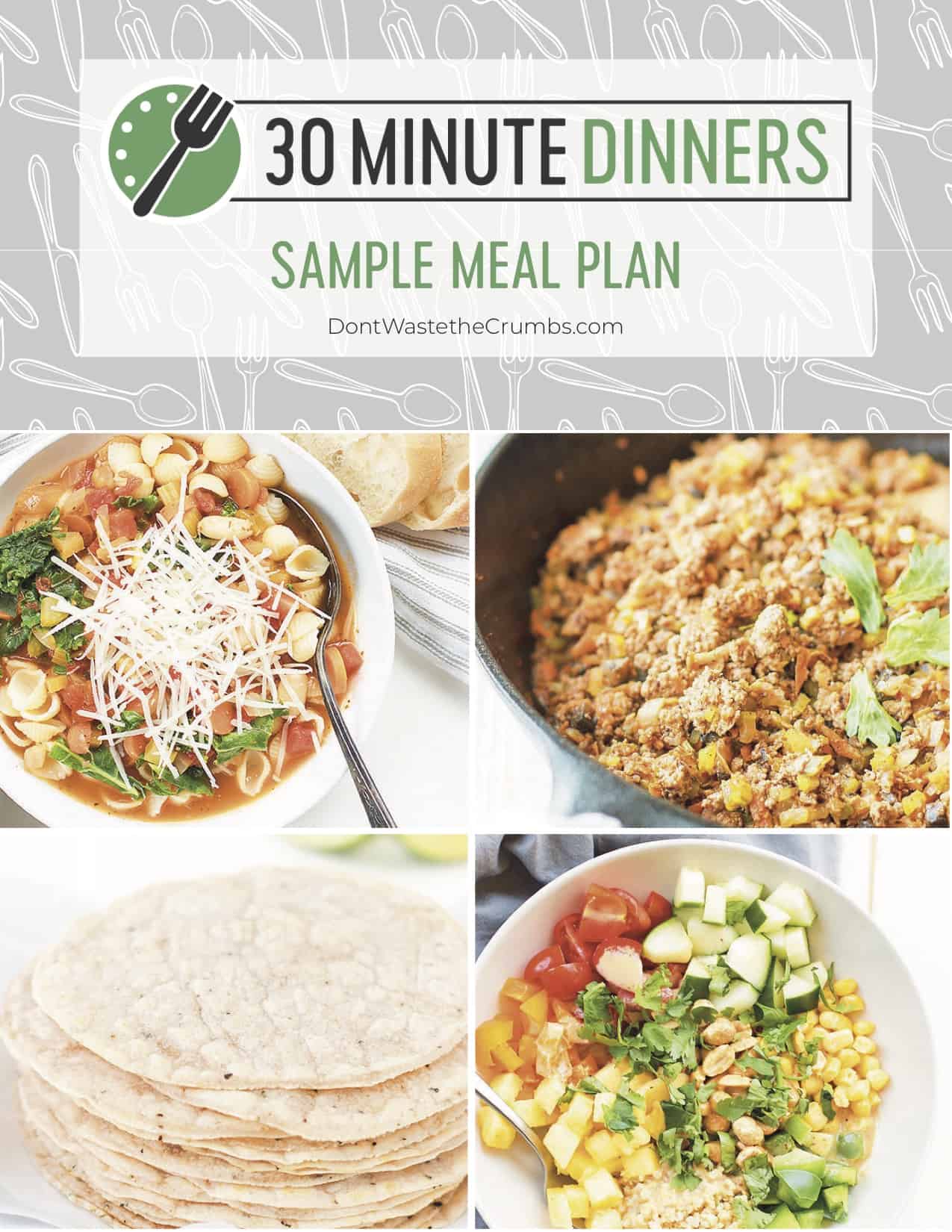 30 Minute Dinners Sample Meal Plan
Sign up to get instant access to my
30 Minute Dinners Sample Meal Plan
, complete with recipes and step-by-step instructions!
What is your all-time favorite easy real food casserole?
Disclaimer: This post contains affiliate links. By making a purchase through those links, I will earn a commission that helps to keep the lights on in the Crumbs house – with no additional cost to you. Thank you for supporting Crumbs in this way. Read my full disclosure statement here.