Everything You Need to Know About 24 Time-Saving Kitchen Hacks
This post contains affiliate links.
Can you identify with any of the following?
Hours in the kitchen cooking for your family?

Mountains of dishes and pots to wash?
C

upboards overflowing with food that needs to be prepared before you can enjoy it?
Real food is hard work!
When you embrace real food, you'll find yourself spending time on things you used to take for granted. Like making gallons of homemade yogurt and chicken stock every week. You've probably found you need to find the most efficient way to do things and make every minute count!
I'm all about efficiency! I've got systems for doing the laundry and making decisions, to name just a few. And I put tons of shortcuts to work in the kitchen. To help you out, I've gathered some of my tried-and-true favorite kitchen hacks to save you TONS of time.
24 Kitchen Hacks to Save you TONS of Time
1. Leave the measuring scoop in the container. Really. It won't go anywhere.
2. Skip the measuring – just eyeball it. I rarely measure spices any more – salt, garlic powder, cinnamon, etc. I just pour or tap some into the bowl or pot and taste to adjust the seasonings.
3. Use a stand mixer for an an extra set of hands.
4. Put dirty dishes, measuring cups, spoons, etc. right in the dishwasher. It saves a step and keeps the sink from filling up with dishes. Have multiple sets of measuring cups and spoons (see #1 above).
5. Keep a printed shopping list of common staples on the fridge and check off things as they get low.

6. Teach your kids to clean up the kitchen. This seriously saves me so much time and is an important skill for kids to know! (Free printable to help you do this HERE.)
7. Serve right from the pot – why dirty a serving dish for an ordinary dinner?
8. Teach your kids to clear their places. Even 2 year old can do it!
9. Program the coffee maker at night to brew when you wake up in the morning.
10. Use the slow cooker, and try these yummy recipes!

11. Take the time to organize your kitchen every couple months. Things can get out of hand in a real food kitchen and you'll probably benefit from some organization. If the thought of this task is unappealing, take some inspiration from my 10 easy ways to start organizing (even if you don't feel like it).
12. Line your baking pans with foil. If you're careful, you can avoid a lot of dish-washing.
13. Attach a half teaspoon right to the baking powder jar with a rubber band and use as many scoops as you need for a recipe.
14. Clean as you go. Who wants to tackle a mountain of dishes? It's much easier to quickly wash a mixing bowl right after use than letting them pile up.
15. Keep a running shopping list for each store (online and physical) you use and the items buy in bulk. You'll save tons of time (and money) in creating a list and while shopping (especially when you combine with tip #5).
16. Order non-perishables online (check your price book first!). Almond flour delivered with 3 clicks of the mouse? Yes, please! When you're ordering, make sure you're taking advantage of these little-known Amazon features.
17. Keep all your spice jars in a basket or a bin. Put the whole bin on the counter when you need a jar and it'll be easier to find what you need than twirling that lazy Susan around and around.
18. Make up a baking supplies basket. I keep a large a basket with things like baking powder, baking soda, cream of tartar, molasses, kosher salt, xanthan gum, chocolate chips, etc. When I'm baking, the whole basket goes on the counter. No more walking back and forth to the cabinet for each ingredient. Plus, the cabinet stays much neater.
19. Make a double (or quadruple!) batch. Freeze the rest and save tons of time.
20. Use newspaper to line your produce drawers. It's frugal, super easy to change, and you won't have to clean the drawers.
21. Meal plan. You'll avoid the mental fatigue with deciding what to cook at 5:00.
22. Keep it simple. Simple meals are easiest and can taste great.
23. Keep an emergency meal or two (A box of pasta and jar of spaghetti sauce?) for those days when life's busy-ness just gets in the way.
24. Have a few go-to meals. I can cook a few things almost in my sleep and they take practically no time to put together.
For even more ways to save time in the kitchen, see my top 10 time-saving kitchen tools. The right tools can make ALL the difference in a well-used real food kitchen.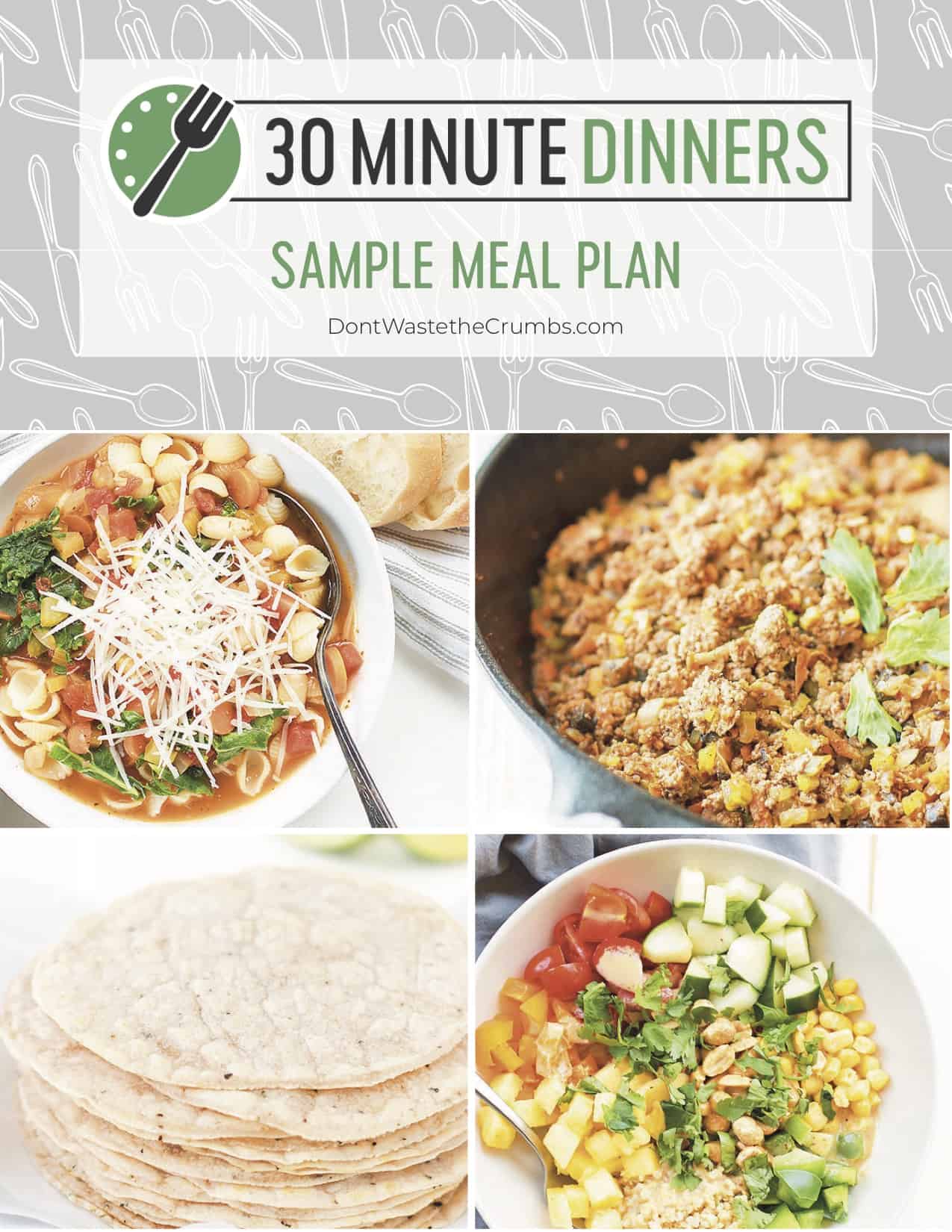 30 Minute Dinners Sample Meal Plan
Sign up to get instant access to my
30 Minute Dinners Sample Meal Plan
, complete with recipes and step-by-step instructions!