This best ever, easy homemade tomato sauce recipe uses fresh tomatoes WITH skins. The meatless Italian flavors are great for spaghetti, pasta, pizza, or soup!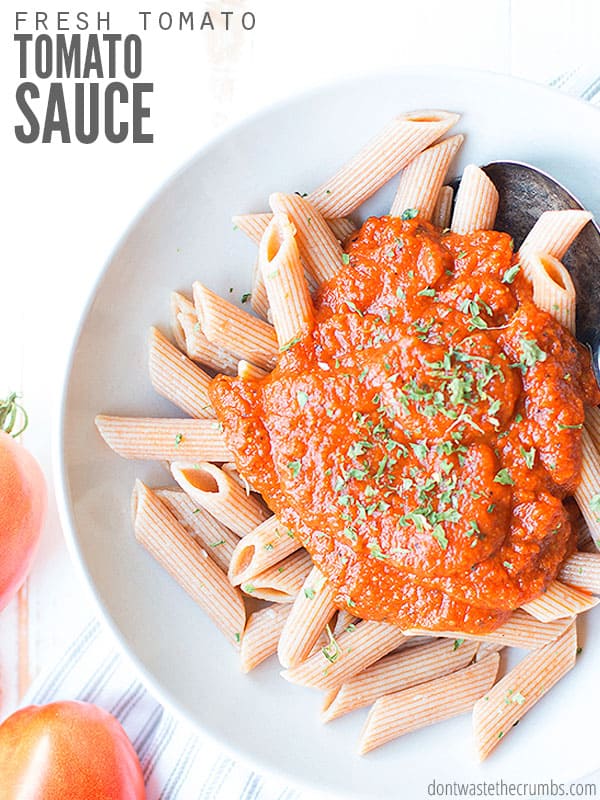 Despite the fact that my hearty spaghetti sauce is really, really good, my sister-in-law is known in our family for making the best spaghetti sauce.
Her secret weapon? Fresh garden tomatoes!
We have a garden this year that's producing way more tomatoes we could ever use to make our basic pizza sauce, so I took a cue from my sister-in-law and made my own homemade tomato sauce using fresh tomatoes.
It's absolutely DELICIOUS, and I want to share the recipe with you!
Homemade Tomato Sauce
You should know that I'm not your typical "grow all the things and put them up for winter" gal.
I'm a huge advocate of cooking from scratch. I'm also super practical. I have no problem buying canned tomatoes in the winter, or a low-sugar jelly from the store when we've emptied the last of my own no-cook strawberry freezer jam.
For me to intentionally take the time to make homemade tomato sauce – from fresh tomatoes – is a huge deal.
Why I make Fresh Tomato Sauce
It's SO easy. Really truly. It takes time, but zero kitchen skill is required.
It's WAY better than anything store-bought. I'm not exaggerating here. Just wait and see!
You can 100% control the ingredients. Apart from the tomatoes, this recipe has only three veggies and zero sweeteners.
A basic tomato sauce can become virtually anything later. It can be tomato basil soup or pizza sauce or even spaghetti sauce.
It's hands-off. Get the sauce going – on the stove or in a slow cooker – and set the kitchen timer and get busy doing something else!
This recipe makes a lot! I use 10 pounds of tomatoes, but the recipe can be easily halved if you prefer.
No need to peel the tomatoes! One less step makes this SUPER easy!
Homemade Spaghetti Sauce from Fresh Tomatoes
With just a few basic ingredients you can create an amazing and delicious spaghetti sauce:
Olive oil. Just enough olive oil to caramelize the onions.
Onion. Though any onion will do, I used sweet yellow onion.
Garlic. Because I want this to be a BASIC tomato sauce that can become other things later, I went easy on the garlic in this recipe. You can always add more garlic later if you want to.
Tomatoes. We're using FRESH tomatoes (a lot of them). So clear out the garden, hit up your farmers market, or watch for those sales!
Salt & Pepper. The usual suspects.
Dried Basil. Since basil is naturally sweet, it complements the tomatoes well.
Carrots are optional, but they're naturally sweet and go well with tomatoes.
Bell Peppers are also optional, but they balance out all the flavors. Plus it's an easy way to sneak in more veggies!
How to Make Homemade Pasta Sauce
This recipe is so easy, I can explain it in 5 simple steps.
Caramelize the onions in a really big pot (bigger than you think you need).
Add everything else and gently squish about half of the tomatoes.
Bring to a simmer and cook, stirring occasionally, until most of the liquid has evaporated.
Puree the tomatoes using an immersion blender (this is the one I have) and if it seems watery, simmer a little bit longer until it's the thickness you prefer.
Season with basil, salt, and pepper!
Can you make crockpot spaghetti sauce?
Absolutely! I tested this in my slow cooker and it works just the same.
You'll skip the first step of caramelizing the onions and simply dump everything in the pot. Simply crack the lid and cook it over low for 4-6 hours, or until most of the liquid is absorbed. Follow steps 4 and 5 above and that's it!
How long will homemade tomato sauce last in the fridge?
Homemade pasta sauce lasts 5-7 days in the fridge.
Can homemade tomato sauce be frozen?
Yes! I recommend freezing in one quart freezer-safe bags. Since most jars of spaghetti sauce are 28-32 ounces, one bag is about the same.
How to can homemade tomato sauce
Tomatoes can be canned using the water bath method. You can follow the tutorial that I used for making canned diced tomatoes or for canning applesauce.
Other Favorite Recipes for Fresh Tomatoes
At one point, my garden was producing 10 pounds of tomatoes every two days. That's a lot of tomatoes and can make a lot of fresh tomato pasta sauce!
If you don't want to make sauce, here are some other recipe you can use your tomatoes in:
Homemade Tomato Sauce Using Fresh Tomatoes
This best ever, easy homemade tomato sauce recipe uses fresh tomatoes WITH skins. Meatless Italian flavors are great for spaghetti, pasta, pizza or soup!
Author: Tiffany
Prep Time:

10 mins

Cook Time:

3 hours

Total Time:

3 hours 10 mins

Yield:

2

-

3

quarts

1

x
Category:

Sauces/Condiments

Method:

Stove top

Cuisine:

Italian
1 cup

chopped onion (about

1

large)

2 tbsp

olive oil

3

cloves garlic, quartered

10

lbs fresh tomatoes, quartered

2 cups

carrots, chopped

1 cup

bell peppers, chopped (about

2

small)

1 tbsp

dried basil

1 tsp

salt

1 tsp

pepper
Instructions
Measure the olive oil and onions in a very large stockpot. Cook the onions over medium-low heat until they are caramelized and medium golden brown, about 30 minutes.
Add as many tomatoes as you can. Using the back of a wooden spoon, gently squish about half of the tomatoes in the pot.
Bring the tomatoes to a simmer, cover and cook for 30 minutes.
Uncover the pot and add any remaining tomatoes, carrots, and bell peppers. Bring the sauce to a low boil and cook until the sauce is reduced by one quarter, about 2-4 hours.
Use an immersion blender to puree the sauce until it's smooth. If the sauce seems too thin, continue to cook until it's the desired consistency.
Season with salt, pepper, and dried basil.
Serve immediately, or let it cool slightly to can, or cool completely before storing in the freezer.
Keywords: Homemade tomato sauce