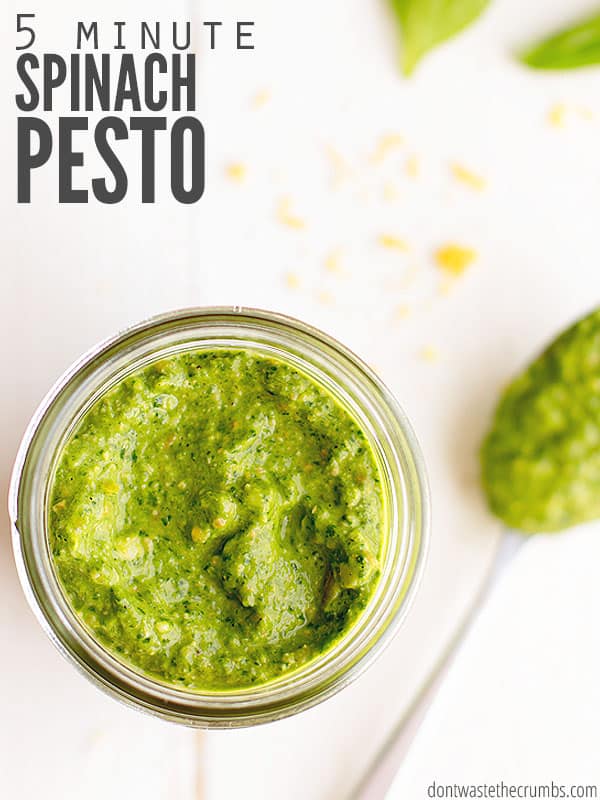 If you were to open my fridge on any given day, you'll find a very large bag of spinach.
From green smoothies to chicken enchiladas to autumn rice pilaf, we eat spinach pretty regularly.
And now that I have this 5 minute spinach pesto recipe, I'll never have to throw away a slimy piece of spinach again…
Because that's what usually ends up happening, right? You buy a bag of spinach, use it for one or two recipes and then it sits in a drawer in the fridge getting nice and slimy and gross and entirely inedible.
Let's stop this madness, okay? Making spinach pesto is a super easy way to reduce food waste while feeding your family, very similar to the thought process behind carrot top pesto.
Anytime you make a meal plan that includes spinach, just write "spinach pesto" at the end and not a single slimy leaf will end up in the trash can.
Traditional pesto is quite savory and is made with fresh herbs (usually basil), pine nuts and Parmesan cheese.
Unfortunately, it's also these same ingredients that make pesto a bit on the expensive side.
Instead of whining and complaining about it though, I made a few budget-friendly substitutions so that pesto isn't something reserved only for special occasions. Oh no! This 5 minute spinach pesto is officially part of our meal plan rotation!
Spinach Pesto Ingredient Breakdown
Fresh Spinach. As much as I love fresh herbs, we've got that bag of spinach to use up, remember?
Cashews. Move over pine nuts, my budget ain't got room for you. Cashews have moved in and are saving me money. Plus I can snack on them as I make this recipe.
Lemon Juice and Zest. Because not using lemon juice and zest makes a boring pesto. And life is too short for boring food.
Olive Oil. Healthy for the heart and tastes good? Yes, please.
Parmesan Cheese. Although it can't (and really shouldn't) be omitted entirely, we can scale it back to keep the costs down. Nothing beats the flavor of fresh Parmesan!
Garlic + Salt + Pepper. I don't think I've ever seen a single pesto recipe that didn't include these amazing flavors, and rightfully so. These ingredients alone can make or break your spinach pesto. Use them. Don't be a rebel.
I know you've got questions about this recipe, and because you're my peeps, I already know what you're thinking.
Can you use frozen spinach in this recipe?
I personally have not tried it, but it should work in theory. If you attempt to substitute frozen spinach for fresh spinach, make sure it's completely drained first AND that it was fresh spinach when it was frozen.
If you bought a box of spinach from the store, you're probably fine here. However, if you stuck a bag of almost slimy spinach in the freezer in order to save it from the trash can, it's a no go. Slimy spinach simply tastes bad and I don't want you to waste your other ingredients.
Can you use grated Parmesan instead of fresh Parmesan?
If by grated you mean a small container of freshly grated Parmesan cheese you found in the deli section of your grocery store, by all means, yes!
If by grated you mean those green shakers found on a pantry shelf, no. Please, no.
You might be partial to it, and that green container might even remind you of childhood spaghetti nights, but my foodie self wants to come over and confiscate it.
Besides, according to CBS News, it likely contains wood pulp.
If you don't buy Parmesan very often, shred whatever is left of the wedge and freeze it. Then you can pull out what you need, when you need it, and you won't throw any of it away.
Can you use the Parmesan rind instead of actual Parmesan cheese?
Yes! This trick has been tested and approved and is – if I say so myself – a brilliant way to save money. The rind avoids the trash can and you save the delicious Parmesan cheese for a purpose when the cheese is actually needed. Like on top of a cracker. Can I come over?
Can you use lemon juice instead of a real lemon?
Oh you rebel you… yes you can, if you must.
Fresh lemon is ideal because you get the zest (notice I used a knife and NOT a zester), and the zest makes this spinach pesto taste like spring in your mouth. BUT I understand if you don't have lemons and do have a big bag of spinach that's about to go bad. Priorities.
Don't run out for just a lemon. But do make a mental note the next time you buy spinach and put spinach pesto on your meal plan to buy 2 lemons too.
I have a mixed bag of spinach and kale – can I use it?
Absolutely. This too has been tested and approved!
What kind of meals can you make with spinach pesto?
Oh goodness, I thought you'd never ask!
Since pesto is a condiment, we often use it on sandwiches (grilled and cold). My husband made a moaning sound when I made him a grilled pesto chicken club sandwich one weekend, so I'd say that's definitely a winner.
You can use it on top of soups to add flavor, mixed in with roasted vegetables or with rice to make pesto risotto.
You can use it as the sauce for homemade pizza, mixed in with mashed potatoes or added to homemade Caesar dressing for a fun new flavor on salads.
In lieu of mayo, spinach pesto would be delicious in potato salad, egg salad or chicken salad too.
My favorite way to use spinach pesto though, is as a sauce for pasta. Thinned with just a little bit of pasta cooking water and it's like eating a bowl of spring and it's utterly amazing.
(And calling it "green spaghetti" helps kids get beyond the green factor.)
5 Minute Spinach Pesto
When you have a bag of spinach about to go bad, whip up a batch of spinach pesto in just 5 minutes. Add it to sandwiches or fresh pasta for an easy meal.
Author: Tiffany
Prep Time:

5 mins

Cook Time:

0 mins

Total Time:

5 minutes

Yield: about

20 ounces

1

x
Category:

Sauces & Condiments

Method:

Blender

Cuisine:

American
8 ounces

spinach

3/4 cup

cashews (any kind)

2

garlic cloves

1/2 cup

grated Parmesan cheese (about

2 oz

)

2

lemons, juiced and zested, divided

1/2

–

1

tsp salt

1/4

–

1/2

tsp pepper

1/2 cup

quality olive oil
Instructions
In a food processor or in a blender (I used the Twister Jar in my Blendtec), add the olive oil and two handfuls of the spinach and blend. Add additional spinach in subsequent batches, blending after each addition.
Add the cashews, garlic cloves, the juice and zest of one lemon, 1/2 tsp salt, and 1/4 tsp pepper. Blend.
Add the Parmesan cheese and blend. Taste and add additional salt, pepper, lemon juice and/or lemon zest as desired. I personally like the lemon flavor, so I end up adding the full amount of lemon juice, lemon zest, salt, and pepper.
Blend until all ingredients are incorporated well. Store in the refrigerator for up to 3 weeks.
How would you use spinach pesto on your menu? Did I miss any of your questions? Leave your ideas in the comment section!