This easy homemade buffalo wing sauce recipe is an original and a crowd-pleaser! We start with franks (mild yet spicy) and it gets tastier from there!
Early in our relationship, my husband and I didn't have a lot going for us.
We were both in debt. (TONS of debt.)
We lived 1400 miles away from each other.
We wanted to get married ASAP but everyone (yes, everyone) thought we were crazy.
But there were two things we DID have going for us:
each other.
this homemade buffalo wing sauce recipe.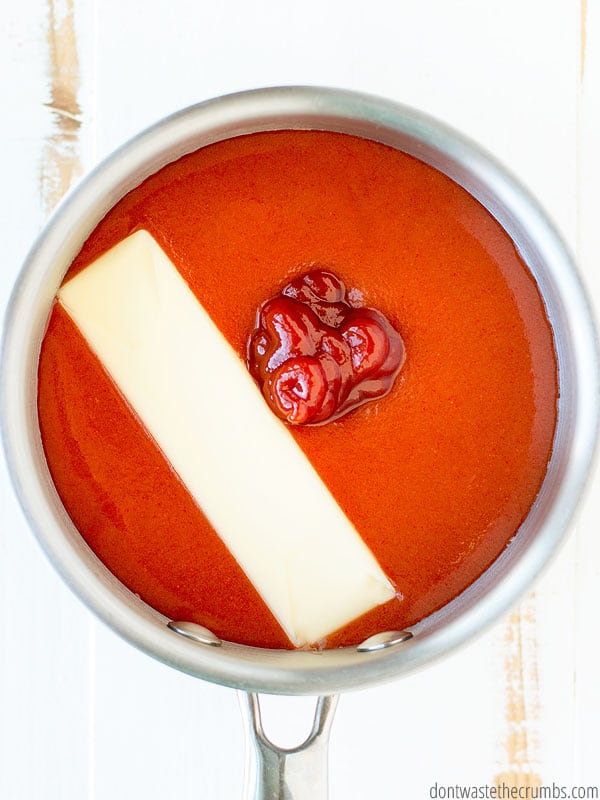 The Story Behind the Sauce
I like to joke with my husband that, while I brought gobs and gobs of debt to our marriage, he brought the best buffalo wing sauce I've ever had.
Considering he was a mid 20-something bachelor, living with two other 20-something bachelors at the time, the fact that he knew how to cook anything was pretty amazing. Let alone something that qualified as "the best!"
Still, it's hard to argue that this buffalo wing sauce isn't the best when you're dipping chicken wings for extra sauce, when you've poured yourself a bowl on the side for even more dipping, and when you can't help but finger-swipe the extra sauce in the bowl before you start washing dishes.
This sauce has been a family secret for 12 years now, but I twisted Mr. Crumbs' arm in order to share it with you, so you can root for your favorite sports team without sacrificing your real food goals.
(And so you can make all of the other party guests jealous!)
Friends, this buffalo wing sauce is about to change your life!
Homemade Buffalo Wing Sauce
Now, I know you might be thinking, "It's relatively easy to buy buffalo wing sauce at the store. Why should we bother making it?"
I'm glad you asked! Here are SIX reasons why you should consider making your own homemade buffalo wing sauce:
1. It beats the pants off of any store-bought buffalo wing sauce.
Hands down, no doubt about it. And we have dozens of friends who have come over for homemade pizza and wing night to back us up.
2. It's healthier than store-bought.
Yep, I'm pulling THAT card on you. I'm all about the party food, people, as evidenced by eating an entire batch of vegan nacho cheese sauce BY MYSELF (while the rest of my family chowed down on easy potato skins). But I definitely don't need to spend two days recuperating from that strange mystery dip by the chips, or those meatballs in that "swiss" sauce. No way. If I can make a healthier version myself, I'm doing it.
Besides, just because we can buy something at the store, doesn't mean we should buy it. Case in point, have you read the ingredients in a box of cake mix? Or the ingredients on a jar of mayo? It's not a pretty sight.
That's why it's better to make your own using my favorite homemade yellow cake mix or homemade chocolate cake mix recipe, or even homemade brownie mix recipe. You can even make your own mayo with my fail-proof recipe (that uses just FOUR ingredients, by the way).
3. You know what the ingredients are.
This homemade buffalo wing sauce uses just three ingredients. THREE! Sure, two of the three have labels, but still – read the labels and take control over what goes in your food, people! (PS – you can make all three ingredients from scratch if you wanted to!)
4. Can be made with what you already have on hand.
If you like party food and you like buffalo sauce, odds are you already have what you need to make this buffalo wing sauce recipe anyway. Why bother going to the store to buy MORE THINGS when you can make it with what you already have?
5. It's one less thing to buy.
Let's rabbit trail down real life for a minute. There have been instances when I have purchased a condiment at the store and put it in the pantry fully intending on using it for dinner that week.
"Dinner that week" turns into "dinner months later when I'm tired of looking at the bottle in the pantry" and so I use approximately 1.7 tablespoons for that recipe and then stick the bottle back in the fridge "for later."
"Later" ends up being months later again, when I'm now tired of re-arranging the condiments on the door shelves for the hundredth time because we still haven't finished that darn bottle of whatever condiment and yet, I have no clue what to use it for other than that one particular recipe… that uses 1.7 tablespoons. And at that rate, the bottle will be gone in roughly 14 months.
*sigh*
Am I the only one?
This homemade buffalo wing sauce recipe saves you from all of that because, as I mentioned, we're using ingredients you ALREADY HAVE in the pantry. You're not buying more things. And you're not spending more money. You are simply re-purposing things you already have to make the best buffalo wing sauce you've ever had in your entire life. #winning
6. You can make just as much as you need.
As written, this recipe makes a lot of wing sauce. We don't mind because we like eating buffalo wings!
If you prefer making wings for just one night and not having lots of sauce leftover, halve the recipe. If you're going to be feeding a lot of people at your party (or a few big eaters), then make the recipe as-is.
We like to use leftover buffalo wing sauce on one-pan buffalo chicken potatoes and buffalo chicken bacon ranch salad and drizzled on chicken jalapeno popper casserole… oh yeah, and on homemade buffalo chicken pizza. You can NEVER go wrong with buffalo chicken pizza.
Ingredients for Homemade Buffalo Wing Sauce
Enough about WHY you should make this buffalo wing sauce recipe. Let's talk about the three simple ingredients you need to make it.
1. Hot Sauce
Traditionally, we've used Frank's hot sauce when we make this buffalo wing sauce recipe. However, my homemade hot sauce recipe is a Frank's copycat and if you happened to make some this past fall when you had buckets and buckets of peppers coming out of your garden, SUBSTITUTE!! You won't be sorry.
You can also use a store-brand wannabe Frank's hot sauce, but check the ingredients first. You're looking for peppers, vinegar, water and spices (salt and garlic powder specifically). Avoid any sauce that has sugar, high fructose corn syrup or hydrogenated oils.
Or that has ingredients that you don't recognize, you can't pronounce, or sound like a foreign language. Gross.
2. Ketchup
I know. I KNOW! Ketchup in buffalo wing sauce? It's just like when I told you about black beans in brownies and white beans in maple pecan blondies and how cashews magically become cheese sauce – don't knock it until you try it.
Ketchup is a known offender for having high fructose corn syrup (read why we avoid it here), so make sure you're checking labels and not eating it. I've found that organic varieties don't have it, and some mainstream brands now have a "simply" line that doesn't include it either.
The best deal I've found on good ketchup is at ALDI. (And if you're shopping there, use this $50 meal plan and this Ultimate Guide to Shopping at ALDI!)
You can certainly make your own ketchup too, and I have a slow cooker ketchup recipe to help you do that. But unless you have bushels of tomatoes coming out of your garden in the summer, it's not very cost effective to make your own. Just a heads up. Unless you just want to be able to boast to your friends that you made homemade ketchup, in which case, I say GO FOR IT.
3. Butter
And the surprises keep on coming!
I have to tell you – when I saw my future husband put hot sauce, ketchup and butter in a saucepan, I thought he was nuts. Somehow THAT was going to turn into amazing buffalo wing sauce?!
OH YES IT DOES. Because butter makes everything better.
In the 12 years I've been making this buffalo wing sauce recipe, I've never once tried anything other than real butter. Not margarine… not "butter spread"… not ghee… not coconut oil.
Just a heads up here – I have no idea if any of those things will work. And to be honest with you, I wouldn't recommend experimenting. This is one of those recipes that just works, for whatever reason, and I'd hate for you to waste your precious grocery dollars on a failed experiment.
BUT… if you do branch out, let me know, mkay? Because I'm sure someone out there is curious enough to give it a shot and the rest of us want to know how it turns out.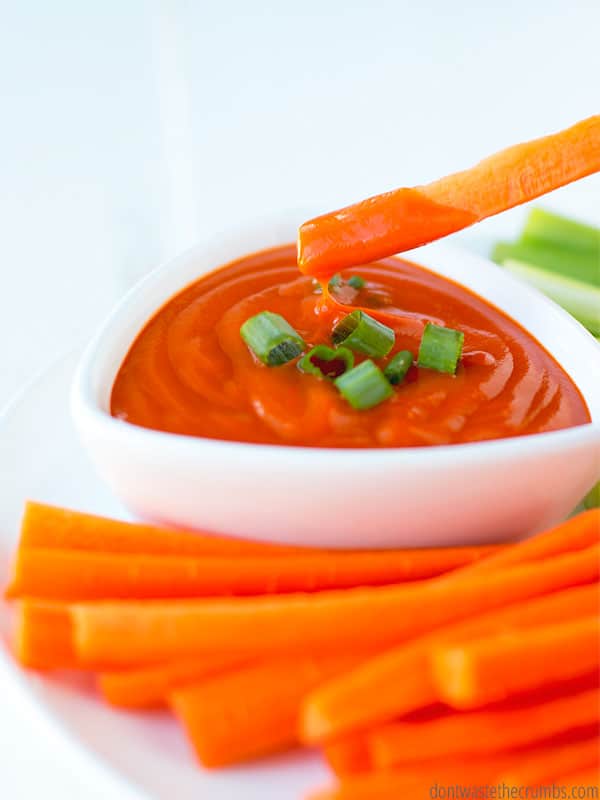 The first time I made this, I asked Mr. Crumbs for instructions. Here's what he told me:
"Dump the entire bottle of hot sauce in a pan. Then squirt ketchup until it peeks out the top. Add the butter. Wait, then add a spoonful of cornstarch with a smaller spoonful of water and you're done."
Thankfully, I've learned to decipher his code and get a few more details so this awesome sauce can be replicated elsewhere. You're welcome, and enjoy!
Homemade Buffalo Wing Sauce
Ingredients
12 oz hot sauce (I use Frank's regular hot sauce)
¼ cup ketchup
8 tbsp butter, unsalted
2 Tbsp corn starch
1 Tbsp water
Instructions
In a small sauce pan, combine all of the ingredients except the corn starch and water. Bring the sauce to a simmer, stirring often, until the butter is melted.
Combine the corn starch and water in a small mug and stir until it is completely dissolved.
Pour the corn starch slurry into the sauce and immediately start whisking it into the sauce. Keep whisking, and the sauce will start to thicken. When the sauce is noticeably thicker (i.e. will heavily coat the back of a spoon), remove the sauce from the heat and set aside.
Use immediately on foods that are hot (i.e. chicken wings) or let cool to room temperature to use on foods that are cold (i.e. salads). Best enjoyed the day it's made, but leftovers will last for 3-4 days in the fridge.
Is my husband the only one with secret recipes? Please tell me no… and share what amazing recipes your spouses brought into the marriage. I'd love to hear about them!