This easy homemade buffalo wing sauce recipe is an original and a crowd-pleaser! We start with Franks hot sauce (mild yet spicy) and it gets tastier from there! It's better than Buffalo Wild Wings!
My dad is a chef. So naturally, you would think I would be the one to bring in the best recipes to my marriage.

Well, little did I know my husband had the skills to make amazing homemade pizza and the best wing sauce ever. 
Not kidding! Friends, this wing sauce is about to change your life! (Even my dad, the chef, approves!)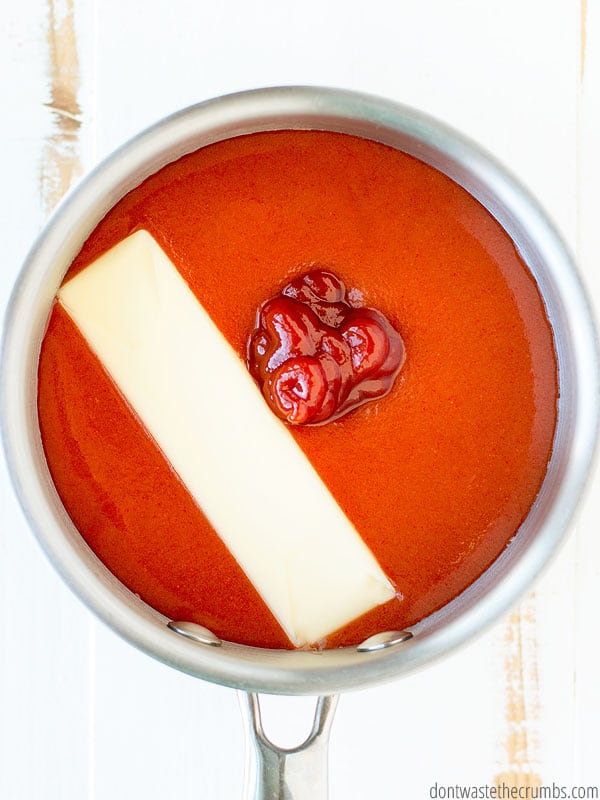 What is Buffalo Wing Sauce?
The original buffalo wing sauce was invented in 1964 at a small family-business called Anchor Bar. While I don't have their original recipe, the traditional ingredients include:  
cayenne pepper sauce – to spice it up

vinegar – to give it that unique tang

butter – to mellow the spice and tang, making it finger-licking good.
Some people have added garlic powder (maybe 1/2 teaspoon or so), but I think we can all agree that game day has never been the same since!
Homemade Buffalo Wing Sauce
Here are FIVE reasons why you should consider making your own homemade buffalo sauce:
It beats the pants off of any store-bought buffalo wing sauce.

Hands down, no doubt about it. And we have dozens of friends who have come over for wing night to back us up.

It's healthier than store-bought.

Yep, I'm pulling THAT card on you. Anytime you make a recipe at home, you can be certain it's going to be better for you.

You know what the ingredients are.

This homemade buffalo wing sauce uses just three ingredients – THREE!

It can be made with what you already have on hand.

I have no doubt you have the ingredients needed in your pantry right now.

You can make as much as you need.

As written, this recipe makes a lot of wing sauce. But you can easily halve this recipe if you need less.
Ingredients for Hot Wing Sauce
Enough about WHY you should make this buffalo wing sauce recipe. Let's talk about the three simple ingredients you need to make it.
Hot Sauce

– We typically used Frank's hot sauce because it is cayenne pepper sauce. However, my

homemade hot sauce recipe

is a Frank's copycat and works as a great substitute. 

Ketchup –

I know. Ketchup in buffalo wing sauce?! This replaces the typical vinegar/Worcestershire sauce you need to make legit buffalo sauce. It's my husband's secret ingredient!

Butter –

The butter mellows out the tang of the ketchup and levels the hot sauce to medium heat. It makes the sauce thicken just right, too!
I have to tell you – when I saw my then-future husband put hot sauce, butter, and ketchup in a saucepan, I thought he was nuts. Somehow THAT was going to turn into amazing buffalo wing sauce?! OH YES, IT DOES.
How to Make Chicken Wing Sauce
The first time I made this, I asked Mr. Crumbs for instructions. Here's what he told me:
"Dump the entire bottle of hot sauce in a pan. Then squirt ketchup until it peeks out the top. Add the butter. Wait, then add a spoonful of cornstarch with a smaller spoonful of water and you're done."
Thankfully, I've learned to decipher his code and get a few more details so this awesome sauce can be replicated elsewhere.
Mix hot sauce, ketchup, and butter in a small saucepan. (Melting the butter separately isn't necessary.)

Add a cornstarch/water mixture to thicken the sauce. 

Use a nifty whisk

like the "saucinator"

to mix until desired thickness. 

Use immediately on hot foods (like the best crispy baked chicken wings ever) or let cool to room temperature to use on cool foods (like buffalo chicken bacon ranch salad).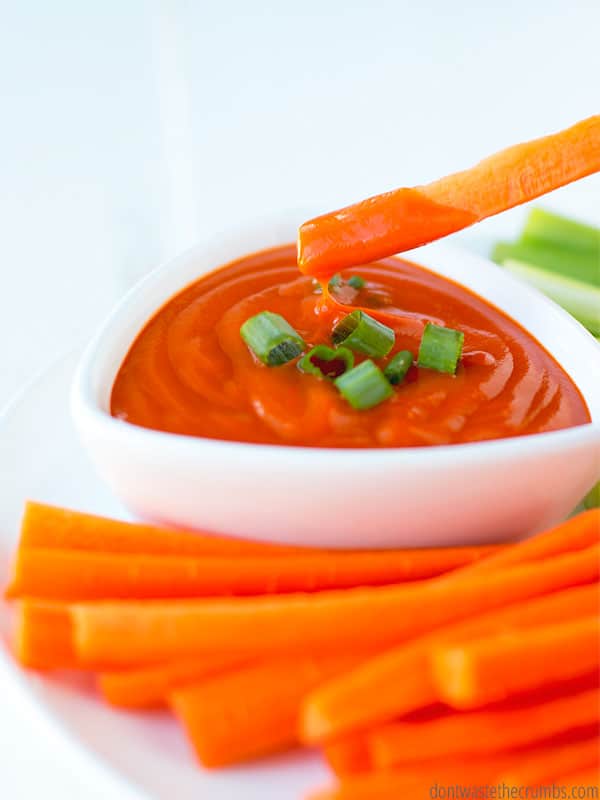 What to Do with Leftover Wing Sauce
In the rare event you have leftover sauce, you can store it in the refrigerator for 3-4 days. Once it chills, the saturated fat from the butter will cause it to thicken. You can warm it up in a saucepan before using on your next favorite buffalo chicken recipe. 
What to Make with Homemade Buffalo Sauce
Here are a few of our favorite recipes: 
Pair any buffalo chicken recipe with homemade ranch dressing or blue cheese dressing and you've got a crowd-pleaser!
Homemade Buffalo Wing Sauce
This easy homemade buffalo wing sauce recipe is an original and a crowd-pleaser! We start with franks (mild yet spicy) and it gets tastier from there! It's better than Buffalo Wild Wings!
Author:
Prep Time:

5 mins

Cook Time:

10 mins

Total Time:

15 mins

Yield:

18 oz

1

x
Category:

Sauces/Condiments

Method:

Saucepan

Cuisine:

American
Scale
Ingredients
12 oz

hot sauce (I use Frank's regular hot sauce)

¼ cup

ketchup

8 tbsp

butter, unsalted

2 Tbsp

cornstarch

1 Tbsp

water
Instructions
In a small saucepan, combine all of the ingredients except the cornstarch and water. Bring the sauce to a simmer, stirring often, until the butter is melted.
Combine the cornstarch and water in a small mug and stir until it is completely dissolved.
Pour the cornstarch slurry into the sauce and immediately start whisking it into the sauce. Keep whisking, and the sauce will start to thicken. When the sauce is noticeably thicker (i.e. will heavily coat the back of a spoon), remove the sauce from the heat and set aside.
Use immediately on foods that are hot (i.e. chicken wings) or let cool to room temperature to use on foods that are cold (i.e. salads). Best enjoyed the day it's made, but leftovers will last for 3-4 days in the fridge.
Keywords: Buffalo wing sauce