This simply homemade hot sauce recipe tastes just like Frank's Hot Sauce and it's ready in just 15 minutes. Simple and straightforward, this buffalo sauce can be tailored to mild, medium, or hot – however you want!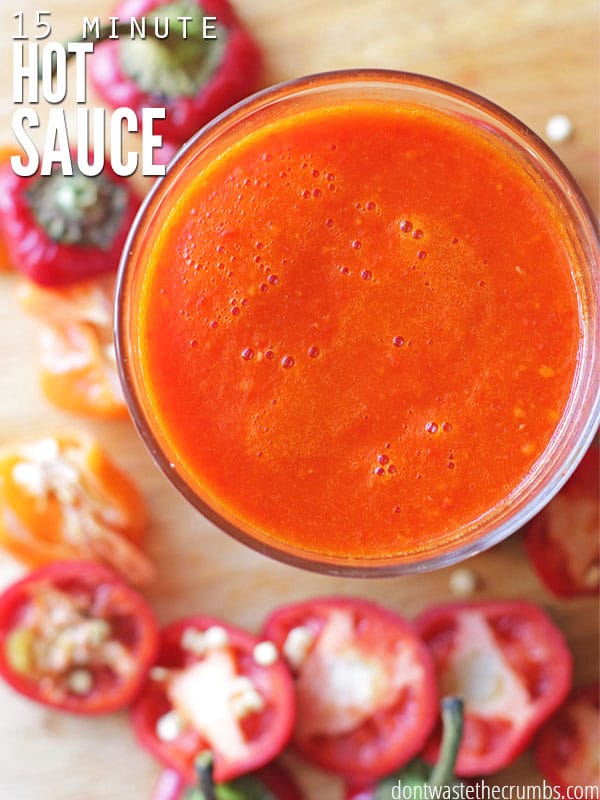 I'm by no means a gardening expert and I'm lucky if my plants make it halfway through the season, but for some reason, hot peppers thrive with my neglect.
I planted 3 plants this year – just to see what would happen – and ended up with more peppers than I knew what to do with. My husband is a huge fan of spicy food and Franks hot sauce is high on the list (hence his love for Buffalo Chicken Pizza), so I ventured to come up with my own hot sauce recipe that would taste just like it using the peppers from our garden!
Simple Hot Sauce Recipe
If you're looking for an easy hot sauce recipe, this is it. There is minimal prep work, a short boil, and a quick whirl in the blender. In less than 15 minutes, you have a hot sauce recipe that rivals anything from the store.

Ingredients for Copycat Frank's Hot Sauce
If you want to make your own hot sauce that's a copycat of Frank's Hot Sauce, you'll need:
Keep reading if you want to use a different pepper, or are considering adding fruits like peaches or mangoes to your hot sauce! You'll notice I don't add any spices to the mixture like cumin or chili powder. We really like the flavors of the peppers to shine!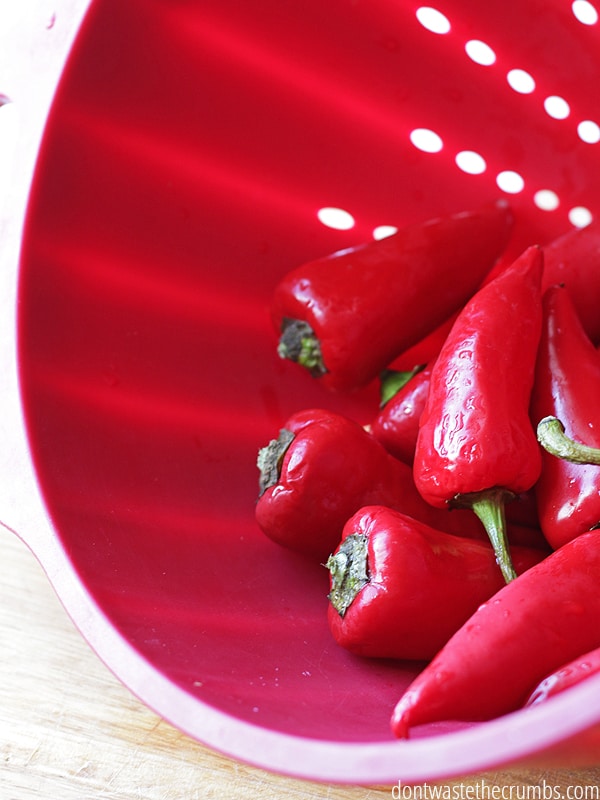 What Peppers to Use for Hot Sauce?
You'll want to use cayenne peppers to make your own copycat of Frank's, but you can use different types of hot peppers if you want. I used fresno chili peppers for these photos because that's what I had an abundance of and I didn't want to ruin my tastebuds for the rest of the day.
Fresno is generally a mild pepper, ranging from 2500 to 10,000 on the Scoville scale (similar to a jalapeno). I added in some habanero for some heat.
Use the heat index below to determine which peppers are best for your hot sauce recipe. The heat of a pepper is measured in Scoville Heat Units, which is how "hot" the pepper actually is. The higher the Scoville, the hotter the pepper.
If you're unsure what peppers to use, choose a pepper that's on the mild side and then boost the heat with one or two peppers on the hotter side. You can easily add a quarter or half of a habanero pepper or scotch bonnet pepper and then taste as you go.
Also, the color of your hot sauce will depend on the color of your peppers. If you want a red hot sauce, you'll want to choose peppers that are orange or red. Green peppers will create a green hot sauce.
I do not recommend using dried peppers for this recipe. You need the natural liquids in the peppers to create the sauce.
Image courtesy of Title Max.
Before You Make the Best Hot Sauce
Any time you work with hot peppers – whether they're mild or truly hot – you have to take safety precautions:
I'm going to say it again, wear gloves to handle the peppers. The oils from the peppers can rub off onto your hands without you even knowing it, and without you having an adverse reaction… that is until you scratch your nose or wipe your eye. The oils can easily transfer from the surface of your skin and cause all sorts of irritation in places you don't want to be irritated!
If you wear contacts, be sure to take them out before making this hot sauce recipe!
How to Make Hot Sauce
Here are the steps for how to make hot sauce, and you'll see it's VERY easy!
Step 1: Wash the peppers, cut the stems off, and slice them in half lengthwise. If you want a more mild sauce, remove the seeds from the pepper. This will also create a more smooth sauce. If you don't mind a few tiny pieces of seed and want extra heat, keep the seeds with the pepper.
Step 2: Measure the vinegar into a medium pot and add the peppers, salt, and garlic cloves. Bring to a boil and reduce heat to a simmer until the peppers are soft (about 10 minutes).
Step 3: Pour everything into your blender (I use a Blendtec like this one), including peppers and vinegar. Blend until you have a smooth puree, about 30-60 seconds.
Note: Red peppers will temporarily dye plastic blender jars red. A couple of washes with hot soapy water will remove the discoloration.
Step 4: Taste the hot sauce and add additional hot peppers if desired. I recommend adding ¼ of hot pepper (like Habanero or scotch bonnet) at a time, reblending with each addition and tasting as you go. The hot sauce will have a more intense flavor as it sits, but it will not get hotter. Here's your chance to get the heat level just right.
Step 5: Let the hot sauce cool and store it in your fridge. The abundance of vinegar acts like a natural preservative for several weeks. If you prefer, you can also can your hot sauce to make it shelf stable.
Variations for Homemade Hot Sauce
Make it Thinner or Thinner: Some peppers naturally contain more pulp while others contain more water. After you've blended the sauce, you can strain out the pulp with a fine-mesh strainer for a more watery hot sauce, or leave the pulp in for a thicker hot sauce. Adding a little bit of filtered water will thin it as well.
Keep the Seeds or Toss Them: Keeping the seeds will make your hot sauce hotter, and removing the seeds will remove some of the heat. You can go either way!
Change the Color: The color of the hot sauce will depend on the color of the peppers you use. Green chilies will make a green hot sauce, while orange/red chilies will make a red sauce. Combine red and green chilies for a brown sauce.
Make it Sweeter: Give your hot sauce a bit of sweetness by choosing a pepper that has sweetness or add a bit of honey or sugar. A little sweetness goes a long way, so add ½ tsp at a time and taste as you go.
Roast the Peppers: Roasting the peppers before you cook them in vinegar gives the peppers a smokey flavor. This is optional, but it's a lot of fun to experiment with flavors!
Turn it into Buffalo Sauce: Traditional buffalo sauce is slightly thicker with buttery notes. Use this recipe to make the Best Buffalo Sauce!
Unique Hot Sauce Recipes
In addition to the variations above, you can create unique hot sauce recipes by adding other fruits and vegetables you wouldn't ordinarily think of:
Mild to Medium Hot Sauce: Try jalapenos, serrano chile peppers, cherry bomb peppers, banana peppers, or Fresno peppers.
Medium to Hot Sauce: Try cayenne chili peppers, fish peppers, thai chilies, or tabasco peppers. Adding peaches or mango would be a unique way to balance the flavor.
Hot to Crazy Hot Sauce: Try habanero, scotch bonnet, or ghost peppers. Remember that these are VERY hot peppers, so consider balancing these out with some milder chiles.
Consider adding garlic and carrots to balance the flavor of the mild hot sauces. Fruits like mango, peach, pineapple, blueberries, cherries, and apples are nice additions to hotter peppers. Add a little bit of lime juice for a twist!
Fermenting Hot Sauce Recipe vs Cooked Hot Sauce Recipe
Traditionally, fermented hot sauce requires the peppers to be fully submerged in brine and left to ferment for up to two weeks, sometimes longer.
I typically don't follow this fermentation process because I'm impatient, and not a massive fan of the fermented version of hot sauce. I much prefer the 15-minute recipe I've outlined below to have sauce ready, whenever I want!
Common Questions When Making Hot Pepper Sauce
How to Use Our Hot Sauce Recipe
We love this buffalo wing sauce recipe so much, and we've found several fun ways to enjoy it:
If you like this recipe, you'll also like: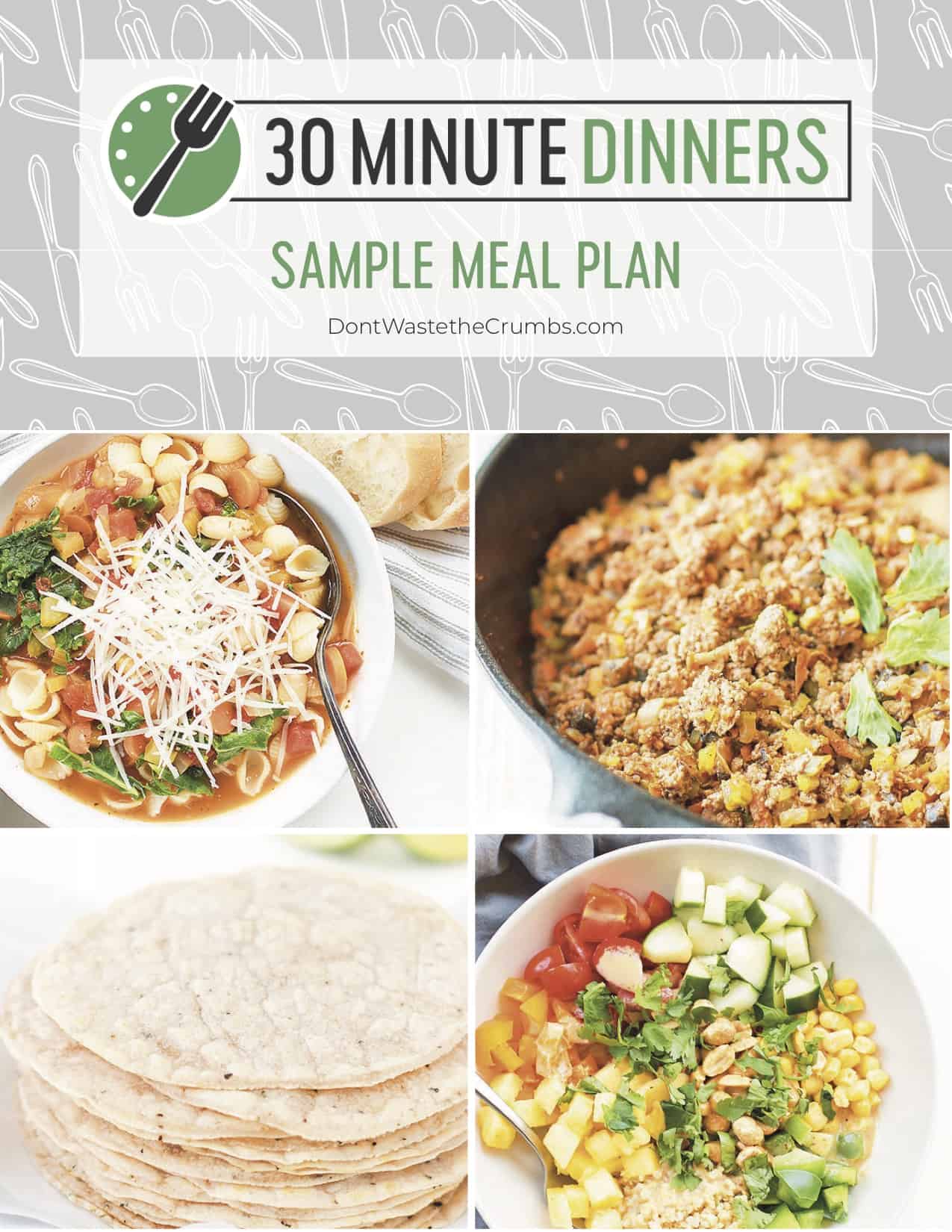 30 Minute Dinners Sample Meal Plan
Sign up to get instant access to my
30 Minute Dinners Sample Meal Plan
, complete with recipes and step-by-step instructions!
Watch How to Make 15 Minute Hot Sauce
15 Minute Homemade Hot Sauce
Homemade hot sauce recipe that tastes just like Frank's hot sauce! Ready in 15 minutes and can be tailored to mild, medium or hot – however you want!
Author: Tiffany
Prep Time:

5 minutes

Cook Time:

10 minutes

Total Time:

15 minutes

Yield:

2 cups

1

x
Category:

Sauces/Condiments

Method:

Blend

Cuisine:

American
Instructions
Put on gloves (kitchen-safe) and wash the peppers.
Cut the tops off of your peppers and slice them in half lengthwise.
Add peppers, salt, and garlic to pour the vinegar into a saucepan/pot. Bring to a boil and reduce heat to a low boil until the peppers are soft (about 10 minutes).
Pour everything into your blender, including peppers and vinegar.
Blend it (seeds and all) until liquefied.
Add additional heat if desired. If you like it hot, add a Habanero (or half of one), re-blend, and re-taste.
Enjoy. You now have hot sauce!
Notes
This additional pepper added to the blender isn't cooked. We don't recommend adding "additional heat" when you're cooking the peppers on the stove when you make this the first time. This gives you the chance to adjust the heat after the fact, little by little. Once you determine how much heat you like, feel free to add those additional peppers to the ones you cooked earlier in subsequent batches.
Keywords: hot sauce recipe