This Homemade Corn Tortillas recipe is SO easy to make with only 3 simple ingredients. Gluten-free, freezer-friendly, soft, foldable, and perfect for taco night!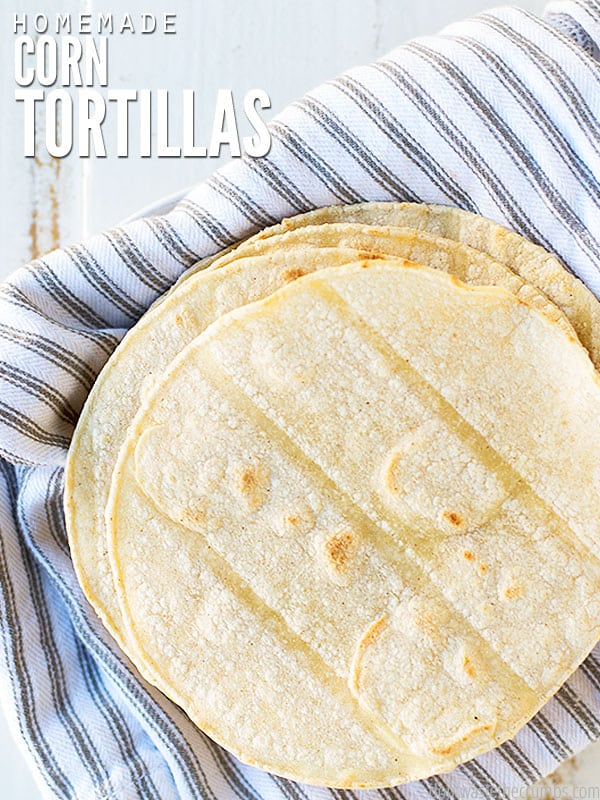 When it comes to making slow cooker chicken fajitas for Tex-Mex night, my family's favorite way to enjoy them is with my homemade flour tortillas. They are so much tastier and healthier than buying store-bought.
After all, who wants to eat something as simple as a flour tortilla that has hydrogenated oils in it? Not me! Once I made them myself, I found that they were so easy that I have never bought them from the grocery store again.
So when it comes to family taco night, it's only natural that I would want to try making my own corn tortillas, right? You bet! And let me tell you, they are just as simple, easy and healthy as homemade flour tortillas. The bonus? They're gluten-free too!
Try them and your family will absolutely LOVE having taco night, even more than they already do!
Homemade Corn Tortillas
Not only is this corn tortillas recipe super easy to make, it is also:
Simple. These corn tortillas literally have 3 ingredients. Corn masa + salt + water. That's it!
Healthy. With a recipe so simple, minus hydrogenated oils and preservatives, it's a no-brainer!
Gluten-free. Your gluten free family members or guests can enjoy tacos and fajitas with corn tortillas!
Freezer-friendly! Yes, you can freeze them! So make a big batch, and you'll always have them on hand for taco night!
Frugal. With only 3 simple ingredients, they are super affordable, especially if you make a big batch and freeze them ahead.
What are the ingredients in homemade corn tortillas?
Perfectly simple!
How to make corn tortillas
Preheat a skillet (I use a cast iron skillet) to 400F (high heat).
Combine 1 1/2 cups corn masa + ¼ tsp salt + 1 cup warm water in a large mixing bowl.
Knead the mixture into a masa dough.
Pinch a small portion of dough and roll into 1-2″ balls of dough. Place in a tortilla press and press into a 6″ round tortilla. (Or use a rolling pin and a glass jar.)
Cook the tortillas on the griddle for 1 minute. Flip and cook again for 1 more minute. Remove from the heat and keep covered. Serve warm.
How do you heat corn tortillas so they don't break?
Corn tortillas are most pliable when they are warm. To re-warm them, toss them one at a time into your skillet and warm for 15-30 seconds per side, just until you see light brown spots.
Some people use tortilla warmers, but I think that using the skillet is the quicker and easier way.
How do you freeze corn tortillas?
Freezing corn tortillas is a great idea, especially if you make a big batch and have taco night a few times on your monthly meal plan.
Remember that corn tortillas should only be frozen once they are fully cooled. You can freeze them on a tray first, and then gently stack them in a freezer bag (some people like to also wrap the stack in plastic wrap before you place them in the zip sealed freezer bag). Or, freeze them stacked in a freezer bag with wax paper or parchment in between each tortilla.
I prefer to freeze them on a tray first, because wax paper and parchment paper can be expensive.
Want to have an affordable taco night at home? Here's how:
1. Offer several taco options
For a family of four, start by offering at least two fillings to go inside the tacos. Serve at least three fillings for groups of six or more. Some ideas include:
chopped steak
carnitas (shredded pork)
grilled fish
Next, offer two or three different relishes to also go inside the taco.
sautéed onions and zucchini
sautéed onions and bell peppers (fajita style)
Then, offer a few different types of salsa.
Finally, serve a few traditional (and non-traditional) toppings for every one to top their tacos with.
sour cream
shredded cheese
fresh cilantro
fresh tomato wedges
lime wedges
chopped olives
bacon pieces
shredded lettuce
2. Serve everything in their own dish, pre-measured before dinner
I'm not saying skimp out on the food by any means, but I am saying to be conservative with your serving bowls. Usually 1-1/2 cups of each dish you're serving (including the relishes, salsa and toppings) is more than sufficient.
You can only fit so much food inside a tortilla at one time, so why have all of that food out at once, right? PS – Just in case someone is extra hungry, cook extra chicken and leave it in the kitchen for the next serving.
3. Mix and match tortillas
It's easily a toss up between corn tortillas and flour tortillas. We like to mix it up between the two, giving us even more variety to our tacos. Plus we like to entertain guests, and some people are gluten free. Here is the recipe for our favorite flour tortillas.
Additional Tips to Make Taco Night a Success
Serve a simple side salad or a vegetable to stretch taco fillings even more.
Taco night is ideal for serving small amounts of leftover meat, so freeze and save even the smallest amounts!
Fresh ingredients taste better, so aim for fresh produce whenever possible.
Note: As a clear out the fridge kind of meal, tacos work great when you are trying to stretch the budget just a bit at the end of the month. Learn more ideas on how to make your budget work for real food in Grocery Budget Bootcamp!
What to serve alongside tacos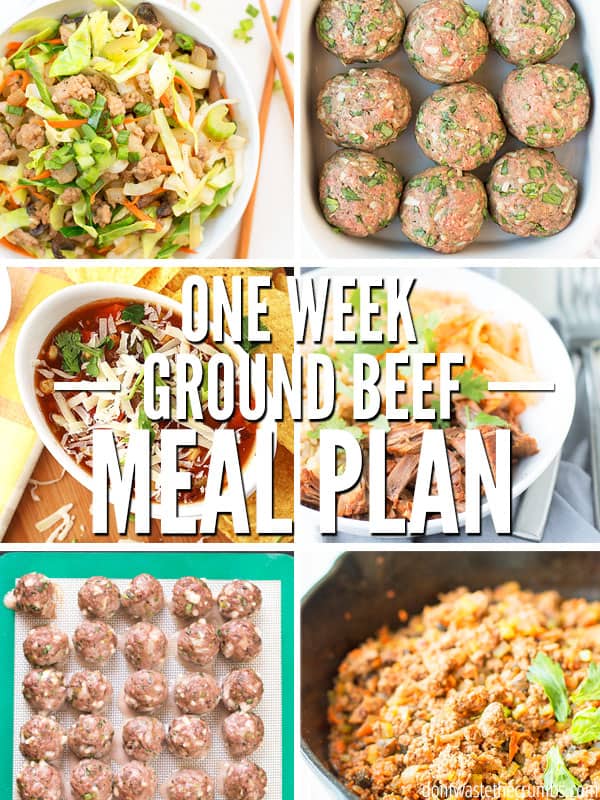 Ground Beef Meal Plan
Sign up to get instant access to my
Ground Beef Meal Plan
, complete with recipes and shopping list!
Watch How to Make Homemade Corn Tortillas
Homemade Corn Tortillas
My favorite taco has coconut rice, lentils, chicken, salsa verde and fresh cilantro. What do you like to put in your tacos?