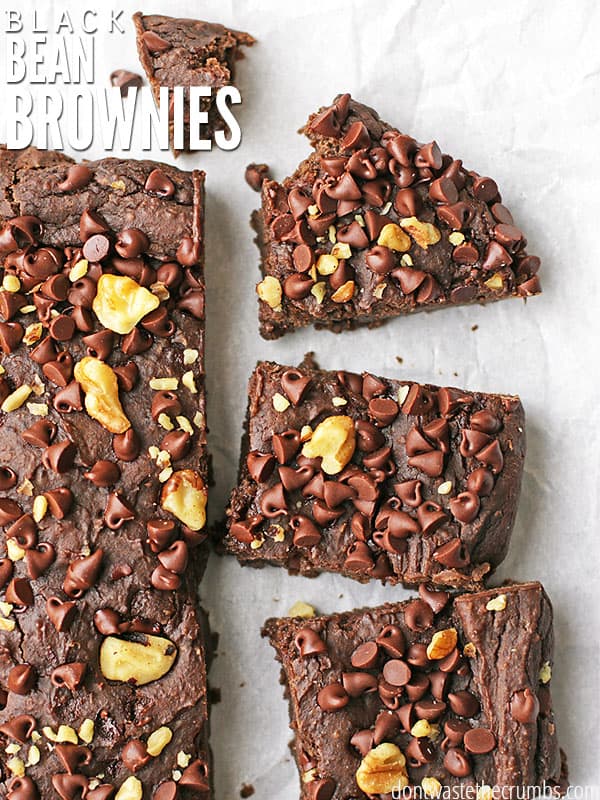 These Black Bean Brownies are so healthy and super simple to make in a blender. They're vegan and allergy-friendly, refined sugar-free with no flour and no mix! A perfect dessert to serve alongside other healthy and easy desserts like this Healthy Fruit Pizza!
One of the biggest ways we save money is by making things from scratch that I'd ordinarily buy at the store, like hot pockets and instant oatmeal packets. While developing this recipe for black bean brownies…
I had flashbacks to my childhood when I would have snack fudge brownies from Little Debbie in my lunchbox. You know, those little thick, fudgy ones with nuts on top?
I couldn't believe that something so healthy, could taste so sinfully delicious!

Now you're probably thinking there's no way that something WITH beans and WITHOUT sugar could even remotely, possibly be good. Hear me out. I went through rigorous testing to ensure my taste buds weren't wacked out when I made these:
The first time I made these, they were for the kids and I. Aside from my serving, they ate the whole pan in 2 days.

When I told the kids they had beans in them, they laughed and asked for more.

The second time I made them, they were for the kids and the husband, who ruined dinner two nights in a row

by grabbing more than a few of these when he got home from work.

The third time I made these, they were for company. Two of our three guests had one brownie, another had two and not a single one of them batted an eye.
When I told Mr. Crumbs that they had beans in them, he looked at me like I had a third eye.
"Really?" he asked. "Yes, really," I replied.
"Are you sure?" he asked again.
(Ha! As if I'd be joking about BEANS in BROWNIES!)
I told him, "Yes honey, for real. They really have beans in them. Can you taste them?"
"Nope, not at all. These taste good! You can put these in my lunches," he told me.
Which by the way, "you can put these in my lunches" is one of the highest compliments you can get in our house.
I hope I have convinced you that these black bean brownies are quite possibly the best thing that will happen to you this year!
Black Bean Brownies
Not only do these super moist brownies taste SO amazing with a rich, fudgy chocolate taste, but it's a such a great recipe because these brownies are:
Made with 9 ingredients that are all 100% real food.
Very allergy friendly– NO gluten, dairy, or eggs! (Just double check your chocolate chips if you are baking dairy free).
Sweetened with maple syrup…and NO refined sugar! (double check those chocolate chips!)
Made with BEANS…without a bean taste! Need I say more?
These brownies have LESS ingredients than processed brownies like Little Debbies, AND we're avoiding the especially harmful ingredients like hydrogenated oils (bad-for-you vegetable oils) and high fructose corn syrup.
Ingredients for Black Bean Brownies
Made with 9 REAL food ingredients, these brownies are flour-less, vegan-friendly, and simply delicious!
Black beans
Maple syrup
Coconut oil
Vanilla
Cocoa Powder
Oats
Salt
Baking Powder
Mini Chocolate Chips
Chopped Walnuts, optional
Psst! Want to kick this up a notch? Try finishing this recipe with a pinch of finishing salt! I love Ava Jane's Kitchen because it doesn't have microplastics (gross, right?) and it's SO GOOD! Plus, you can get a bag for just 1¢!! Just add a pinch when you pull the brownies from the oven and try not to drool as you wait for them to cool!
(Get your penny bag of salt on this page.)
Note: I have seen some recipes which call for instant coffee, which doesn't turn out with a taste like coffee, but deepens the chocolate flavor of the brownies even more. Although I haven't tested it in this recipe, I'm sure it's a delicious option. Let me know if you try it!
Are Brownies with Black Beans Healthy?
Yes! Since they are made with only 9 simple real-food ingredients, they are much healthier to eat than processed box brownie mixes or packaged brownies with unhealthy ingredients like Little Debbies.
According to Harvard Medical School, black beans are loaded with fiber, protein and a ton of other nutrients. It's a great idea to make them a regular part of your diet!
I can't mention enough that these brownies are free of refined sugar (even store bought brown sugar is refined sugar), and sweetened with natural maple syrup, which is real food that our bodies recognize as food!
How to Make Black Bean Brownies
This recipe is so quick and easy that you may want to satisfy your sweet tooth every week with it!
Grease an 8 x 8 square baking pan (or use parchment paper).
Blend the ingredients in a high speed blender (or a food processor).
Fold in the chocolate chips. YUM!
Spread the brownie batter in the baking dish.
Bake. Cool. Enjoy!!!
Are Black Bean Brownies Gluten-Free?
This recipe is made without using gluten ingredients! Just be sure to check the oats and the chocolate chips to be sure that they are without gluten, if necessary for you.
More Easy Dessert Recipes
Black Bean Brownies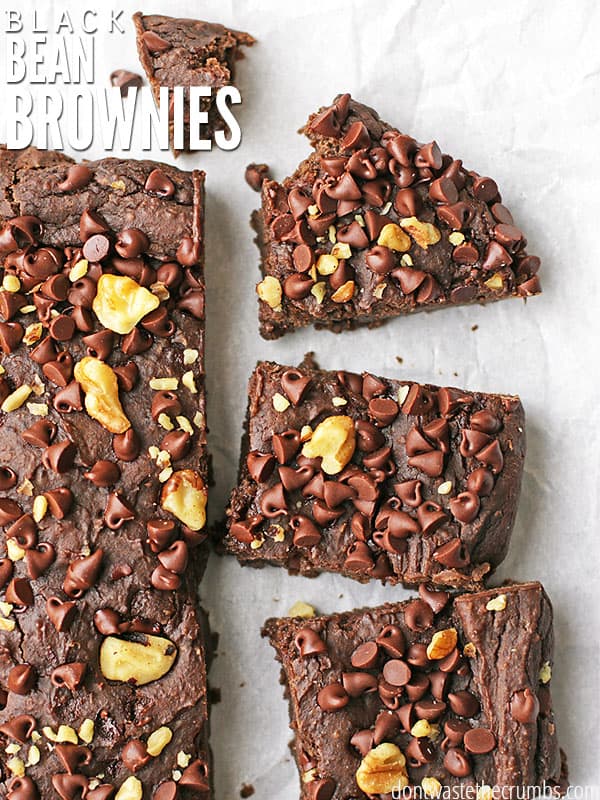 These Black Bean Brownies are so healthy and super simple to make in a blender. They're vegan & allergy- friendly, refined sugar-free, no flour and no mix!
Author: Tiffany
Prep Time:

10 mins

Cook Time:

18 mins

Total Time:

28 minutes

Yield:

12

brownies

1

x
Category:

Desserts

Method:

Blender

Cuisine:

American
1 1/2 cups

cooked black beans (how to make them homemade)

1/2 cup

maple syrup

1/4 cup

coconut oil, melted

2 tsp

vanilla

2 Tbsp

cocoa powder

1/2 cup

oats

1/4 tsp

salt

1/2 tsp

baking powder

1/2 cup

mini chocolate chips, divided

2

–

3

Tbsp chopped walnuts (optional)
Instructions
Preheat the oven to 350F.
Grease an 8×8 baking dish or line with parchment paper.
In a high powdered blender OR in a food processor, combine the ingredients in the order listed.
Process the ingredients until the batter is ultra smooth, approximately 2-3 minutes.
Fold in 1/4 cup of the chocolate chips.
Spread the batter evenly in the prepared baking dish. Sprinkle the remaining chocolate chips and nuts (if using) on top of the batter.
Bake in the oven for 15-18 minutes, until the brownies are cooked through and set.
Allow to cool thoroughly before cutting.
Notes
This recipe is easy to double. Use a 9×13 pan and bake for 17-18 minutes so that the center is thoroughly cooked through.
* If you don't want to go through the trouble of folding in the chocolate chips (and dirtying another bowl), you can sprinkle them all on top. Alternatively, you can fold all the chocolate chips in too. My kids liked having the small bits of chocolate on top.
** I've made these with canned beans and dry beans cooked from scratch and we preferred the tasted of dried beans from scratch, although the canned beans came in a close second. If you use canned beans, be sure to rinse them thoroughly (until the water runs clear) before using.
Keywords: Black Bean Brownies
Have you ever thought of putting black beans in brownies?