I've become a huge fan of vanilla recently, using it in homemade vanilla bean ice cream, homemade vanilla bean coffee creamer and even using vanilla extract in homemade bug spray.
For several years I've bought vanilla extract in bulk, buying what I thought was a quality product for a fair price.
Then we moved to Georgia and the price for vanilla extract doubled. That was my cue to start making my own homemade vanilla extract!
Why We Should Make Homemade Vanilla Extract
In order to be labeled "pure vanilla extract," the United States Food and Drug Administration (FDA) requires the solution to consist of 13.35 ounces of vanilla beans to a gallon of at least 35% alcohol and up to 65% water. The FDA also stipulates that:
"Vanilla extract may contain one or more of the following optional ingredients: (1) Glycerin, (2) Propylene glycol, (3) Sugar (including invert sugar), (4) Dextrose, (5) Corn syrup (including dried corn syrup)."
Despite the fact that we typically use vanilla extract only a teaspoon at a time, health-wise, it concerns me that these unnecessary and potentially harmful additives and sweeteners are legally allowed to be in store-bought vanilla extract. Especially when you'd think that "vanilla extract" only contained vanilla.
Have you ever looked to see what's in your vanilla? I've found dextrose in Kirkland brand vanilla extract (from Costco) and corn syrup in McCormick brand – and I bought both of these bottles without even thinking to read the label before hand.
From a budget perspective, it concerns me that "pure vanilla extract" can be significantly watered down! The manufacturers can dilute their vanilla extract appropriately and while we think we're getting 100% vanilla extract, we're really get 35% vanilla extract!
Is Making Your Own Homemade Vanilla Extract Really Cheaper?
I mentioned earlier that after we moved to Georgia, the price of vanilla extract doubled.
When I first shared my top items to buy at Costco, I had vanilla extract listed at $6.99 for a 16 oz bottle. Just a couple of months ago I paid $16.99. Isn't that crazy?!
I was convinced to make my own homemade vanilla extract when I learned about the additives it can contain, but when the price nearly doubled, that sealed the deal.
When you consider the price of the two ingredients needed to make homemade vanilla extract – alcohol and vanilla beans – here's how the cost breaks down:
Alcohol: I prefer to use vodka (more on that below) and the cheapest I've found is $10.49 for 1.75L at Wine Depot, a.k.a. the "Costco of adult beverages." I've also seen the same size bottle at Costco for $14.99.
Vanilla Beans: My price point for vanilla beans is 75¢ per bean. Just a heads up, the vanilla beans at your local grocery store are grossly expensive. If you want to get the best vanilla bean without spending a lot of money, buy them online (these are the ones I buy and they're less than my price point!). For comparison purposes, 25 vanilla beans is about 4 ounces.
If we're replicating a typical bottle of store-bought vanilla extract, you need about 16 oz of alcohol and 4 vanilla beans. Using the prices I can get locally, that makes each 16 oz batch of homemade vanilla extract just $5.84 – even cheaper than my previous best deal at Costco!
UPDATE: When Vanilla Beans Go Up in Price
The prices on vanilla beans have skyrocketed! If you click the link above to the vanilla beans that I buy, you'll notice they are WAY above my price point. Yikes!
Because of that, I've figured out a few vanilla substitutions that work for baking and cooking. In fact, I found 15 different ways to substitute for vanilla! You don't want to skip the vanilla, but if the prices on beans right now will bust your budget, try a substitution.
Substituting lesser priced ingredients for higher ones is the FIRST thing I teach my students in Grocery Budget Bootcamp. Because of substituting inexpensive ingredients, or ingredients already in the pantry, most of my students save money the first day of class! It always blows me away when I hear about the savings from simple substitutions.
Choosing Ingredients for Homemade Vanilla Extract
Homemade vanilla extract is just two ingredients: alcohol and vanilla beans.
The Best Alcohol for Vanilla Extract
I'm a firm believer that quality ingredients just taste better. But in the case of homemade vanilla extract, go cheap – as cheap as you possibly can!
The quality of alcohol doesn't matter when you're done making vanilla extract, so you can skip buying the good stuff. Your goal should be to find the best deal you can find for vodka, rum, brandy or bourbon and that's it.
Personally, I chose vodka because I use it in other recipes like homemade hand sanitizer and essential oil bug repellent. If you already have another suitable alcohol at home, I'd go with that.
Of course, the flavor of the vanilla extract will taste different depending on the type of alcohol you use, so bear that in mind as you make homemade vanilla extract. It's hard to say how much rum flavor will be present if you're using just 1 tsp of spiced rum to make this extract, but if you're not one to take chances, stick with vodka.
The Best Vanilla Beans for Vanilla Extract
This topic is debatable. If you are a vanilla extract connoisseur, then you'll be able to tell the difference between a "rich and creamy" Madagascar vanilla versus a "mild, well-balanced" Bourbon vanilla and even the "floral, cherry-chocolate" Tahitian vanilla.
Personally, I've never tried any other variety of vanilla extract than what my local store carries. I'll likely never attend an official vanilla bean extract tasting, nor will I ever own multiple types of vanilla extract at the same time.
If you're a home chef like me and just want vanilla extract that tastes like vanilla, don't worry so much about the type of vanilla bean. Just use vanilla beans that are fresh and offer the best bang for your buck. For me, that means using these vanilla beans.
The Best Jars for Vanilla Extract
Because you have to store this stuff in something, right?
Assuming you're frugal like me, the best jars for homemade vanilla extract are the ones you already have on hand. Old oil and vinegar bottles are the perfect size. Once they're washed, you can remove the label from the jar with this method and start making extract!
If you don't have any old bottles OR you're giving these as gifts, there are plenty of super cute jar options available. Thrift stores and garage sales are good places to look, but this set of 8.5 oz swing-top jars is perfect for the job – it seals completely and keeps the vanilla beans submerged. Plus you can make a half batch of vanilla and it'll fit perfectly.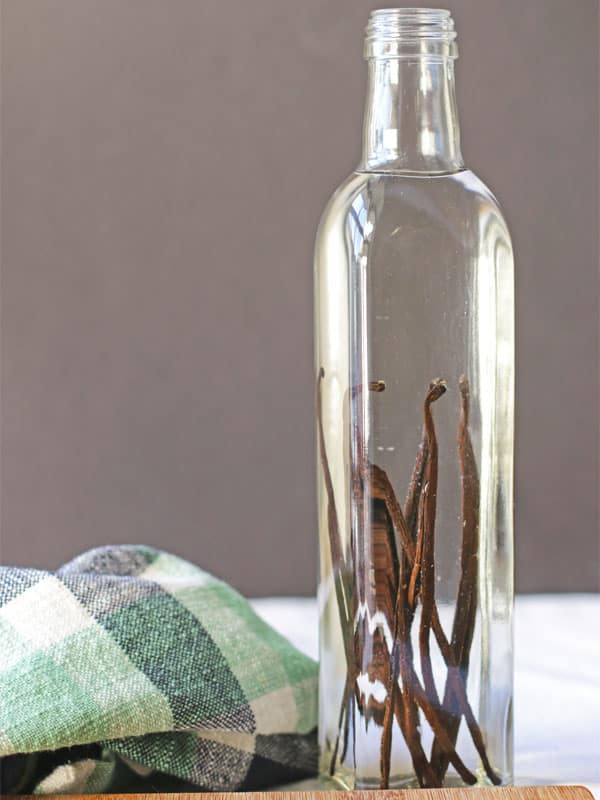 Tips for Making Homemade Vanilla Extract
To Split, or Not to Split (the Bean)
Depending on the article, some say to split the vanilla bean before submerging and others say to submerge the vanilla bean whole. It doesn't seem to affect the final outcome, so I say do whatever is easier for you.
Personally, the vanilla bean paste inside the pods are like gold to me, so I prefer to save the beans I have after using the vanilla bean paste in another recipe (like vanilla bean ice cream) and then use the pods to make extract.
If you're not making anything with vanilla bean paste anytime soon, go ahead and submerge the beans whole. When you run out of extract, or when the extract is ready, you can pull out a vanilla bean and use the paste within however you'd like.
Re-using Vanilla Beans
Another frugal perk of making your own homemade vanilla extract is that you can re-use the beans and make more!
When you run out of extract, fill the container back up with more alcohol, set it aside and soon you'll have another batch of homemade vanilla extract.
The only catch with this is that your second batch might not be as flavorful as the original, but whether this happens depends on several factors (the beans themselves, temperature, bean to alcohol ratio, the alcohol itself, whether you're used to cooking with watered down vanilla extract in the first place, etc.).
My suggestion is to have two batches going at the same time so that you always have a "good" batch of vanilla going and that you're able to use.
Anytime you're re-using the beans, taste the vanilla extract before you use it in a recipe to ensure it's as strong as you'd like. If it's not as strong, add new vanilla beans and let it cure.
If the vanilla flavor is strong enough for you, consider that money saved!
Make Vanilla Extract Faster
I haven't tested this myself, but I've read that you can cut the vanilla beans in half, or even smaller, and that you'll make extract in as little as 3 weeks. If you've done this before, would you let us know how it turned out?
Homemade Vanilla Extract
Make 100% pure homemade vanilla extract without added sugar or preservatives. You need just 2 ingredients and a few weeks for a delicious vanilla extract!
Author:
Prep Time:

2 months

Cook Time:

0 mins

Total Time:

1464 hours

Yield:

16 oz

1

x
Category:

Sauces & Condiments

Method:

Bowl

Cuisine:

American
Scale
Ingredients
16 ounce

s alcohol (vodka, rum, bourbon or brandy)
clean jar
Instructions
Combine alcohol and whole vanilla beans in a clean jar and seal.
Place the jar in a cool, dark place for 2 months, occasionally agitating the beans in the alcohol.
When the extract is done, you can leave the beans in or remove them.