Last August we embarked on a challenge where we spent zero dollars for 30 days.
We learned SO MUCH from that challenge – both financially and personal growth – that we wanted to do it again and we wanted YOU to do it with us.
You received the official invitation a couple weeks ago, as well as the rules of the game, and if you're joining us in the challenge, today marks day 2.
If you haven't committed yet, it's never too late to join!
With only one full day under our belts, it'll be too early to tell how the rest of the challenge will pan out. But I can tell you this: Mr. Crumbs and I have a clear plan of attack in order to make it through the month without spending any money.
Do you?
Benjamin Franklin is the one who quoted, "If you fail to plan, you are planning to fail," and his advice couldn't ring truer when you're looking at 28 days of not spending a dime.
I mean, the thought alone is daunting… but then to face the challenge head on without any plan in place?! We all know that's just a disaster waiting to happen.
There are mouths to feed, places to go and obligations to follow-through on. One of the lessons we learned from the first time is that the only way to successfully make it to the end without a mass panic ensuing is coming up with a game plan from the get go.
But how do we do that? Where do we even start?!
From the beginning.
Anytime you tackle a goal, whether big or small, you always start with what you already have and what you already know. So let's start there in creating a fiscal fast survival guide.
How to Survive a Fiscal Fast (No Spend Challenge)
1. Take Inventory and Stock of What You Already Have
Yes, this goes for food, but it's so much more too. Remember that the rules state you can't buy ANYTHING unless you earn extra income – above and beyond your normal salary – to pay for it.
Taking inventory of your kitchen is definitely a great start, and I highly recommend doing that, but consider what you normally buy for other areas of the home too.
toilet paper
personal hygiene
school supplies
clothes
birthday/anniversary gifts
home decor/organization tools
printer ink & paper
Walk around the house, making yourself fully aware of items that you regularly replace and ask yourself a few questions:
How much do I have right now?
Will it last me the rest of the month?
Can I go without it?
If I have to replace it, how much would I need to make it through February?
The goal of the challenge isn't to deprive you of the fun things in life, rather to cultivate true thankfulness and content in the things we already have.
At the same time, you don't want to run out of toilet paper on day 5.
2. Look Ahead at What's Coming
We're talking doctor appointments, birthday parties, work, school, church… places you have to drive to, field trips to take, events you have to contribute to, or gatherings you're hosting at home.
It's best to be fully aware of what your calendar contains, so that you don't accidentally find yourself in a bind later in the month.
Can you image the predicament you'd be in if on week 3,  something you've committed to is 50 miles away and you're down to just two ticks of gas?
It would be so much better to know about that up front, so you can either ration gas accordingly now, and attend the event later, or perhaps reschedule the event to next month when the fiscal fast will be over.
Or another idea – change the location of the event so it's closer to home, or even at your home!
A few questions to consider as you review your family, work and school calendars:
How many miles do I have to drive this month? Can any of the trips be combined? Eliminated?
Is it absolutely imperative that we attend this activity? Or can we miss it?
How many meals are we eating at home?
Do we have any commitments we have to bring food to?
How many people will be coming over this month? And for what type of activity?
We certainly don't want you to feel like you can't go anywhere or invite anyone over during this fiscal fast. We just want to point out the obvious – that you won't be able to drive to work AND take the kids to school AND go to church AND drive an extra 100 miles when the car is running on fumes.
Think ahead, and be prepared.
3. Plan for What's Coming, with What You Already Have
If taking inventory was step 1, and looking ahead was step 2, this step is the bridge connecting the two.
This is where you meal plan, and strategically place your meals so you don't have to eat rice and beans every night for a week. Where you consider making a dozen pancakes with just two eggs over scrambled eggs for just one person.
This is where you scour frugal recipes to see what you can make with just potatoes and frozen corn. To see what delicious dish can be made with only a bag of frozen vegetables.
Think about all the places you're committed to be and see if you have enough gas to get you there. If not, figure out how many miles you're short and seriously consider skipping an event, or finding another creative way around the problem (see step 4 for more ideas on this).
This is where you prioritize your needs, if or when the times comes and you're forced to make a decision between gas in the car or toilet paper.
This bridge will also help you see how aggressive you need to be with making up the difference between 1 and 2.
4. Fill in the Gaps with Creativity
Depending on how far your 2 is from your 1, you might have to get pretty creative with making ends meet. Remember that you can sell things, work odd jobs or whatever else you can think of to earn extra income above and beyond your normal salary – to help you out this month. But there are other options too, if we think outside the box.
Here are a few ideas to get your creative juices flowing:
buying just one of something instead of 20 (yes, 20 is the better deal, but 1 costs less and might be all you need)
trading your abundance with friends (have a lot of rice but need toiletries?)
host gatherings instead of driving to them
shop only where you have gift cards, and let the balance be your spending limit
sell things via Craiglist, local Facebook groups or have a garage sale
shop only to things within walking distance
expand your "walking distance" by a mile or two
ride share or carpool (consider work, school, kids and church)
offer to cook in exchange for rides (for parents and/or kids)
make an appetizer buffet for dinner
host gatherings after lunch but before dinner, and serve lemonade and iced tea
host a dessert party instead of dinner and make a few different flavors of popcorn
rent movies from the library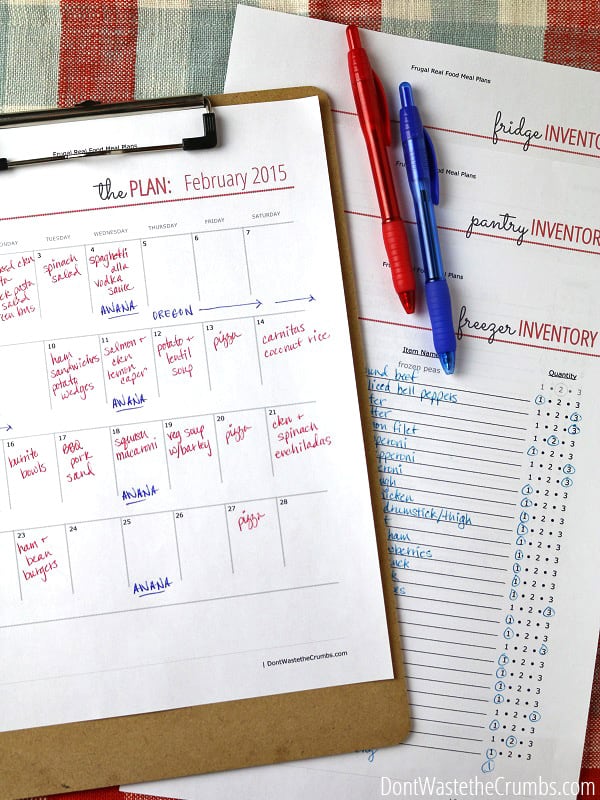 Explaining to Family and Friends
When we started this challenge last year, it was awkward when our friends (who read the blog) asked us "How is it going? The whole not spending any money thing?"
On their behalf, they were just curious if it was even possible, and why we would want to do that to ourselves.
But to us, it WAS awkward, and I'll admit – we questioned ourselves more than once if we were simply being way to extreme (something we're known for).
However, by the time we had completed the challenge, our outlook on what we needed versus what we wanted had totally changed.
Our hearts were so content and we no longer desired wasteful, frivolous things anymore and focused on how we'd already been blessed. And those questions our friends kept asking us? We were thrilled to answer because our perspective had changed so much!
For those who have joined in the challenge, did you create a plan of attack? What difficulties do you think you'll run into? How do you plan to overcome them?