This homemade toothpaste recipe is natural, frugal, and easy to make! Why buy clay toothpaste when you can make some at home in 5 minutes?! For a different flavor, try my Cinnamon Flavored Remineralizing Toothpaste Recipe.
Confession: I make homemade toothpaste because I'm a toothpaste snob.
I fell in love with Earthpaste after using it only once, and the whole family has been happily brushing their teeth with dirt ever since. In fact, we credit my husband's beating gum disease to the clay.
I was so in love with all-natural Earthpaste and so against conventional toothpaste (because of the glycerin and fluoride), that I never wanted to go back and use the old stuff again. That was the moment when I decided to make homemade toothpaste that's just like Earthpaste.
And if I'm going to make something myself, you know I'm going to find a way to do it quickly and frugally.
WHY MAKE HOMEMADE TOOTHPASTE?
Oral health improves your overall wellness, yet many mainstream oral care products have synthetic additives and harmful ingredients, like sodium lauryl sulfate, which we try to avoid. Artificial sweeteners and flavors, artificial colorings, and synthetic vitamins? No, thank you!
It saves money! The ingredients you purchase will last through several batches of toothpaste, and overall, you'll be paying less per ounce than store-bought toothpaste, especially if you prefer natural toothpaste.
Reduce waste by using less packaging – see below for my tips on how to store your homemade toothpaste.
If you have kids, having them help mix up a batch might encourage them to brush their teeth more. I don't know about your kids, but mine are more likely to use something they've helped make.
You get to choose the flavor. If you're not a fan of peppermint, choose a different essential oil to flavor your toothpaste.
HOMEMADE CLAY TOOTHPASTE INGREDIENTS
So, what do you need to make homemade clay toothpaste? Luckily, this ingredient list is pretty short.
Bentonite clay. You might be asking, why bentonite clay for teeth? Bentonite clay has so many amazing health benefits (you can read more about that HERE and ways to use it!). One of the benefits is the remineralizing effect clay has on your body (and teeth!).
Distilled or boiled water that has cooled.
Liquid stevia OR xylitol. Optional, to taste.
Essential oils. Peppermint oil, lemon oil, or orange oil are good toothpaste flavors. Tea Tree Oil is okay, but I distinctly use Plant Therapy, which you can find on Amazon.
Tiny pinch of salt.
Psst! If you're going to add salt, I highly recommend Ava Jane's Kitchen. You may think all salt is created equal, but unfortunately, 90% of the salt produced around the world contains microplastics (gross, right?). Ava Jane's Kitchen is an exception. Their salt is 100% microplastic-free, and it's SO GOOD! Plus, you can get a bag for just 1¢!! (Get your penny bag of salt on this page.)
HOW TO MAKE TOOTHPASTE INSTRUCTIONS
This homemade toothpaste comes together super fast! Here's how to make toothpaste in 5 minutes.
Step 1: Combine 3 Tbsp of water with clay in a non-metal bowl and mix well using a non-metal spoon (the clay should never come in contact with any metals).
Step 2: Add stevia and 10 drops of desired essential vitality oil (peppermint, lemon, or orange). Mix well.
Step 3: Add a pinch of salt, mix well, and taste.
Step 4: Add additional stevia and/or essential oils and/or water to taste and texture, adding oils one drop at a time and water ½ Tbsp at a time.
Note: Wait 48 hours before making significant adjustments to the flavor. The flavors will meld together over time.
DIY TOOTHPASTE
The total cost of all-natural, homemade toothpaste (that's just like Earthpaste) is $0.95 per ounce!
So far, the only downside I can see from making your own DIY toothpaste is the up-front cost of ingredients.
However, one 10 oz tub of bentonite clay can make over 34 batches of the recipe above and each 5 ml bottle of essential oil will make over 8 batches.
You will have enough ingredients on hand to make toothpaste for a while!
For a whitening formula, try this Activated Charcoal Tooth Powder Recipe!
Not a DIY Toothpaste kinda person?
That's ok! Here are some natural toothpaste options that give you healthy, clean teeth and gums.
Earthpaste – this natural toothpaste is based on bentonite clay and contains no fluoride, glycerin, artificial colors, or foaming agents.
Primal Life Organics Toothpowder – formulated with cleansing, mineral-rich bentonite, kaolin, french green clays, and hydroxyapatite to clean, whiten, and remineralize your teeth!
STORING HOMEMADE BENTONITE CLAY TOOTHPASTE
We use this bentonite clay based toothpaste by simply dipping our brushes in one jar. However, if you'd prefer everyone to have their own containers, here are a few options: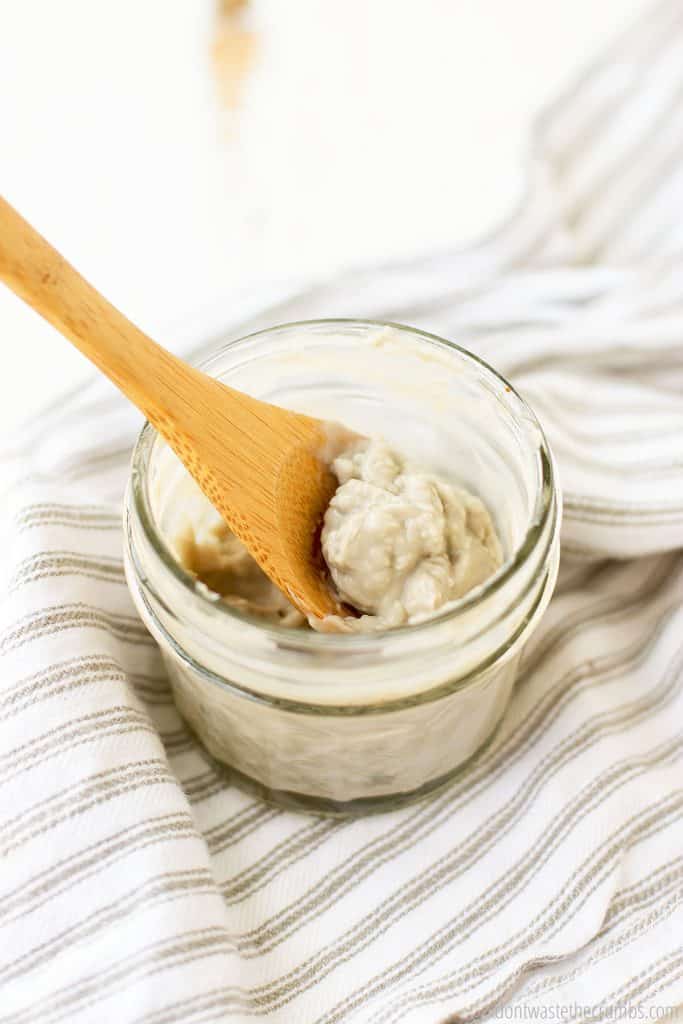 HOMEMADE TOOTHPASTE RECIPE FAQS
What is the best homemade toothpaste?
Give my homemade toothpaste recipe a try! You won't regret it. This recipe is natural and simple and will clean your teeth without all those unnecessary ingredients.
What can I use if I don't have toothpaste?
If you run into a situation where you don't have any toothpaste, don't worry! You can use just baking soda: just dip your toothbrush into the baking soda and brush as usual with a simple baking soda toothpaste.
Can I use salt to brush my teeth?
Table salt shouldn't be used for brushing teeth since it would be too harsh and can damage your enamel. However, sea salt works well! You can dip your toothbrush into the salt, or you can dilute the sea salt with water (If you are concerned with the abrasiveness.)
Can I use coconut oil in my own homemade toothpaste?
I thought it would be super cool to make homemade toothpaste with coconut oil, so my first batch included it plus clay, peppermint essential oil, and salt. The flavor wasn't bad, but it made for a really weird brushing experience, because coconut oil is solid at room temperature, so you can't just dip your toothbrush into the jar and go. It also made for a weird texture in my mouth during brushing. Instead of worrying about the temperature of our toothpaste, we stuck with our own toothpaste in this post.
MORE HOMEMADE TOOTHPASTE RECIPES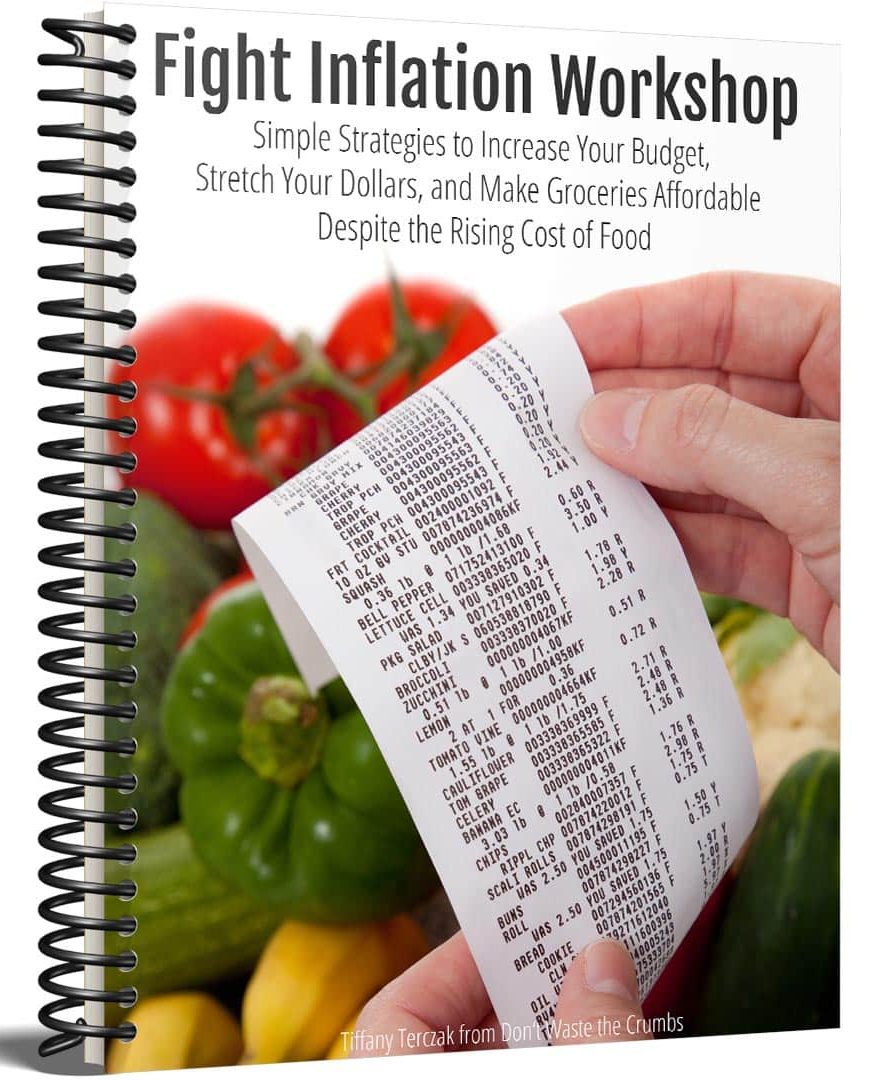 Fight Inflation Workshop
Sign up for my FREE
Fight Inflation Workshop
and learn simple strategies to save money, even with rising food costs!