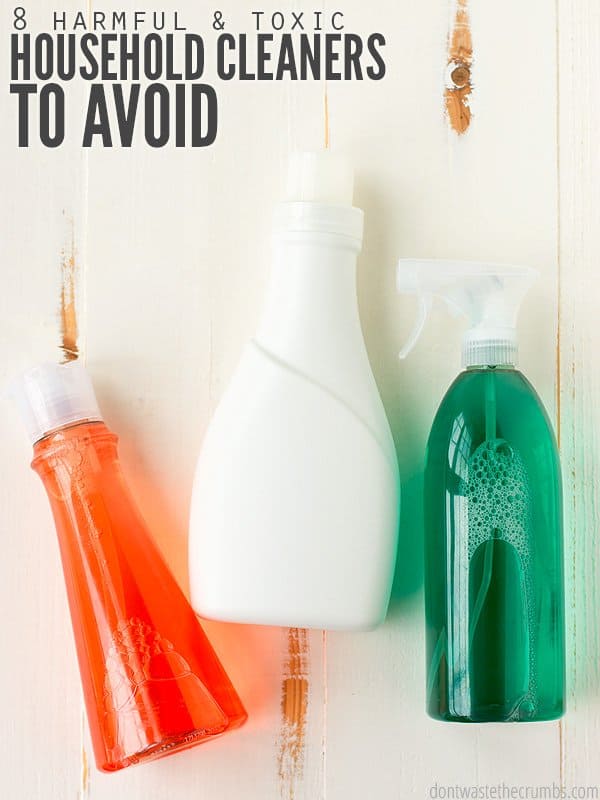 Earlier this year I hosted a chemical-free living challenge, showing you how to replace dangerous chemicals in your house with natural cleaning options that were just as effective.
We worked through one area at a time, focusing on the rooms and spaces that would affect us the most: kitchen, bathroom, laundry and personal care.
I knew the chemicals in commercial cleaners were dangerous, but I had NO IDEA just how harmful household cleaners could be!
Why bother cleaning up our cleaning products?
Because chemicals are everywhere. On average, women use about 515 chemicals on a daily basis and don't even know it. Think it's not possible? Think about this.
Which of these do you use as you get ready in the morning?
Shampoo, conditioner, body wash, face wash…
Body lotion, face lotion, toothpaste, deodorant…
Foundation, concealer, eye shadow, eye liner, mascara, blush, lipstick, perfume…
And then as you go about your day?
Laundry detergent, fabric softener, dryer sheets, bleach…
Dish soap, dishwashing detergent, rinse aid…
Hand soap, hand lotion, hand gel…
What if it's cleaning day?
Toilet bowl cleaner, tub & tile cleaner, glass cleaner…
Granite cleaner, stainless steel cleaner, all-purpose cleaner…
Floor cleaner, carpet cleaner, dusting spray, air freshener…
You get my point, right?
I looked up the ingredients in my old foundation and there were 42 ingredients listed. And that was just ONE item I used to use!
Considering this, I don't doubt whatsoever that the average woman hits 515 chemicals.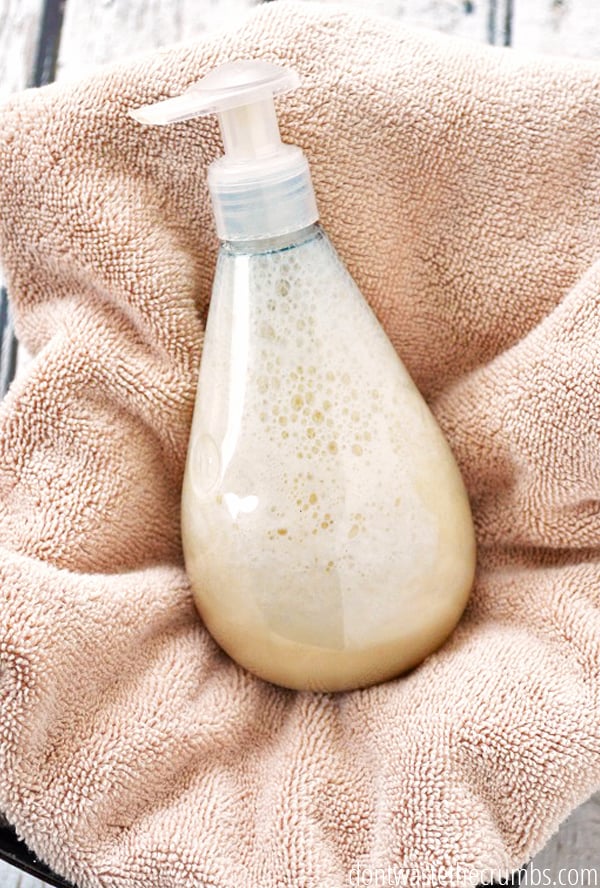 Are chemicals really that bad?
Remember how eggs used to be bad for you? And then as time went on and more studies were conducted, it turns out that eggs were actually good for you?
Common household cleaners are similar. As more studies are done, scientists are learning that chemicals cause more harm that we initially thought.
Anywhere from 65,000 to 100,000 chemicals on the market today have NOT been tested for safety.
When a chemical is tested, toxic labeling is only required if 50% or more of the animals tested die.
Government regulations allow manufacturers to NOT list the ingredients on labels. (How can we trust a manufacturer if they won't tell us what's inside?)
The government doesn't test the safety of chemicals in every day cleaners, nor do they require the manufacturers to test them either.
The average home has 50 times the level of chemical exposure that the Occupational Safety and Health Administration (OSHA) defines as standard.
Only 5-10% of cancers are genetic. That means 90-95% of cancers are caused by our environment.
The type of harm these chemicals can do.
I've looked up LOTS of chemicals lately, so this isn't an all-inclusive list, but here are just a few of the known side effects of some of the chemicals found in our everyday cleaning products:
Skin & eye irritants
Reproductive problems
Stimulated growth in human cancer cells
Linked to pancreatic cancer
Upper respiratory tract irritant
Central nervous system disorders
Neurotoxin
Triggers asthma
In as little as 26 seconds after exposure, chemicals can be found in the human body in measurable amounts.
That means it doesn't matter how far away from your kids you spray, or how quickly you get the cleaning job done – once you squeeze the nozzle, it's too late
Wait – I thought this was a food blog?
You're right – my primary focus here is helping you eat real food on a budget. That means showing you how to be an amazing shopper, sharing family-friendly recipes that don't break the bank, and teaching you the basics of real food – like reading ingredient labels.
But once you're in the habit of reading food labels, you can't help but read the labels on everything else too.
Several years ago (when I first felt like I had a grip on what we were eating and how to stay in budget each month), I turned over a bottle of body wash while taking a shower.
And I had NO IDEA what in the world those ingredients were.
How could I say "no" to eating trans fat and highly processed sugar while saying "yes" to a body wash that irritates the skin and respiratory system and is toxic to my organs?
Or intentionally washing my newborn's clothes in "specially designed" newborn laundry detergent that contains chemicals KNOWN to be carcinogenic, cause skin irritation and disrupt hormone production?
If I was being so diligent in the kitchen for the sake of my family's health, I couldn't be willy nilly about what products we use in the rest of the house, so natural living on a budget became a secondary focus.
What about those natural cleaners you can buy?
This makes me angrier more than anything, because I got duped too.
I trusted a company to make good choices on my behalf and subscribed to have "natural" cleaning products delivered to my door. But when I looked those cleaners up online (using the Environmental Working Group and the Think Dirty apps) and looked up each individual ingredient, they weren't any better than the ones I could get at the store!
This whole time I thought I was doing better by choosing the pricier "healthy" cleaners, when there was no point in switching. They weren't any healthier and they cost me 2-3 times as much!
I was disgusted, disappointed, and angry. I no longer use that company (and don't recommend them anymore) and instead have found a plant-based option that I truly love. It's safe for my whole family, it WORKS better than anything I've ever tried before, and it costs me less!!
I know how easy it is to give up when you're overwhelmed, so one of my goals is to offer practical advice in bite-size pieces. This way, you can make small changes that matter now and that will stick around for the long-term… WITHOUT being overwhelmed.
And that's where we are today. After spending 30+ days immersed in harsh chemicals found in the house, I've consolidated the worst offenders.
As you work towards a healthier home, start with this list. Start at the top and slowly work your way towards the bottom. Maybe pick one item to work on each month, or focus on improving one area in the house one month at a time. I've also created a 31 day challenge to slowly moving towards real food and clean products in the home to make real change in just minutes a day.
However you approach it, know that even small steps are progress. Whether you run a marathon or walk it, the end result is still the same.
7 Harmful Household Cleaners to Avoid
1. Fabric Softener
Of all the household cleaners I researched, this one shocked me most. Fabric softeners contain a schlew of harmful ingredients:
Benzyl Acetate – linked to pancreatic cancer
Benzyl Alcohol – known upper respiratory tract irritant
Ethanol – linked to central nervous system disorders
Chloroform – neurotoxin & carcinogen
Quaternary Ammonium Compounds – make your clothes soft & wearable, yet trigger asthma
What makes fabric softeners the worst offender (in my opinion) is because it's not a one-time spray and it's gone. Because these chemicals are embedded into your clothes, the dangerous effects of fabric softeners are two-fold:
You breathe in these chemicals as your clothes then off-gas in your closet and bedroom.
You come in contact with these chemicals as you wear your clothes all day long (and they touch the most private parts of your body!).
And you could even add a third effect, which is forcing other people to breathe these chemicals too. Not too long ago my kids and I walked by a man in Walmart who smelled like a very popular laundry detergent and fabric softener. The smell of his clothes was so overpowering, we had to go to a different part of the store until he finished shopping and was out of the area. It was more than simply not wanting to breathe around him – we couldn't!
Better Options:
Skip the fabric softener altogether. Use ¼ cup baking soda to soften clothes and/or ¼ cup vinegar to help with static cling.
You can also dry clothes on a lower setting, switch to natural fibers over time (like cotton), line dry your clothes or use 100% wool dryer balls to speed up the drying process while eliminating static.
What I Use:
I use these wool dryer balls and dry my clothes on medium instead of high heat.
For a mild scent, I add 1 drop of Thieves essential oil to each dryer ball before each load.
2. Air Freshener
I totally understand wanting the house to smell good, but according to the Environmental Protection Agency (EPA), air fresheners are just one of many sources of volatile organic compounds (VOCs). VOCs can cause immediate symptoms of headaches, dizziness, visual disorders, memory impairment, and eye and respiratory tract infection.
Over regular use and time, VOCs can lead to loss of liver, kidney and central nervous system damage.
Air fresheners also contain formaldehyde, phthalates (more on these in a minute) and 1,4 dichlorobenzene (1,4 DCB) (a known human carcinogen).
Better Options:
Open the windows when weather permits to allow fresh air to circulate throughout the house. Enjoy the way your house smells naturally, like how it smells sweet when you bake oatmeal chocolate chip cookies or when you dehydrate strawberries.
Use homemade carpet refresher when you vacuum to get rid of hidden smells. Bathe your pets often and if you want a certain scent, consider stove-top potpourri made with food scraps.
What I Use:
I have a diffuser in the major areas of my house: kitchen/living room, office, and our bedroom. If I need to get rid of a funky smell (like the time I made fish sticks!) or if I want the room to smell like Williams Sonoma, I use my diffuser.
3. Personal Care Products
I could specifically call out shampoo or body wash here, but really anything you put on your skin is up for grabs because of two big ingredients: phthalates and parabens.
I mentioned phthalates being in air fresheners, so let me explain just how dangerous they are:
They can damage the liver, kidneys, lungs, and reproductive system – particularly the developing testes.
Babies and infants are exposed to phthalates through lotions and shampoos. This is especially concerning since the young are most vulnerable to harm. (source)
In a 2002 study, 72 name-brand off-the-shelf beauty products were tested for phthalates. The results found nearly three-quarters (52 of 72 products) contained phthalates. (source)
Data suggests that phthalates can cause damage to sperm. (source)
Major loopholes in federal law allow the cosmetics industry to put unlimited amounts of phthalates into personal care products without testing, labeling, or monitoring of health effects. (source)
While phthalates seem to affect males and the male reproductive system, parabens are equally damaging for everyone.
According to the non-profit Campaign for Safe Cosmetics (CSC),
Parabens are known to disrupt hormone function, an effect that is linked to increased risk of breast cancer and reproductive toxicity. Parabens mimic estrogen by binding estrogen receptors on cells.
The CSC also reports that parabens have been linked to reproductive, immunological, neurological and skin irritation problems. Oh yeah, and they were banned in the European Union in 2012… as of this writing, the US has only banned them from toys and related childrens products. (source)
Better Options:
Be diligent about reading labels! Look for products that are free of both phthalates and parabens. It might mean making your own, or spending a little more to buy a better quality product.
If the budget is a concern, start with whatever personal care item you use most often. Make it a goal to either make it yourself or buy a better product instead of buying the same thing again.
Another option is to DIY or buy better as you run out of things. In either case though, the goal should be for all personal care items parabens and phthalates free.
What I Use:
My whole family uses goat milk soap from Bend Soap Company for our hair, face and body. If we need it, I make our own homemade conditioner.
I use toothpaste from Young Living in lieu of deodorant (yes, it works!) and we also use Young Living toothpaste when I'm not making our own homemade toothpaste.
My face lotion is coconut oil and Frankincense essential oil.
4. Laundry Detergents
The University of Washington did a study on laundry detergent and found that every product they tested emitted one or more carcinogenic "hazardous air pollutants" which the Environmental Protection Agency (EPA) considers no safe exposure level. The air surrounding the detergent contained SEVEN compounds that are regulated as toxic or hazardous under federal law.
Like fabric softeners, laundry detergents also seep into clothes, off-gas in closets and bedrooms and then come in contact with your skin on a regular and on-going basis. It's important to choose laundry detergent that isn't full of harsh chemicals!
So what do you look for?
You want to use a brand that lists the ingredients on the label (remember that companies are NOT required to disclose the ingredients).
Avoid synthetic fragrances (natural fragrances like those from essential oils are okay).
Seek out brands that use naturally-derived ingredients.
Better Options:
While I haven't personally used it, I've heard good things about Biokleen, this specific version of Seventh Generation and eCover Zero. These all rank well on the Think Dirty app.
What I Use:
We use my homemade laundry detergent and it's a great option for non-toxic laundry. But I get that DIY isn't everyone's cup of tea.
There are a few brands of laundry detergent out there that have non-toxic ingredients. One that I like is Truly Free. They have a variety of household cleaners, laundry soap, kitchen cleansers, and related products. All are made in America, free from toxins, and sold in reusable packaging!
You can use the coupon code CRUMBS30 to get 30% off anything in their shop. This is a HUGE discount! No subscription is required. Simply order through this link.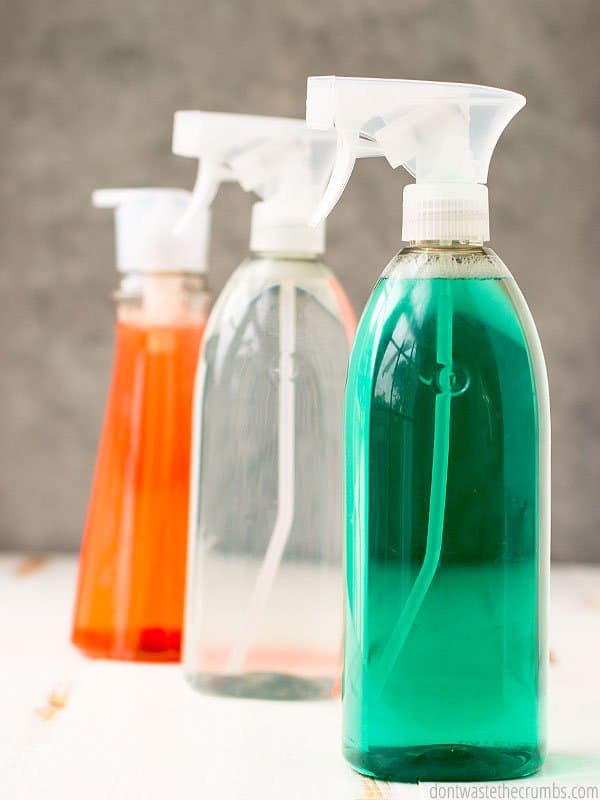 5. All-Purpose Cleaner
My biggest concern with general all-purpose cleaners is two-fold:
First, they tend to contain fragrance. Fragrance is nothing more than a fancy word for "fake chemicals to make our stuff smell good."
It's also a catch-all category where manufacturers can include as little as one ingredient, or up to 100…
They're not required to tell us what those ingredient(s) are…
Some of these undisclosed chemicals are linked to hormone disruption and allergic reactions. (source)
The EWG shared that a chemical often found in fragrance, styrene, can cause cancer according to the National Toxicology Program.
Second, they don't necessarily work!
I tested one of the most affordable and popular household cleaners – vinegar – against raw chicken on a cutting board and a dinner plate and vinegar did not sufficiently remove all the proteins from either surface. (You can watch the video of me doing the tests here.)
How can I advocate to use vinegar to clean when it doesn't actually clean?!
Better Options:
If you prefer the DIY route, castile soap passed the cleaning test. Here's a recipe, but put it into a spray bottle instead of a foaming hand soap dispenser.
If you want to buy a cleaner, make sure you look it up on either the EWG site or the Think Dirty app (preferably both if you can) to make sure it doesn't have any harmful ingredients listed. Aim for one that's ranked a 3 or higher and avoid any that have "fragrance" listed since there's no telling what the company actually used to replicate that "mountain air" or "fresh linen" scent!
What I Use:
I use Thieves Household Cleaner. I tested it against raw chicken alongside the vinegar and the surface came back perfectly clean!
It also ranks a 1 on the Think Dirty app (which is the best rating you can get) and costs only 37¢ (compared to $4+ for a "natural" cleaner at the store that ranks a 7!).
6. Dish Soap
There are several issues with the ingredients found in most dish soaps.
Formaldehyde can cause cancer and is a skin irritation.
Ethanolamine can impact the respiratory system and nervous system.
DMDM Hydantoin irritates the skin, eyes and lungs.
Sodium Borate effects developmental, endocrine (hormones) and reproductive systems.
Methylisothiazolinone is a known allergen and toxicant.
But we should also be concerned about are the ingredients NOT listed.
Some dish soaps use vague descriptions like "cleaning agent" or "surfactant" or "preservative" instead of the actual name of the chemicals. This should be a red flag, because again, why should we trust a company who won't tell us exactly what's in their products?
What's worthy to note here, is that in my research, dishwashing soap in general contained far less harmful ingredients than dish soap. If you have a dishwasher, I would use it as often as you can.
Plus when you run a full load, you use less water than if you were to wash by hand. And then you can do something else instead of washing the dishes!
Better Options:
I used the Think Dirty app to scan every single brand of dish soap on a local store shelf and two "natural" brands ranked 4 and everything else (including a few other "natural" brands) ranked a 7.
As you look for a better dish soap, make sure there's an ingredient list and avoid the ingredients I listed above. Then use the EWG and/or Think Dirty app to learn more about the ingredients listed.
What I Use:
I use Thieves Dish Soap. It contains none of the harmful ingredients listed above and it's scented naturally using essential oils. It's also highly concentrated and one bottle lasts me 3 ½ months!
7. Bathroom Cleaning Supplies
Bathroom cleaning products are dangerous because of the chemicals needed to satisfy the consumer's desire to spend less time and effort cleaning. The only way to remove the need for a little bit of elbow grease is to increase the potency and quantity of harsh chemicals.
Toilet bowl cleaners and drain cleaners can cause severe burns on eyes, skin and if ingested, the throat and esophagus.
In particular, chlorine bleach (a common ingredient in bathroom cleaning supplies) and ammonia produce fumes that are highly irritating to the eyes, nose, throat and lunch.
On top of this, chlorine and ammonia are highly reactive chemicals and produce lung-damaging gasses when they're combined with other chemicals (like acids in toilet bowl cleaners).
Better Options:
The bathroom is a great place to go the DIY route because of the many recipes available. Here's a quick break down of how to clean the bathroom naturally:
Mirrors: 50/50 vinegar/water
Counters: 50/50 vinegar/water, use baking soda and make a paste for stains
Walls, Doors, General Cleaning: any all-purpose cleaner (remember to pick one that actually CLEANS though!)
Tub & Tile: Homemade Bathroom Scrub
Toilets: baking soda & vinegar and don't forget to clean the back of the toilet!
Air: poo-pourri (witch-hazel + essential oils), diffuser, essential oils inside the toilet paper tube, add essential oils to your cleaning projects
If you choose to buy products, avoid anything that has a warning label on it. Even if you use it as an adult, the fumes still affect the little ones around you… even if they're far away in another room!
Also be very cautious of labels that say "natural" or "eco-friendly" or "green" or "wholesome" or any of that. Do your research – companies that truly have a heart for healthy living will shout it from the roof tops. Those who don't won't have much to say on it.
What I Use:
I use Thieves Household Cleaner for most jobs since it can clean all the various surfaces (including mirrors, counters, walls, doors, tub, tile, floor and the toilets). If I need scrubbing action, I use baking soda as well.
I like to keep lemon essential oils and tea tree essential oil in my cleaning caddy. Lemon helps to cut though greasy spots (i.e. soap scum) and tea tree eats through mold and mildew.
Right, right… so these chemicals are harmful, but will they really effect ME?!
Honestly? I don't know. We're all built differently and we react to things in different ways.
But I do know this – these types of chemicals can build up in our bodies over time and cause serious damage in the long run (like abnormal development in male fetuses and baby boys). We might not have a reaction today or tomorrow or even next week. But what about in five years?
If you get a diagnosis in 5 years, you're not going to think about the laundry soap or all-purpose cleaning spray you used four years before. And it won't matter anyway because by then, it will be too late.
And then there's the common sense question: If I knew for a fact that something was dangerous, why would I willingly expose myself to it?!
Where to Buy the Products I Mentioned
I've already included a few links to Amazon for some of the cleaning items I recommended, but definitely check your local warehouse stores (i.e. Costco, Sam's, etc.) for the best prices on things like baking soda and vinegar.
I mentioned that I use Thieves Laundry Soap, Thieves Dish Soap and Thieves Household Cleaner and I buy these through Young Living. I'm a wholesale member and save 24% off retail prices.
I also have a monthly subscription box shipped to my house every month and that saves me even more with…
up to 25% back in points (that spend like cash)
reduced rate shipping
4 free bottles of essential oils in the first year (one of which is tea tree oil, which I mentioned is great for cleaning mold & mildew in the bathroom!)
The monthly box can be filled with whatever I want, so if I don't need cleaning supplies I can order vitamins or supplements or essential oils or shampoo or make-up… whatever I want or need!
There's a stigma that essential oils and plant-based products are expensive, so I wrote this article on how we afford essential oils.
I've also learned that the longer I'm a member of Young Living, the less I shop at stores like Target and Walmart. Staying out of the store means I'm less tempted to buy things I don't need anyway. And when I crunch the numbers, I'm actually spending LESS money now than I used to!
If you're interested in joining Young Living as a wholesale member, getting started is as easy as 1-2-3:
Click HERE and make sure 2298517 is in the member and sponsor field. Choose Wholesale Membership.
Fill out your information and choose your starter kit. If you're focused on cleaning, choose the Thieves Starter Kit. If you're more interested in essential oils in general, choose the Premium Starter Kit. Decide whether or not to opt in to Essential Rewards.*
Checkout and confirm your order. That's it!
*Essential Rewards (ER) is the monthly subscription box that saves me an additional 20% each month. It's free to join and you can cancel at anytime.
Note: I really like Young Living essential oils however, I understand not everyone needs a subscription. Plant Therapy are a great runner up. You can find their shop here.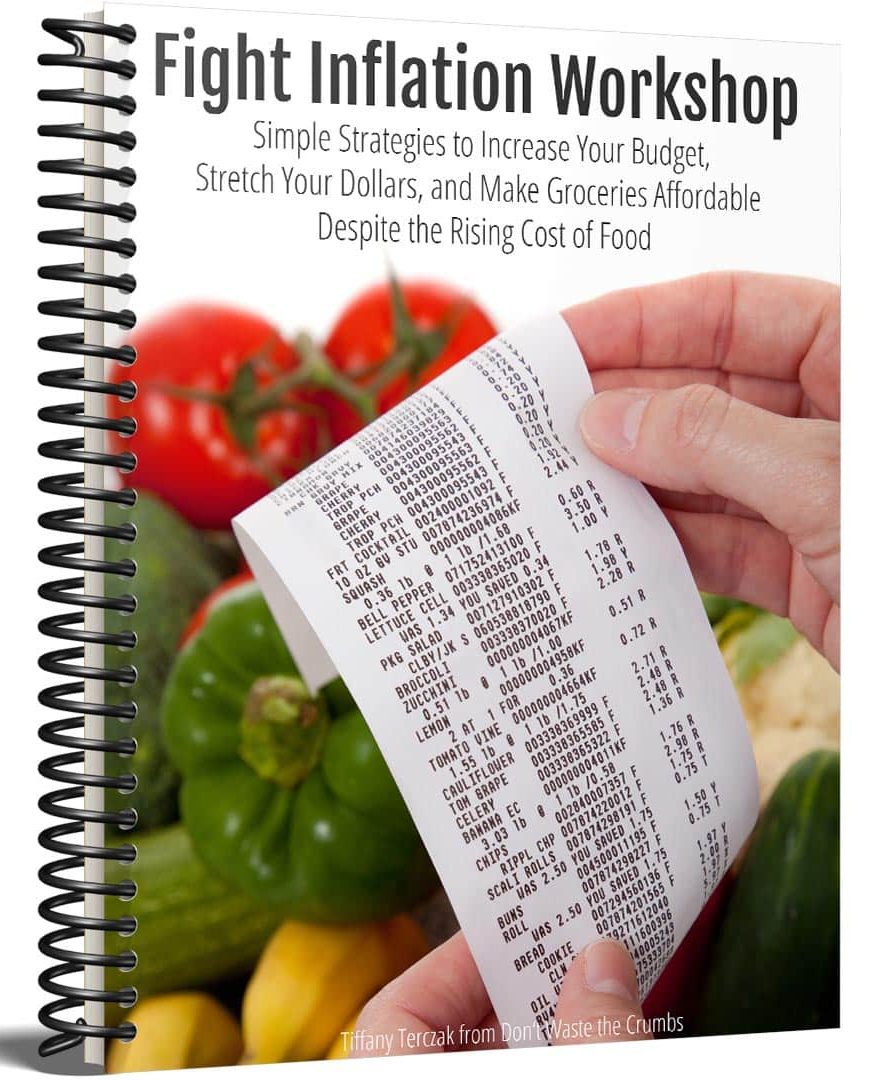 Fight Inflation Workshop
Sign up for my FREE
Fight Inflation Workshop
and learn simple strategies to save money, even with rising food costs!