A few weeks ago I took a box of produce over to a neighbor's house and I smelled their house.
From the mat outside their front door, I could tell that their house smelled good. Not like they were cooking something or baking something or anything like that. And it wasn't even the scent of air freshener or a plug-in.
It just smelled clean. Fresh. And inviting.
It made me wonder what MY house smelled like. And honestly, I didn't have high hopes.
I should clarify that under normal circumstances, we're not a messy or dirty family. Sure my daughter sometimes leaves her crayons and coloring book on the floor. And my son sometimes leaves his recent LEGO creation on the kitchen counter. And there's almost always a pile of shoes by the door and jackets on the stairs.
But that's life, right? I mean, the house is usually no more than a quick 10 minute pick-up away from "company ready" and I promise there's nothing gross growing in the kitchen.
But the house doesn't every really smell "good."
The days we're baking rosemary olive oil bread or have homemade spaghetti sauce in the crockpot are an exception. Of course the house smells good on those days!
But what about all the other non-baking days? Does it smell like reheated leftovers and stinky feet?
Wow. I hope not!
I read last week that every home has a natural odor footprint – the way it smells because of what's inside. It could be from garlic and onions and rosemary, it could be from harsh chemicals and cleaners or it could be from pets.
In any case, that book and the visit to my neighbor's house gave me pause to consider what my own home smelled like. It made me want my home to smell inviting and welcoming to anyone who happened to be at the door.
More importantly, it made me want to look forward to a great smelling house when I opened my own front door!
Since 90% of our home is covered in carpet, I started there. If the carpet smells good, then there's a good chance the rest of the house will smell good too.
As a kid, I remember mom using carpet deodorizer. She would shake this white stuff on the floor, let it sit and then vacuum it up later.
But we're slowly upgrading the products we use in our home and while the base of the carpet deodorizer is likely safe, I'm not sure of the other stuff inside those containers that make the nice smell.
Not to mention that carpet deodorizers are expensive!
So I came up with a very easy DIY for homemade carpet deodorizer that uses just two ingredients. It's simple, it's fast and it really works!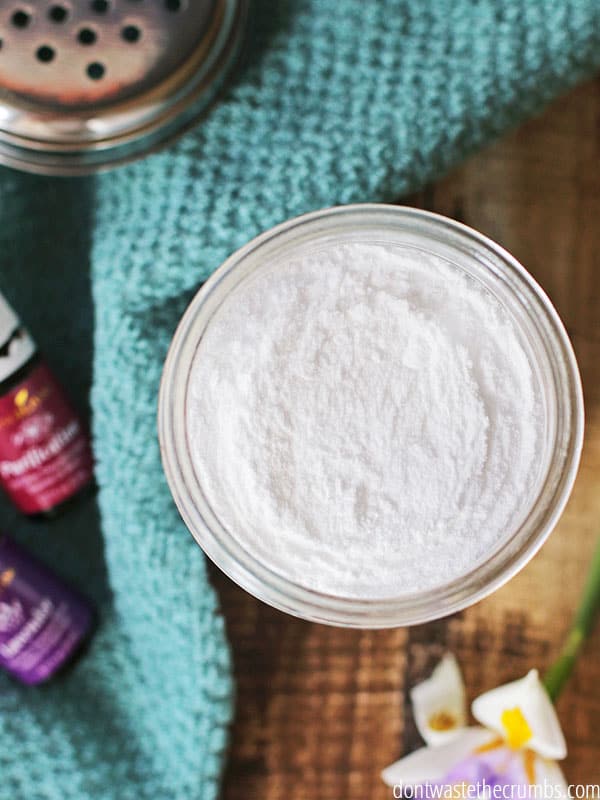 DIY Homemade Carpet Deodorizer
Supplies
1 cup baking soda (we buy ours in bulk to save money)
30-40 drops essential oils of choice (see notes below)
complementary herbs (optional)
glass jar with measuring spoon OR a glass jar with a lid (see notes below)
Note: I know there are a lot of essential oil companies out there and I've certainly tried my fair share of brands. But after testing and researching and more testing, only one is worth spending money on (in my opinion). For a couple years now I've been committed to Young Living oils, and you can read more about their oils and my decision HERE.
However if Young Living is out of your reach, I've heard great things about Plant Therapy on Amazon.
Method
If you're using herbs, grind them in an old coffee grinder or in a blender.
Combine ingredients in a container, cover with the lid and shake to combine well. Allow the ingredients to sit overnight so the essential oils can permeate the baking soda.
When you're ready to use, sprinkle lightly over carpet using a measuring spoon or a shaker container (see notes below). Allow to sit for 15 minutes and then vacuum normally.
Note: Be sure to check with your vacuum manufacturer instructions to ensure baking soda won't clog the filters and/or harm the machine.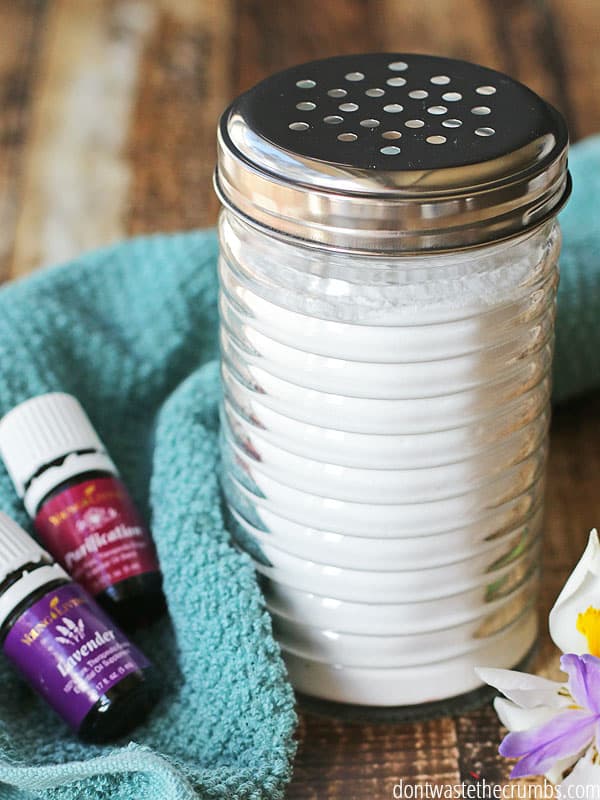 Which Essential Oils Should You Use?
If you own pets, this is a great graphic that explains how to use essential oils around pets. Also, citrus essential oils naturally dissipate more quickly than other oils, so I'd avoid those if you want a long-lasting scent.
Bugs tend to steer clear of lavender and cinnamon scents. If you prefer blended scents, Purification and Thieves are both great. Another option is using essential oils that have purifying and cleansing properties too.
As for the herbs, matching the herb to the oil will give you the most powerful scent. For example, combining dried lavender with lavender essential oils.
You can also mix/match herbs and essential oils for fun, unique scents. Maybe citrus rind with peppermint essential oil? Or dried rosemary with lavender essential oil?
Really, it's up to you as to what you want your house to smell like and what essential oils you have on hand at the time. That's the beauty of making it yourself!
Additional DIY Tips
I found this shaker jar at the dollar store, but in the past I've used a glass mason jar with a measuring spoon (to avoid dumping the whole jar in one spot). Here are a few other creative ways to make your own shaker:
old spice jar (the bigger ones from bulk purchases would be excellent!)
Kraft parmesan cheese container
make your own: trace a canning lid onto a piece of construction paper and cut out. Punch holes in the circle using a hole puncher. Place the circle and canning ring on the glass jar for a DIY shaker jar! I did this for a flour shaker and it works great!
Since baking soda absorbs odors, you can mix this up and allow it to sit on a bookshelf and it will also help to naturally freshen the room!
I've never been a big fan of cleaning, but let me say this – using homemade carpet deodorizer sure does make the vacuuming experience a whole lot more pleasant!
Are you ready to detox your home?
Join the 5 Days to DIY Natural Living Challenge! In only 15 minutes a day you can take the next steps to a cleaner, healthier home. Whether you've been on a natural living journey for 2 years or 2 days, you will benefit from the practical steps to detox your home. The best part? It's completely FREE!
Sign up HERE to join the 5 Days to DIY Natural Living Challenge!
If you had to guess, what does your house smell like? Do you think it smells inviting to guests?