Ditch the expensive pre-cut pineapple and use this super easy tutorial on how to cut a pineapple without waste or even using a corer! Cut in half or make it fancy – this hack makes cutting a whole pineapple quick & easy!
There is one thing that tends to eat up our grocery budgets more than anything else. Can you guess what it is?
Convenience.
Choosing to pay for almond milk (instead of making homemade almond milk) or yogurt (instead of homemade yogurt) or even tortillas (instead of homemade tortillas) can eat up a lot of your grocery budget without you even knowing it!
That's why it's important to learn a few basic kitchen skills, like how to cut a pineapple. Not only is pineapple DELICIOUS, but it's incredibly affordable and convenient if you learn how to cut a fresh pineapple properly yourself!
What you'll need
Whole pineapple
Cutting board
How to Cut a Pineapple: Step-by-Step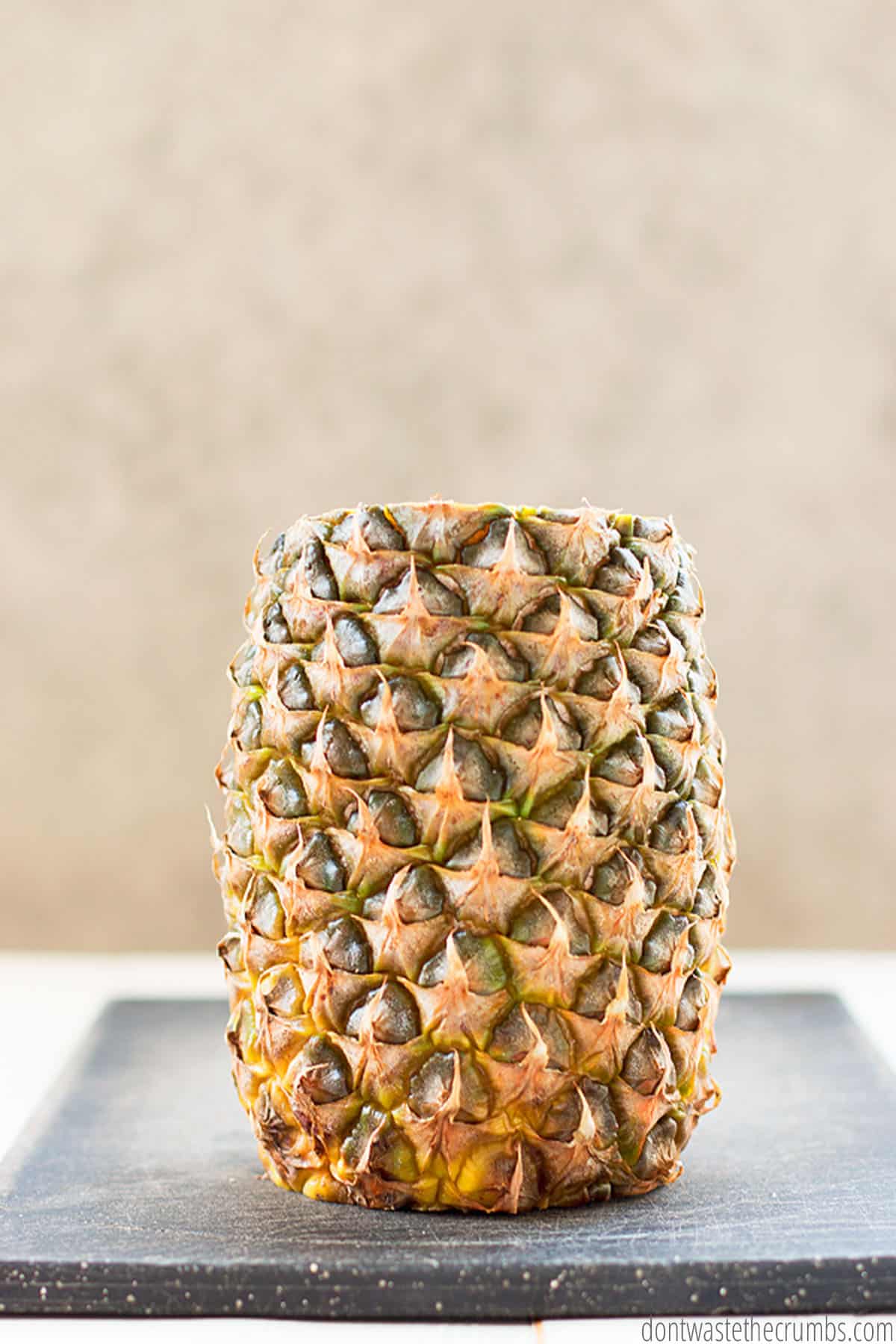 Step 1. Cut off the top (where the green pokey leaves are) and the bottom (the flat-ish part where it's harvested from the plant). You want to get as close as you can to the leaves and the bottom, so that you're getting as much fruit as possible.
To do this, place the pineapple on its side. Use a very sharp knife (I have and recommend this set) to cut off each end. When you're done, the pineapple should mostly be able to sit upright.
Step 2. You're going to cut the pineapple in half from the top down. This will expose the core that runs down the center of the pineapple, and it's the easiest way to remove both the core and the skin, without any special tools like this pineapple slicer (wouldn't that be FUN to have?!).
Step 3. Once the pineapple is cut in half from the top to the bottom, you're going to remove the skin. You're going to stand the pineapple upright and carefully cut the skin away from the flesh, working from the top down.
The key here is to cut enough off so that your pineapple flesh isn't pitted with the hard remnants of the skin pocketed into the flesh, but not so much where you're left with barely any fruit at all.
This simply takes practice. The more pineapple you cut, the better you'll get and the easier it will be to find that sweet spot that's just beyond the skin but not into the meat of the flesh.
Step 4. Once you've cut all the skin off, you're going to cut out the core next. The core is slightly darker and runs down the very center of the pineapple. It's very tough and stringy and it doesn't have a ton of flavor, so most people don't eat it.
Step 5. Using your knife, cut each half of the pineapple again from the top down through the center of the core. At this point you have four pieces of pineapple that sort of resemble a triangle shape.
Step 6. To cut out the core, stand each piece upright and use your knife to slice downward. Similar to the skin, there's a sweet spot where you're cutting off the entire core but very little flesh. This takes practice, but if you do by chance cut off more flesh than you intended to, it's easy to go back and cut the flesh off of the core.
Step 7. At this point, you have pineapple that is ready to eat! You can cut it into thin slices, into big chunks, into long strips… however you want!
Tips for using pineapple
Instead of throwing the core away, you can use the core in smoothies or boil it in water to make pineapple tea.
You can also dehydrate the core if you'd like, and mix it in with homemade trail mix and there's a good chance no one will even notice! Remember that you can dehydrate the pineapple flesh also.
Anytime I see pineapples go on sale, I stock up! I'll cut them all up at one time, freeze some, dehydrate some, and intentionally put pineapple on the meal plan for the week.
FAQs
Can cut pineapple be frozen?
Yes! Use the flash freezing method I share in this post to freeze pineapple. If you make smoothie packets or freezer meals, there's no need to freeze the pineapple separately. Just toss it all in together.
Use frozen pineapple in smoothies like the recipes I share in High Protein, No Powder.
When does cut pineapple go bad?
If kept in the refrigerator, freshly cut pineapple will last for a lot longer than you think. I've had pineapple the fridge for over a week without any issues. If you're concerned about it going bad, use the smell or taste test. Soured pineapple will also have an "off" taste, almost like sour meets fermentation, and the sweetness will be gone. Trust me – you'll know it when you taste it.
How do I cut pineapple rings?
Unfortunately, you need a pineapple corer in order to slice rings. You'll still cut off the top and the bottom, but then you'll use the corer to remove the outside skin and the inner core. At that point, you can place the pineapple on its side to cut slices.
How to pick out a ripe pineapple?
We learned in Costa Rica that pineapples are ripe when they are bright, dark green – NOT orange or yellow!
When they're orange or yellow, they are past their prime. The pineapples are still delicious and definitely edible, but they are not going to be quite as sweet.
When I'm shopping for pineapple, I aim to get the biggest pineapple I can find that's dark green. That means I'll get as much fruit as I can, and cutting it within a day or will give me the sweetest fruit.
How to serve
Serve fresh pineapple as a snack, as a side for lunch, or part of these delicious recipes: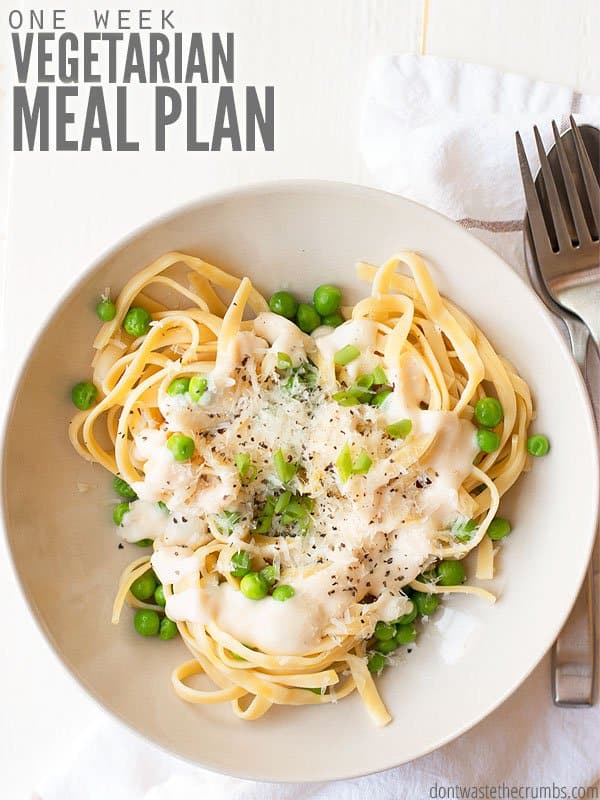 Vegetarian Meal Plan
Sign up to get instant access to my
Vegetarian Meal Plan,
complete with recipes and shopping list!!
Watch How to Cut a Pineapple