Ditch the processed boxes and make healthy homemade Lunchables instead. They cost less than $1 and contain nothing but 100% real food! Try out my recipe for DIY homemade lunch meat also!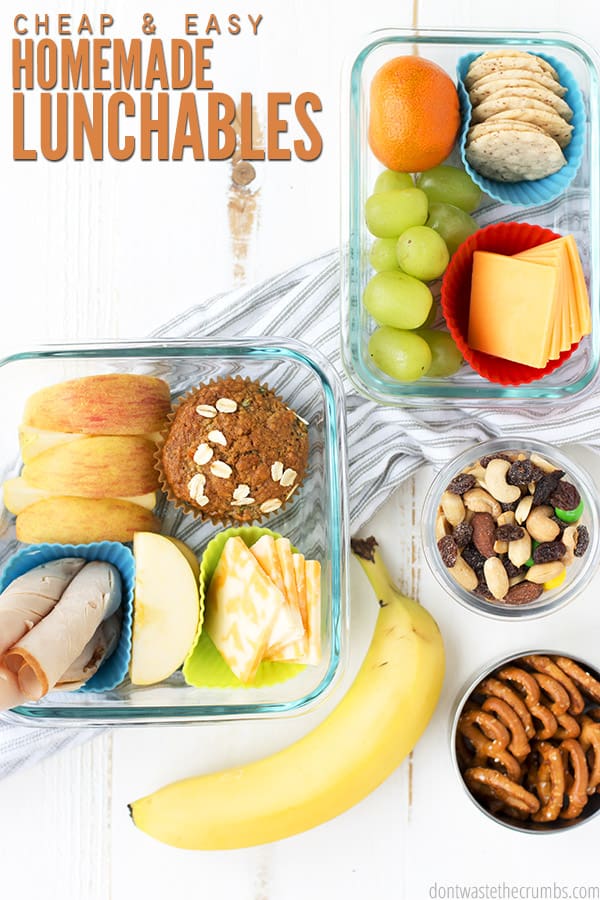 As a kid, one of my favorite lunches to take to school was the Lunchable. The fact that my lunch could be stacked on a cracker and it WASN'T a sandwich made me the cool kid for like, 20 minutes.
We moved often in my elementary years and sandwiches were the norm, so my "cool kid" moments were few and far between. Unfortunately for my social status, the time my family settled in Texas was about the time I outgrew Lunchables. Still, I cherished those moments when they did come, because really, who doesn't like cheese and crackers?
I remember Lunchables being very simple back then: Crackers, meat, and cheese. There were no drinks, no desserts, and definitely no smoothies.
Now Kraft has five different lines of Lunchables for a total of 45 flavor combinations, all with one common underlying theme: Extremely processed ingredients.
Have You Ever Read the Ingredients on a Lunchable?
If not, no problem. I'll spare you the gory details and summarize it for you:
It's really, really long.
You can't pronounce most of the ingredients.
There's a 95% chance every item in the package has either high fructose corn syrup or hydrogenated oils – the two biggest additives you should be concerned about in terms of real food.
You won't find most of them in your kitchen (or the grocery store, for that matter).
Now that doesn't mean you shouldn't be concerned about other additives too, because there are PLENTY to choose from on the back of those little yellow boxes.
Soy lecithin
MSG (in more than one form),
Three different types of artificial sugar
This should be enough to get your brain juices flowing, and your blood pumping too if you hate additives as much as I do.
So in addition to offering healthier, homemade options for soft pretzels and hot pockets, I'm offering a real food version of Lunchables too. As of today, you should be fully armed to get your kids through a full week of school without having to rely on convenience foods for either lunch or after-school snacks.
The fact that you can do it all without spending a lot of time, or a lot of money, is a nice little bonus too.
Healthy Homemade Lunchables
Coming up with a healthy Lunchable is not rocket science. I mean, if Kraft can put crackers, meat, and cheese together in a box and call it lunch, why can't we? The key is to simply choose better ingredients.
Homemade Lunchables are incredibly easy to put together and in fact, we've been eating them for several years now. Recognize "snacky lunch" on the monthly meal plans?
Here's the simple formula we use:
(1) Starch
(2) Protein
(2) Fruit/Vegetable
(1) Drink
As to what you want the starch to be or what type of protein is packed, the sky's the limit! The easiest (and cheapest) way is to simply pack whatever you happen to have in the fridge, and that's also a great way to use up leftovers. But of course, don't let what's in the fridge, or not in the fridge, hinder you!
If you're stuck on what to pack, these healthy lunchables ideas can help. (They're based loosely on what Lunchable currently offers, so if you need to, feel free to use that little tidbit to help you to convince your kids "it's the same only better.")
Crackers/pretzels + ham + Swiss + mustard
Crackers/pretzels + turkey + cheddar + mustard
Pita + pepperoni + mozzarella + pizza sauce
Crackers/pretzels + pepperoni + mozzarella + pizza sauce
Mini-bun + chicken nugget + ketchup
Chips/pretzels/crackers + chicken nugget + BBQ sauce
Mini-bun + hot dog + mustard/ketchup
chips/pretzels/crackers + hot dog + mustard/ketchup
tortilla + hot dog + mustard/ketchup
tortilla + sliced chicken nugget + shredded cheddar + salsa
I also polled fellow real foodie moms on their tried and true, kid-approved real food recipes, in case you're needing more "what in the world should I pack" inspiration:
Starch (Choose 1)
Protein (Choose 2)
Fruits & Veggies (Choose 2)
Apple
Banana
Orange slices
Smoothies
Grapes
Strawberries
Blueberries
Carrot sticks
Cherry tomatoes
Kale chips
Sweet potato chips
Dip/Condiments (Optional, Choose 1-2)
Sides/Dessert (Optional)
Drink (Choose 1)
*If organic, non-GMO, or nitrate-free items are not in the grocery budget, simply buy the best you can afford.
Storage
The easiest way to pack homemade Lunchables is in a divided container like this one. It's BPA free and leak proof!"
These silicone muffin cups are a simple way to separate items that don't need lids, like crackers, slices of cheese, or cuts of meat. They're flexible and can easily fit into nearly any container you already own too. They double as – you guessed it – muffin cups, but I've also used them as molds for lotion bars and homemade fudge.
The reusable bags you see in the photos are Lunchskins. I love using those for packed lunches instead of baggies!
Remember though, that you don't need special equipment or storage in order to pack a healthy, frugal lunch. The most affordable route is always to use whatever you have on hand.
Just make a mental note to add these to the Christmas and birthday wish lists this year.
Update: As my kids have grown and they need a little bit more food for school, I've found that the PlanetBox LAUNCH box is our favorite. You can read all about my lunch box experiences HERE.
More Recipe Tips
The key to keeping real food Lunchables affordable is by packing food you already accounted for in the grocery budget, like leftover chicken or fruit or items made homemade from scratch. Offer more of the frugal items (like bananas for just 20¢) and less of the higher-end items.
Also, find creative ways to serve not-so-pretty-yet-very-frugal items like beans. Kid-friendly hummus (like this pizza variety) with lots of dippers is a great place to start, and the extra affordability of beans means you can splurge a bit on blueberries or other fun seasonal fruit.
Of course, don't forget to pack a drink too! Water or kombucha from home is free, but you can add frozen strawberries or flavored ice cubes for a fun treat.
For more school lunch ideas, check out "The Healthy Lunchbox" – it's one of the best eBooks I've read on healthy lunches, including back-to-school!
Homemade Lunchables are a fun way to pack lunch or dinner, and we're actually packing a grown-up version for dinner tonight: prosciutto with brie, sourdough & grapes.
More Lunch Ideas
Two Week School Lunches
Sign up to get instant access to my
Two Weeks of School Lunches Meal Plan,
complete with recipes and shopping list!!