Eating real food on a budget isn't hard, but it does take work! Use this extensive list to help you start taking your next steps toward healthier living. Using processes like meal planning, batch cooking, and making food substitutions you CAN feed your family healthy food every day!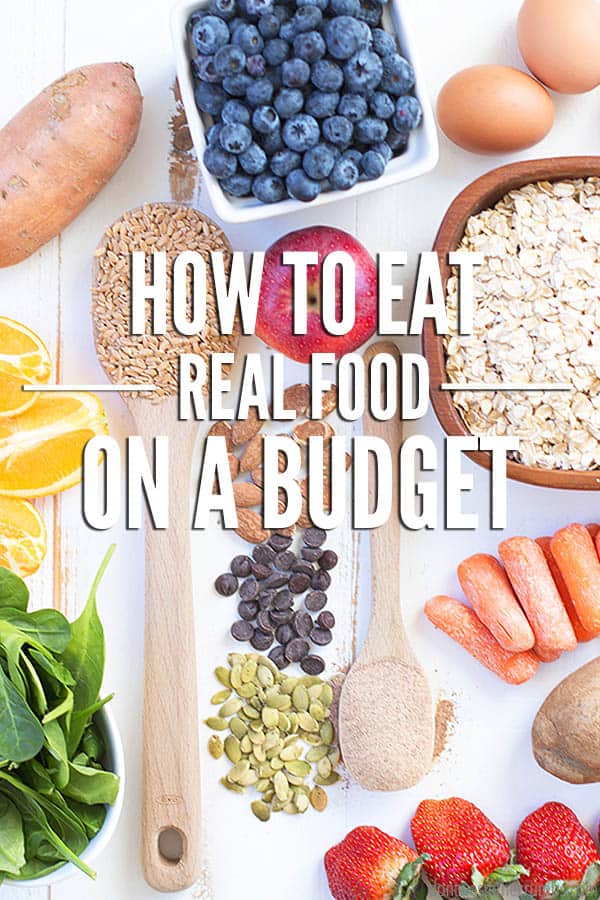 Years ago, my husband asked if we could cut out processed food. For a minute I'm sure I looked like a deer caught in headlights.
What would we eat?!
We didn't have a lot of money and word on the street was that healthy eating was expensive. Somehow though, I learned how to buy groceries on a tight budget, without buying more boxes.
Through that journey, I've documented all of the great tips I've learned and laid them all out here. It is my passion to help you feed your family healthy food on a budget!
I know it is possible because we're living proof. We don't just eat a cheap healthy diet, we eat foods that nourish and strengthen us so we will be healthy in the long run.
So how do we eat real food on a budget? Look no further.
Real Food Budget Tips
1. Make a Meal Plan
The number one way to start saving money on groceries is to make a meal plan. The problem is, most of the time we complicate it. Meal planning is very simple!
Take a look at your fridge and pantry. Determine what meals you can make. Write it down. That's it! Here are some more tools to help you get started:
2. Set a Real Food Grocery Budget
There is no clear-cut, one size fits all answer to "What's a good grocery budget?" The factors unique to your family will determine what your budget should be. What I can give you, though, are some tracks to run on and an example of how my family has kept our grocery budget down for many years.
3. Cook from Scratch
Besides making your meal plan, cooking food from scratch is one of the greatest ways to save on groceries. But you also have to keep in mind that you should only make food from scratch when it makes sense.
If you need to eat gluten-free, don't make bread or if your family only eats salsa once a year, buy a jar when needed. If your family eats a lot of mayo, start making it from scratch!
4. Make Snacks at Home
Snacks can be a huge hang-up for families trying to eat healthier food. But in all honesty, snacks are just food in between meals! I suggest going for whole or cut-up fruits and veggies as the first choice. After that, make snacks from scratch to save money. Prepackaged "snacks" at the grocery store are costly and not healthy!
5. Let Your Appliances Work for You
I won't lie. Saving money on real food will mean spending more time in the kitchen. Use that time wisely and let your appliances work for you. Between the stand mixer, blender, Instant Pot, and slow cooker, I've got something running in my kitchen all the time!
6. If You Don't Have Appliances, Invest in Them
Some appliances can be an investment up front, but they will save you TONS of time and money in the long run.
An immersion blender is a perfect example. It costs around $35, but I know for a fact that I've saved more than $35 in making homemade mayo alone!
Start saving, (use Swagbucks for free gift cards!), watch for deals and add these to your collection:
7. Batch Cook
When you're using those appliances to cook for you, make sure you batch cook too! Chop extra veggies while you're already chopping. Double your batch of rice and beans and freeze extras for later. Put your oven to work on an extra batch of muffins while you're cooking on the stovetop or cleaning up.
When you have extra food stocked in the freezer, you'll be more inclined to pull something out than go through the drive-thru.
8. Stretch your Meat
This concept can take some getting used to. (Especially if you have some meat and potato lovers!) The idea though is to shift your mindset to thinking of meat as a compliment to the meal, not the main star.
Cook large portions of meat and shred them to make them go further. Use fillers in your ground beef and pick dishes that allow you to add more vegetables. This also helps you buy quality meat like grass-fed beef without breaking the bank.
9. Stretch Other Food, Too
Making the most of every bit of food in your home means NOT spending more money on food at the store. Reduce your food waste by making sure to use up every bit of what you have. Chicken stock from scraps, homemade apple cider vinegar, and regrowing food in water are great places to start.
10. Grow your own food
If you have the space and time, consider planting a garden. It can significantly reduce the cost of your food bill! I've had some success and some failures over the years in my gardens, but when we get a boatload of tomatoes, I'm always excited! It means I don't have to spend money on pizza sauce, salsa, spaghetti sauce, tomato sauce, or snacks (cherry tomatoes off the vine are divine!)
Common Questions on Real Food Budget
u003cstrongu003eWhat is a realistic food budget for one person?u003c/strongu003e
I'm so glad this question was asked! I covered this topic in u003ca href=u0022https://dontwastethecrumbs.com/13-tips-for-cooking-real-food-for-one-person/u0022u003e13 Tips on Cooking Real Food For One Personu003c/au003e.
How can I cut my grocery bill by 90 percent?
We actually cut our budget by 50%! Make sure to read u003ca href=u0022https://dontwastethecrumbs.com/cut-monthly-expenses/u0022u003eHow We Cut Our Monthly Expenses by 50%u003c/au003e.
What is a reasonable weekly budget?
I have some helpful tips and insights on budgets. Read u003ca href=u0022https://dontwastethecrumbs.com/how-to-stick-to-your-grocery-budget/u0022u003eHow to Stick to Your Grocery Budgetu003c/au003e!
More Real Food Budget Tips
11. Stock a Real Food Pantry
Real food eating means not buying a lot of boxed and processed foods. However, there are still a lot of staples you can fill your pantry with to make cooking at home easier. Beans, rice, flours, pasta, olive oil, and even chocolate chips are always stocked in my pantry. When I have good food on hand to make meals out of, I don't have to consider buying cheap goods at the store.
12. Keep Your Kitchen Organized
A clean kitchen is an efficient kitchen. And when you're spending time making food from scratch, you need to make the most of your time! Keeping your kitchen organized and tidy will greatly increase your speed when cooking. You'll know where your ingredients and tools are and you'll be able to work with ease.
13. Preserve Your Own Food
Many people who garden naturally preserve their excess. But buying seasonal produce in bulk and canning or dehydrating is a great way to stock your real food pantry too!
14. If You Don't Can, or Can't Dehydrate, Freeze!
Canning can be a little intimidating for beginners. And not everyone has a dehydrator (unless you're saving up for one!). Another option for preserving food is to freeze it! I already mentioned batch cooking, but this goes beyond that.
You can freeze your bulk purchases or garden overflow instead of canning or dehydrating.
15. Eat Seasonally
Eating seasonal produce is one of the best ways to get the best price on your fruits and vegetables. When produce is in season, the prices will drop, and the food will be richer and more vibrant. Grocery stores will lower their prices, but shopping locally will also give you the best bang for your buck. This goes for conventionally grown produce and organic foods. Use these seasonal produce guides to know what's best each month
16. Utilize the Clean 15 and Dirty Dozen
When you're shopping seasonally, also pay attention to the Clean 15 and Dirty Dozen list. This helps you know what produce you should buy organic and what can be conventional.
For example, apples are almost always heavy in pesticides and are listed on the dirty dozen. So I make it a point to buy organic apples. Bananas are typically on the Clean 15 list so I usually buy conventional bananas.
17. Pay Attention to Prices
It's time to start keeping track of prices. Don't be afraid to shop around a bit too. You never know what gems you may find. Knowing when your most purchased items are at their rock bottom price, allows you to stock up and keep your pantry full of real food staples!
18. Shop Smarter
There are a lot of tricks to making the most of your grocery shopping trips. The top one that comes to mind is to know your stores. Take some time to scope out your options.
Learn the sales and create a strategy for outsmarting the store. Utilize online shopping, big warehouse stores, and bulk meat purchases.
19. Eat What You Have
We're making a full circle now and going back to the beginning. When you eat the healthy food you already have in the pantry, you're automatically NOT spending more money on food! Use a pantry inventory to know what you have on hand, then meal plan from there.
20. Use Food Substitutions
You know when you go to make a recipe and you realize you're missing an ingredient? Well, most likely you can substitute for something you already have on hand! Running to the store to buy "one" item never happens that way. Make do with what you have and save money instead.
Real Food Reboot
I realize this list is LONG. I did not accomplish all this overnight. It took 8 months to no longer rely on processed food and to completely switch to real food eating, and it took several more years to refine my methods and keep our grocery bill down.
My advice? Take baby steps! One small step at a time will start you down a path that will lead you to achieve your real food goals. To help you do just that, you can join Real Food Reboot. A community of families, working to take steps towards healthier eating.
The best part? It's FREE! Click here to join the 30 Day Challenge.
If you need more than a simple 30 day challenge, join my course Grocery Budget Bootcamp. I teach the EXACT system I use to keep our pantry and bellies full of healthy food while keeping our grocery budget super lean.
I teach this course myself, so enrollment is only open twice a year. Click here to register for the course, or to join the waitlist for next time!
More Helpful Tips
5 days to save $75
Need to save money on real food? Download my free guide to saving $75 in 5 days using easy, practical baby steps.