Learn how to stretch ground beef for your next meal plan! It only takes 9 steps and it's a great strategy to know. Be sure to check out 10 steps to stretching meat at home and how to make DIY lunch meat!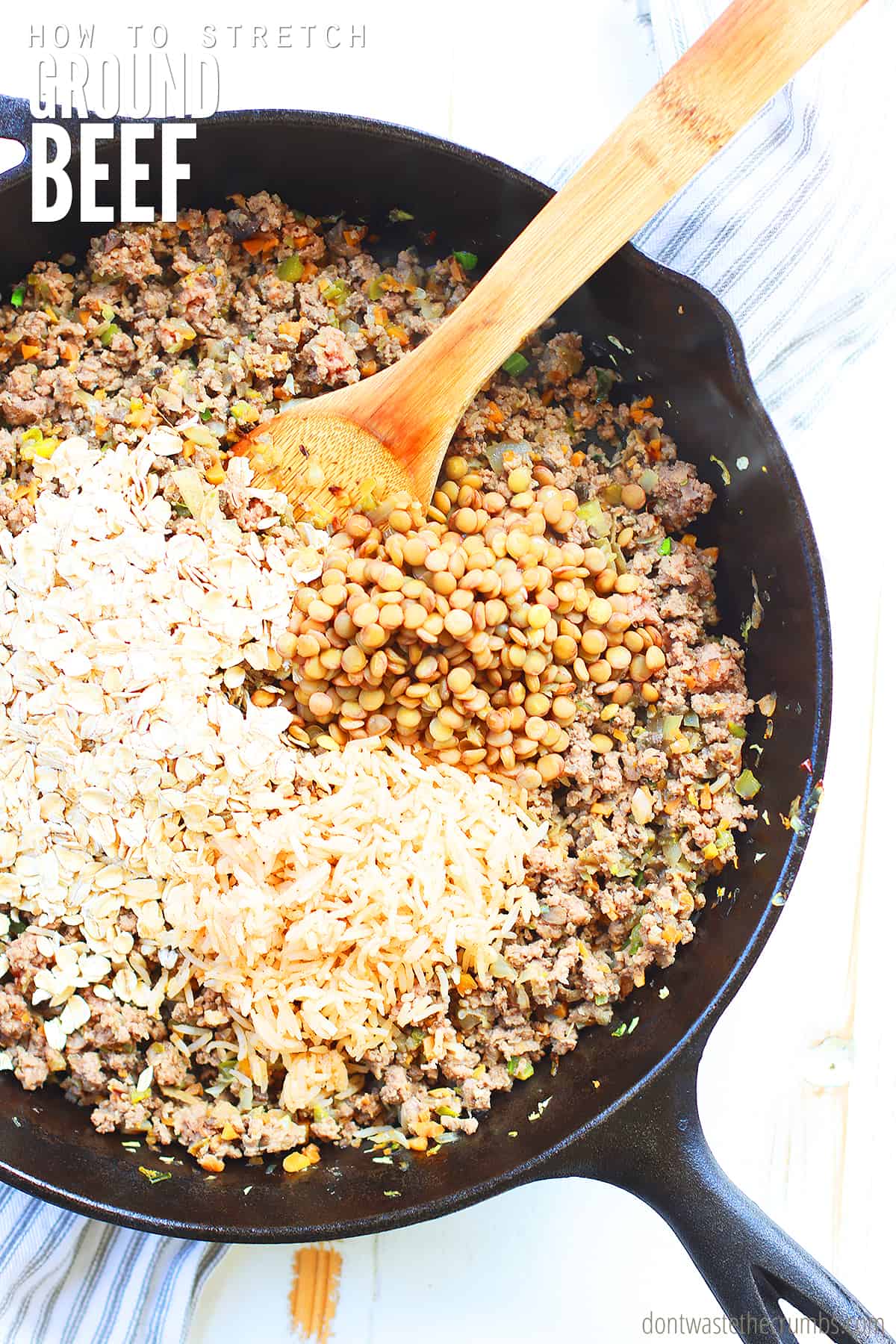 When you're trying to eat real food on a budget, one of the foods that will take up the biggest slice of your budget pie is meat.
I've talked about how to save money on meat at the grocery store before, how to save on meat without buying a whole cow, and even how I make our monthly Butcher Box fit within our budget!
But when it comes to meals at home, one strategy that's proven to work time and time again is to eat meat-less meals.
Notice I didn't say "meatless," but meat-less.
Don't get me wrong, we do love our meaty meals like sweet and sticky chicken, giant meatballs, and slow cooker pot roast. We just had slow cooker carnitas last night and they are SO, SO GOOD!!
My Ground Beef Meal Plan post is one of my most popular meal plans, and it takes two pounds of ground beef and stretches it into eight meals. Yep, you read that right – EIGHT!
I included the exact recipe and strategy for stretching ground beef in the free download (which you can get here), but I never shared it publicly on the blog. Shame on me!
So that's what this post is for – to show you exactly how I take two pounds of ground beef and stretch it to cover at least eight meals. Let's get cooking!
Things to Consider When Stretching Ground Beef
Anything you add to ground beef to make it go a bit further is called "fillers." You can add a variety of filler foods, but the trick is to use fillers that will save you money AND that your family will enjoy.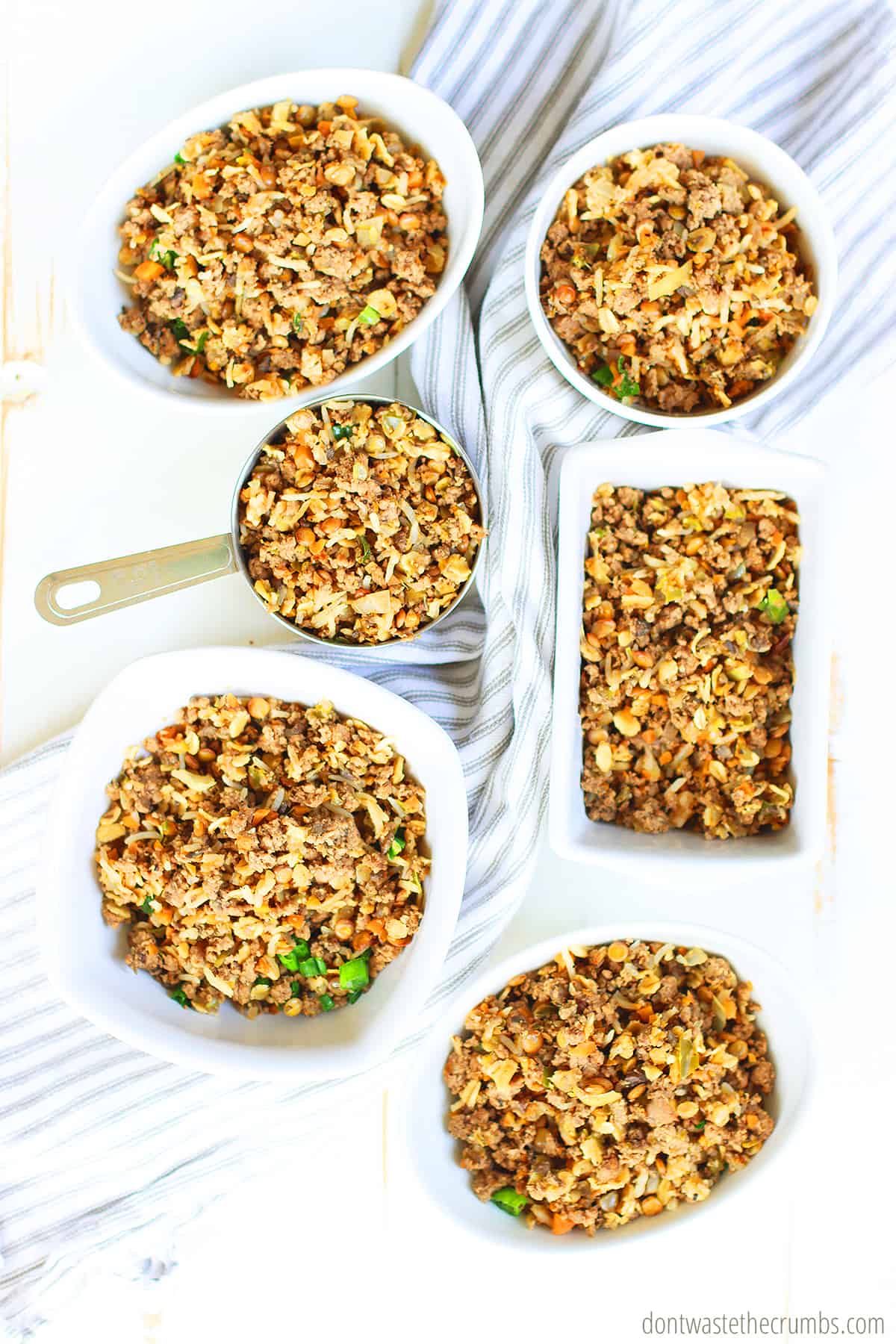 These veggies work really well, especially when they're shredded or diced finely:
carrots
mushrooms
celery
onions
cabbage
bell peppers
And here is a list of other non-vegetable filler ideas. I've tried most of them, but not all, and the ones I haven't tried have been recommended to me by moms I trust!
lentils
barley
potatoes (roasted not mashed!)
corn
tofu
Before you start cooking stretched ground beef…
You'll need to decide which meat fillers you're going to use. I recommend choosing at least two vegetables and one non-vegetable. Of course, choose what fits your diet, preferences, and budget!
How to Stretch Ground Beef
Step 1. Start with whatever vegetables your family likes the most. You can always experiment with other veggies the next time.
Also, figure out which non-vegetable filler your family likes the most. Again, you can choose a different filler the next time you stretch the ground beef. It may take a few tries to find a combination that your family loves.
Step 2. Dice your vegetables VERY finely, or shred using a box shredder or food processor. Teeny tiny pieces are key. If the pieces are too big, they'll stick out when you're done adding the ground beef.
You need 1-2 cups of COOKED vegetable filler for one pound of raw ground beef. Different veggies cook down differently, so be prepared with 2-4 cups of raw diced/shredded veggies to get the 1-2 cups cooked.
Step 3. Prepare your non-vegetable filler. Like the vegetables, you need 1-2 cups of COOKED filler for one pound of raw ground beef. Each filler will cook differently, while some don't have to cook at all, so be prepared with 2-4 cups of raw filler in order to get the 1-2 cups cooked.
Step 4. Cook your non-vegetable filler according to package directions, or according to your favorite recipe.
Step 5. While the non-vegetable filler is cooking, add one tablespoon of cooking fat to a pan and cook all of your vegetables. Keep in mind that different vegetables have different cooking times, so add the long-cook vegetables (onions, cabbage, carrots, celery) first, then add the short-cook vegetables (bell peppers, mushrooms).
Cook the vegetables until they are very soft and thoroughly cooked through.
Step 7. Add the raw meat to the same pan with your vegetables, break it up into very small pieces using a wooden spoon or a potato masher (my preferred method), and cook the ground beef until it's no longer pink on the inside.
Step 8. Add ½ – 1 cup of cooked, non-vegetable filler to the ground beef and gently mix.
Season as desired. I usually add salt and pepper at this point and save any recipe-specific seasonings (i.e. blackened seasoning, taco seasoning, Greek seasoning, etc.) for when I actually use the stretched ground beef in a recipe.
Step 9. Substitute 2 cups of this stretched meat for one pound of ground beef called for in a recipe.
Questions About Stretching Ground Beef
Does this work with other kinds of meat?
Yes! This works with ground turkey and pork and chicken too!
How do you strain ground beef without a strainer?
Another way to drain the grease from ground beef is to push the meat to one side of the pan. Spoon out the grease into a bowl or use a turkey baster to suck up the grease.
Should you season ground beef before browning?
It is best to wait to season your meat after it has been browned and drained.
More Stretching Strategies
Dinner on a Dime
Subscribe to my newsletter and get instant access to
"Dinner on a Dime"
: 15+ family-friendly and kid-approved recipes that are quick, cheap and healthy!