Everything You Need to Know About Stretching One Pork Loin Into Seven Meals
I don't know about you, but for me, the less cooking and grocery shopping I have to do for a busy week, the better. Especially now that school is in full swing and our schedules are becoming fuller by the nanosecond. Sigh. The afternoons at the pool have come to an end, as have the leisurely Saturdays spent splashing around at the lake. But enough lamenting, let's get back to REAL LIFE! You know, where we actually have to feed our families and stay on a budget? Oh yeah, and attend 3 sporting events, a school meeting, piano practice, and the list goes on… So, how is it possible to keep your sanity and still serve your family wholesome meals that are made with real food in real kitchens and a limited budget? I have two simple solutions for you:
The Slow Cooker
Stretching Your Meat
The Slow Cooker
Can we say time-saver?! The slow cooker is an all around time saver and kitchen helper. From homemade chicken stock, to baking bread, and beans from scratch, there's frequently something in my slow cooker! But one of my favorite uses is of course to cook once, and eat several times. Can I get an Amen? My second tip is something that you may not have much experience with, but once I teach you this trick, you will feel like a rock-star! And I will save you hours in the kitchen. Go ahead and get down with your bad self and do a little dance to celebrate!
Stretching One Roast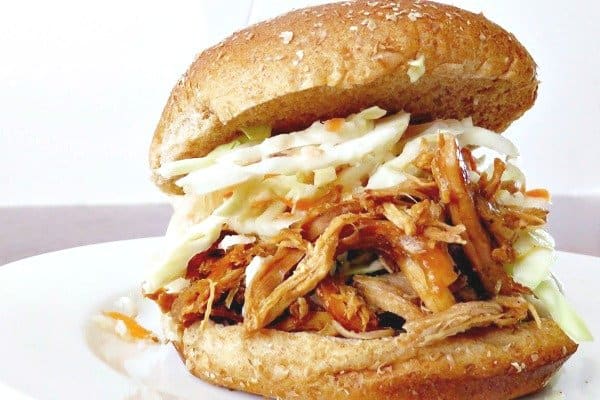 Think about the word stretch for a minute. You can stretch your time, stretch your wallet AND stretch your energy, all by stretching your meat! Here's my simple trick: Whatever meat happens to be on sale or calling my name from my freezer, I feature in as many recipes and in as many ways as I can throughout a week. Today I'm featuring the pork loin, which happens to go on great sales at all of my local stores. (You don't eat pork? All of these recipes I am sharing with you can be subbed out for boneless, skinless chicken.) I start with a pork loin that is about 5 1/2 pounds (this does not have to be exact!). Then, I take the huge piece of meat over to the meat counter and very sweetly ask my butcher to cut the pork loin for me. (Yes, they will do this for you, no charge—with or without your sweet smile, but it doesn't hurt to be nice!) I ask the butcher to cut into 2 equal pieces. Then I finish up my run to the grocery store, feeling satisfied that my dinners for the week are as easy as throwing a few things into the crock-pot – with a few extra dollars left in my wallet. So back to the meat and the meal planning. I do not plan on feeding my family a simple pork roast every night. NO WAY! Not in my house! My children may not complain about eating the same food everyday (as long as it was something they love), but I on the other hand, would. I like variety and flavor. So we are going to turn that pork into two amazing, mouth-watering creations that are incredibly delicious and can be transformed into so many amazing dishes throughout the week. Your taste buds won't believe you're eating on a time constraint and budget! *These portions are based on a 4 generous servings per meal.
Stretching One Pork Loin into 7 Meals
Oh, how I love a good barbecue sandwich. But let me tell you it is truly taken over the top by throwing some slaw up on top of that sandwich. You may use up a few extra napkins with this meal, but it is well worth it! Before allowing your family inhale the entire batch of BBQ, pack away about 2 pounds of the cooked meat for later use in the week. (I love these glass storage containers for leftovers!) Money Saving Tip: Buy one large head of cabbage to shred yourself. Use half the cabbage for the coleslaw and save the other half for the Mexican slaw later in the week.
Dinner #2: Mexican Carnitas with Slaw (Slow-Cooker)
I cannot even begin to tell you how much I love these carnitas… or tacos… whatever you call them!! The meat is so juicy and so flavorful and perfectly seasoned. Topped with a crunchy lime slaw, these carnitas become an eruption of flavor and texture in every bite. Again, be sure to set aside about half of this meat mixture for later in the week. Note From Tiffany: If you're following along, you'll notice that you've used your slow cooker to cook each half of the pork loin, for two separate meals. From here on out, you're using leftover pork loin to cover the remaining five meals.
Um, yes, I know. This sounds insane and it is! Grilling your pizza dough keeps it tender and crispy in every bite. And then topping that flame fired dough with nearly a pound of meat and smothering in cheese, well, it is a MASTERPIECE! Note from Tiffany: If you have trouble with your dough falling through the grate like we did, try using a cast iron pizza pan. This works great!
You are now about to embark on a mission of morphing. By morphing, I mean you are going to take your leftovers and transform them into something new and amazing! The Mexican Carnitas you had in meal two will now become the base for an amazing Mexican stew that I love to serve over rice as a "Mexican Shredded Pork Bowl." However, if rice is not your thing, add an extra can of beans and a few cups of chicken stock to the recipe and you have a hearty soup that you can top with shredded cheese, a squeeze of lime, and a few tortilla chips. Either way, you will have a completely new and satisfying meal! And this new creation makes such a large dish that it will be enough for your family to have two dinners from it! *So be sure to save half of it!
Dinner #5: Baked Potato Bar
One of my family's favorite BBQ restaurant features a loaded baked potato piled high with any pulled meat of your choice, butter, cheese, scallions, sour cream, bacon, and of course barbecue sauce. I adore this restaurant creation. The best part about it – it is SO EASY to create at home. In the morning, I scrub either sweet potatoes or russet potatoes (or a combination of the two) and wrap them in foil. I place them back in my good old slow cooker and set to low. In eight hours, you will have the most tender potatoes! When they're cool enough to handle, pull them out of the slow cooker and load them up! I prefer to top a sweet potato with the shredded pork and some sharp cheddar cheese and serve with a salad. That is perfection in simplicity in my opinion. My hubbie, however, prefers butter, bacon and chopped onions along with his meat and cheese. Guess what? The options are endless and the choice is yours. The potatoes are ready, the meat is sitting in the fridge. Just use whatever else you have in your kitchen! Note: If you forget to get your potatoes in the slow cooker in the morning (who does that?!), try one of these quick and easy ways to bake potatoes!
Dinner #6: Shredded Pork Nachos
Remember that Mexican Pork Bowl you made on meal four? The one where you set half of it aside? Well, pull out the leftovers and heat up that Mexican stew. Pour it generously onto tortilla chips and throw some additional cheese on the "stew." Melt the cheese under the broiler or in the microwave, and then top it with your favorite taco toppings like lettuce, chopped tomatoes and diced onions.
Dinner #7: Clean out the fridge!
You did it – you have created 6 delicious meals to feed your family. And it was pretty easy wasn't it? So for the final night of the week, take a look in your fridge. My advice is to set out all the leftovers and let your family go to town. If you are pretty cleaned out, what about a cooking a box of pasta and tossing with some butter and garlic? Super easy, and probably something you have in your pantry. Or if it is in your budget (and after saving all that money at the grocery store this week, it just might be), take the night off from cooking and treat your family to a night out. And don't you dare feel guilty! You worked hard at sticking to a budget and cooking REAL food for your family!
Butcher Box delivers grass-fed beef, pasture-raised and organic chicken, and heritage pork directly to your front door each month. You can read my honest review on Butcher Box here, and also my updated Butcher Box review here.
The search for high-quality meat ends here. Amazing taste. Humanely raised and delivered to your door. Sign up today! Click this link to claim the current offer!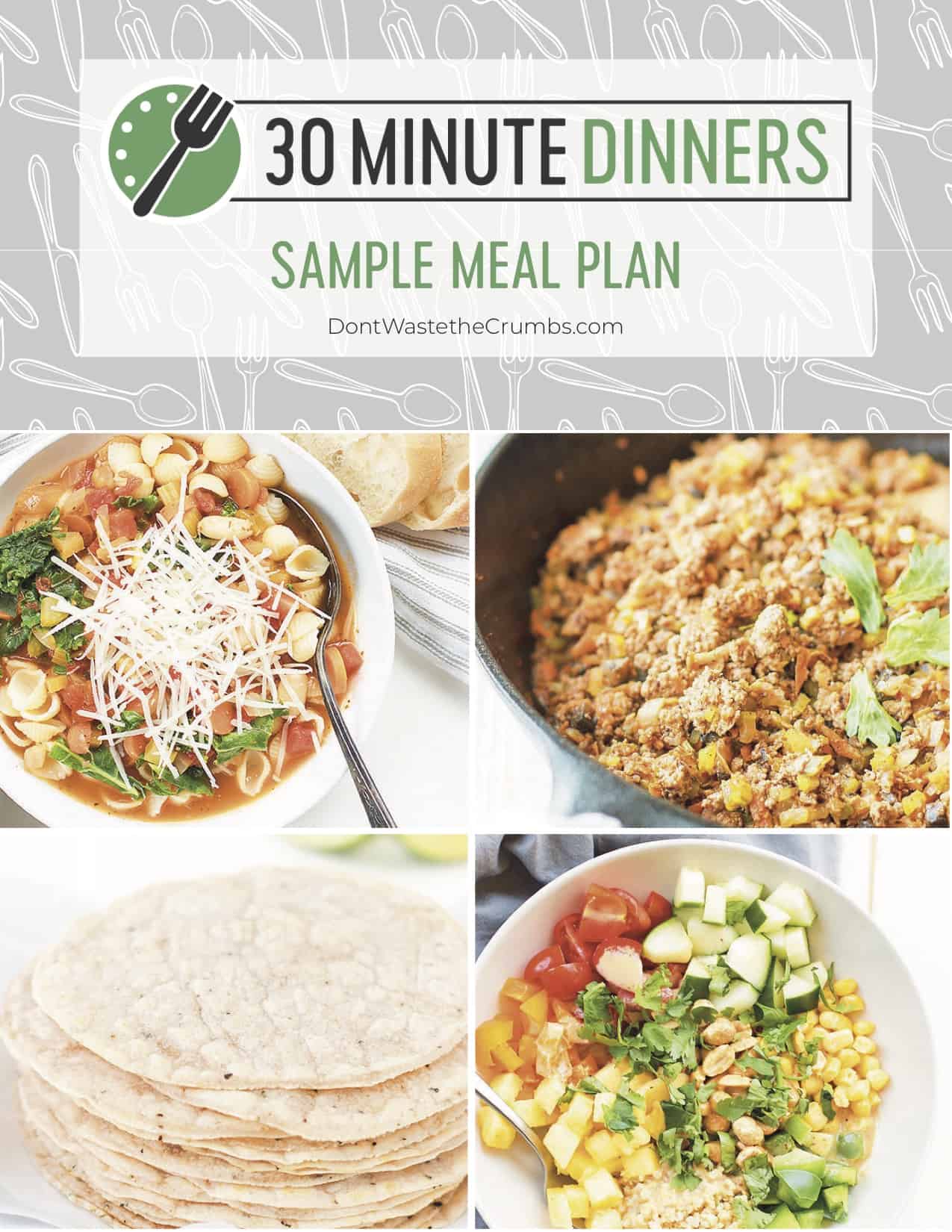 30 Minute Dinners Sample Meal Plan
Sign up to get instant access to my
30 Minute Dinners Sample Meal Plan
, complete with recipes and step-by-step instructions!
So let me ask you: what is your favorite way to get creative with leftovers to "morph" into a new creation?
This post was written by Kristen from A Mind "Full" Mom.