Learn how to stretch chicken into multiple meals! Use this guide to make 7 meals from one whole chicken. You CAN feed your family good food on a budget! Meals like jalapeno chicken popper casserole and buffalo chicken pizza make your chicken go further!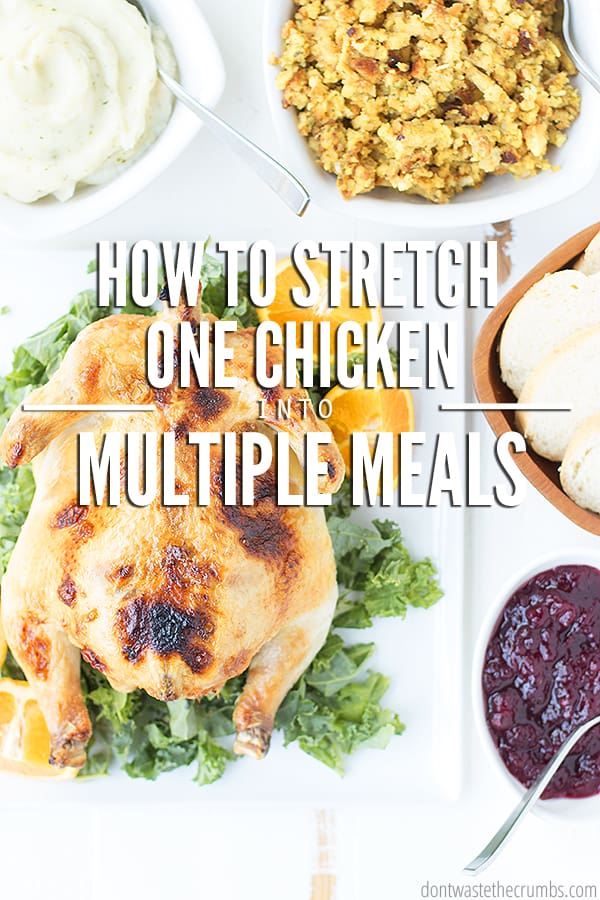 How many delicious, absolutely easy meals does one chicken make? Several!
It is a juggling act to ensure there is enough real food in the house, yet still stick to a real budget. As a working mom who loves to cook and needs to feed her family, dinners need to be nutritious, easy to throw together, leave enough leftover to use for lunches for at least the next day and not be too expensive.
That's not too high of an order, right?
If you can relate to the constant challenge of feeding your family on a budget, here is a great way to survive the kitchen madness.
On your meal plan, plan to take a whole chicken, roast it, and use the shredded meat in several, absolutely easy meals throughout the week.
You will be so glad you did! Be sure to pick meals which will make a lot so you can use the leftovers for either a freezer meal for later or for lunches.
Why Buy Whole Chickens
Hands down, a whole chicken is cheaper than buying chicken pieces.
Costco has the best price for organic chicken in my area, and if you buy a case of whole organic chickens from Costco, the price can go even lower.
You can store the chickens in your freezer or split the case with a friend if you don't have that much room.
If you don't have a Costco in your area, Butcher Box may be a good option for you. They're a subscription service that delivers grass-fed beef, organic chicken and pastured pork to your door each month. Their pork chops are the best I've ever had!
You can read my honest review on Butcher Box, plus my updated Butcher Box review, and how we make Butcher Box work for our budget each month.
No matter where you shop, use a price book to learn what grocery store carries the best priced chicken for you! (Here's how to get started with a price book.)
Stretch a Whole Chicken into Multiple Meals
Once you have your whole chicken, it's time to cook it! My favorite method is in the Instant Pot. You can also cook it in the slow cooker or roast it in the oven or spatchcock it if you're tight on time.
ALWAYS save the bones and skin for making homemade chicken stock. Again, use the Instant Pot or crock pot! (You don't even have to clean out your pot after cooking the whole chicken, just add water, apple cider vinegar, and kitchen scraps! Here's the tutorial.)
After your chicken is cooked, you'll want to shred that baby up. This is best done while the chicken is still warm, but not hot. The cooked chicken falls apart much easier. I typically get about 6 cups of shredded chicken from one whole chicken.
I will either use most of that chicken on my meal plan the week of cooking it. Or put the chicken in 2 cup portions in freezer bags for later. This practice helps me keep real food on hand which in turn makes me capable of feeding my family healthy food AND saving money.
Ways to Use a Whole Chicken
If I were to use that whole chicken for all my meals in one week, here's one way I would make it work:
This isn't a TON of chicken in each meal. But honestly, that is how my family has been able to afford quality meat and still keep our budget low. We view meat more as a side or compliment to our meal, not the main star.
Here's another week's worth of chicken meals to help you stretch your chicken!
How to Stretch One Chicken Breast
You might be thinking all this meat stretching is great, but you don't want to go out and buy a whole chicken when you have some chicken breasts in the freezer. So what are your options?
Psst! That is the FIRST thing I recommend to my Grocery Budget Bootcamp students. Use the food you already have!
Instead of serving up the chicken breast as a whole, you can cook it solo in the slow cooker, Instant Pot, boil it, or bake it, then shred the meat! Here are some ways we like to use shredded breast meat and make it stretch.
Fajitas
Chicken Pot Pie
Creole (if it's mostly chicken)
If Mr. Crumbs is craving a chicken sandwich for a quick and easy meal, I try to use just half of a breast, or leftover chicken from previous meals. A little bit of chicken goes a long way on a sandwich that's full of veggies.
How to Break Down a Whole Chicken
While the best way to stretch a whole chicken is to use the shredded meat in multiple meals, sometimes we do need a meal that uses chicken pieces. A great idea to make that happen is to cut your own whole chicken.
Use this tutorial to learn how to cut a whole chicken. There are a couple of tricks that will help you make the most of your whole chicken. Even when you break down a whole chicken, you can still make chicken broth with the bones and skin. Even the innards are great for stock!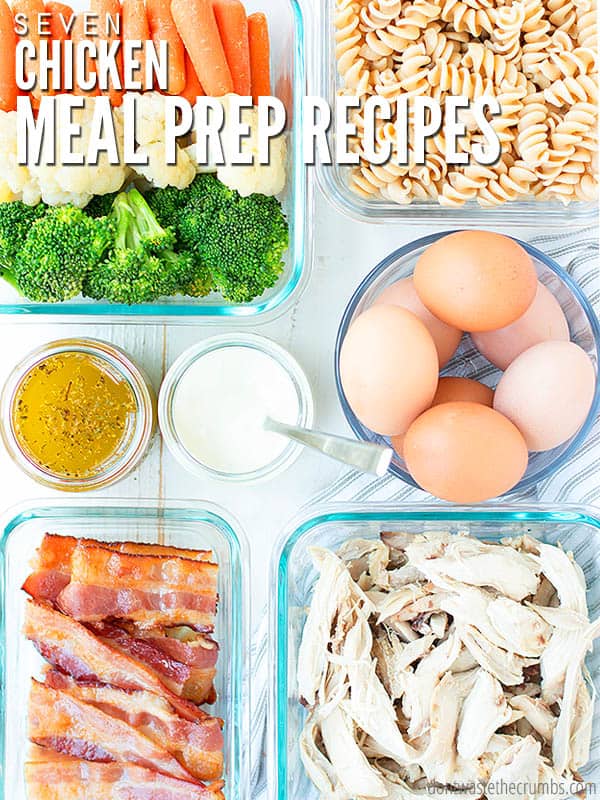 Chicken Meal Prep Plan
Sign up to get instant access to my
Chicken Meal Prep Plan
, complete with recipes and shopping list!
Cut Up Chicken Recipes
These are my favorite ways to use chicken in pieces.
More Chicken Dinner Recipes
Beyond the recipes shared above, there are 38 ways to use a rotisserie chicken! Some of them include: