We make this California cobb pasta salad recipe with bacon every week in the summer. It's easy, healthy & a nice variation from Greek pasta salad!
Everything You Need to Know About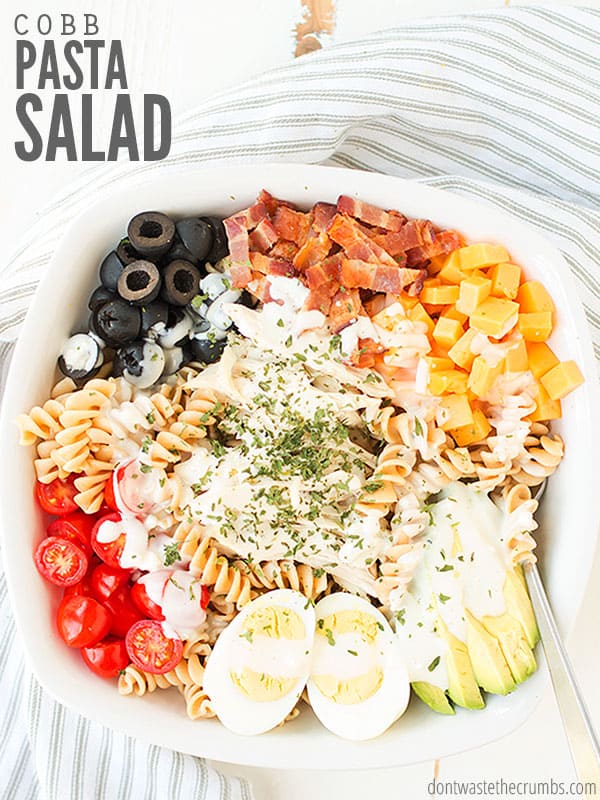 I don't know about you, but when the temperatures get warm, I'm looking for ways to cook dinner without actually cooking… because it's just too hot!
I usually make our favorite beans and rice recipe ahead of time in the Instant Pot or make slow cooker chicken to be used in bacon chicken Caesar salad wraps.
But sometimes I want an all-in-one type of recipe where I can toss it all in a bowl, put on a lid, shake it up and call dinner done.
And if I want to take it to the beach, pool, or park, we're good to go!
Enter this cobb pasta salad. It's all your favorites from a traditional cobb salad, but with pasta instead of lettuce!
Cobb salad is one of my favorite salads and it's usually what I order if we're at a sandwich shop.
But at home, sometimes making a salad for dinner means someone comes back to the kitchen a couple of hours later looking for a snack.
So I thought, why not take one of my favorite salads and swap the pasta for lettuce?
My whole family raved at how good it was and no one came back looking for snacks after dinner. Mission accomplished!
Why You Should Make This Easy Pasta Salad
Obviously, I like this cobb pasta salad because my family eats it, but I also like it for very adult-like reasons:
It's super easy. Literally, throw it all in a large bowl and toss and you're done. It's a clean-out-the-fridge type of meal.
I'm giving you the traditional cobb toppings, but use whatever you happen to have!
It's very friendly to substitutions. Nearly every topping can be substituted for a different variation. Turkey for chicken, green olives for black, Colby jack for cheddar… really, you can't go wrong. It's cheap.
This entire meal will set you back roughly $5, which for a family of four is pretty darn good!
It's a great side dish too!
Easy Pasta Salad Ingredients
Let's break down what this cobb pasta salad is all about:
Pasta
You need 12-16oz of your favorite pasta. I used einkorn rotini, but the type of pasta you use doesn't matter so much. Use whatever you have, or whatever works for your dietary needs, and cook it al dente, which is slightly undercooked, and give it a rinse in cold water.
If you have a few containers or bags of leftover pasta in the pantry, this is a great way to use them up so they don't end up in the trash can! Just make sure you cook them separately, since different sizes of pasta call for different cooking times.
Chicken
This cobb pasta salad calls for leftover chicken:
But you can use turkey instead of chicken. I don't know if you have any leftover turkey hidden in your freezer from Christmas or Thanksgiving, but if so, pull it out and use it up!
Tomatoes
I used cherry tomatoes because that's what I had, but again, use whatever tomatoes you want. Sun-dried tomatoes would add great flavor!
If you're growing your own tomatoes, big wedges would be delicious!
Olives
Pre-sliced olives cost twice as much as buying whole olives, so save yourself money and buy whole olives and slice them yourself. It's really easy with a serrated knife (like this one). Heck, you don't even have to slice them if you don't want to – halved olives work just as well.
We like the flavor of black olives, but for the sake of not throwing away food and using what you have, green olives (stuffed or not) and kalamata olives will work too. Remember that the flavor will change just slightly, but it shouldn't be too noticeable.
Cheese
I buy cheese in big blocks from Costco because it's WAY more affordable than buying pre-shredded or even pre-cubed cheese.
If cheddar isn't your thing, use whatever suits your fancy… Colby jack, Monterey jack, mozzarella cheese, pepper jack… they'd all be good!
Note: Using a cheese with a stronger flavor means getting away with using less. It's one of the tips I recommend in order to save money on cheese!
Avocado
Generally speaking, avocado is optional, but it's required FOR ME because I love it so much.
If you have picky eaters who don't like avocado, you can serve it on the side OR slice it for presentation and remove it before tossing and serving.
Bacon
I took the easy route and cooked my bacon in the oven, but you can pan fry it if you want. If you do, keep the grease!! (More easy ways to save money in this post.)
Also, buy nitrate-free bacon if your budget allows. Nitrates aren't good for us and we should avoid them if possible.
Dressing
I used homemade ranch dressing, but blue cheese dressing would work well here too!
Can you imagine adding a bit of copycat Frank's hot sauce to the dressing too? Use blue cheese instead of cheddar and you'll have a BUFFALO cobb pasta salad!
Is this a Warm Pasta Salad? Or a Cold Pasta Salad?
This cobb pasta salad can be served both warm or cold, depending on what you choose. If you go warm, the cheese will melt a little.
I personally like the pasta salad served cold and think it's even better the next day when the noodles have had time to soak up the extra dressing!
Can I make pasta salad the day before?
Yes! You can either make the whole thing and let it sit overnight in the fridge, or you can do the prep work and mix it all up the day you serve. Your choice!
What about making this an Italian pasta salad?
I'm actually working on an Italian pasta salad recipe, but add some red peppers, red onion, bell peppers, and Italian dressing and you'll be close enough!
What goes with pasta salad for dinner?
Although cobb pasta salad can easily be a main dish all on its own, I like to serve it with raw vegetables and dressing (the same dressing you use on the pasta salad!) or cut up watermelon or corn on the cob.
The whole point is to keep dinner EASY, so don't over think about what to serve with it!
How to Make Cobb Pasta Salad Work for You
I recommend putting this cobb pasta salad on your meal plan in the "leftover" slot… as in, this is what you make when you know you'll have leftovers in the fridge that need to get used up.
Here are a few meals that I'd consider putting on the meal plan so that your extra toppings don't go to waste and you can maximize your time in the kitchen:
Cobb Pasta Salad
We make this California cobb pasta salad recipe with bacon every week in the summer. It's easy, healthy & a nice variation from Greek pasta salad!
Author: Don't Waste the Crumbs
Prep Time:

20 mins

Cook Time:

0 mins

Total Time:

20 minutes

Yield: Serves

4

-

6

1

x
Category:

Soup & Salad

Method:

Dice and combine

Cuisine:

American
12

–

16

oz pasta, cooked according to package directions

4 oz

cooked bacon, roughly chopped (about

4

slices)

1

–

2

cups shredded chicken

½ cup

diced tomato

½ cup

sliced olives

½ cup

cubed cheddar cheese

1

avocado, diced

½ cup

(ish) homemade ranch dressing.
This recipe doesn't come together until everything is cooked, so make sure you're starting with cooked pasta, cooked bacon, and cooked chicken.
When those are ready, combine all of the ingredients, except the dressing, in a large salad bowl.
Add ¼ cup of salad dressing and toss to thoroughly mix. Add additional dressing if desired and serve immediately OR chill in the fridge for several hours.
Keywords: Cobb pasta salad
Cobb pasta salad is such a quick, delicious, and easy meal. What is your favorite way to eat cobb pasta salad? I'd love to hear your favorite toppings in the comments below!