Healthy double chocolate waffle recipe made in the blender! Two types of chocolate, egg-free option, milk or dark chocolate and much better than Bisquick!
Ever since I first made cinnamon blender waffles for my family, 9 times out of 10, that's what they request for Saturday morning breakfast.
(The tenth time, if you were curious, is almond flour pancakes.)
I've made blender waffles more times than I can count, trying to come up with ways to make them better than they already are. In my book, the only way you can make something that's already awesome even MORE awesome, is by adding chocolate.
And MORE chocolate.
Wait… a double chocolate waffle recipe? HECK YES!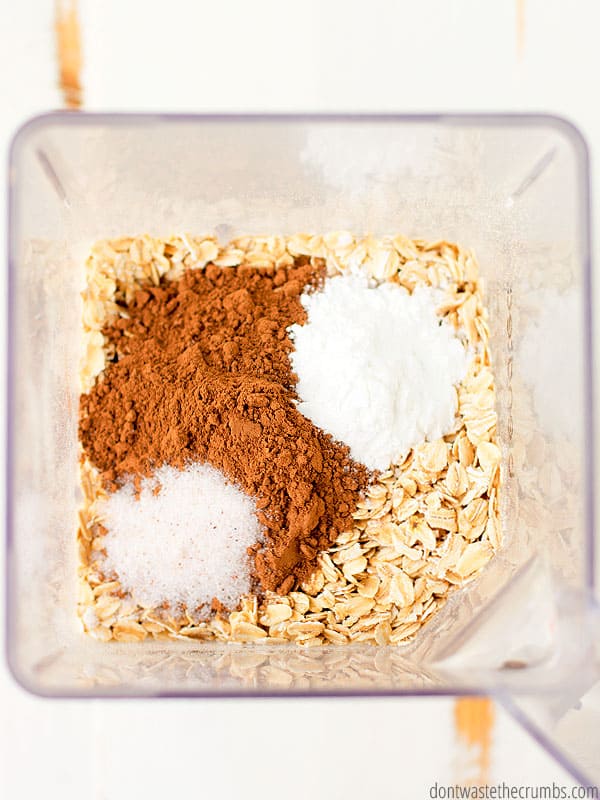 The first time I made these, I knew they were a winner. I made one batch for dinner while my husband was out of town. That meant the kids and I could each have two waffles.
Guys how many were leftover?
ZERO.
The kids and I INHALED all six waffles and we all agreed that the double chocolate waffle recipe was so good, we would suffer being stuffed to the max for a third.
The next time I made them, I made sure to make a double batch. Sure enough, those were gone within the week too.
When we celebrated my son's birthday a few weeks ago, I made a 6x batch of this chocolate waffle recipe and put them in the freezer so they'd last me at least a couple weeks. Not the case though – my daughter has had a double chocolate waffle for breakfast EVERY SINGLE DAY since then!
I even made these for my extended family (15 of us!) when we spent a week over Thanksgiving in the Outer Banks. Guess how many waffles were left? ZERO.
Guess how many family members gave rave reviews? ALL OF THEM.
Guess how many people wanted the recipe? ALL OF THEM.
Without a doubt guys, your family is going to LOVE this chocolate waffle recipe!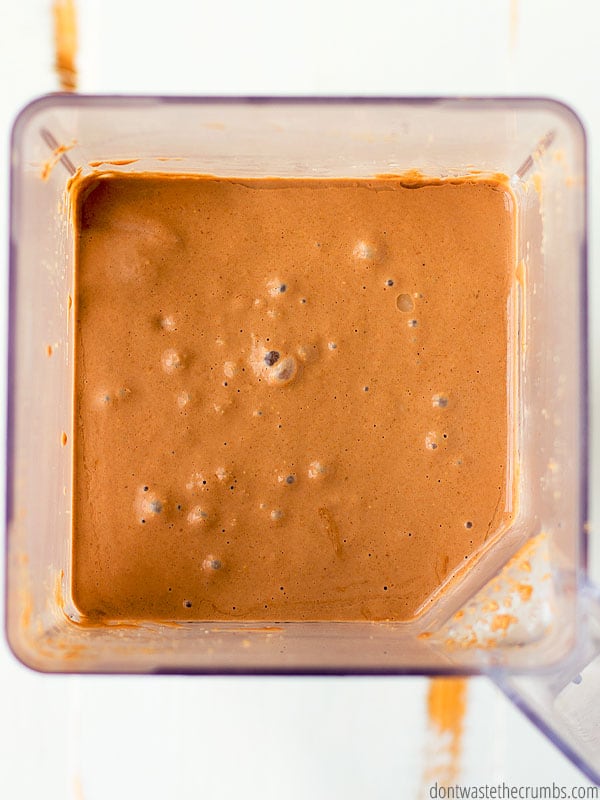 Double Chocolate Waffle Recipe
YOU are going to love this double chocolate waffle recipe too, and not just because they taste good (because they do!) or because they're easy to make (they are!), but because they're healthy too!
Oats
Instead of traditional flour, we're using rolled oats as the base of our waffle and oats are a powerhouse of nutrition.
Plus oats are CHEAP! Looking at my price book, I can regularly get rolled oats at Walmart or Costco for 6¢ per ounce. I once found rolled oats marked down at Kroger for just 4¢ per ounce and you bet I bought them ALL!
The only time I've found a better price than that is at Sprouts when they're on sale for 50¢ per pound, which makes it just 3¢ per ounce. I haven't seen that deal recently, but with the amount of double chocolate waffles I'm making, you can bet I've got my eyes watching for the circulars!
Here's how to shop Sprouts for the best prices!
By the way, you can use quick oats in this recipe if you'd like. And in case you were wondering what the difference was between all the different types of oats (including steel-cut), I explain it all here.
Butter/Coconut Oil
Saturated fat isn't the bad guy that everyone once thought it was, so I bake with butter and coconut oil anytime I can.
I actually use BOTH of these healthy fats in this recipe because I think the waffles come out best that way.
If you have an intolerance to one or the other, you can use all butter or all coconut oil.
Read more about butter.
Cocoa
I switched from traditional cocoa to cacao not too long ago and I REALLY like how the cacao makes these waffles taste a bit more indulgent rather than just sweet.
Both cocoa and cacao can be used interchangeably in this recipe, so use whichever you have on hand.
Natural cocoa is easily found at your local grocery store. This is the brand of Dutch cocoa I used for chocolate avocado mousse (seriously AMAZING). Cacao is super rich and perfect for chocolate waffles, triple fudgy paleo brownies, and no-bake brownie bites (this brand cacao is great).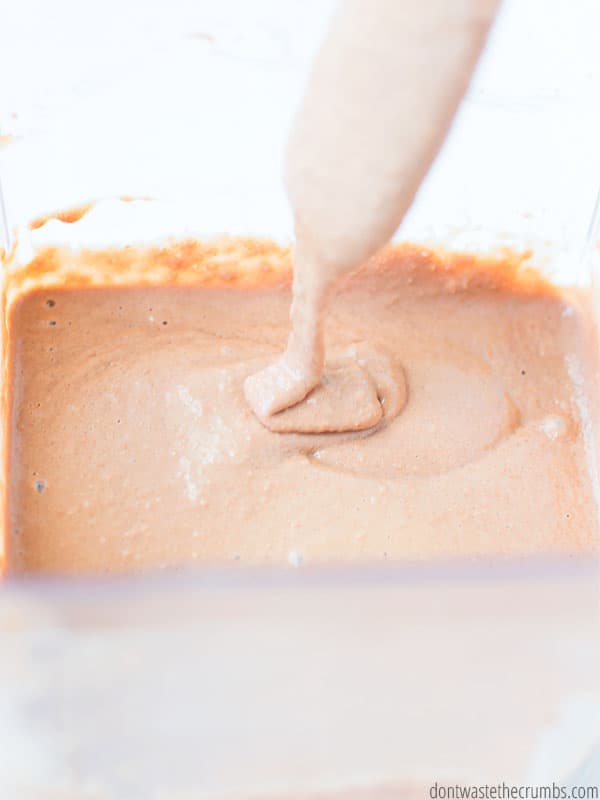 Eggs / Salt / Baking Powder
I'm lumping these three ingredients together because aside from the oats, they're the backbone of the recipe.
Eggs for binding (you can probably substitute flax egg here if you needed to)
Salt for flavor
Baking powder is our rising agent
Water
I LOVE the fact that this chocolate waffle recipe using WATER instead of milk! I don't know why – call me cheap – but I'm thrilled that I can get a fluffy and crunchy waffle using oats and water. It blows my mind, every time!
Psst! I've had people ask in the past if they could use milk instead of water to increase the protein content. I personally haven't tried that myself, but remember that milk doesn't bake like water does, so if you truly want to increase the protein of the waffles, I suggest adding a scoop or two of grass-fed collagen instead of using milk. Or you can make my high protein marathon oatmeal. Or even my very best protein pancakes, which is also crazy delicious.
Maple Syrup
I've included maple syrup as a natural sweetening option in the recipe, but I'm not entirely sure it's needed. The last time I made these waffles I accidentally used half as much and we still loved them. (Math errors are inevitable when you have 3 blenders going, each with a 2x batch of double chocolate waffle batter!)
If your family is used to things on the sweeter side, or you want to enjoy these chocolate waffles without any syrup on top, include the maple syrup in the batter – it's just 2 tablespoons.
If your family is used to things NOT being so sweet, you can omit… unless you're using cacao. Then I'd recommend including the maple syrup to help offset the bitter of the cacao.
Chocolate Chips
FINALLY, my favorite part and the secret ingredient!
Here's another chance to control the amount of sugar you want in this recipe. If you want the waffles sweeter, use milk chocolate or semi-sweet chocolate chips. If you want the waffle chocolate-y but not sugar-y, use your favorite dark chocolate chip.
What makes this double chocolate waffle recipe so good, is that the chocolate chips are BLENDED INTO THE BATTER!
Yep – you heard me. You don't have to worry about rogue chocolate chips getting burned to your waffle iron because – been there, done that, and it's not fun!
We're adding the chips at the very end of the batter and giving them a whiz in our blender so they turn into the equivalent of shredded chocolate. Except WAAAY easier than actually shredding chocolate. (Which I did to take these photos and trust me, it's not easy!)
Stocking up on chocolate chips?
Start by looking at your local stores. Compare price per ounce and don't rule out chocolate bars! I've found good prices on chocolate at Costco, ALDI, and Trader Joe's. Sam's Club, Kroger, and Walmart may have good prices too!
If you need an allergy friendly option, Enjoy Life chocolate chips are great! As of this posting you can find them for $4.69 at Thrive Market, $3.94 at Vitacost, $3.74 at Amazon (for Prime Pantry Members).
Organic, Fair Trade dark chocolate can be found at Healthy Traditions (same place I get coconut oil!), Thrive Market, and Vitacost (check your local stores too).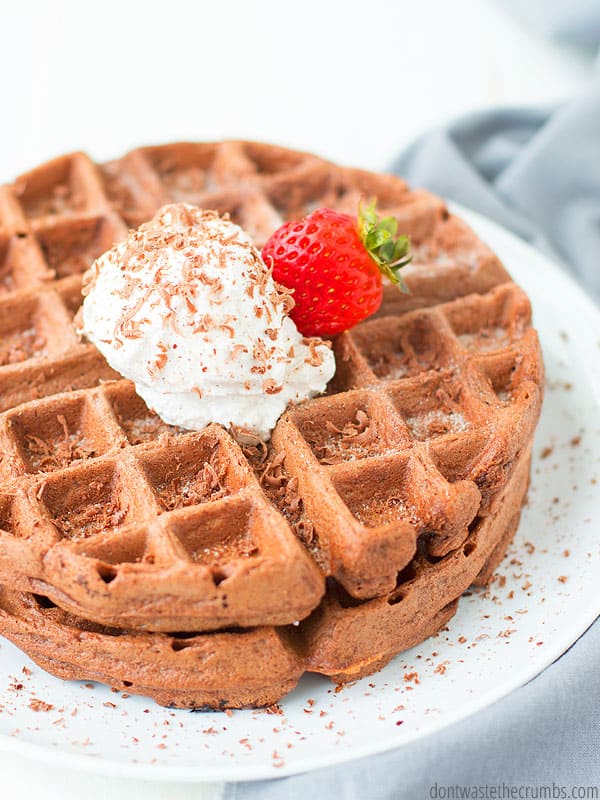 I like to think that anytime I share a recipe with you, I'm actually giving you a small cooking lesson as well. Because let's face it – cooking isn't a skill we're born with, but it's necessary in order to eat well on a budget.
So here are my tips for making this double chocolate waffle recipe one for the record books:
A thinner batter makes for a crispier waffle. The batter is the right consistency when it freely runs off the back of a spoon (see image above). This means you might have to add water to the batter in subsequent batches of waffles, because the oats will absorb the water and the batter will thicken as it sits while you're making waffles.
I use and love and recommend this double-sided Belgian waffle maker. My family fills the pockets with butter and syrup, and I can make twice as many waffles in half as much time! (And truth be told, both of my sister-in-laws AND my mother-in-law were shocked that I had one… they all mentioned how they love waffles, but that using a single waffle maker just takes too long. I'm tell you – GAME CHANGER.)
The batter for these waffles browns easily (you can blame the chocolate), so I recommend turning the heat down on the waffle maker and letting it cook longer for a crispier waffle (rather than turning the heat up). I actually have my heat set halfway between "light" and medium and let them cook a few minutes past the "ready" beep.
Every waffle maker is different, but 2/3 cup of batter made one nearly perfect waffle for me. One additional tablespoon would have been ideal, but since I usually eyeball it and only measured for you guys, it's splitting hairs.
To freeze this chocolate waffle recipe, make a single layer of cooked waffles on a cookie sheet. Put a cooling rack on top of the cookie sheet and make another single layer of waffles. Place a second cooling rack on top of the first and make another layer of waffles. Place the entire stack into your freezer for at least one hour. Then remove the waffles and store them in a freezer-safe container. (I can get 4 full-size waffles in one gallon-size freezer-safe bag.)
To reheat frozen chocolate waffles, you can put them in a toaster, in the oven or in the microwave.
While we usually eat these for breakfast, they can easily pass for dessert too! Wouldn't it be fun to have a DIY chocolate waffle sundae bar at your next party?!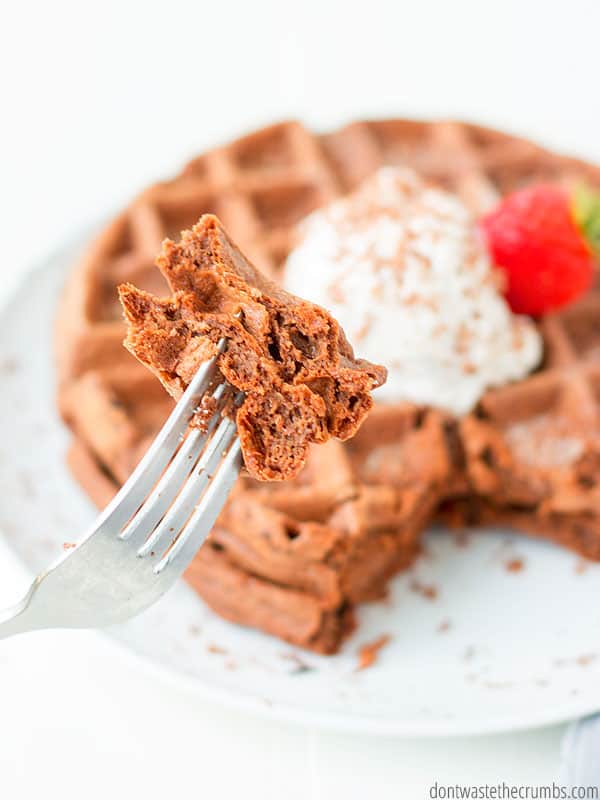 You really can't go wrong with double chocolate waffles.
Make extra batches because they go fast!
Double Chocolate Blender Waffles
Healthy double chocolate waffle recipe made in the blender! Two types of chocolate, egg-free option, milk or dark chocolate and much better than Bisquick!
Author: Tiffany
Prep Time:

10 mins

Cook Time:

5 mins

Total Time:

15 minutes

Yield:

6

yield

1

x
Category:

Breakfast

Method:

Blender

Cuisine:

American
6 Tbsp

butter, melted and set aside

6 Tbsp

coconut oil, melted and set aside

3 1/2 cups

rolled oats

1 tsp

salt (I used Real Salt)

4 tsp

baking powder

4 Tbsp

cocoa (I used raw cacao)

4 Tbsp

maple syrup (optional)

2

–

3

cups water**

4

eggs

1/2 cup

chocolate chips (I used 60% dark chocolate)
Instructions
Measure butter and coconut oil into a mug and melt in the microwave. Set aside.
In a blender (I have this Blendtec and LOVE IT), combine the dry ingredients: oats, baking powder, salt and cocoa. Blend until the mixture resembles a fine flour, about 30-60 seconds.
Add the maple syrup, if using, 2 cups of water and eggs. Blend again for one full minute.
Add the melted butter, coconut oil and chocolate chips and blend again for one full minute.
Preheat your waffle iron and let the batter sit until it's ready.
When the iron is hot, add 1/2 cup of water to the batter and blend for 30 seconds. The batter will be thick, but it should also be just thin enough to run off the back of a spoon. If it's not thin enough, add more water.**
Pour about 2/3 cup of batter into the waffle iron and cook for about 3-5 minutes, or until the waffle is golden. The waffle will crisp up as it cools.
For long term storage, freeze on a single layer on a cookie sheet for one hour. Then move waffles to a freezer-safe container (I use plastic gallon-sized bags) and freeze for up to 3-6 months. They reheat well in the oven, in a toaster oven, in a toaster, or in the microwave.
Notes
** I personally have never used more than 3 cups of water total when making this recipe. Environments play a role in cooking and baking, so you may need to add a little more. You may also need to add more if you let the batter sit for an extended period of time, since the oats will absorb the water. The first time I made this recipe, I started with 2 cups of water and ended up with 3. Every time I've made it since then I add 3 cups of water from the get to. I suggest following the recipe as-written the first time and making note of how much water you ended up using. Then you can add it all in up front the next time you make these – because there WILL be a next time!
Do you think your family would like having chocolate waffles for breakfast? What about you? Or would you save these for dessert? Leave your thoughts in the comment section below!