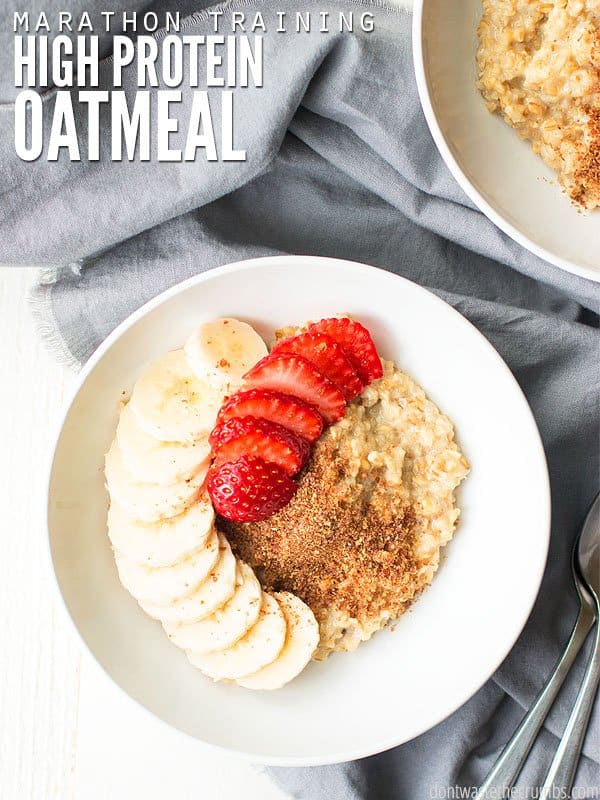 In an effort to keep my weight (a.k.a. blogger butt) under control, I took up running about a year ago.
After running consistently for a few weeks, my husband asked if I had a running goal in mind.
"Well, no. To be honest, I don't really WANT to run. I just want to fit in my pants," is what I said to him. In my BRAIN.
But somehow, "I think I want to run a marathon," came out of my MOUTH.
And now I'm making marathon training high protein oatmeal every Saturday morning…
Since the accidental spillage of these words, I have come to enjoy the idea of finishing a marathon.
(Notice I said finishing, not running… if we could skip forward to the medals and free ice cream, I wouldn't think twice!)
What I didn't realize though, is that running a marathon is so much more than just running 26.2 miles.
It's training your legs to keep going, and going, and going…
Talking yourself into running even when you don't feel like it (and NOT talking yourself out of it).
Figuring out where to run so you don't get tired of seeing the same surroundings, mile after mile…
Knowing how to fuel your body, and when, so that when you hit the pavement for your long run – whether it's 7 miles or 17 miles – your body can handle it.
Really though, the same concepts apply to any sport.
You can't eat a couple strawberry lemonade donuts and expect them to hold you over for the next couple hours as you expel every ounce of energy you have. (Save those for non-training days!)
If you want to perform at your best – whether that's a specific sport, a workout at the gym or just working your brain hard at school all day – you MUST fuel your body with the right balance of good food.
For me, that has become a special oatmeal recipe that I affectionately call marathon training high protein oatmeal.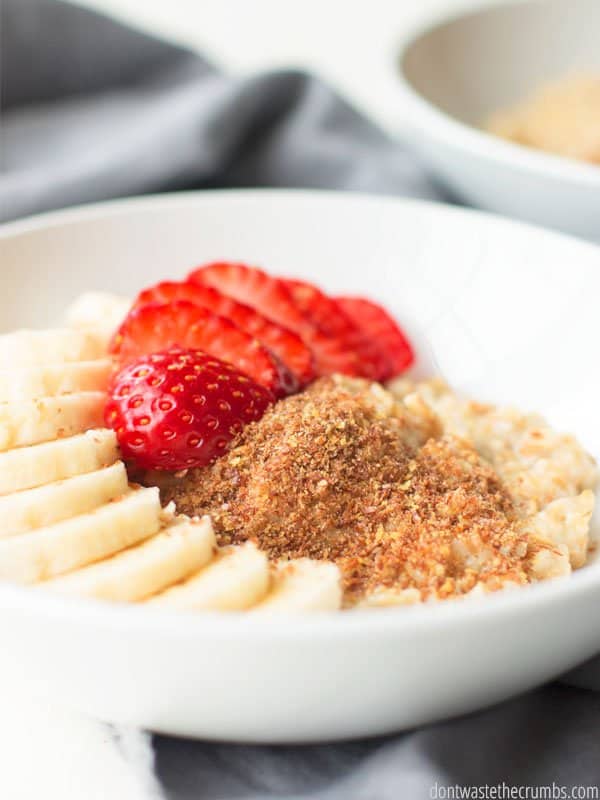 Marathon Training High Protein Oatmeal
This oatmeal recipe looks similar to most every other oatmeal recipe… on the outside. However:
We've tucked some serious nutrition and protein boosters INSIDE that make this high protein oatmeal the perfect way to prepare for strenuous activity.
The portion is just right for a hearty breakfast that satisfies you without weighing you down as if you ate a million pancakes.
Strategically combining frugal ingredients helps to keep the grocery budget under control (one of the vital components I teach in my course Grocery Budget Bootcamp).
Steel-cut Oats
We need to start off with some slow-digesting carbs if we're going to go the extra mile (<– RUN PUN!), so let's go with a classic: oats.
My kids love it when I make DIY Instant Oatmeal Packets, but for this recipe I chose steel-cut oats. There's something about the crunch that I simply enjoy eating and the texture of the entire dish is so good!
Nutritionally speaking, steel-cut oats and rolled oats are nearly identical, and are a decent boost of protein too. This is important, since protein is the building block of nearly every part of your body. If our muscles are going to work now AND later, protein is a must.
I definitely recommend giving steel-cut oats a try, simply because the texture is amazing. But, if you only have rolled oats in the pantry, don't let that stop you from rocking this recipe.
Eggs
We're sneaking in a whole egg into this recipe, which means you're getting the protein boost AND an impressive line-up of amino acids and health benefits.
Don't worry though – you won't taste the egg. Promise!
Collagen
I shared the health benefits of collagen, and I'm committed to including it in my diet at least 5 days a week via my daily green smoothie. On my long run days, I add a scoop to this high protein oatmeal and it completely disappears.
This is the brand I use, but please read my review of two popular brands of collagen before buying!
Flaxseed
I had flaxseed in the pantry from these no-bake sweet and salty energy bites, so I added some on a whim. Thank goodness I did, because it was so good, I'll never go back! It adds a sweet nutty taste that is THE BOMB with the bananas.
Of course, flax has some amazing health benefits too, including clearing your skin and improving your digestion.
Banana & Berries
Banana is crazy high in potassium, which helps keep your muscles strong and prevent cramping. All berries are a great source of antioxidants, but let's be honest –they taste good too!
I've made this oatmeal with strawberries and blueberries – frozen and fresh – and it's pure deliciousness across the board. I swear, it's something with the flaxseed and bananas…
I top it off with a SLIGHT drizzle of maple syrup. You can mix it all up if you want, but there's something indulgent about teetering bites of oatmeal with and without the sweet maple flavor.
Wait – did I just say "oatmeal" and "indulgent" in the same sentence?
Oh yes my friends, we're kicking plain 'ol oatmeal to the curb and getting our training on with high protein oatmeal!
Want to Boost the Protein Even More?
Try adding a tablespoon of peanut butter (or any nut butter) or nut flour!

Marathon Training High Protein Oatmeal
Instructions
Bring water and salt to a boil in a small sauce pan.
Add oats and reduce heat to medium low, stirring occasionally.
When the oats have absorbed ALL the water, remove from the heat. Crack an egg into the oats and immediately begin stirring. The egg will gently cook from the heat of the oatmeal.
When the egg is thoroughly combined, add collagen powder and flaxseed and stir thoroughly.
Top with flaxseed, banana, berries and maple syrup if desired.
Do you have a go-to breakfast when you need to seriously fuel up? Please share your ideas in the comments below!