You guys. I know we all have our favorite breakfasts. I like fried sweet potatoes with runny eggs. My husband loves almond flour pancakes. We ALL like cinnamon blender waffles.
But there is something about these chocolate pancakes that makes my kids SWARM and SWOON.
As in, they literally run to the breakfast table, pump their fists in the air and cheer for chocolate pancakes. And then they sit there, savoring every single bite as if it's their last pancake on earth.
I'm telling you. If you want to kick your pancake game up a notch, make these chocolate pancakes.
These chocolate pancakes are unlike any other pancake recipe on my blog.
If anything, they closest resemble these fluffy strawberry pancakes simply because there's no prep work and you cook them on a griddle.
But there's one big difference here… CHOCOLATE.
I don't know if you caught on or not, but I've dedicated almost every recipe this month to chocolate:
Chocolate Pancakes
Blender Chocolate Waffles (coming soon!)
And if you ask me, there's nothing wrong with having chocolate for breakfast… especially when it's homemade AND there's barely any sugar!!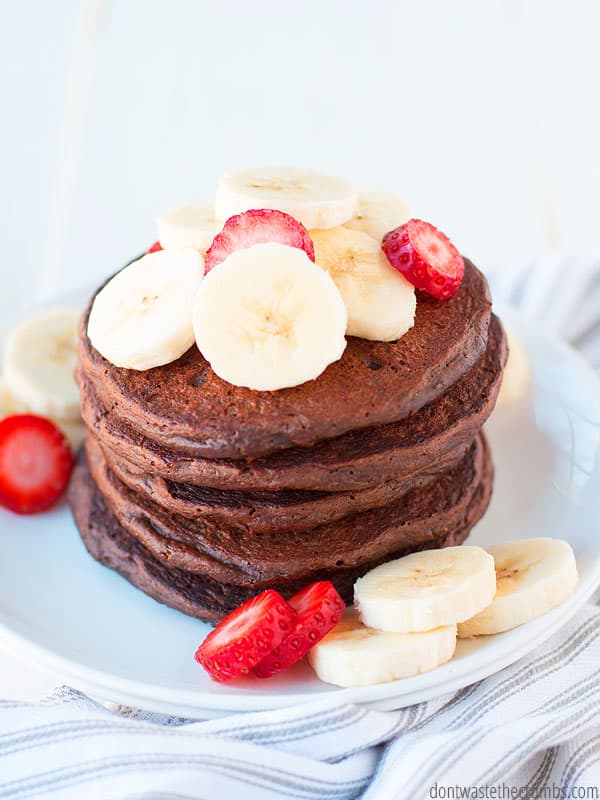 Let's unpack this chocolate pancake recipe, shall we?
Dry Ingredients
Rolled Oats
We're going to whiz the rolled oats in the blender first to make oat flour, but you can easily substitute any flour you want here. Whole wheat (best if fresh ground), all-purpose (choose unbleached and unenriched), einkorn (good for those with gluten sensitivity), or a gluten-free flour blend (I've used this one before) would all work well.
I wouldn't use almond flour or coconut flour in a 1:1 substitution because those two flours behave very differently than the typical flour.
Cocoa
I've mentioned before, but we took a baby step and moved from natural cocoa (the kind you find in the grocery store) and now use raw cacao. It has a deeper, richer flavor and has a bit more health benefits than natural or Dutch-processed cocoa.
This is the kind I buy and Walmart has it for the best price locally. You can easily use whatever cocoa you have on hand though.
Sugar
I really hate to include sugar in pancake recipe, especially when you're going to top it with butter and pure maple syrup anyway, but we need just a teeny bit to counteract the bitter of the unsweetened cocoa.
I often use honey or maple syrup to sweeten, but Turbinado sugar works really well for this recipe. It's not as refined as white sugar and still helps us cut back.
Baking Powder + Baking Soda + Salt
Leavening agents, and salt helps to bring out the flavor of chocolate. (I LOVE Redmond Real Salt. I buy this bag!)
Wet Ingredients
Yogurt + Milk
The original version of this recipe called for buttermilk, but I don't normally have buttermilk in my fridge. You can easily make buttermilk with any of these recipes, but I had a tub of yogurt that I found marked down so I decided to use that instead.
Actually, I liked how using yogurt and milk – instead of buttermilk – made the batter thicker and less runny!
Melted Butter + Eggs
Every pancake recipe needs fat from somewhere, and this recipe uses melted butter. Eggs are for binding, but you can make flax eggs (or one of these egg substitutions) instead if you need to.
Coffee + Vanilla
A hefty splash of coffee really makes the chocolate flavor pop, as does a tiny splash of vanilla. You can make your own vanilla extract or use one of these substitutes.
I recommend using decaf coffee just to avoid adding to the caffeine contents of the pancakes. I'm pretty sure our kids can manage bouncing off the walls without any help from us!
I like to keep small packets of instant coffee like these on hand for when recipes call for them. Or you can use the ideas from this post on 10 ways to save on coffee!
Leftover pancakes should be stored in the fridge and they'll be good for several days. If you want to make a double or triple batch (which I HIGHLY recommend), these pancakes freeze REALLY well.
To flash freeze pancakes, place a single layer of pancakes on a cooling rack, on top of a cookie sheet, in the freezer for about 45-60 minutes. Then you can remove them and put them in a freezer-safe container for longer-term storage.
This flash freezing method will let you (or the kids) pull out as many pancakes as they want without all of them sticking together into one giant pancake!
Chocolate Pancakes
These healthy chocolate pancakes are so tasty and my kids love them – way better than iHop! Vegan-friendly, add chips for double chocolate, or use bisquick!
Author: Tiffany
Prep Time:

10 mins

Cook Time:

5 mins

Total Time:

15 minutes

Yield:

8

–

12

pancakes

1

x
Category:

Breakfast

Method:

Blender

Cuisine:

American
Dry Ingredients
Wet Ingredients
Instructions
In a large bowl, melt the butter. Set aside to cool to room temperature.
Preheat the griddle to 350F.
Make sure you also have the remaining wet ingredients pulled out and ready.
Measure oats into a blender and process for about 30-45 seconds, or until you have what looks like flour.
Add the remaining dry ingredients to the blender and process for about 20 seconds, just to combine everything. (Note: You don't HAVE to process everything in the blender, but this saves you from dirtying another bowl.)
Add the remaining wet ingredients to the large bowl with melted butter and whisk everything together well.
When the griddle is preheated, add the dry ingredients to the wet ingredients and stir until they are just combined.
Measure ¼ cup of batter to the griddle and cook until you can see that the edges are cooked, about 2-3 minutes. Flip over and cook for another minute or two.
Repeat with the remaining pancake batter, stirring well in between batches.
Best served warm with butter and pure maple syrup.
Do you ever made chocolate pancakes? What's your favorite "fancy" breakfast?