Make a flax egg substitute for vegan recipes with just 2 ingredients! Works in baked goods like pancakes, brownies, and muffins, but also in meatballs! This natural egg replacer is keto, low carb, vegetarian, and vegan.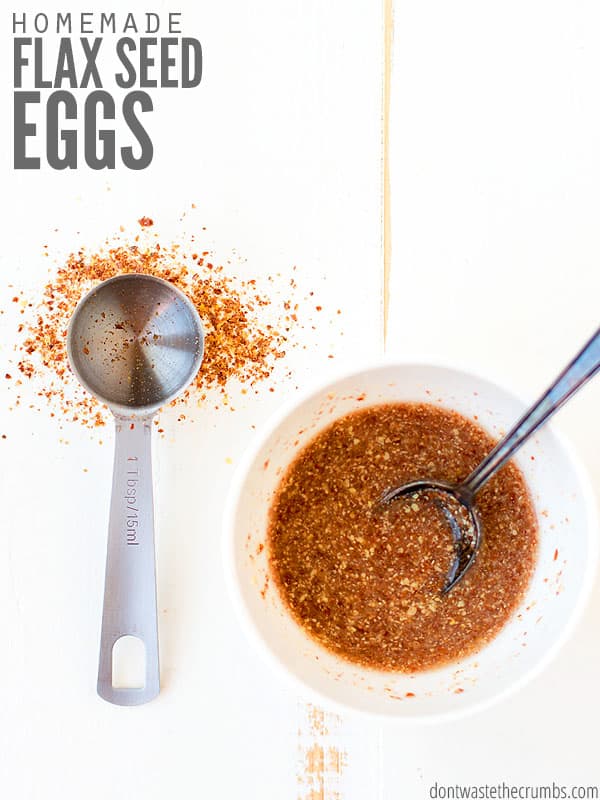 Have you ever started making a recipe only to find out you were out of eggs?
Not too long ago I was prepping for a batch cooking session before school started and lo and behold, I didn't have enough eggs!
Instead of running to the store for one item (because we never come home with just one item), I learned how to make flax egg. This crazy easy recipe saved me a trip to the store AND money spent!
What is a Flax Egg?
A flax egg is a simple mixture of 1 tablespoon of ground flaxseed and 2 tablespoons of water. After about 15 minutes, the flaxseed meal gels and creates a similar texture to eggs.
It's a common vegan egg substitute, but beyond vegan baking, it works when you are out of eggs or need to bake egg-free because of allergies.
Here are MORE egg substitutes for egg-free baking!
Flax Egg Ingredients
*Note: Using boiling water will make your flax seeds turn into a gel faster.
How to Make Flax Seed Eggs
Step 1. Add 1 Tbsp of ground flaxseed to 2 Tbsp of water in a small bowl (if you are pressed for time, use warm water).
Step 2. Allow the mixture to sit and gel for 15 minutes before using in recipes.
Step 3. The mixture will have the consistency of real egg whites.
What Is a Flax Egg Used For?
You might think that your options are limited because of the dry/wet issue in baking, but I've found that the opposite is true.
You can use flax egg instead of eggs in lots of baking recipes, especially in quick breads. My favorites include:
You can also use it in non-baked goods too, like Italian meatballs and the best burger recipe ever.
The question then isn't really when to use flax eggs, it becomes when you CAN'T. You really don't want to use it in recipes that use lots of eggs, like scrambled eggs. Or need an egg texture, like meringue.
Where To Buy Flaxseed
I've seen 48 oz bags of resealable organic ground flaxseed at Costco for just $6.79. You only need one tablespoon to make one flax egg, which comes out to just 2¢ per tablespoon.
If you prefer online shopping this brand at Amazon is good. Or you can find it at Thrive Market as well. Click here to see the Exclusive Offer for Crumbs readers!
One dozen of organic brown eggs at Trader Joe's generally costs around $3.29, making one egg 27¢. That means choosing to bake with flax egg instead of traditional eggs can save you money big time!
Storing Flaxseed
Whole flaxseed has a protective outer coating that naturally contains oils. It's best to buy whole flax seeds whenever you can, simply because their shelf life is longer than the pre-ground flaxseed meal.
Then when you want to make flax egg, you can grind whole flaxseed with an inexpensive coffee grinder like this one. I use my Blendtec because, well, I have one!
Whether you choose whole flaxseed or ground flaxseed though, it's best to store them in the fridge or the freezer. Those naturally occurring oils can go rancid, and you certainly don't want to eat rancid oil OR risk imparting a negative flavor in your baked goods.
Tips and Tricks for Making a Flax Egg Replacement
One flax egg is the equivalent of one large egg (you can make more than one at a time if that's what your recipe calls for).
Anytime you use flax egg instead of regular egg, make it FIRST – before you do anything else – so it has enough time to gel without disrupting your baking plans.
If you're in a pinch, you can make an "egg" with flax OR chia seeds! Although chia seeds are definitely more expensive.
You can freeze flax eggs! This is great for prepping at the start of the week. Simply make them and then pour into an ice cube tray. Most ice cube trays hold 2 tablespoons, so you'll either want to split one flax egg into two cubes (and then remembering to thaw two cubes when you bake) or get a larger ice cube tray like this one which holds 6 ½ tablespoons in each cube.
If you're in a rush, use hot water to make the flax gel faster.
Flax Egg FAQs
How does flax egg work?
The outer seed part of flax turns gelatinous when it is ground and mixed with water. This allows the flax egg to act as a binder and emulsifier in baking. It also adds moisture so your recipe will not become dry or crumbly.
Is flax egg gluten-free?
Flaxseeds are naturally gluten-free and are packed with nutrients:u003cbr/u003eOmega-3 Fatty Acid. "Good" fat for heart and bone health.u003cbr/u003eLignans. Free-radical fighting antioxidant found red wine; also shown to interfere with cancer-promoting effects of estrogen and promotes regular digestion.u003cbr/u003eFiber. Helps keep the pipes clean.u003cbr/u003eSo really, anytime you make this recipe in lieu of actual eggs, you're not just making a boring substitution – you're actually boosting the nutrition of whatever you're making!u003cbr/u003ePlus, here are u003ca href=u0022https://dontwastethecrumbs.com/ways-use-flaxseed/u0022u003e18 Ways to Use Flaxseeds!u003c/au003e
What does flax egg taste like?
If you were to taste whole flaxseeds or a plain flax egg, it's going to have a sort of nutty taste. Not strong, but there's a flavor.u003cbr/u003eHowever, when you bake it intou003ca href=u0022https://dontwastethecrumbs.com/molasses-breakfast-cookies/u0022u003e molasses breakfast cookiesu003c/au003e or u003ca href=u0022https://dontwastethecrumbs.com/protein-pancakes/u0022u003eprotein pancakesu003c/au003e or u003ca href=u0022https://dontwastethecrumbs.com/cast-iron-skillet-cornbread/u0022u003ecast iron skillet cornbreadu003c/au003e, you won't notice a taste!u003cbr/u003eYou'll also SEE the outer part of brown flaxseeds if you use that variety. Golden flaxseeds are better for baking and help when there's a picky eater that notices a change in their food.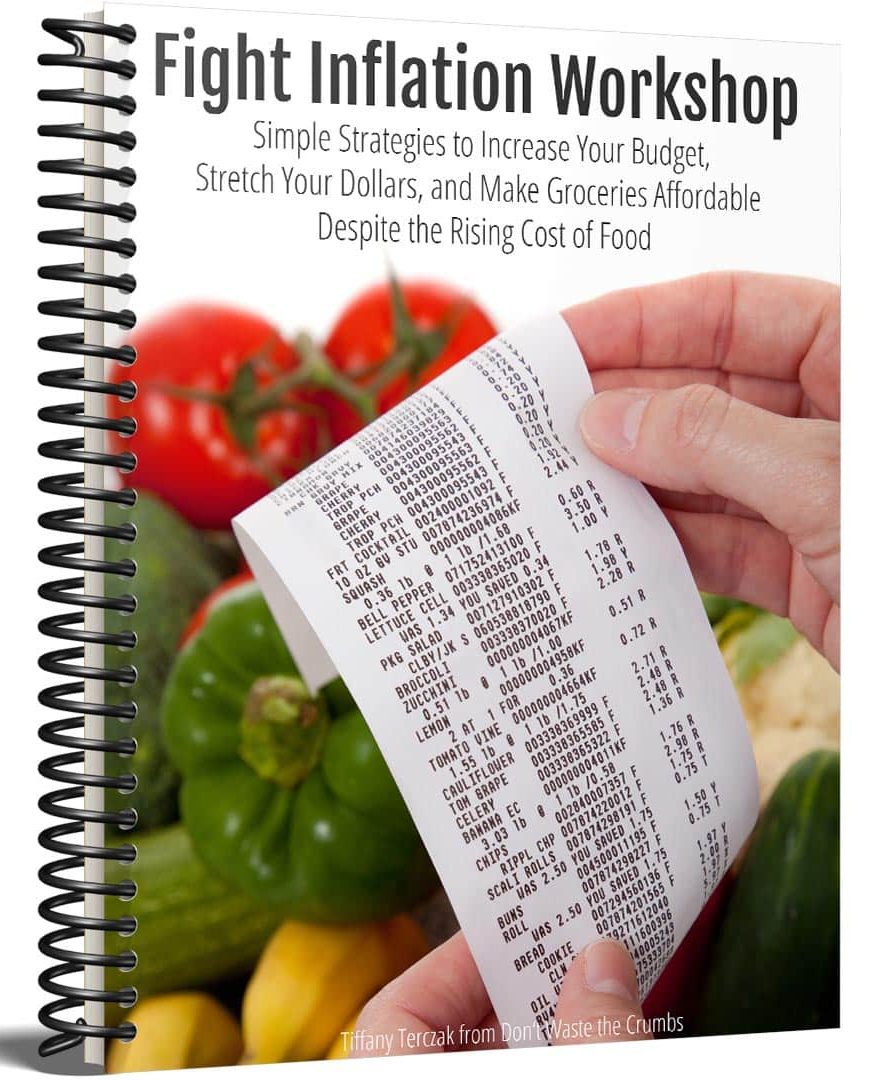 Fight Inflation Workshop
Sign up for my FREE
Fight Inflation Workshop
and learn simple strategies to save money, even with rising food costs!
Watch how to make flax seed eggs
Homemade Flax Seed Eggs
Make a flax egg substitute for vegan recipes with just 2 ingredients! Works in baked goods like pancakes, brownies, and muffins, but also in meatballs! This natural egg replacer is keto, low carb, vegetarian, and vegan.
Author: Tiffany
Prep Time:

10 mins

Cook Time:

10 mins

Total Time:

20 mins

Yield:

1

1

x
Category:

Sauces/Condiments

Cuisine:

American
1 Tbsp

ground flaxseed

2 Tbsp

water*
Instructions
Combine flaxseed and water together in a small dish and stir together well.
Let the mixture sit at room temperature for 5-10 minutes, or until it becomes a sticky, stretchy, gelatinous mixture.
Notes
*Boiling water will help the flaxseed turn into a gel-like substance faster.