This is the best banana bread recipe that's healthy, easy to make and moist! There's no butter, add walnuts or chocolate chips or even make muffins instead!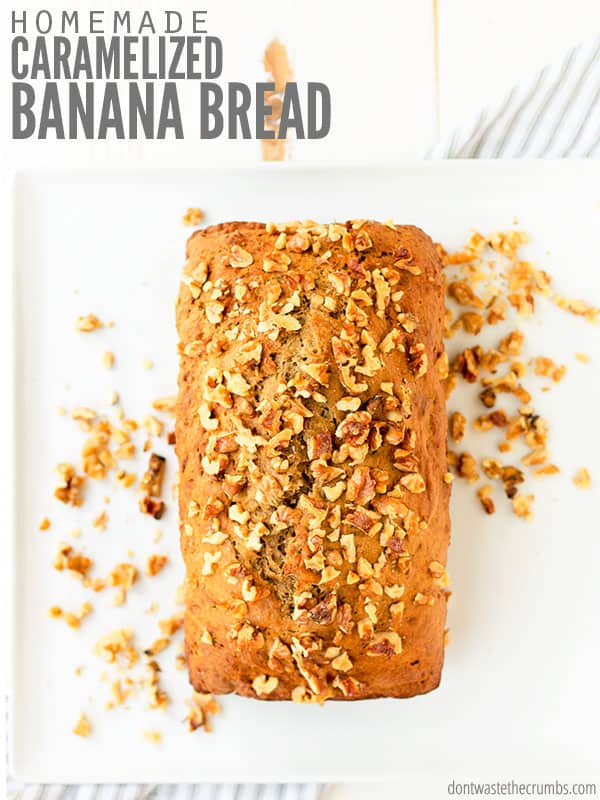 We eat a lot of bananas. They're cheap all year long and easy to consume. High fives for a no-cook snack!
The problem, though, is they often go brown before we can eat them all – ESPECIALLY when it's warm outside.
In the past, my go-to recipe has been this banana muffin recipe. If I'm feeling extra sassy, I'll make chocolate chip banana bread muffins.
But when I came across a caramelized banana bread recipe, I was intrigued. I mean, how could anything that has been "caramelized" taste bad?
Turns out, it can't!
Not only is this banana bread recipe DELICIOUS, but it's also:
MOIST + HEALTHY + EASY + SIMPLE = the best banana bread recipe I've ever made.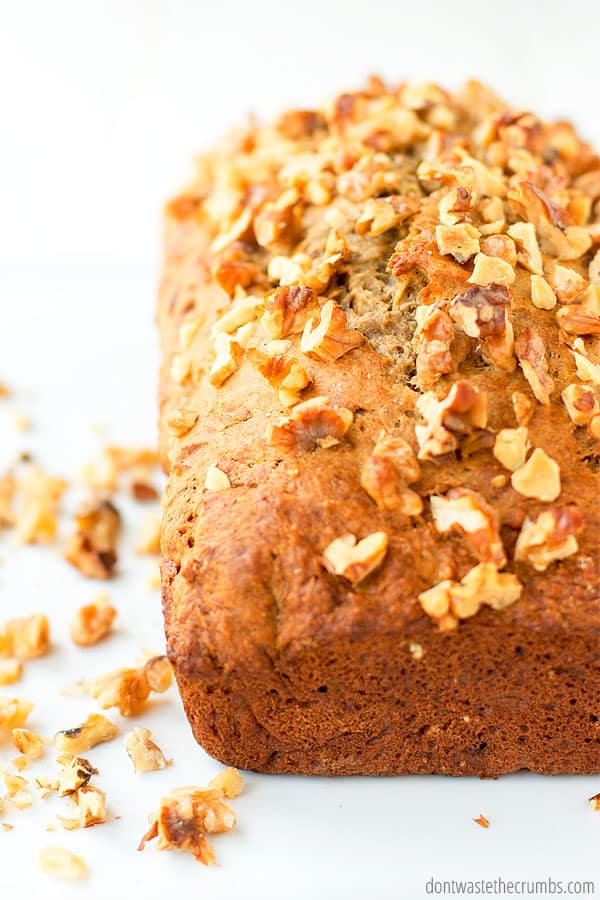 MOIST Banana Bread
We're using 3 bananas in this homemade banana bread, and couple that with coconut oil and somehow when you add it all up, it magically turns into THE MOST MOIST banana bread recipe you've ever made.
Without falling apart in your hands, of course. I promise, there's no crumbing going on here.
HEALTHY Banana Bread
I don't believe fat is bad for you, and in fact, we're conscious of ways to eat more coconut oil on a daily basis. Sugar, on the other hand, is the enemy. Doing the Whole30 as a family taught us that!
Fortunately, this banana bread has just 1/3 cup for the whole loaf! Next time I make this, I'm cutting it back to a ¼ cup to see what will happen, because really, this healthy banana bread recipe is just SO GOOD with very little sugar!
EASY Banana Bread
At the risk of sounding like a broken record, this easy banana bread recipe really is easy!
Once you caramelize the bananas, everything happens in one bowl. Then you pour into the pan and bake. Clean-up is minimal!
I've been known to caramelize the bananas early in the day, and then bake the bread later on. You can totally do that, too! In fact, I bet you could even caramelize the bananas and blend up the eggs a day or two ahead of time, and then bring them to room temperature before baking without affecting the bread at all.
SIMPLE Banana Bread
We're not using fancy ingredients here – everything in the recipe can be found in your pantry. Simple ingredients means a simple banana bread recipe you'll want to make over and over again, whether or not your bananas have turned brown!
(And yes, I've tested with ripe and over-ripe bananas and you're good to go either way!)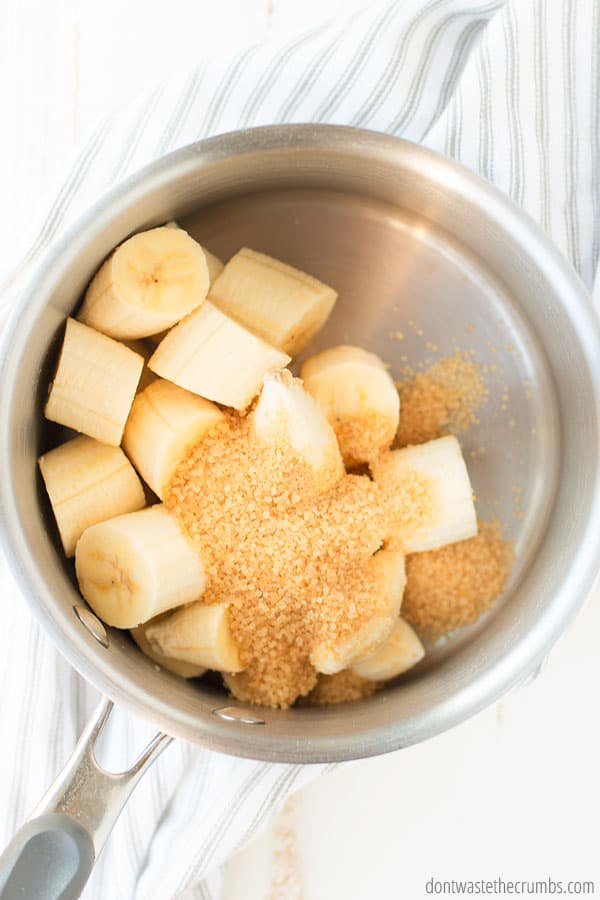 How to Make This Caramelized Banana Bread Recipe
This recipe is pretty straightforward, with the most involved step being caramelizing the bananas.
Start with melting your coconut oil in a medium saucepan over medium low heat.
Then add the sugar and bananas and stir gently, bringing the heat down to low. At this point, the sugar needs to caramelize and the bananas need to cook for about 15 minutes or so, with the occasional stir.
Let it cool and the hard part is over, because all that's left is blending the bananas with the eggs in a blender (I have and LOVE a Blendtec) and then adding this to the dry ingredients in a big bowl.
Pour the batter into a prepared loaf pan (these are the loaf pans I use and recommend) and bake. You're done!
Is this Banana NUT Bread Recipe… or is it nut-free?
Good question! My kids always pick the nuts off, so I usually don't make banana NUT bread… however, I added walnuts on a whim and OH MY GOODNESS. Game-changer. Somehow, someway, the walnuts become IRRESISTABLE when combined with the banana bread.
Don't ask me how, because I don't know. But I do know that my husband literally could not stop eating this banana bread.
And I also know that my kids pump their fists in the air when I tell them I'm making this banana bread. So, if that doesn't say this recipe is a winner, I don't know what will!
Banana Bread Ingredient Breakdown
As I mentioned, the ingredients are pretty straight-forward.
Flour. I used einkorn all-purpose flour for these photos, but I've made it using freshly ground whole grain einkorn and it's just as good! (I saved up for this grain mill, and here's my honest review compared to another popular model.)
You can substitute with regular all-purpose flour, whole wheat flour or even a combination between the two without adjusting anything else.
Sugar. I used Turbinado, which is one step better than granulated white sugar. You could use palm sugar, coconut sugar or maple sugar without making any other changes.
I have not tested this recipe using maple syrup or honey, primarily because einkorn is slow to absorb liquid and I didn't want to disturb the dry/wet ratio.
Bananas. Use whatever you have – over-ripe, under-ripe or just perfect. They'll all work!
I know your time is valuable, so I have a few "hacks" to share with you to help you get this banana bread recipe on the table faster, with less work.
Can banana bread be frozen?
YES! You can make this, let it cool, slice it and then freeze for later. I recommend wrapping twice – once in plastic wrap and then again in a freezer-safe bag – to prevent freezer burn. (Read the whole article on freezing bread here).
Can the banana bread BATTER be frozen?
Yes, again! I shared my hack for freezing muffin batter before, and it will work here, too! I recommend bringing the batter to room temperature if you're doing  loaf, but muffins can go straight from the freezer to the oven with a few extra minutes of baking time.
Can this banana bread recipe be used for muffins?
Oh, yes! Just about any quick bread recipe like this one (and my zucchini muffin recipe and my pumpkin bread recipe) can be made into muffins. Just adjust the cooking time!
Does banana bread need to be refrigerated? Or can it sit out?
We keep this banana bread out on our kitchen counter for about 3 days. By that time, it's all gone!
If you want to store it longer, or if it's exceptionally warm in your home, I'd recommend keeping it in the fridge.
Caramelized Banana Bread
This is the best banana bread recipe that's healthy, easy to make and moist! There's no butter, add walnuts or chocolate chips or even make muffins instead!
Author: Don't Waste The Crumbs
Prep Time:

20 mins

Cook Time:

42 mins

Total Time:

1 hour 2 mins

Yield:

1

loaf

1

x
Category:

Bread

Method:

Bake

Cuisine:

American
Instructions
Preheat the oven to 350F.
Melt the coconut oil in a medium saucepan over medium-low heat. When it's melted, cut the bananas into 1" pieces and place them and the sugar in the pan. Turn the heat to low and let the bananas and sugar caramelize for about 15 minutes, stirring occasionally.
Meanwhile, combine the flour, baking soda and salt in a large bowl.
Grease and flour a 4 ½" x 8 ½" loaf pan.
When the bananas are caramelized, set them aside to cool for about 10 minutes.
Combine the cooled bananas and eggs in a blender and process until smooth. Add this to the flour and using a stiff spatula, mix until JUST combined. Do not overmix.
At this point you can gently fold in the walnuts if using – OR – pour the batter into the prepared loaf pan and sprinkle the top with the nuts.
Bake for 42 minutes, or until a toothpick comes out clean when inserted into the middle.
Allow the banana bread to cool in the pan for 10 minutes, and then cool on a wire rack for at least 30 minutes.
Store at room temperature for 3 days, or covered in the refrigerator for 5 days.
Keywords: Banana bread recipe
A Delicious Caramelized Banana Bread Recipe
*Sometimes we just need to change up a basic banana bread and try something different. Thankfully this recipe is so moist! And it only takes a couple extra minutes to caramelize the bananas.
*Don't forget this can be made ahead and frozen, and this can be made into muffins instead.
*Caught the Baking Bug? Try these other banana, pumpkin, and zucchini bread recipes:
Have you tried delicious caramelized bananas before? Or what is your favorite quick bread recipe, I'd love to hear!