I know there are a million pumpkin bread recipes out there. Just like there are a million banana bread recipes (of which I have several variations… banana bread muffins and banana chocolate chip muffins and banana nut muffins with crumb topping).
But would you believe that I've never made pumpkin bread until this year?!
Don't get me wrong – I love everything pumpkin. From pumpkin larabar bites to homemade pumpkin spiced creamer to pumpkin swirl black bean brownies to pumpkin chili to pumpkin cookies with cream cheese frosting to pumpkin donuts… really, I don't think I could ever eat enough pumpkin.
And I've eaten pumpkin bread in the past. I've just never made it MYSELF.
That trend has officially changed my friend, because this classic pumpkin bread recipe is so good, it's going to be hard not to make this all year long!
I do wonder, if one of the reasons I've never made pumpkin bread myself is because I'm kind of a picky recipe maker.
Note I didn't say picky eater – I'll eat ANYTHING pumpkin.
But if I'm making something myself, I tend to be picky about the ingredients.
First, my family and I switched from eating pre-packaged, processed food several years ago, so any recipe that starts with "a box of ___ cake mix" is automatically out.
In my experience, those boxes of cake mix contain the two ingredients we absolutely do not allow in our house: high fructose corn syrup and hydrogenated oils.
Actually, that's one of the reasons I created recipes to make my own homemade yellow cake mix and homemade chocolate cake mix!
Second, we're in the process of quitting sugar, which means I don't buy white granulated sugar anymore (with the ONLY exception being to make kombucha). I buy raw sugar (a.k.a. Demerara or Sucanat or Turbinado) which isn't "the best" sweetener on the planet, but it's one step better than the white stuff and all baby steps, no matter how small, count.
It also means that I don't bake with tons of sugar anymore. Not only does raw sugar cost more than white sugar, but since we've slowly cut our consumption of sugar over time, my family and I don't care much for overly sweet desserts.
That's one reason why when I make desserts like healthy peanut butter cookies or healthier candy cane cookies or healthier sugar cookies, the amount of sugar I use is drastically less than what's called for in traditional recipes. (I've made sure though, that the dessert are just as delicious!)
Third, I like to bake with honey and maple syrup whenever possible. Yes, I use raw sugar for recipes where granulated sugar is important – i.e. pumpkin cookies and slow cooker peach cobbler and the peanut butter cookies and candy cane cookies and sugar cookies I just mentioned.
But for baked goods like leftover oatmeal chocolate cake or black bean brownies or strawberry lemonade donuts or double chocolate blender waffles, I can use honey and/or maple syrup and the end result is just as delicious.
Fourth, one of my goals for this year was to go back to using whole grains again. Since most holiday baking recipes are dependent on all-purpose flour, I can't substitute whole grain flour without drastically affecting the flavor and turn-out of the recipe.
So with all this said, I'm basically looking for a recipe that…
Doesn't rely on anything processed or pre-packed. That means no boxes of cake mix or anything whose directions say "just add water."
Doesn't have a lot of sugar. If there's the same amount of sugar as there is flour (or more!), it's out.
Can be made using honey or maple syrup INSTEAD OF sugar.
Can be made using whole grains without taking the fun out of making and eating this pumpkin bread recipe.
And I found it!
Classic Pumpkin Bread Recipe
As I mentioned earlier, there are a million pumpkin bread recipes out there and really truly, they all boil down to a few basic ingredients:
Flour
I included all-purpose einkorn in the recipe below, but I've made it with 100% whole grain einkorn as well as a 50/50 mix of whole grain einkorn and all-purpose einkorn. All three variations were delicious and got two thumbs up from the kids.
The only difference we saw was the rise. Using all-purpose einkorn gave the greatest "lift" of the batches, and it's simply because the weight of the bran and germ aren't there. Feel free to use whole grain or whatever flour you have on hand.
Not sure where to buy Einkorn?
Fat & Eggs
Fat and eggs play the role of binder and lifting agent in this classic pumpkin bread recipe.
As fat bakes, it creates air bubbles that make the bread rise. My recipe uses butter, but you could probably use coconut oil without any issue. (I haven't tested that myself, so if you do, please let us know how it goes in the comments section!)
There are times when you can skip the eggs and use one of these awesome egg substitutions instead, but I wouldn't recommend that for this recipe UNLESS you are okay with the lift of the pumpkin bread not being as great.
As I mentioned, the eggs both binding and lifting, so if you substitute the eggs for flaxseed or for applesauce or banana or whatnot, you won't get as nice of a lift.
Pumpkin
I used canned pumpkin in this recipe simply for convenience… and because I didn't have any homemade pumpkin puree on hand! Feel free to use whichever you have – canned or homemade – but make sure it's just pumpkin, not the pumpkin pie mix.
Sweetener
I was able to get my way on both of the sweetener accounts in this recipe – there's just 1 cup of sweetener for the whole batch AND I used a combination of honey and maple syrup.
If you want to use granulated sugar – whether it's white or raw sugar – you can use the same 1 cup and get delicious results. White sugar will taste sweeter than raw sugar, and raw sugar will be sweeter than the honey/maple syrup combination.
You can also do a mix/match of granulated sugar and liquid sweetener, if you want to dabble in baking with natural sweeteners but aren't quite ready to jump in with two feet.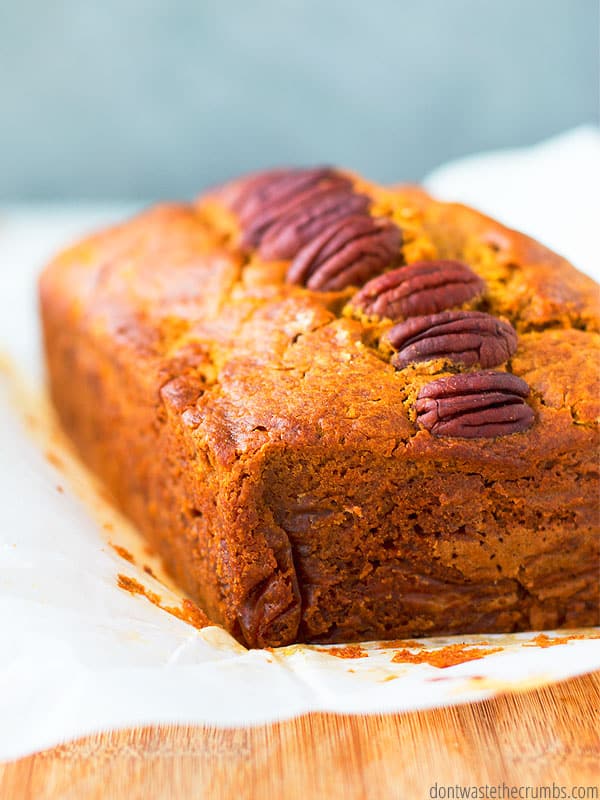 Classic Pumpkin Bread Recipe Baking Tips
This recipe as written makes two 8" x 4" loaves. Also known as a small loaf pan or a one-pound loaf pan, it's important to pay attention to the size of your loaf pans.
Most pans have the size of them somewhere on the pan, either underneath or on the ends. If your loaf pan is a 9" x 5" (a.k.a. "medium" and a very common size) or 10" x 5" (a.k.a. "large" and also very common), then you won't be able to get two full-size loaves.
If you have two 8" x 4" loaf pans (I recommend these), then you're set.
If you have a 9" x 5" loaf pan, you'll have enough batter for one full loaf plus one mini loaf, or two muffins.
If you have a 10" x 5" loaf pan, you'll have enough batter for one full loaf.
For two 8"x 4" pans, you simply split the batter evenly between the pans. For any other loaf pan, fill it 2/3 full and adjust the baking time. You'll insert a butter knife to test for doneness – when it comes out clean, the bread is done. Extra batter can go towards muffins (roughly 15-20 minutes in the oven) or mini-loaves (30-35 minutes).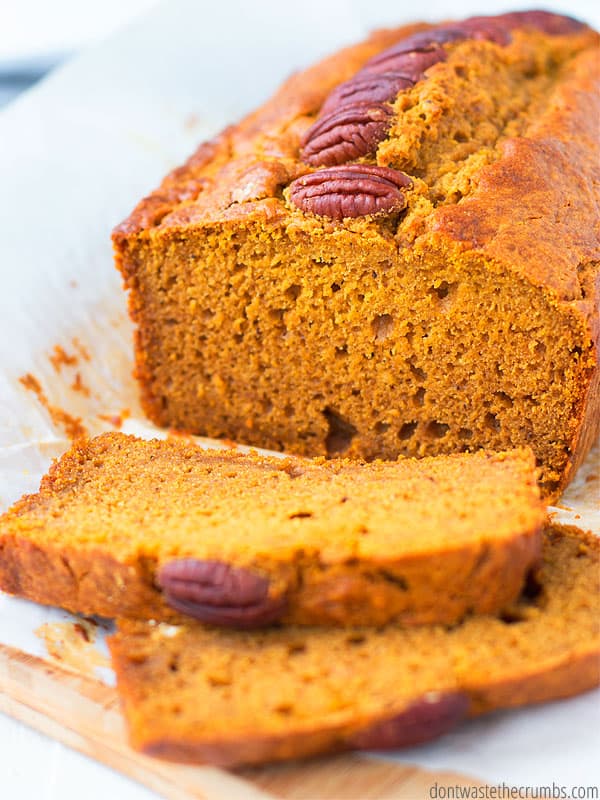 Classic Pumpkin Bread Recipe
This healthy pumpkin bread recipe is so moist! Use canned pumpkin or homemade, vegan-friendly or add chocolate chips. My kids like it better than Starbucks!
Author:
Prep Time:

10 mins

Cook Time:

65 mins

Total Time:

1 hour 15 mins

Yield:

2

loaves

1

x
Category:

Breads

Method:

Oven

Cuisine:

American
Scale
Ingredients
12 Tbsp

(

1 1/2

sticks) unsalted butter, soft

1/2 cup

honey

1/2 cup

maple syrup

2

eggs
(1) 15 oz can pumpkin puree (not pumpkin pie filling)

2 cup

s flour (I used all-purpose einkorn)

1/2 tsp

salt

1 tsp

baking soda

1 tsp

baking powder

1 tsp

ground cinnamon

1 tsp

ground nutmeg

1/2 tsp

ground cloves
Instructions
Preheat the oven to 325F. Grease and flour two 8″ x 4″ loaf pans OR line with parchment paper.
In the bowl of a stand mixer, cream the butter with the paddle attachment. Add honey, maple syrup, eggs and pumpkin and mix until everything is combined well. There may be some lumps of butter, and this is fine.
[Alternatively, you can use a large bowl and a hand-held mixer to cream the butter and mix the remaining wet ingredients.]
Add the remaining ingredients and mix just until you can't see any dry pieces of flour. The batter will be very thick.
Pour the batter evenly between the two loaf pans.
Bake for 55-75 minutes (mine took 65 minutes), or until a butter knife or toothpick inserted into the center of the loaf comes out clean.
Set on a cooling rack to cool completely before slicing.
What is your go-to quick bread recipe? Have you made a pumpkin bread before?