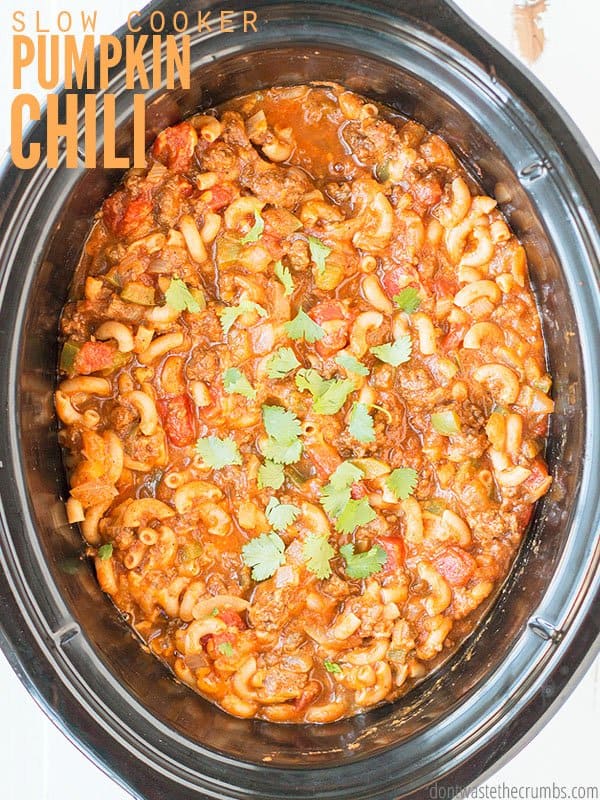 Two weeks ago I woke up with a hankering for pumpkin – BAD!
The #pumpkineverything season is upon us, and I'm fully embracing it.
While desserts are usually what I think of when I think of pumpkin (like pumpkin cookies!), you can totally go savory – and that's exactly what this pumpkin chili does.
It's the goodness of pumpkin with a smidgen of spices, combined with all things delicious you normally find in chili. It's a dinner your whole family – and pocketbook! – will love.
But first, a little known fact: My husband doesn't like ground beef.
I grew up eating ground beef in burgers, casseroles, meatloaf… you know, all the good stuff that you put ground beef in.
But all that ground beef goodness stopped when I met my husband because he's a texture guy. As much as he WANTS to love hamburgers on the grill or anything else made with ground meat, he just can't do it.
Naturally, I didn't buy ground beef for several years. As a consequence, my kids didn't eat ground beef for several years.
In fact, their first experience was eating hamburgers at my parents' house.
As it turns out though, they love it!
Now that my husband is outnumbered in the ground beef battle, I'm looking for great deals and upping my ground beef game. (These Italian meatballs are a hit for sure.)
I know I have catching up to do, and I spent much of this past summer testing my go-to hamburger recipe so that I'm armed and ready when next summer comes.
Update: You can find the BEST burger recipe HERE!
Now though, with temperatures turning a bit cooler, it's time to put away the burgers and bring out the slow cooker. Hello soups, stews and chili!
And since I'm on the pumpkin train too, I figured, why not combine both for an amazing pumpkin chili?
Slow Cooker Pumpkin Chili
Let's talk about this pumpkin chili, shall we?
First, it started as pumpkin chili mac.
My original concept for this dish included the pasta (pictured above), but to be honest, this chili is REALLY good without the macaroni. So good, I decided to share this recipe (mostly) without it.
But since you usually serve chili with SOMETHING, feel free to serve with macaroni. It's an easy way to make it a one-pot type of meal.
Related post: Cheesy-Mexi Chili Mac – a super frugal pantry meal!
Second, this is an EXCELLENT meal to make for a crowd.
If you're going to a pot-luck or hosting company for an all-day bash (i.e. football parties, trick-or-treating or even just hosting company), you need this pumpkin chili.
Skip the mac and have a typical topping bar ready – sour cream, diced tomatoes, shredded cheese, sliced green onions. Put your slow cooker on the table (I have this 6 quart slow cooker with a "warm" function) and serve with a bag of tortilla chips to call dinner done.
If you're feeling fancy, make some cornbread or macaroni noodles. But truly, this pumpkin chili can stand on its own two feet.
Third, you can definitely taste the pumpkin.
This was really important to me, because if I'm MAKING pumpkin chili, then I want to TASTE pumpkin in the chili.
In my chili research though, I found lots of pumpkin chili recipes that specifically claimed the pumpkin adds a creamy texture and that you can't really taste it.
Say what? What's the point then? That's not how pumpkin chili goes in my book!
Heads-up pumpkin haters, you can taste the pumpkin in this chili.
Fourth, this is not your typical chili.
As I mentioned, I made a few types of pumpkin chili while working on this recipe, and most of them say to add a can of pumpkin to a black bean / kidney bean / corn type of chili. In fact, that's exactly what one pumpkin turkey chili recipe suggested.
Please don't do this. This DOES NOT make for a good pumpkin chili.
You will waste the can of pumpkin and end up with some version of a "typical" chili that doesn't quite taste the same as it should.
If you want a good pumpkin chili, you need a pumpkin chili recipe. Hence, today's post.
Fifth, this is a super cheap dinner!
One of the strategies I teach in my course Grocery Budget Bootcamp is to focus more on meals that cost less, and less on meals that cost more. If you buy ground beef on clearance and pumpkin when it's in season, this makes for a SUPER cheap meal year-round!
While there are many important players in this recipe, I think there is one in particular that will either make or break this awesome pumpkin chili: ground beef.
In my recipe testing, I found that ground beef offered the most savory of flavors. I surely didn't want to make pumpkin chili that tasted like pumpkin pie… and in order to do that, you need savory.
I get my ground beef from Butcher Box. They have great tasting grass-fed ground beef!
Yes, you could use ground chicken or ground turkey if you HAD to, but I honestly don't recommend it. The poultry flavors are so mild that you won't be able to taste them, and the rich flavor of the beef is partially what makes this recipe. If you substitute, do so at your own risk!
Speaking of the ground beef, you'll notice that we're cooking the beef with the spices at the same time. Friends, don't skip this step.
You might be tempted to brown the beef, onions and peppers in a cast iron skillet, toss it all in the slow cooker and call it done. But if you do that, you will miss out on those small chunks of beef that all by themselves, taste like pumpkin chili.
The key is browning the meat WITH the spices. Do that, and all is right in the pumpkin chili world!
Want to make this recipe in an Instant Pot? Use these tips!

Slow Cooker Pumpkin Chili
Ingredients
1 pound ground beef
1 Tbsp chili powder
2 tsp garlic powder
1 tsp salt
1 tsp pepper
½ tsp cinnamon
2 onions, diced
1 bell pepper, diced (any color, I used green)
1-15.25 oz can diced tomatoes with juices
1-15 oz can pumpkin puree
3 oz tomato paste (1/2 6 oz can) OR 15-16 oz tomato sauce
½ - 1 cup beef stock or water
4 oz macaroni noodles, cooked (optional)
4 oz cheddar cheese, shredded (optional)
Optional Topping Bar*
sour cream, diced tomatoes, shredded cheese, sliced green onions
Instructions
In a cast iron skillet or similar heavy bottom pan, brown the ground beef with the chili powder, garlic powder, salt, pepper and cinnamon. Cook over medium low heat until the beef is no longer pink, breaking up large pieces as necessary.
When the beef is cooked, scrape it into a large slow cooker (I use this 6 qt slow cooker). Add the onions and peppers to the skillet and cook until the vegetables start to soften. Add the cooked vegetables to the slow cooker.
Add the tomatoes with juices, pumpkin puree and tomato paste/sauce to the slow cooker and cook on low for 6-8 hours, or on high for 4-6 hours. A longer cook time will need additional liquid to prevent burning or drying out, so add liquid as necessary.
Serve with cooked macaroni noodles and cheddar cheese if desired.
Notes
* Have these toppings ready if you'd prefer to serve this as pumpkin chili, instead of pumpkin chili mac.
What's your favorite way to use pumpkin in a SAVORY way – not sweet? I'd love to hear your ideas! Leave them in the comments section below!