No matter the temperature outside, this classic crock pot roast is exactly what your belly is craving. It's a healthy, homemade meal that comes together quickly and cooks while you're away. Come home and dinner is done!
I know it's Spring and meal plans are calling for recipes like browned butter lemon pepper asparagus or savory pasta with bacon and greens, but I'm not there yet.
It's early, but we have a very busy season ahead of us… birthday, hosting company, hosting family, end of school activities, one vacation, birthday, anniversary, more company, another birthday, a blogging trip, more company and then school starts.
Don't get me wrong – I'm SO beyond thankful that we get to see so many more friends and family since we moved from California to Georgia. But when our personal schedule goes into overdrive, I tend to pull back in other areas, including dinner.
That's why this classic slow cooker pot roast recipe keeps showing up on our weekly menu.
Besides the fact that pot roast tastes AMAZING, it's so warm, comforting and it reminds me of the slow summers of childhood where my sole responsibilities were to make my bed and play in the sprinkler.
And now as an adult and parent, I understand why we ate pot roast often and I can share it with you in one short word: crazy easy.
Ok… that's technically two words… but still. This is a classic pot roast recipe that is also a dump recipe. Meaning, you dump everything in the pot and cook it.
But wait, it gets BETTER.
It's also a SLOW COOKER recipe, so you don't even have to be home to cook dinner!
You just put all the ingredients in the pot in the morning, set it on low and leave. Walk away. Go do fun things that don't include stirring or boiling or setting a kitchen timer because the slow cooker is cooking dinner tonight.
Just like it does when you make the best slow cooker carnitas, slow cooker pulled chicken (which you can then use to make these 38 meals!) and slow cooker white chicken chili.
Enjoy it my friend. You deserve it.
Crockpot Roast Recipe
Maybe your season isn't as busy as mine. Maybe you have after school practice or want to spend more lazy days at the pool. Or maybe you just need a solid recipe to feed a crowd on the cheap.
This slow cooker pot roast recipe has you covered!
Beef
We're using a cut of meat that is traditionally on the cheap end – chuck roast.
It makes a terrible steak, but it makes an amazing pot roast. The fat in the roast slowly cooks making the meat fork-tender and incredibly delicious.
For sourcing quality beef, I recommend two places: Zaycon and Butcher Box.
Zaycon
UPDATE: As of June 25th, 2018, Zaycon has ceased operations. 
Zaycon Fresh Foods is probably most famous for their boneless skinless chicken breasts (just $1.89/lb!), but they sell other cuts of meat too. In short, they're a wholesale retailer, bringing you meat straight from the farm. They remove the middle man and passing the savings on to you.
I've only purchased chicken from them so far, but I have an order for beef and shrimp coming soon. You can read my honest review on Zaycon HERE.
As of this writing, chuck roasts are $4.49/lb. They come in bulk, so you need to have a place to store 24lbs of chuck roast, BUT this is one of the consistently best prices on chuck roast I've seen. Besides, buying chuck roast in bulk like this essentially allows you to put this amazing pot roast on the meal plan once a month for the next year and NOT have to worry about buying the meat!
Butcher Box
Butcher Box is a relatively new company, but they're gaining popularity fast. They offer monthly subscriptions to grass-fed and/or pastured meat. Every box comes with 8-11 lbs of high quality meat (enough for 24 meals) and you can choose between all chicken, all pork, all beef or a combination of these. Obviously you'll want to choose beef for this slow cooker pot roast. 🙂
As of this writing, one box is $129 and you get a pound of sugar-free uncured bacon with your first order. This is definitely pricier than the grocery store, but if quality meat is important to you and you don't have a local source for it, then Butcher Box is worth looking into.
The selection varies each month, so click HERE to see what you can expect out of a box from Butcher Box right now.
If you're struggling to figure out how to balance the cost of quality meat and your grocery budget, check out Grocery Budget Bootcamp! This is the course where I hold NOTHING back, and teach you how to decide food priorities that best fit your family and your budget, plus much more!
Best Vegetables for Pot Roast
We're also using carrots and potatoes – two of the most affordable vegetables on the planet.
My pictures show cute baby carrots and cute red potatoes, but you can make this with big carrots and big potatoes. Cut them down to pieces that can be eaten in 1-2 bites and call it done.
Mushrooms would also be really good in this, as well as other root vegetables like parsnips and turnips!
Homemade Flavors
Most pot roast recipes call for cream of mushroom soup and a package of dry onion soup mix.
Not this one.
I shared my recipe for homemade cream of mushroom soup, which literally takes FIVE MINUTES and tastes a million times better than any canned soup ever will. Trust me on this, and make the soup from scratch. If you're pressed for time, make it the night before. It really does take only 5 minutes.
(And if you don't like mushrooms, make the celery version of homemade cream of anything soup.)
I'm also swapping the icky boxed dry onion soup mix with homemade dry onion soup mix that's THE BOMB and also super easy to make.
I make the dry onion soup mix in big batches and keep it in my spice cabinet. This slow cooker pot roast recipe is my primary reason for keeping it on hand, but I also used homemade dry onion soup mix to make beef brisket at Easter and it was SO GOOD. I've also used it in hamburger patties over the summer. Best burgers ever!
The Crockpot 
You know how most slow cooker recipes give you the option of cooking it on high for less time, or on low for more time? I'm not giving you an option on this one.
I've tested this crockpot pot roast recipe using both methods and the low and slow method is far superior, every time.
Now, I know that not all slow cookers are created equal. I have and recommend this 6-quart slow cooker and I've been able to make both smaller 2lb roasts and larger 4 lb roasts. It heats and cooks evenly and all in all, is a great small appliance.
If you have a different crockpot, you might want to adjust the settings as necessary. I have a different slow cooker that always cooks hot and burns fast, so I never use it. Which kind of makes it pointless to have, right? (It's like all these other kitchen appliances you don't need.)
So if you're in the market for a slow cooker, this one is highly recommended. If you happen to have two slow cookers, I definitely recommend slow cooker peach cobbler for dessert!
PS: You can also make this recipe in an Instant Pot! Learn how to convert the recipe HERE. It's super easy!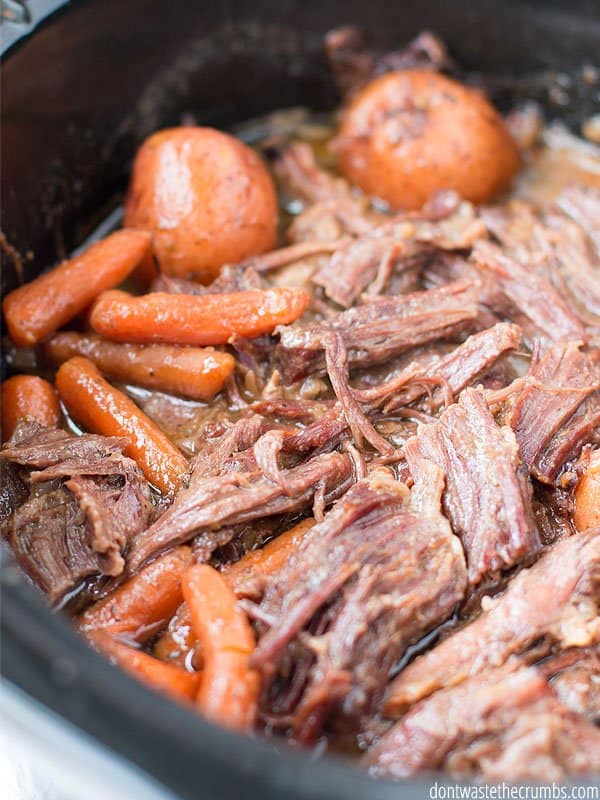 Questions About This Classic Crock Pot Pot Roast Recipe
This post is a reader favorite, so it's no wonder I've received a lot of questions about it! Here are the questions asked most often, and my answers:
Besides potatoes and carrots, what other vegetables would you recommend?
I've added quartered mushrooms before with great success, but I'd also try turnips, parsnips, daikon radish, rutabaga, yams and sweet potatoes.
Do you have to add extra water to the crockpot?
Nope! You do NOT need to add any water to this recipe!
Can I reduce the cooking time on this pot roast recipe?
I strongly recommend not reducing the cooking time. In my testing, I made this both ways – high temp for less hours, and low temp for more hours – and the longer cooking time was significantly more tender and flavorful.
Can this recipe work for a venison roast?
I haven't tried this personally, but I don't see why it wouldn't!
How many servings does this pot roast recipe make?
Serving sizes will vary depending on your family and the size of your roast, but this recipe a written feeds my family of 4 with at least 2 lunches leftover.
If I cut the recipe in half, do I reduce the cooking time?
I wouldn't! I'd keep the full 8-10 hours no matter the size of your roast.
Can I use a larger, 6 lb roast?
Yes! As long as your slow cooker is large enough to handle that size roast (like this 8.5 qt slow cooker, or an 8 qt Instant Pot with a slow cooker function), you can make this recipe. Double everything else and cook for 10 hours!
Can I use a smaller, 2 lb roast?
Yes! I'd keep the same amount of vegetables and still cook for 8-10 hours.
If I want to use canned cream of mushroom soup instead of homemade, how much do I need?
You can substitute one batch of homemade cream of mushroom soup with one can of creamed soup.
Can I use something instead of cream of mushroom?
Yes! Cream of celery would be good, as would cream of beef (make homemade cream of chicken soup, substituting beef stock for chicken stock).
If I use canned soup, do I add milk or water?
Nope – just the soup!
Watch How to Make Our Crock Pot Roast:
Classic Crock Pot Roast
Author: Tiffany
Prep Time:

15 mins

Cook Time:

10 hours

Total Time:

10 hours 15 minutes

Yield: Serves

4

1

x
Category:

Main meals

Method:

Slow cooker

Cuisine:

American
Instructions
Place half the potatoes and carrots on the bottom of the slow cooker.
Next, place the chuck roast on top of the vegetables.
Place remaining vegetables on top and around the chuck roast.
Pour homemade dry onion soup mix and homemade cream of mushroom soup over the top.
Cover with a lid and cook on low for at least 8 hours, preferably 10.
Shred meat slightly with two forks, serve hot.
Make a classic pot roast and make your life easier!
Start with quality meat from a local source or try Zaycon Fresh or Butcher Box.
Add vegetables, because you know, they're good for you. (And taste AMAZING with this roast.)
Don't skip the flavors of homemade cream of mushroom soup and DIY dry onion soup mix. Both of which you can make yourself to save some money on the grocery bill and avoid any crazy additives.
I use this slow cooker, it's one of my favorite kitchen appliances. You can also make this recipe in a Instant Pot, find my Instant Pot conversion tips HERE.
This would be a great meal to FREEZE the left overs! If you need a meal plan for Freezer Meals for your family, go here.
Just dump and cook and dinner will be done. Even though a hearty meal like this is more of a "fall" recipe, I love it for summer when we want to kick it back a little and enjoy the day. Mama needs a summer break too!
When you're in the midst of a busy season, what's your favorite go-to recipe?