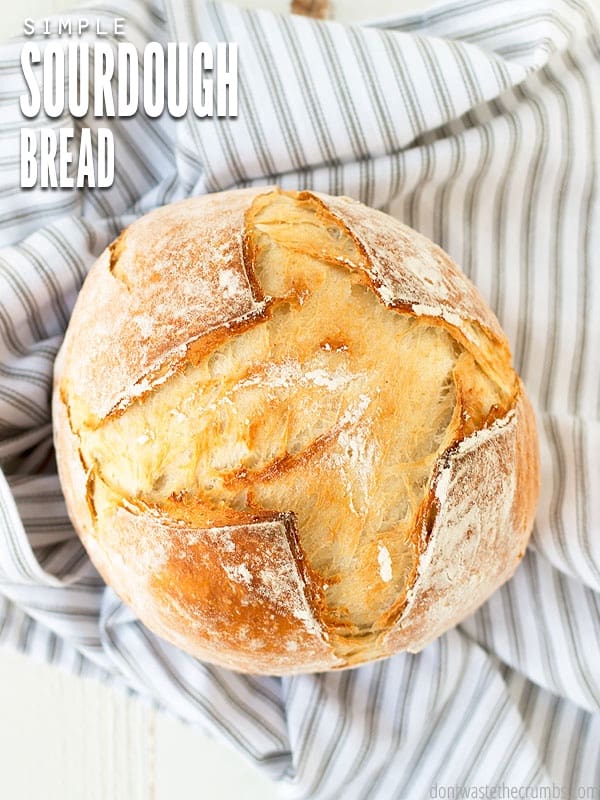 I like to call sourdough bread the "lazy man's bread." Yep. It's that simple!
The amazing benefits of sourdough are enough to give it a try. And then the idea of making "something out of nothing" in a sourdough starter is super exciting.
You can make your own sourdough starter from scratch or get a sourdough kit to help speed along the process.
You can even make a gluten-free starter and adapt this recipe for gluten-free sourdough bread!
However, I need to clarify a few things.  Well, one major thing with a few spin-offs.  Before I go any further, you must understand this:
Sourdough bread is NOTHING like traditional bread. 
When you're done kneading traditional bread, you likely have a firm, round piece of dough. –> When you're done kneading sourdough, you will have a very loose and likely pourable dough on your hands.  Literally.
In less than two hours, traditional bread will have doubled in size. –> In two hours, sourdough looks like it hasn't even budged.
Traditional bread can be whipped up in half a day's notice. –> Sourdough definitely requires advanced planning.  Like, up to 24 hours in advance.  And the hours are particular.
Traditional bread recipes are often successful on the first try. –> There's a good chance you'll fail at your first sourdough attempt.  And possibly your second.  I'm warning you because I care.  Stick with it because it does get easier!
Here's the neat part though – once you successfully make a batch of sourdough bread, you'll fall in love with the idea all over again.
Before you get started
My first batch of bread was like a brick.  Dense, hard and unworthy of even crouton status (which we DID try, by the way).  My second loaf was better, but it still didn't have the fluff of traditional bread and the shape wasn't ideal for sandwiches.
My third loaf, however, was (and still is) absolutely divine.  Good shape, good tang, air pockets with a golden crust.  My oh my.
We sliced into it after it cooled and have been slowly savoring the two loaves every since.  A nice little bonus since sourdough doesn't grow moldy like ordinary bread does.
There are a few things I learned after giving this recipe a try several times (and with several flours).
Making Dough
You want to bake with a starter that is at its peak – when nearly all of the yeast has eaten but hasn't begun to go dormant because of the lack of food.  You can see when a starter has peaked because it will have a dome-shape on top.
Starters peak in the 2-3 hour range after each feeding.
Don't skimp on the water that recipes call for.  Sourdough recipes are wetter than traditional bread made with baker's yeast.
Make the following alterations to all sourdough recipes:  In the beginning, combine the starter, water and half of the flour and let it sit for 10 minutes.  Add the salt after all the remaining ingredients, knead briefly and let it sit for 10 minutes.  When the dough is just pulling away from the sides of the mixer bowl, dump it out onto a lightly floured surface and let it sit for 10 minutes.  Knead by hand for 5 minutes, then rest for five minutes.  Repeat one more time.
The press-your-thumb-to-test-for-springiness test works.  Do it.
The see-through-your-dough test works too.  Try it.
Two rises will produce a more sour bread than a single rise.
I use a bread proofing basket called a "banneton" to let my sourdough bread rise. I use this kind here.
During the Rise
The quicker the dough rises, the less sour the bread will be.
The longer the dough rises, the sourer the bread will be.
The warmer the temperature, the quicker the dough will rise.
It is possible for sourdough to over-rise.  When baked, this dough will become flat discs.
The vessel in which dough rises can limit the extent of the rise.  Be sure to leave plenty of room for expansion.  (That's a two-loaf recipe split into thirds above)
Controlling the temperature allows you to be in greater control of when the dough will be ready, and in turn when the bread will be ready.
The following methods will provide a consistent temperature for the bread to rise:  heating pad on low, in an oven with the light on or in a dehydrator.  Consider adjusting the temperature higher and lower to find the "sweet spot."  Using my heating pad on low gives me a rise time of 5-6 hours.
Sourdough will not necessarily double in size during the rise(s).
Homemade Sourdough Bread
Once you start baking sourdough, you'll likely find that you prefer it with less tang… or more tang… with a  single rise… or a double rise… But until you're ready to configure your favorite loaf, here's a very simple, basic sourdough recipe to act as a starting place.
Simple Sourdough Bread Recipe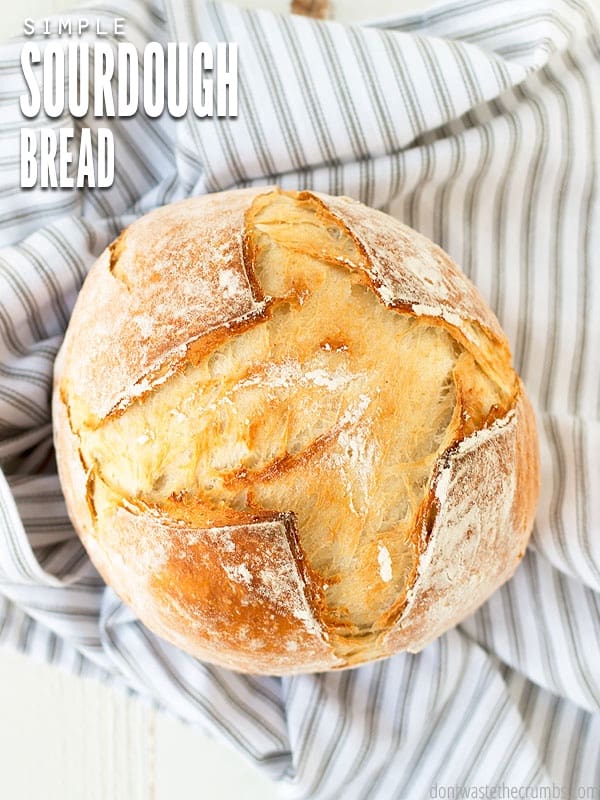 (adapted from Nourishing Traditions)
Instructions
In a very large bowl, mix starter, water and 3 cups of whole wheat flour with a wooden spoon and combine well.
Add salt and remaining flour 1/2 cup at a time, attempting to completely stir in the flour with each addition. When you can no longer mix with a spoon, use your hands to mix in the flour. Continue adding flour until your dough begins to resemble dough, but is still sticky and "pourable."
Pour dough into large loaf pans or a banneton (I like this one) and fill 1/3 way up. Cover with a towel and allow to sit in a warm place for 4-12 hours, until the dough is at least doubled in size and looks to be "domed" on top.
Place loaves in a cold oven and turn the oven on to 350 degrees. Bake bread for 50-60 minutes, until the edges are golden and the bottom sounds hollow when tapped.
Remove to cool on wire racks for at least 30 minutes. Makes 2-3 loaves, depending on the amount of flour used and size of loaf pans.
Additional Recipe Tips
Halving the recipe while striving for your "perfect loaf" will cut down the cost on ingredients and reduce waste (if the end result isn't even worthy of croutons, like my first batch).
You can use white flour if you don't have whole wheat or are not comfortable using whole wheat in baking yet.  It may be easier to experiment with the lesser expensive flour and once you've found your sourdough groove, upgrade to whole wheat.
Putting the dough into a cold oven and then turning it on gives the yeast a final boost to help the bread rise.  Do not do this if your bread has already domed AND is starting to recede in the rise.
When experimenting with rising times, bake this bread on a day you plan to be at home.  Numerous factors can affect the rise time overall and when the yeast peaks, so you want to have a vague idea of how long the bread will take in your home before you leave.  For a point of reference, I turned my oven on the lowest setting, placed it on top of my stove and it was ready in 4 1/2 hours.
If your bread fails, have no fear!  Determine what exactly went wrong and try again, aiming to fix that problem.  You wouldn't be the first person who didn't succeed on their first attempt! (ahem)
If bread fails despite repeated attempts, use the starter for other baked goods for a few weeks to a month.  Meanwhile, feed the starter consistently to build up the concentration of the yeast.
Sourdough bread is SO simple!
All you need for sourdough is a starter, whole wheat flour, a pinch of salt, and some water!
Making bread from scratch is one of the healthiest and most frugal ways to save money on food. Baking bread is one of the baby steps found in 5 Days to Save $75, my free guide on saving money on real food!
Sourdough Recipes and Tutorials
What is your experience with sourdough bread?