Here are 12 Simple Ways to Avoid Food Waste with ideas for how best to shop, store & preserve food, prepare leftovers, and keep a food wastage journal! Reducing waste has never been so easy! Also learn how to make a meal plan!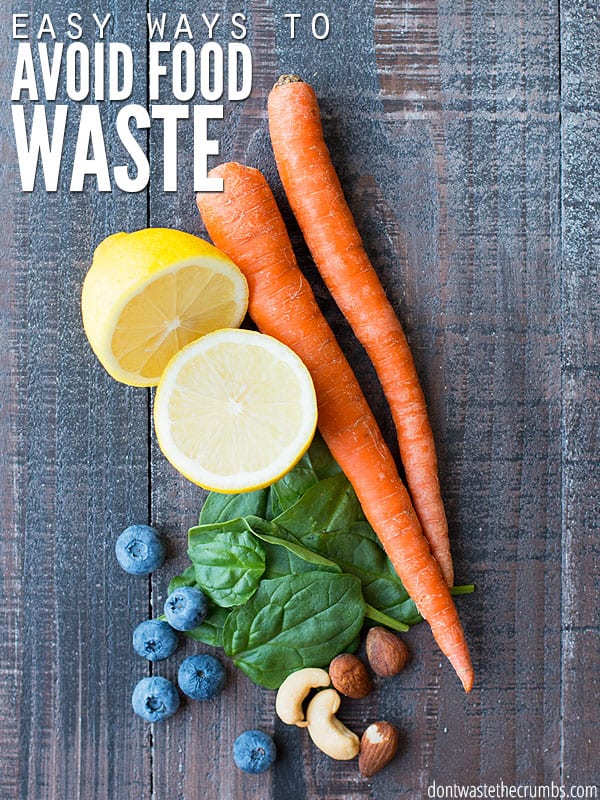 If your trash can contained one less bag each week – or even half a bag less – how would that impact your grocery bill?
On average, Americans waste 40% of the food they buy. Finding creative ways to use food scraps is one way to save money, and finding even more simple ways to avoid food waste in your home every week can add up to significant savings.
How so? The savings are two-fold:
By not throwing food away, we're saving future money. No shopping list, no checkout, no greenhouse gas emissions. We stay home and eat what we already have.
Eating the food we have (including leftovers) is saving money we've already spent. Food from the supply chain costs money. When food goes in the trash, money goes in the trash.
But we know that theory is only half the battle. Putting it into practice is a different ballgame. To help you with this, here are some of my top practical tips for food waste reduction.
12 Simple Ways to Avoid Food Waste
1. Shop with a list and stick to it. Don't buy on impulse.
I'm a broken record to say stick to your shopping list at the grocery store, but how many times do you NOT follow this advice? Do you ever shop without a list at all?
Here's another knock upside the head: Putting something in your cart that isn't on your list is buying on impulse. It's really that simple.
Take 5 minutes to write a shopping list, stick to it while shopping and you're guaranteed to avoid food waste at home.
I just started using my bullet journal to keep track of shopping lists, which makes it easy to plan and write the list at the same time.
2. Don't bring home anything that doesn't have a purpose.
This includes random items that caught your eye while shopping AND items you stockpile too. If you don't know what you're going to use it for, don't bring it home. No more "it was on sale" or "I've never seen it priced that low before" items in the cart. Writing out and sticking to a meal plan, like this healthy, budget friendly monthly plan, helps ensure that everything in your cart has a purpose.
Make it a rule of thumb that if you put something in your cart, it falls into one of two categories:
You know exactly what you're making with it.
It's a staple in your pantry (and you'll be eating it within the month).
If your item doesn't pass this test, don't put it in the cart!
3. Eat leftovers for lunch, no matter how random they may be.
You never know when you'll come up with a new recipe you might like. Inspired by a batch of spinach pesto I made recently, I combined leftover rice, leftover cannellini beans with two scoops of pesto for quite possibly the best beans and rice dish I've ever had.
It also eliminated a container from the fridge and saved food from going into the trash can.
4. Plan "leftovers" for dinner every 3-4 days.
This could literally be eating leftovers straight out of the fridge, or making a new meal that uses leftovers as ingredients (think salads, stir-fry, baked potato bar, sauce, rice or pasta).
In either case, put "leftovers" on the meal plan at least once a week for an easy way to avoid food waste.
5. Limit trash to one bag per week.
Every time you open your trash can to throw something away, you'll be reminded that this is the only bag you have for the whole week. Are you SURE this item is waste? There's nothing you can make from it? That you're not throwing it away simply because you don't want to eat it?
6. Keep a food waste journal and write down everything you throw away.
Similar to #5, except the connection is even greater when you write something down. Plus you can track the items that get thrown away over time, hopefully allowing you to identify a pattern.
Is the same child throwing away portions from their plate every night? Serve them less.
Orange peels taking up space? Freeze them for stove-top potpourri or use them to infuse citrus vinegar.
Fruits and vegetables gone soft? Puree them and freeze into homemade ice pops, or freeze in an ice cube tray for smoothies.
A simple and small memo book would do the trick. Stick a pencil in the spiral and keep it by the trash can so you don't forget to write it all down!
7. Eat highly-perishable produce first and less-perishable produce last.
The life span of produce will vary depending on a few different variables… how recently it was picked, organic vs. conventional, the temperature of the fridge, the humidity of the fridge, etc., but it's helpful to have a general idea how long produce will last.
1-2 Days: berries, eggplant, herbs, lettuce
2-4 Days: beet greens, corn, cucumbers, green beans, broccoli, mushrooms, radishes, spinach, yellow squash
4-6 Days: beets, cauliflower, celery, citrus, cucumbers, ginger, pears, peppers, zucchini
7+ Days: apples, cabbage, carrots, garlic, onions, potatoes, pumpkin, sweet potatoes, winter squash
When you're meal planning one week at a time, plan your meals with these rules of thumb and then take inventory mid-week to see how everything looks, re-arranging meals as needed.
8. Store produce properly.
In order to really get the most out of your produce, proper storage is key. Here are a few general rules of thumb:
Cooler is usually better than cold. Store food in the basement, garage or even outside.
Tomatoes, onions, potatoes, bananas, apples, garlic, sweet potatoes, mangoes, plums, peaches and pears are best stored at room temperature (think countertop).
You don't have to wash EVERYTHING as soon as you get home. In fact, mushrooms and berries do best if you wash just before using.
I tend to store foods with similar "going bad time frames" together. Ex: lettuces, beet greens and herbs in one bag; celery, carrots and zucchini in another.
And here are some tricks that squeeze a few more days out of produce:
Refresh wilted greens in a bowl/glass of water for several hours (inspired by this cool trick). The leaves will "drink" the water and gain stiffness from the inner leaves working outward.
Snip the ends of herbs, spinach and asparagus and store upright in water for an extra day or two of storage. (If you don't have a plan for the herbs, freeze for later.)
Unwashed greens store REALLY well in plastic grocery bags. I can store them this way for two days before having to actually "do" something with them.
Washed greens should be stored with either a paper towel or cloth napkin to absorb moisture. Be sure to dry well and store in either a container with a lid or in a bag.
Ethylene is a gas sprayed on some fruits to cause delayed ripening (i.e. picked early, shipped a distance and ripen upon sitting). Keep foods that are sprayed with ethylene away from other produce if possible.
9. Cook less food.
If you find yourself with too much food on your hands and your family doesn't like eating leftovers, cook less of it.
Yes, this means you will have to cook more often. But you can't have it both ways. The basic premise behind cooking less often IS eating leftovers.
So you'll have to decide which it will be. Either eat leftovers, or cook less food.
10. Preserve Food.
While many families buy extras to preserve on purpose, there's nothing wrong with preserving on accident. In fact, we do this all the time to avoid food waste.
If produce is going bad faster than you can eat it, preserve it by freezing, blanching and/or dehydrating. Your preservation method will be different for the different foods you're working with, and you might even have to do a combination of them to maintain quality.
11. Ignore expiration dates – they have nothing to do with food safety. Use the smell test instead.
Check out what the United States Department of Agriculture has to say about expiration dates.
A "Use-By" date is the last date recommended for the use of the product while at peak quality. The date has been determined by the manufacturer of the product… Except for "use-by" dates, product dates don't always pertain to home storage and use after purchase. "Use-by" dates usually refer to best quality and are not safety dates. Even if the date expires during home storage, a product should be safe, wholesome and of good quality if handled properly.
So there you go. The next time someone in your family wants to throw away an entire gallon of milk merely because of the date on the jug, pull up this post.
12. When you're trying a new item, buy just enough.
We've all done it – bought a new-to-us ingredient for a recipe and chose the bigger package because it was the better deal. And then we made the recipe that turned out awful and now we have 1.3 gallons of some weird sauce in the pantry.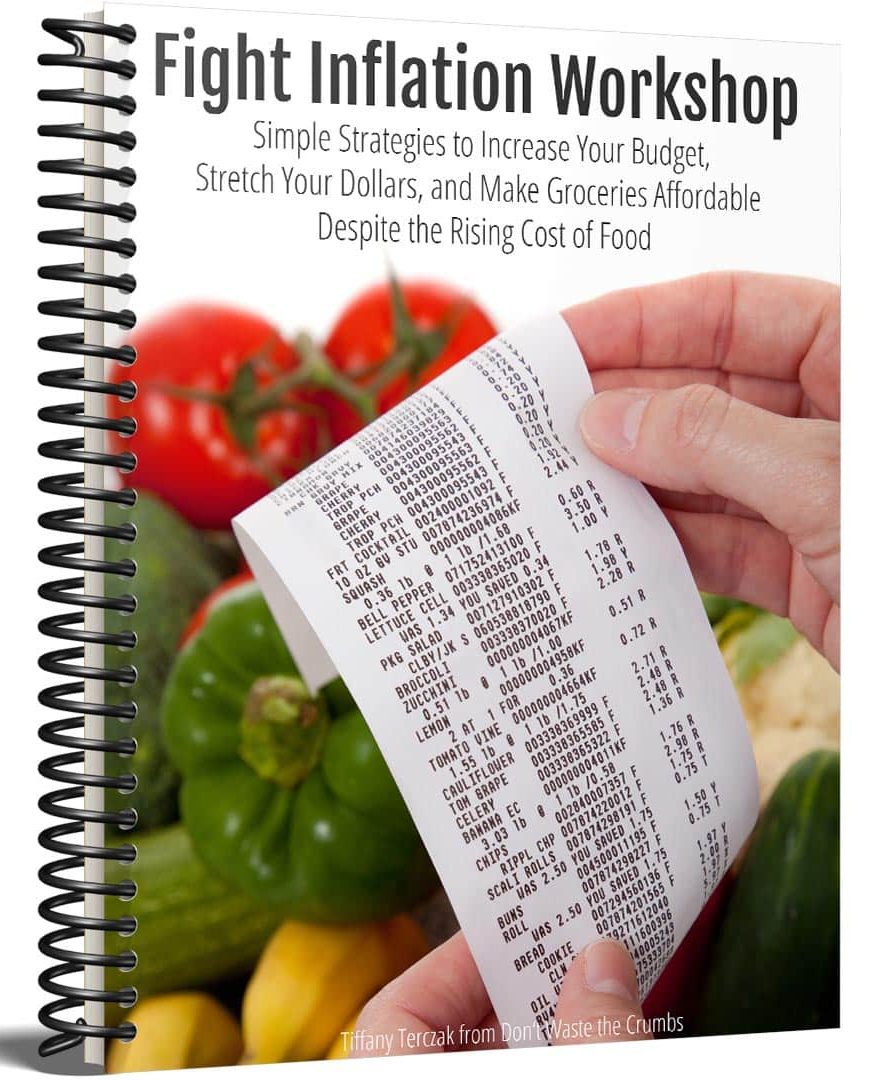 Fight Inflation Workshop
Sign up for my FREE
Fight Inflation Workshop
and learn simple strategies to save money, even with rising food costs!
More Ways to Save Money on Food
What practical tips do you use that help your family avoid food waste?