Earlier this week, my dad gave me two big bags of beet greens. No beets, just the greens.
Everything You Need to Know About
He had gone to the farmers market for some veggies. While there, he ran into a woman who was also buying beets. He asked her if she wanted the greens, and she said no. She gave her greens to my dad, and he gave them – and the ones from his own beets – to me.
That's how I ended up with two big bags of beet greens sitting on my kitchen counter. Staring at me while I made homemade dough for buffalo chicken pizza this week.
We eat a lot of greens during the summer. Partially because we get at least one variety each week in the CSA box, but also because we've finally learned to prepare them in ways where we actually LIKE them.
Note to Fellow Wives: The best way to get your husband to NOT eat real food is to make something he hates. Don't do that.
Kale chips, subbing for spinach in enchiladas and a new savory pasta dish that I am on pins and needles to share with you very soon – these are our favorite ways to eat greens so far this season.
But like anything else, there CAN be too much of a good thing. And while we enjoy our greens, two big bags full is a bit much for our family to consume before they start to wilt and go bad.
Did I mention the carrot tops he snuck in there too?
So I did what any other frugal foodie would do – I'm saving them for later!
The carrot tops are destined for easy homemade pesto, but the beet greens require a teeny bit of work.
You see, if you stick them in the freezer as-is, they'll be super wet and wilty when they thaw and your once beautiful greens are essentially inedible. The solution: blanching.
Blanching is the process of quickly boiling something in a pot of boiling water and then quickly cooling it in an ice bath. It's how to best freeze green beans, broccoli and (as you have probably guessed), beet greens.
The process is SUPER easy, but I broke it down into steps in case you're new to the whole preservation thing.
How to Blanch Greens
Supplies
hearty greens of any kind (mustard, beet, kale, broccoli leaves, etc.)
a big pot filled with water
a big bowl (or sink partially filled) with ice water (optional)
Method
Bring your big pot of water to a boil. Meanwhile, cut the greens into 1-2″ pieces and wash well.
The greens will cook down significantly, but if you're like me, you'll pull them from the freezer and dump them right into a recipe later on. Cutting them first means you don't have huge pieces of green strewn throughout your meal.
When your water is boiling, put 2-3 fist fulls of greens into the pot and stir. Don't worry if the greens are higher than the pot. They'll cook down in a just a minute or so.
Set the timer for 5 minutes. (See additional recipe tips below if you're blanching other veggies).
You don't have to stay in the kitchen, but it's good practice to stir the green at the halfway mark, just to make sure they all get submerged at one point in time.
When the timer goes off, remove the greens.
If you still have more raw greens left to blanch, use a slotted spoon to remove the greens from the pot and into a colander. If this is your last batch, you can strain directly into the colander.
Repeat the above steps for the remaining greens. Keep the water and re-use if at all possible. The garden is always a safe bet, but I wouldn't re-use this water for cooking. Greens tend to be gritty and dirty, even after you wash them, so there's a good chance there's dirt at the bottom of your stock pot.
Optional: When you have removed the greens from the pot of boiling water, plunge them into a big bowl of ice water. (See additional recipe tips below for more information).
When the greens have cooled, measure out in 2 cup portions and place in a freezer-safe bag. Label the contents and date and freeze.
Additional Recipe Tips
Because beet greens (and other hearty greens) are, well hearty, they need the full 5 minutes. Other lighter veggies like broccoli, green beans, spinach, asparagus and cauliflower only need a minute or two, tops.
Traditional blanching methods include plunging in an ice bath (until they're completely cooled) to immediately stop the cooking of the vegetable. With the dainty vegetables I just mentioned (broccoli, green beans, etc.) you should definitely do this. For hearty greens, it's not as necessary.
Dark leafy greens usually need to cook for awhile anyway to soften and improve the flavor, so it doesn't really matter if they sit and cool to room temperature on their own. Plus they're soft, so the extra sitting doesn't effect the texture (where room temperature cooling will ruin your blanched green beans and broccoli).
I'm cool with not using the ice bath, but feel free to do it if you'd like. Or if you're doing a big batch of blanching of various items.
Got your preservation apron on?
These other preservation posts might be up your alley too: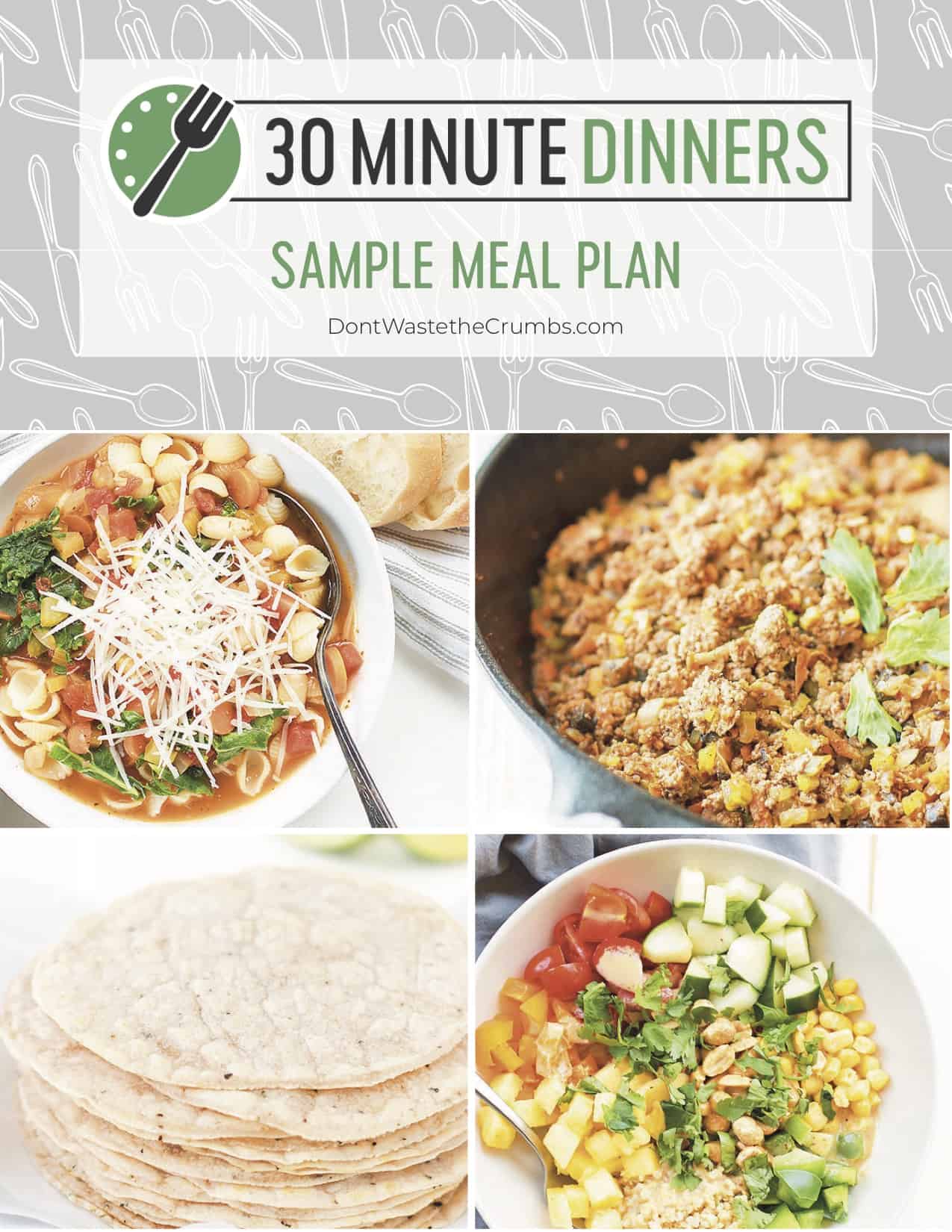 30 Minute Dinners Sample Meal Plan
Sign up to get instant access to my
30 Minute Dinners Sample Meal Plan
, complete with recipes and step-by-step instructions!
Hit me up with new ideas – what's your favorite way to eat beet greens?