Get this one week meal plan with ground beef recipes using just 2 pounds of ground beef. Healthy and budget friendly, these are the best recipes for ground beef. Learn strategies to stretch your beef by adding more veggies and beans! Included is one of my family's favorite – homemade hamburger helper (make it with or without cheese!)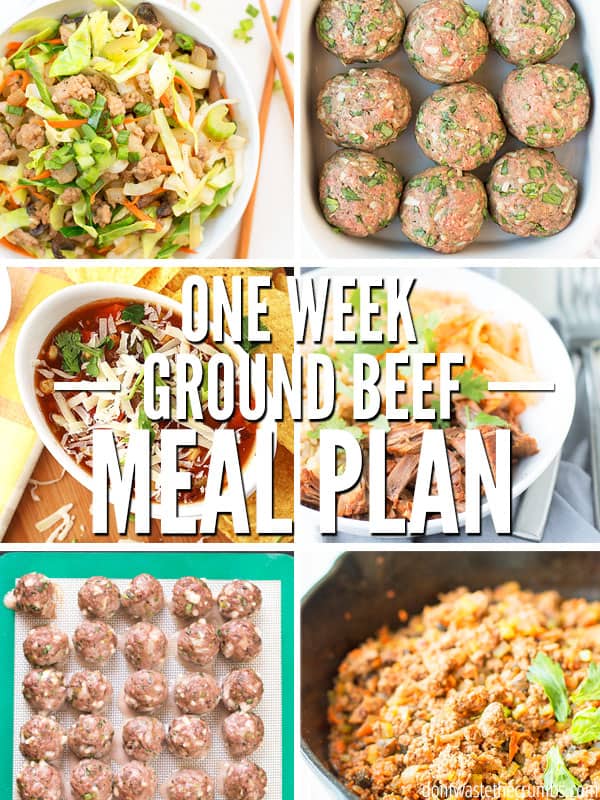 One thing that has saved my meal planning tushie time and time again is having a "master recipe list." Essentially, it's a big (or small) list of all the "winner" recipes I've made for my family.
Having a "master recipe list" means when I sit down on Sunday afternoons to make our meal plan for the week, I'm not starting from scratch every time. I can look at my master meal plan list and pick out what I already know my family likes to eat!
I do admit though, that it can be tricky matching up what's on sale that week with what's on the master recipe list. If your family likes ground beef, but chicken breasts are on sale, you're either bound to run out of ideas or feel like you're eating the same thing all the time.
That's one reason I created this one week ground beef meal plan for you. Anytime ground beef is on sale, buy a couple pounds and use these ground beef recipes on your meal plan!
Seven Ground Beef Meals
Another reason I wanted to share this one week ground beef meal plan with you is because I want to show you how to stretch out your meals for ground beef. This meal plan calls for just two pounds of ground beef— and you're going to get SEVEN ground beef meals!
Even better, is that you only need a few ingredients to stretch your ground beef. If you have food sensitivities orallergies, most of these recipes are naturally gluten-free and dairy-free. (You can easily modified for Whole30, Paleo, and low-carb too!).
The key to any good meal plan is variety. I've made sure to include a casserole recipe, a crock pot recipe, my favorite chili recipe so far, and even a simple beef and rice recipe. All of them are easy, all of them are healthy, and all of them will help you answer the question, "What recipes can I make with ground beef?" when it's time to make your meal plan!
Also, if your people are picky when it comes to their meals, I recommend making recipes where the ground beef wouldn't be noticeable in the first place. You can mix in with other things, for example in chili or enchiladas.
Don't forget to make sure you review the meal plan as a whole and substitute appropriately, so your family enjoys what you're making for dinner!
Ideas with Ground Beef – Master Recipe List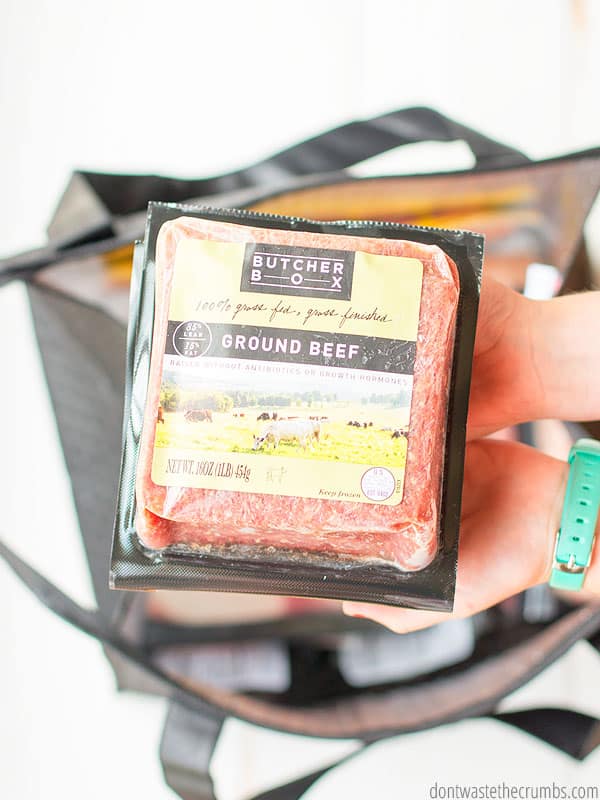 By the way, if you don't have a "Master Recipe List," I highly recommend starting one this week. It doesn't have to be anything glamorous or official. My meal planning system is very simple; I use a spiral notebook!
I write my meal plans on the right and draw a small box in the bottom right corner for any winner recipes.
Anytime I try something new, I ask the family what they think. If they love it, I write the recipe down in the box!
If you DO have a Master Recipe List already going, I highly recommend sorting it by the protein.
That way when ground beef goes on sale, and you're wondering what recipes to make with ground beef, or even if you're intentionally looking for something easy and healthy that uses ground beef, you have a list of your family favorites ready to go.
(P.S. The same goes for chicken and pork, too!)
One Week Ground Beef Recipes for Dinner
What's Included
100% real food recipes that are simple, straight-forward and family-friendly.
A week's worth of recipes that feed the average family of 4 for around $50-75.
Recipes that are quick to make– all of them can be made in under an hour.
A week's menu that stretches just two pounds of ground beef into 7 meals!
What's NOT Included:
Breakfast and lunch. This meal plan is packed with ground beef recipes, so there's a good chance you'll have some leftover. But we're not specifically planning for breakfast or lunch here.
If you need a breakfast meal plan, you can use this freezer cooking meal plan to make a week's worth (or more!) of breakfast recipes in an hour.
If you need a lunch meal plan, use this two-week lunch menu.
Precautions for food allergies. Because my family is blessed to not have food allergies, I don't plan for them in my meal plans. However, ALDI has a fantastic line of gluten-free foods, and you're probably used to subbing anyway if you're dairy free. With a few tweaks, I think this ALDI meal plan would work in most food allergy families, too.
One Week Ground Beef Meal Plan
But before you jump into this meal plan, you need two pounds of ground beef.
I've found grass-fed ground beef locally at ALDI, Costco, and at my local Kroger. I used to buy it at all three places! Not too long ago though, Butcher Box offered two free pounds of ground beef when you purchased a monthly subscription– now I get my ground beef for FREE!
Butcher Box delivers grass-fed beef, pasture-raised and organic chicken, and heritage pork directly to your front door each month. You can read my honest review on Butcher Box here, and also my updated Butcher Box review here.
The search for high-quality meat ends here. Amazing taste. Humanely raised and delivered to your door. Sign up today! Click this link to claim the current offer!
Stretching your Meat
Once you have your ground beef, we're going to stretch it into seven meals worth.
Note: When I made this at home, I got FIVE meals' worth out of just one pound of ground beef. But I rounded down in case you have big eaters in the family. Once you stretch the meat, you're going to measure out the 7 (or more) portions. And you can use anything you have leftover to either "beef up" any recipes from this meal plan, or freeze for future dinners.
Here's how to stretch your two pounds of ground beef:
Follow the recipe and method from my Best Ground Beef Taco Meat post here, but double the vegetables (since you're making two pounds of ground beef instead of one) and omit the taco seasoning.
Add two cups of finely shredded cabbage to the list of vegetables. Plan to add the cabbage when you add the carrots. (You can either buy a head of cabbage or take a short-cut with a bag of coleslaw mix, roughly chopped.)
Then add 4 cups of cooked green or brown lentils. Gently fold these into the mixture at the very end.
Measure two cups of this stretched ground beef into plastic storage containers (or containers of your choice).
Remember that we didn't season this meat. So you'll want to add salt, pepper and/or appropriate seasonings to your dinner recipes.
P.S. The same goes for chicken and pork, too!
Seven Ground Beef Recipes for Dinner
While the focus of this one week meal plan is ground beef dinner recipes, I would be a poor teacher if I didn't tell you that a GREAT way to eat more produce while keeping your grocery budget lean is serving meatless meals a few times each week.
I've included some of our favorites meatless meals at the end of this meal plan. If you toss in a few of these in between the ground beef dinners, and maybe have a breakfast night or a leftover night (or two), you could easily get two weeks out of these meal ideas!
And if you have any leftover stretched ground beef at this point in time, here are a few other recipes we love that can help you use it up: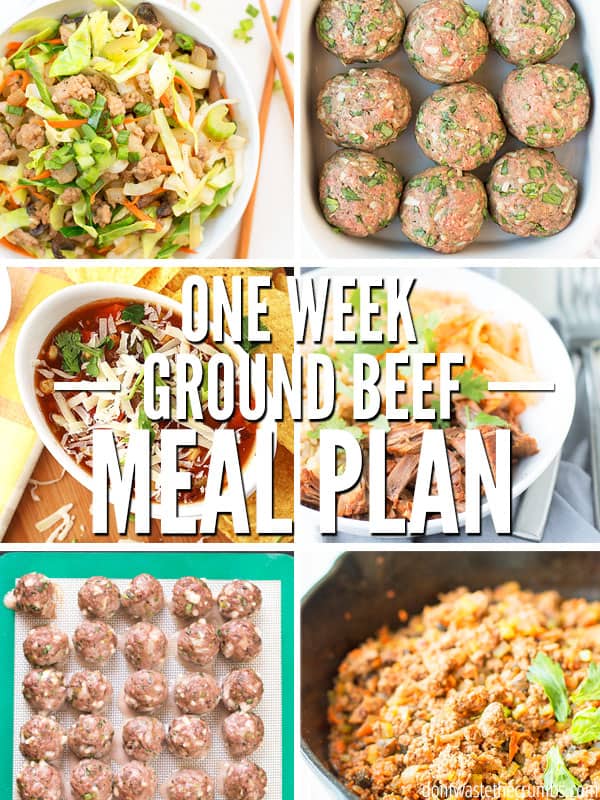 Ground Beef Meal Plan
Sign up to get instant access to my
Ground Beef Meal Plan
, complete with recipes and shopping list!
And here are a few of our favorite meatless meal ideas: