Before you think I'm crazy for suggesting you make a salad in the fall, let me remind you that delicata squash salad with apples and cranberries REQUIRES cool weather.
And the main ingredient in panzanella bread salad is BREAD. What kind of crazy person doesn't like bread?!
There was a point in time where I timed my bread baking around lunch. Partly so the kids could have sandwiches, but more so that I could have bread and butter for lunch without feeling guilty.
Nowadays though, I just put panzanella bread salad on my meal plan and call it dinner.
The Makings of Panzanella: The Salad
Panzanella is traditionally a salad consisting of bread and tomatoes. If I had my own tomato plants, I would no doubt limit the ingredients to just those and bread, and dress the salad with only balsamic vinaigrette, quality olive oil and top with freshly ground salt and pepper. MAYBE a sprinkle of basil or oregano, if I'm in the mood.
But seeing as A) I don't have my own tomato plants right now and B) tomatoes aren't even in season, I'm breaking the rules and taking extreme leeway with the ingredient list. Put whatever typical "salad ingredients" you have in the fridge in your salad (including lettuce) and call it good.
The Best Bread for Panzanella
In a classic panzanella dish, the bread used is at least a day old. It's rustic, crusty and tastes just a bit aged. You can probably find a loaf of bread fitting this description at a local bakery, or possibly even the farmers market.
However, you can also make something similar yourself and not only save money, but know 100% what is in your bread.
No-knead artisan bread is a great substitute for the rustic sort of bread, especially when you make it with whey instead of water and let it sit for almost a full 24 hours before baking. If you're the forgetful type though, you can follow the recipe as-is and it'll still be delicious.
You might think that putting bread into a salad and adding dressing would yield a bowl of soggy bread, but alas, there's a secret.
By cubing our bread into 1/2″ pieces, tossing with some olive oil and seasonings and toasting in the oven, we're not only making croutons (yay!) but we're also making the bread resilient to sogginess.
By the way, if you're the type of cook that likes to taste as they go along, you might want to go ahead and double the croutons. They're SO crunchy and SO good and SO irresistible that you might accidentally eat more than you intended to and might be left short when it's time to compile the salad.
Not that I have any experience or anything…
Dressing a Panzanella Salad
Since we're breaking the rules with the salad ingredients and we're breaking the rules with the type of bread to use too, let's just keep the trend going and discuss dressings.
As I mentioned earlier, a simple vinaigrette made with olive oil and vinegar would be absolutely delicious. Feel free to stop there if you like to play it safe.
For you crazy adventurous folk, no salad dressing is off limits.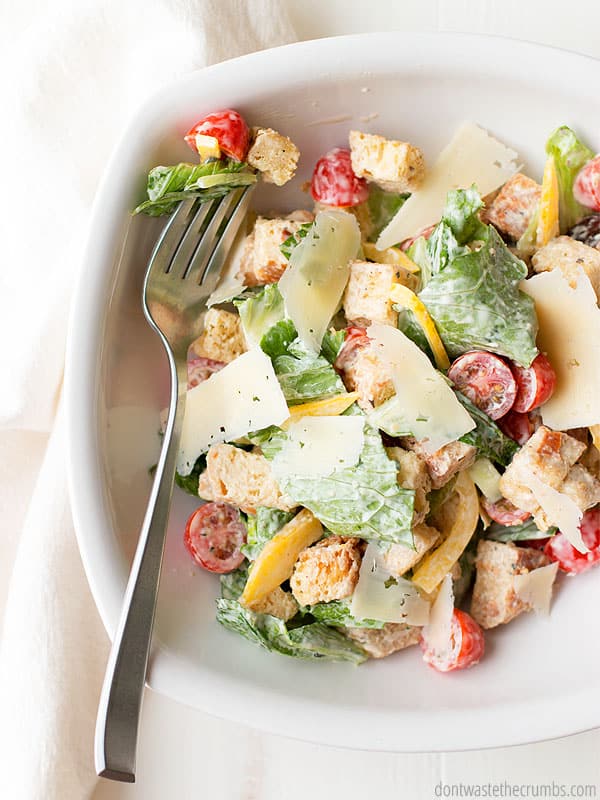 Probably the best part about panzanella is the fact that you are SUPPOSED to make it ahead of time. This gives your homemade croutons the ability to absorb some of the dressing rather than just be coated in it.
That way, when you have a big bite of bread + veggies on your fork, you're getting some of that dressing too instead of all the dressing collecting at the bottom of your bowl.
Should we make this a new trend? Filling a bowl with bread (and perhaps some veggies), covering it with dressing and calling it dinner?
I think so.
Panzanella (Bread Salad)
A classic recipe for Panzanella using either fresh bread or day-old bread. Ideas for using caesar dressing, ranch dressing, Greek, and Italian Panzanella too.
Author: Tiffany
Prep Time:

10 mins

Cook Time:

25 mins

Total Time:

35 minutes

Yield:

4

servings

1

x
Category:

Soup & Salad

Method:

Bowl

Cuisine:

American
1

loaf no-knead artisan bread (or other rustic, crusty bread)

2 Tbsp

olive oil
salt and pepper

1/2 tsp

Italian seasoning

4

–

6

cups typical salad ingredients (lettuce, tomato, red onion, bell pepper, etc.)

1/2

–

1

cup dressing of choice (Italian, Greek, Caesar, Ranch, etc.)
Instructions
Preheat the oven to 275F. Meanwhile, cut the bread into 1/2″ cubes and place in a large bowl.
Toss the bread with the olive oil so as much of the bread as possible is coated. Season generously with salt, pepper and the Italian seasoning and toss again.
Spread the cubed bread onto a cookie sheet and toast for 25-35 minutes, stirring and flipping once or twice. You want the bread to be at least medium golden brown, and definitely crispy. It is better to be too crispy than too soft, just avoid burning.
When the bread is done, remove from the oven and let it cool.
Meanwhile, assemble your salad.
About an hour before mealtime, combine your salad with your bread in a very large bowl. Add 1/2 cup dressing and toss thoroughly. Add additional dressing if desired, taking care not to over-saturate the salad.
Place the salad in the fridge until mealtime.
Making panzanella is one of my favorite ways to use leftover bread, on the occasions we have some! What kind of salad fixin's would you use?