When you eat seasonal produce you will save money AND be healthier. Use this guide to learn why and how to eat seasonal produce! A great way to eat real food on a budget.
Could it be mere coincidence that the two foundational concepts of this blog – better food and saving money – are the exact same two reasons why we all should be eating seasonally?
All food that comes directly from the ground grows naturally in seasons. Each seasonal fruit and vegetable requires a certain temperature, a type of soil, and the proper amount of sunlight in order to grow effectively.
It explains why tomatoes don't grow in snow and why snow peas do… hence their name. 😉
Modern science and technology allow us to eat foods from the grocery store outside their growing season. But there really is a better way to feed our families naturally ripened fruits and veggies in peak season.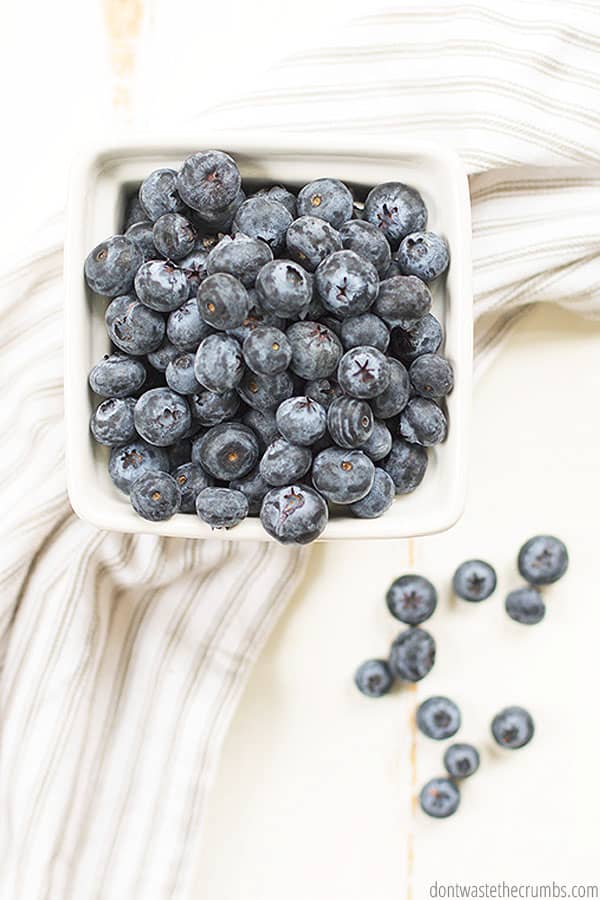 What are the Benefits of Eating Seasonal Produce?
1 – Why is seasonal food cheaper?
It's cheaper to grow, therefore cheaper to buy. The extra care required to grow tomatoes in hothouses with mounds of snow on the ground in January is passed onto us as consumers.
When it's affordable to grow, you can grow more. A greater quantity means the items cost less. It is the law of supply and demand.
Seasonal food doesn't have to travel. The cost of importing food adds up quickly, regardless if it's imported from across the state or across the world. When we buy food that's in season from local farms, those costs don't exist!
2 – Better Food
Food has the greatest nutritional content at its peak ripeness. What's the point of eating the vegetables if they have very little nutrition? That's what we're doing when we eat food that was picked two months ago and kept in cold storage until our grocery store received its shipment and stocked its shelves.
Seasonal food doesn't require chemicals for preservation. The farmer doesn't have to add chemicals to preserve the food for transit because it only goes a few miles to the next market. A simple wooden crate in cool storage does the job!
Seasonal food tastes better. Strawberries picked off the plant are firm, naturally sweet, and delicious. Those that were forced to grow in a semi-temperate climate are dull and even mushy, which isn't appetizing at all.
Eating seasonally expands variety. When you eat more variety it means you eat more nutrients. Every vegetable is strong in a particular vitamin: sweet potatoes have Vitamin A (beta-carotene), Brussels sprouts have Vitamin K, and green beans, cucumbers & eggplant have Vitamin C among others.
Eating seasonally sounds great and all – on paper. But how do we actually do this?
How to Eat Seasonal Produce
1 – Know what's in season.
Get out of the house, visit local markets in your and see what they have – local farmers only display what they're currently harvesting! LocalHarvest.org and EatWild.com are excellent starting points for finding markets in your area.
Here's the Ultimate Guide to Shopping the Farmer's Market on a Budget!
2 – Meal Plan for the Season.
Cream of asparagus soup, broccoli salad, and homemade tacos with a fresh salsa bar are not meals you'd ordinarily plan in January because none of the produce needed for those is in season.
Your meals don't have to be exact but have a ball-park idea of what you can pick up at the market and use that as your basis for planning for the week.
3 – Shop the buy price.
Resist the temptation to buy foods that are more expensive just because they're familiar. Apples are not in season in May, so any farmer who happens to have some will be charging a premium.
If you really want to track prices, utilize a price book to keep a record of the price changes!
4 – Shop the rainbow.
More color means more nutrients. With each trip to the market, aim to pick up some produce of various colors.
5 – Bargain, gently.
Farmers are often willing to negotiate a little on price because you're supporting local. Some farmers offer a CSA where you can get a box of fresh produce every week! Often, you pay upfront but the price per box is a better deal than paying for the equivalent each week.
6 – Buy enough for ten to fourteen days.
The foods at markets have not been sprayed to "maintain freshness," so they will need to be eaten sooner rather than later. Another bonus of limiting the supply of fresh fruits and vegetables in the home to only what you will eat is that you are forced to restock again and will continue to eat seasonally!
Keep your produce fresh for longer using this guide to washing and storing.
7 – Supplement with local sales.
Ideally, your produce should come from local markets, but it's inevitable that you will need or want something that the market won't have. Check the local sales flyers to pick up produce like bananas, carrots, and onions – items that are inexpensive staples in many kitchens but perhaps not available in your area often.
8 – Buy extras at the end of the season.
Farmers will advertise when they're selling the last bit of their crop. When they do, buy a lot, aim to shave a bit off the price, and preserve like a maniac at home. Also, make things like homemade applesauce and apple slab pie!
More on Eating Seasonal Produce
Most people think eating organic is expensive – not when you eat seasonally! And by using those 8 steps above, it's really easy to implement. Follow these additional tips on saving on produce to make eating fresh on a budget even more feasible!
With the growing season in full swing, enjoy the fresh air and get to know your farmers. The markets are an excellent opportunity to try out new foods and to network with those who work the land.
Looking for raw milk? Ask someone! Looking for uncured pepperoni (like us)? Ask! Trying to find someone who can point you in the direction of grass-fed butter? Get social!
How do you eat seasonally?
Real Food Reboot
Sign up to join the 30-day
Real Food Reboot Challenge
! It will help you and your family eat healthier food for the long-haul. In less than 15 minutes a day, you can change habits, feel better, AND bring your family along too!