Easy apple slab pie recipe that is versatile, make-ahead, and makes over 20 servings in a 9″x13″ pan! Use buttery homemade pie crust and a cinnamon topping.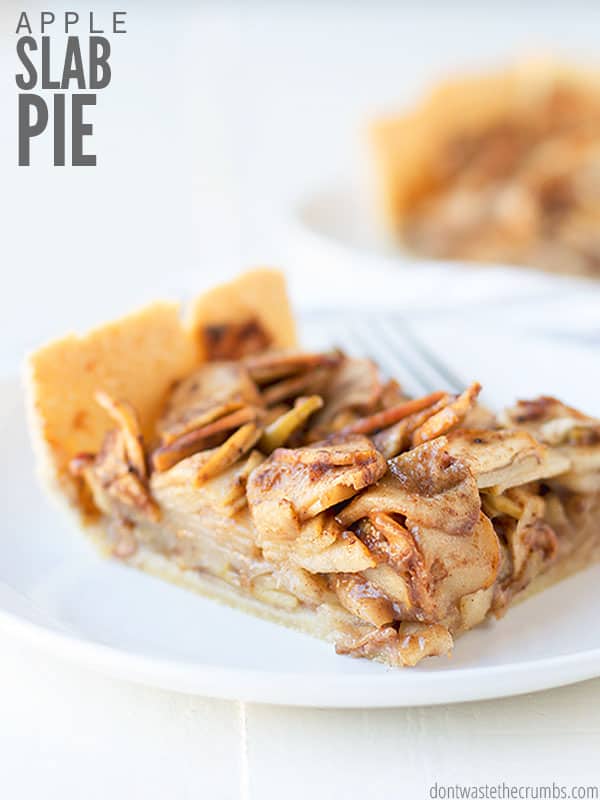 Have you ever volunteered to make Thanksgiving dessert, only to realize that you need to make something that will serve 20+ people?
There's no way in the world you're ever going to get 20+ slices out of one pie, and with all the work that goes into ONE pie, do you really want to make TWO?!
Don't worry friends, I have a solution for you. It's called apple slab pie.
It's all the glory and deliciousness of an apple pie, in a BIG BAKING DISH!
Why is this a big deal?
Because you still do all the things you do for a pie – crust, apples, bake – except you do it in ONE large 9" x 13" pan.
This means you only make one pie AND you can feed 20+ people at the same time!
Easy Apple Slab Pie Recipe
Friends, you need this apple slab pie recipe. It's everything you LOVE about a classic apple pie:
The warm, cinnamon flavor
Sweet & juicy apples
A flakey, buttery crust
But it's everything you NEED out of making dessert for a crowd, especially during the holidays:
Easy
Portable
Make-ahead
Versatile
Easy to cut & serve
Makes 20+ servings
In fact, my family loves this version of apple pie so much, that I usually make this instead of an apple pie in a pie dish. It's really that much easier on me, and everyone loves the recipe!
Healthy Slab Apple Pie Ingredients
This is a traditional dessert in the sense that you need the basic players of apple pie, but I've made some changes so this version is on the healthier side than most others:
Homemade Pie Crust. Flour + salt + butter + milk. Use whole wheat flour for a healthier option.
Apples. I like using granny smith + fuji + gala apples, personally.
Brown Sugar. Apples are naturally sweet on their own, so we'll need just a small amount of brown sugar.
Cinnamon + Nutmeg + Salt. Flavor!!
Cornstarch. To turn apple juice into a thick, delicious pie syrup!
What are the best apples for apple pie?
Honestly? There's no magic answer. I've made pies with tart apples, sweet apples, firm apples, and soft apples – and they've all been DELICIOUS.
I recommend choosing a mix of two or more apples to get a good variety of flavor.
Do gala apples make a good pie?
Yes! I like to mix them with Granny Smith and Fuji for a good all-around balance of flavor and texture. I'd throw in Honeycrisp too if they happen to be on sale! The general rule of thumb is if you like the apple plain, you'll like it in a pie!
How to Make Apple Sheet Pie in a 9" x 13" Pan
No special skills here! You make an apple sheet pie in a 9" x 13" pan, like this one,  the same way you make a traditional apple pie:
Prepare and pre-bake the pie crust. I like to make a 1.5x batch and reserve the half batch for a lattice top.
Prepare the filling. While the crust is pre-baking, slice the apples and toss them with the spices.
Bake the pie. Pack the apples into the pie and bake!
Let cool, slice and enjoy!
Apple pies are MUCH easier to cut when they've cooled completely. So as hard as it may be, make sure you leave this one alone on the counter for several hours.
Honestly, you might want to make this the day before. It will lighten your holiday cooking load AND it will be perfectly ready to cut at the post-dinner celebration.
Can I bake a pie in a cake pan?
Absolutely! Can pans are usually metal and they conduct heat better than glass pans. That just means that you'll want to watch your pie as it bakes to ensure it doesn't burn on the edges while the filling is undercooked.
To compensate, I recommend lowering the temperature of the oven to 325F and cook it for a little longer.
Other Favorite Easy Dessert Recipes
Apple Slab Pie
Easy apple slab pie recipe that is versatile, make-ahead, and makes over 20 servings in a 9″x13″ pan! Use buttery homemade pie crust and a cinnamon topping.
Author: Tiffany
Prep Time:

45 mins

Cook Time:

45 mins

Total Time:

1 hour 30 mins

Yield:

20

+ servings

1

x
Category:

Desserts

Method:

bake

Cuisine:

American
Crust
2 1/4

c flour (whole wheat or all-purpose)

3/4 tsp

salt

9 Tbsp

butter

4 Tbsp

milk
Filling
6

–

7

large apples (I used gala, fuji, granny smith and Honeycrisp)

1/2 cup

flour (whole wheat or all-purpose)

1 Tbsp

cornstarch

1/4 cup

brown sugar

1 Tbsp

cinnamon

1/2 tsp

nutmeg

1/2 tsp

clove
Instructions
Make the crust
Combine flour and salt in the bowl of a stand mixer. Using the paddle attachment, cut in the butter until the mixture resembles coarse breadcrumbs.
Add milk, 1 tablespoon at a time JUST until the mixture comes together to form a ball.
Dust your surface with flour and use a rolling pin to roll the pie crust into a 11″ x 15″ rectangle. (I recommend using a Silpat mat, for both the built-in measurements and ease of getting it into the glass pan.) You want the crust to be large enough to cover the bottom AND SIDES of a 9″x13″ glass baking dish.
If you're using a Silpat mat, turn the mat over into the 9″x13″ glass pan and place the pie crust into the pan. Carefully make sure the crust goes all the way to the edge of the pan, and then up the sides.
Place the crust in the refrigerator.
Preheat the oven to 375 degrees.
Make the filling
While the crust chills and the oven preheats, prepare your apples by washing, drying and peeling (if desired.)
Slice the apples into thin strips. I personally found that the thinner the better, but anything less than 1/4″ is fine.
Combine all the apples, flour, cornstarch, brown sugar, cinnamon, nutmeg, and clove in a large mixing bowl and use your hands to thoroughly toss everything together.
When the oven is preheated, pull out the crust and pour in the apples. Use your hands to distribute the apples while pressing down slightly. This is to make sure you don't have any gaping air holes in the filling of the pie.
Bake for 45-60 minutes, or until the filling bubbles. Cool completely.