Easy maple pecan blondie recipe that is simple, delicious, and has a secret ingredient: beans! These blondies are nutritious and naturally sweetened!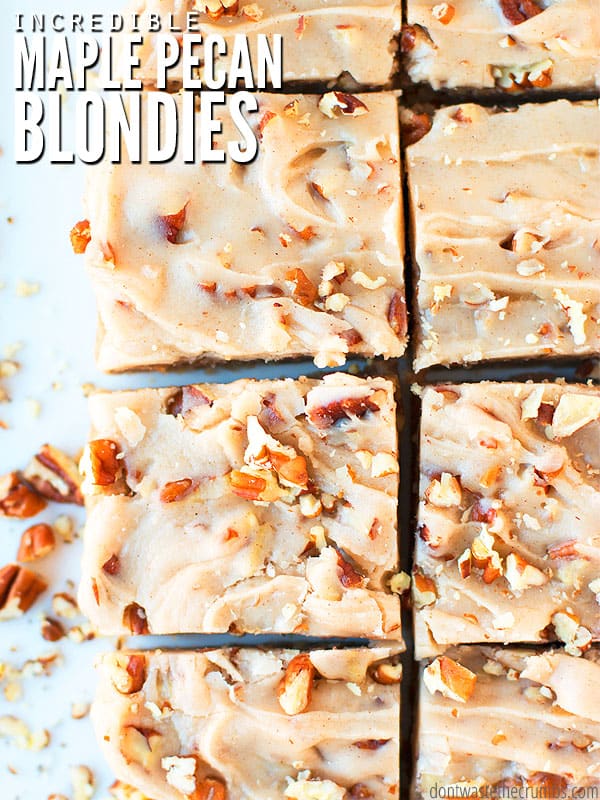 You guys, I have one more AMAZING dessert for you as we close out the year. Before you say, "No thanks, I've had enough sugar cookies and candy cane cookies and cinnamon rolls to last me a lifetime," hear me out.
THEY'RE MADE OF BEANS!
Quite honestly, I think these maple pecan blondies are the perfect bridge between over-indulgent holidays and New Year resolutions!
First and foremost, they're made of beans. Yeah, I know I mentioned it already, but it's worth saying again. Do you remember the blind taste testing I did with my black bean brownie recipe?
Let me refresh your memory: I made those black bean brownies several times for several different people – my kids, my husband, and then his co-workers – and NO ONE had a clue they had beans.
And when I told them they did have beans, they were shocked!
So I kind of did something similar with this maple pecan blondie recipe.
Maple Pecan Blondie Recipe
I first made them at Thanksgiving, where my husband's entire family (15 of us) celebrated the whole week together in one big beach house in North Carolina.
The day before the big turkey day, I made these maple pecan blondies while my brother-in-law and mother-in-law looked on with a keen eye…
"Whatcha making, Tiff?" they asked.
"Dessert for tomorrow – maple pecan blondies," I replied.
"Ooh, sounds good!" they said.
Did I tell them it was made of beans?! Nope. This little birdy kept her mouth shut.
The next day, over a very animated game of Superfight, everyone at the table grabbed one of each of the desserts I made.
The maple pecan blondies got TONS of raving reviews right off the bat… "These are good!" and "What are these again?" and "Oh man, I need another one of those!"
At no point did anyone ask what was in them, and at no point did I tell them they were eating beans!
They were such a hit that out of a double batch (32 bars), there were only three left at the end of the night. THREE!
I have to confess that I personally ate all three the following afternoon while everyone was napping/walking/getting-out-of-the-house. I did feel bad though when my husband, my mother-in-law AND my brother-in-law all asked if we had anymore left… because I had to tell them no.
(But I didn't tell them that *I* was the one who ate them all, lol!!)
The (awesome) bean factor aside, this maple pecan blondie recipe is the perfect balance between "healthy" and "dessert."
The core of the blondie is beans (obviously), but they don't have a ton of sugar either – just over 1/2 cup for the entire recipe. You can use canned beans of course, but cooking dry beans is cheaper and very easy! Slow cooker beans or Instant Pot beans are my go-tos.
We're using rolled oats instead of traditional flour for a boost in nutrition… and because oats are generally REALLY cheap (just like beans!)
A bit of coconut oil and classic flavors like cinnamon, salt and vanilla extract help to round out the blondie. I use this coconut oil.
Make your own vanilla extract with this recipe or use one of these substitutions.
One ingredient the blondie calls for that you probably don't have is maple extract.
Now, before you roll your eyes at me and say you're not going out and spending all sorts of money on some ingredient you'll only use once, let me tell you this.
Maple extract is…
CHEAP. Like, $2 for the container and right now, it's much more affordable than vanilla extract.
SO GOOD. There's no amount of maple syrup or maple sugar or anything else maple-flavored that can even come close to the goodness of maple extract. Imagine the mapley goodness of pure maple syrup on steroids, then triple it. It's even better than that.
AT WALMART! For real – I wouldn't make you drive all over town for this stuff. Hit up your local Walmart or Target or grocery store and get some maple extract. You will NOT be disappointed.
IF – by some strange chance – you aren't completely addicted to these maple pecan blondies like I am, then you can use leftover maple extract in homemade granola. I'm working on a "master" granola recipe for you guys and I used maple extract instead of vanilla… GAME CHANGER.
For real. If you want to eat granola that tastes like cinnamon brown sugar instant oatmeal then hang on to that bottle of extract!
The dessert aspect of this recipe truly comes from the maple glaze. As written, the glaze MAKES the recipe. As in, that's the part that's addicting.
I've tested a batch where the maple glaze was cut in half and yes it was still very good, but definitely not as sweet. If you've been quitting sugar like us, you'll probably want to halve the glaze.
If you aren't quitting sugar and have no intention of doing so, then make the maple glaze as-written.
I'd also suggest making it as-written if you're taking this dish to a pot luck or party of some sort. If you're anything like us, you're probably the oddball when it comes to healthy food. Definitely don't tell people it's made of beans and make the full batch of glaze. Play it safe. And cross your fingers people don't eat them all so you can finish them off later!
Beans for dessert?
I know it sounds funny, but some of my most popular dessert recipes are made from beans! Don't knock them until you give it a try!
One more note: I used my Blendtec blender with a twister jar to make this recipe. I can't tell you how much I LOVE my blender. I use it for everything from roasted red pepper tomato soup, green maca smoothies, double chocolate waffles, and even making my own oat flour!
If you don't have a high powered blender, a food processor like this one will work too. The important part is making sure those beans get well blended so your people will never guess they are in there!
Maple Pecan Blondies
Easy maple pecan blondie recipe that is simple, delicious, and has a secret ingredient: beans! These blondies are nutritious and naturally sweetened!
Author: Tiffany
Prep Time:

5 mins

Cook Time:

22 mins

Total Time:

27 mins

Yield:

1

6

1

x
Category:

Dessert

Method:

Oven

Cuisine:

American
Blondies
2 Tbsp

coconut oil, melted and cooled

3/4 cups

rolled oats

1

–

15

oz can white beans (drain and rinse

three

times; I tested navy beans and "small" white beans)**

1 Tbsp

vanilla extract

2 tsp

maple extract

1/3 cup

maple syrup

1/4 cup

brown sugar (I used Turbinado)

1 tsp

cinnamon

3/4 tsp

baking powder

1/8 tsp

baking soda

1/4 tsp

salt (I use Real Salt)

1/4 cup

pecan halves, roughly chopped
Maple Glaze
1 Tbsp

coconut oil

1 cup

powdered sugar

1 1/2 Tbsp

maple syrup

1 tsp

milk (I used almond milk)

1/4 tsp

cinnamon
Instructions
Preheat the oven to 350F. Line an 8×8 glass baking dish with parchment paper and set aside.
Measure coconut oil into a mug and melt in the microwave in 5-10 second intervals. Once it's melted, set it aside to cool.
In a food processor, with the steel blade, combine all of the blondie ingredients, except the coconut oil and pecans. Process until the batter is very smooth, scraping the bowl as needed.
With the food processor running, slowly pour in the melted coconut oil.
Pour the batter into the prepared baking dish. Sprinkle the chopped pecans on top and use a spatula to ensure the batter is evenly distributed.
Bake for 18-22 minutes, or until a the edges are cracked and a knife inserted into the center comes out clean.
When there's just a few minutes left on the timer, prepare the maple glaze by melting the coconut oil in a medium sized bowl. Add the remaining ingredients and whisk together until the glaze is completely smooth. If the kitchen is cool, the coconut oil might solidify and you might have to microwave the glaze for a few seconds in order to get it to melt again – this is fine.
When the blondies are done, remove them from the oven. Pour the maple glaze over the top, again using a spatula to evenly distribute the glaze.
Set aside to cool completely to room temperature (about 2 hours). The bars are ready to eat immediately, but they will retain their bar shape much better if you wait until they're cool to cut.
Store cut bars in the refrigerator.
Have you made dessert with beans yet? If so, what's your favorite recipe? If not, why not?! Share your stories – and fears – below!