Need a cheap & easy substitute for vanilla? Here are the best 15 Vanilla Extract Substitutes and how to use them. Perfect for all of your baking from brownies to cookies, frosting, cheesecake and bread – even ice cream!
Have you seen the cost of vanilla extract lately? The last time I saw vanilla at Costco, it was $36 for 16 ounces of vanilla… say WHAT?!?!
The combination of natural disasters and a vanilla bean shortage means prices are higher than they used to be, but the amount of baking and cooking that we real foodies do (especially around the holiday season) means vanilla extract can be a massive blow to the budget.
Fear not! Let me explain what you can use as a vanilla extract substitute – you probably already have at least one of these already!
But before you run out of vanilla extract again, let's go ahead and get ahead of the curve by making our own homemade vanilla. You can save up to 77% by making it yourself!Here's the full tutorial on how to make homemade vanilla extract. You only need three things: vanilla beans, liquor and a jar.
15 Vanilla Extract Substitutes
1. Vanilla Powder
Let's talk about the items that can quickly and easily be used as substitutes for vanilla.
Can I use vanilla powder as a substitute for vanilla extract?
I've purchased this vanilla powder in the past, so don't let the price deter you. Even when I intentionally make vanilla bean everything (i.e. vanilla bean ice cream and vanilla bean coffee creamer and vanilla bean scones), my one bag is STILL halfway full.
However, if you happen to have any spare vanilla beans… maybe you made a few batches of homemade vanilla extract and you can't bear to throw the beans out just yet… you can make your own vanilla bean powder!
Simply grind up used vanilla beans in a cheap coffee grinder like this one and BOOM. Homemade vanilla bean powder, at your service, ready to substitute for vanilla extract using HALF the amount. That means if your recipe calls for 1 tsp of vanilla extract, you'll use 1/2 tsp of vanilla powder.
When you're only using 1/2 to 1 teaspoon at a time, one bag will last a LONG time.
2. Vanilla-infused Milk
I like this idea because it's so versatile AND dairy picks up flavors really well.
First, combine milk and vanilla beans in a pot on the stove. How much you use of each depends on how strong you want it to be, but remember that you can dilute the milk if the flavor is too strong and balance that against the expiration date too…
Next, bring the milk and vanilla just to a simmer. As soon as you see bubbles start to foam on top, turn it off and let it sit until it cools.
Finally, strain out the vanilla beans and dry them off and you can use them again (store them in the fridge)! Use the milk as a 1:1 ratio instead of vanilla extract.
3. Plant-based Vanilla Milk
Vanilla almond milk is a great way to get vanilla flavor without jumping through a lot of hoops. You'll want to use this instead of some of the liquid in a recipe… if a recipe calls for milk or water, use this instead!
4. Vanilla Sugar
This is probably the most common, but it's not what I prefer to use as a vanilla extract substitute. At the same time though, if you already have it on hand, use it! You'll need 3 times as much vanilla sugar to replace vanilla extract, and be sure to reduce the amount of sugar used in the recipe appropriately.
5. Almond Extract
A lot of recipes call for vanilla extract, but you can usually use a different flavor extract in its place. Almond extract has a stronger flavor, so use half as much. Also know that you're more likely to taste the almond flavor in the end. This may or may not be a big deal, but I wanted to let you know!
6. Maple Syrup
When you're using only 1 tsp in a dozen muffins, no one will notice the difference in taste. Use equal amounts if you go this route.
7. Honey
Similar to maple syrup, you can use honey instead of vanilla extract too!
8. Vanilla-flavored Liqueur
Think flavoring syrups you'd see when a bartender makes a drink from scratch. There are a handful of brands out there, but with the cost of vanilla so high, it might be worth it to keep a bottle of vanilla-flavored liqueur in the liquor cabinet.
Vanilla extract is made from liquor anyway (rum or brandy), so the alcohol content is a moot point. Plus most of the alcohol content evaporates out during the baking process anyway.
If you use vanilla-flavored liqueur as a vanilla extract substitute, use equal amounts as called for in the recipe.
9. Vanilla Flavored Syrups
Think the flavoring syrups you'd see at Starbucks. These are really condensed vanilla-flavored sugar, so you'll want to adjust the sweetener in the recipe – possibly significantly. These would probably be better suited for recipes where the wet/dry ratio isn't so volatile, like in brownies or no-bake cookies or in any liquid recipe.
This is something else you can make at home too, if you have any vanilla beans. Add 1/2 cup water and 1/2 cup sugar in a saucepan. Split the bean in half and add to the mixture. Let it simmer for 15 to 20 minutes and you can use it as a 1:1 substitution for vanilla extract!
10. Vanilla Ice Cream
If you're using vanilla extract to make frozen desserts anyway (i.e. milkshakes or floats or frozen yogurt), then just use vanilla ice cream instead!
11. Bourbon
Bourbon has a dark smoky flavor that's very similar to vanilla and would compliment rich baked goods like pecan pie, chocolate cake (made from homemade chocolate cake mix) or gingerbread or molasses breakfast cookies. Use twice the amount called for in recipes.
12. Brandy
Brandy is sweeter than bourbon, and would lend well to baked goods like banana chocolate chip muffins or pumpkin bread. Or even in lieu of vanilla in homemade buttercream frosting!
Use twice the amount called for in recipes and like bourbon, I'd only use this in recipes that call for a small amount of vanilla extract! 😉
13. Other Spices
The whole point of using vanilla is to impart a flavor, but there are other spices that do that too. Instead of using vanilla, what if you added cinnamon or nutmeg or cloves? Or a chai spice mix? Don't let the need for vanilla extract get in the way – use it as an avenue to try something different!
14. Vanilla Tea
The best results will come from using the tea powder itself, but you can also brew really strong tea. This probably won't work in every baking situation, but like using other spices, it will work in a pinch and you might create something you really love!
15. Make recipes that don't require vanilla.
This isn't easy, since vanilla seems to be in EVERYTHING, but be mindful as you try recipes and aim for ones that use very little, if any, vanilla extract.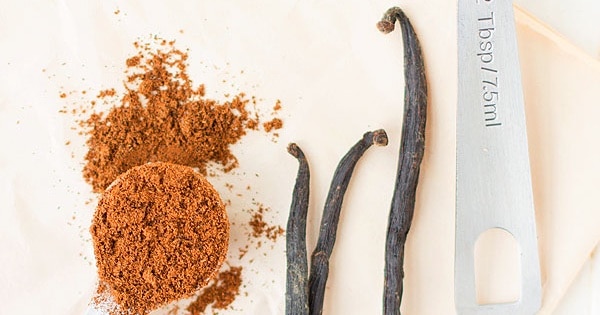 What NOT to use as a Vanilla Extract Substitute
Don't start omitting vanilla.
Vanilla is to baked goods as coffee is to chocolate – it brings out the best in the other flavors. If you omit entirely, your end result might not turn out too tasty and you'll waste more money than you would if you just had used the vanilla in the first place. Use one of the many substitution ideas above.
Don't buy imitation vanilla.
The main ingredient for imitation vanilla is "vanillin," which is a cheap vanilla-like flavor derived from a petrochemical process. If you're not sure what that is, I explain the dangers of petroleum in this post.
How do I save money on vanilla?
Using substitutions, waiting for the rock bottom price, and buying in bulk are three of the money saving techniques I teach in depth in my signature eCourse, Grocery Budget Bootcamp. These tried and true methods work as part of a system that has saved families hundreds of dollars on groceries!
Click here to learn more about Grocery Budget Bootcamp!
Have you ever run out of vanilla at the last minute? What did you use instead? How are you keeping your grocery budget in check when the cost of vanilla is so high? Leave your ideas and suggestions in the comments below!