Hey ALDI lovers, looking for a meal plan that lets you shop ONLY at your favorite store? Look no further – this one week $50 ALDI meal plan has you taken care of! Get recipes like Best Burgers Ever and Buffalo Chicken Potatoes!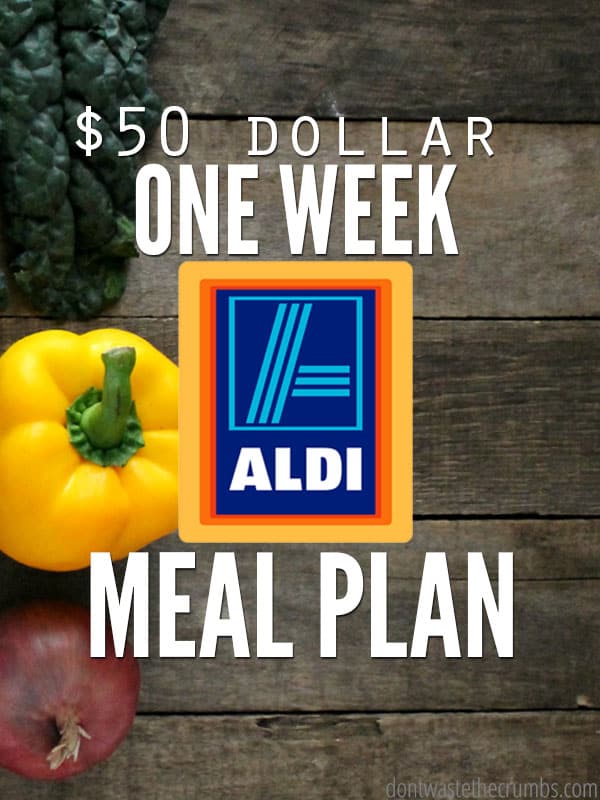 Ever since we moved to Georgia, shopping at ALDI has done wonders for my grocery budget.
It's no secret that I shop around for good deals, and I love that you can get almost every pantry staple there at a solid low price (with some items being cheaper than Costco!).
Psst! If you think shopping for deals means spending all day driving all over town, you're wrong! Let me teach you how to shop quickly, and still get everything you need. Enrollment for my course Grocery Budget Bootcamp opens just 3 times each year, and graduates save anywhere from $200 – $300 in the first month alone! Join the wait list to be notified when the doors are open again!
It's also no secret that I'm a big advocate of meal planning. But would you believe that I've never specifically made an ALDI meal plan for ALDI recipes?
Granted, I have TONS of meal plans on the blog. And when I say "tons," I literally mean FIVE YEARS worth of meal plans.
And while I encourage you to do things like make a meal plan (obviously), shop in bulk, consider NOT using coupons and use tricks to save on meat at the store, sometimes it's not HOW you shop, but WHERE you shop that makes the biggest difference. Actually, not shopping at the right store is one of the reasons you might NOT be saving money on food!
Case in point – check out my side by side comparisons of ALDI vs. Costco, and ALDI vs. Walmart!
Plus you can step up your game by using this Ultimate Guide to Shopping at ALDI.
Knowing how to shop strategically to slash your grocery budget comes with years of experience (or taking my course!).
But as you build your shopping experience, you can "hack" your strategy by creating a meal plan that lets you buy everything you need from one store. Not just any store though – a store that is known for their low prices… like ALDI.
I know meal planning is hard for a lot of people, so I went ahead and did the leg work for you!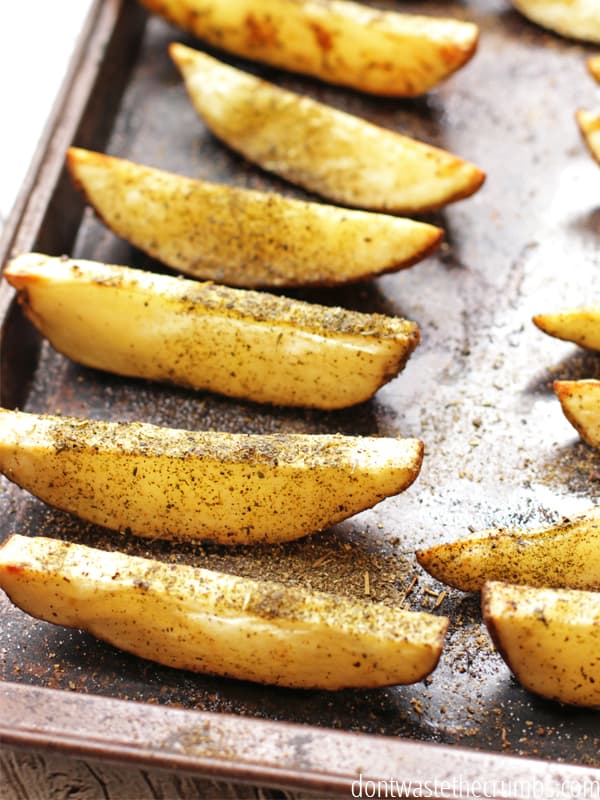 One Week ALDI Meal Plan
What's Included:
100% real food recipes that are simple, straight-forward and family-friendly.
Recipes that are quick to make, and all of them can be made in under an hour.
A few store-bought items for things I typically make from scratch (like hamburger buns and spaghetti sauce). Feel free to make these things from scratch if you prefer.
A plan that comes in under $50 for a family of four!
What's NOT Included:
Spices, oils and vinegar. None of these recipes call for enormous amounts of these things, and you probably already have these cooking staples.
Flour. Ordinarily I'd include this, especially if we were doing a lot of baking. But this week, we're skipping the baking and you only need a couple tablespoons for the meatballs. Most pantries have some sort of flour, but if you don't, I'd ask a neighbor!
Precautions for food allergies. My family is blessed to not have food allergies, so I don't plan for them in my meal plans. However, ALDI has a fantastic gluten-free line of foods, and if you're diary free you're used to subbing anyway. With a few tweaks, I think this ALDI meal plan would work in most food allergy families too.
No Breakfast or Lunches?
This meal plan doesn't include breakfast or lunches because in my experience, the majority of families have personal preferences on what they eat for breakfast and lunch.
Have no fear though – I have NO DOUBT the ingredients you buy for this meal plan will provide extras you can use to cover breakfasts and/or lunches. Here's why:
Every meal on this menu is something I make frequently with my family. Every single one of them covers dinner for the four of us AND enough for at least one leftover lunch (usually two).
Use the "Bonus Meal Ideas" section at the bottom to create your own breakfast and lunch menu. Those are just some ideas to get started, but they're there to help you use the ingredients you're already buying!
If you still don't think this is enough food to cover breakfast AND lunches, buy a bag of apples and a container of oatmeal. Make apple cinnamon oatmeal for breakfast and you'll keep your bill under $53. 🙂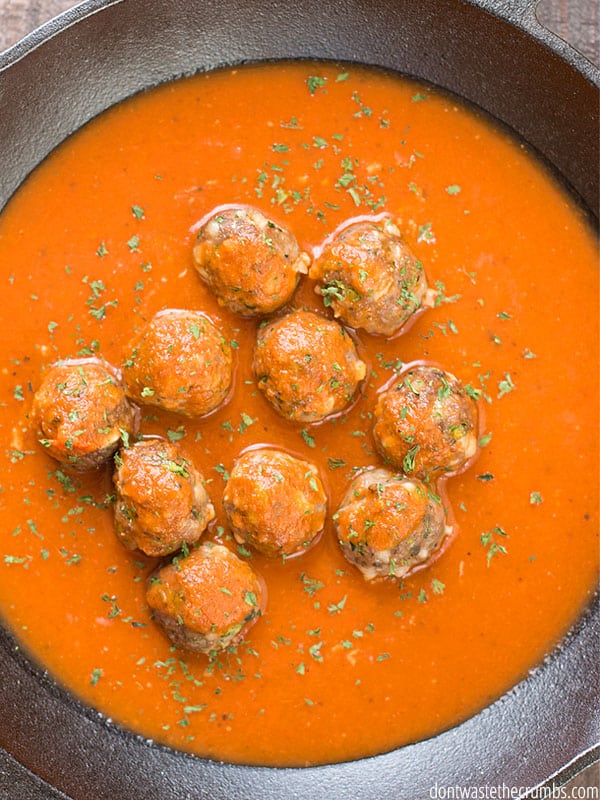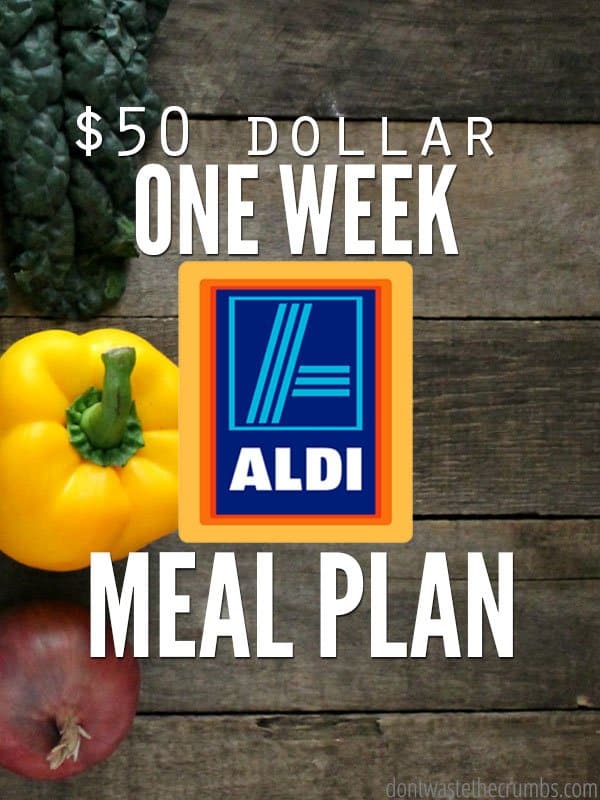 $50 ALDI Meal Plan
Sign up to get instant access to my
$50 ALDI Meal Plan
, complete with recipes and shopping list!
One Week ALDI Meal Plan: What to Buy
The goal with any meal plan is to buy as little food as possible, use everything you buy, and to do both without sacrificing taste or quality.
Here's what you're buying for this Aldi meal plan:
Meat
Ground Beef 80/20, $2.99/lb: You'll need two pounds of this to cover hamburgers and meatballs. My recipe for meatballs makes A LOT of meatballs, and we always have leftovers. Save them for a lunch, or freeze them for a future dinner.
Bacon, $3.79/lb: One pound of bacon is getting split between the Baked Potato Nachos and BLT's. Be sure to save the bacon grease for cooking – it's great for adding bacon flavor to just about anything!
Chicken Leg Quarters, $0.89/lb: You need about 1 1/4 pounds of chicken leg quarters to equal 4 cups of shredded chicken. You'll use this chicken in the Southwestern Chicken Chopped Salad and Chicken Fried Rice. Depending on your package, you might have extra chicken for lunches, or to freeze for a future dinner!
Meat Total: $10.88
Cold Case
Cheddar Cheese, $1.79/8 oz: You need 12 ounces for this meal plan, so you'll end up with an extra 4 ounces of cheddar cheese by the end of the week. Personally, I'd shred it and freeze it in 2 ounce portions – that's the perfect amount to use in a taco bar!
Eggs, 56¢/doz: This meal plan only calls for using 2 eggs, so you'll have several leftover. Save them for the following week, use them in breakfast, use the "Bonus Meal Ideas" below to put them to good use!
Sour Cream, 99¢/16 oz: Sour cream is a topping for Tortilla Soup and Baked Potato Nachos, but you can also add it to your Southwestern Chicken Chopped Salad too. If you serve spaghetti and meatballs at the end of the week, add leftover sour cream to the sauce for a fun twist on pasta night!
Frozen Veggies, $1.19/16 oz: You one bag of mixed vegetables for Chicken Fried Rice, and one bag of corn for Southwestern Chicken Chopped Salad and Tortilla Soup. You could use fresh for the fried rice, but this is a short-cut to help you save time without sacrificing quality!
Cold Case Total: $7.51
Pantry
Black Beans, 59¢/15 oz: You need one can of black beans for this week, which will get split between Tortilla Soup and Southwestern Chopped Salad. Be sure to drain it well and rinse it twice to avoid gas!
Garbanzo Beans, 59¢/15 oz: Just like the black beans, you need one can to split for two meals this week.
Note: If you decide to make beans from scratch, you can shave off a few cents per "can." See the math when I compared dry vs canned beans! Plus it's SUPER easy to make beans in the Instant Pot, portion them out, and stick in the freezer for future meals.
Chicken Stock, $1.89/32 oz: I normally make chicken stock using leftover chicken bones, but since not everyone does it, I put this on the shopping list. You need the entire quart for Tortilla Soup. If you prefer your soup to have more liquid, add some water without sacrificing the flavor.
Ranch Dressing, $.89/16 oz: This is something else I personally typically make from scratch (here's the recipe), but this might not be the case for everyone. We're having salad 4 nights this week AND we're using the dressing for dipping one night. If you have family members who are liberal with dressing, make sure they don't go overboard too early in the week!
Rice, $1.29/3 lbs: You only need 2 cups of cooked rice for one meal this week, so you're definitely going to have leftovers with this purchase. That's fine though, because rice stores well AND is a perfect side dish to almost any meal!
Soy Sauce, $1.49/10 oz: Soy sauce is a staple in Chicken Fried Rice, and while you won't use the entire jar, fried rice isn't the same without it! Lucky for us, soy sauce won't go bad sitting on the pantry shelf.
Spaghetti Pasta, $1.45/2 lbs: You really only need 8 ounces for the Spaghetti and Meatballs this week, but you could bump it up to a full pound and still have enough spaghetti leftover for another meal!
Spaghetti Sauce, $.99/24 oz: I normally make my own spaghetti sauce. Whether I go all out for hearty spaghetti sauce, or keep it minimal with a 15 minute sauce, it's just something I prefer to make myself. In case you don't, it's something to buy on this week's trip for Spaghetti and Meatballs. Fortunately, it's very affordable!
Sunflower Seeds, $1.99/10.5 oz: Sunflower seeds might not seem that important, but I really like the crunch they add to salads. And since we're having several salads this week, I don't think this isn't something to skip!
Canned Diced Tomatoes, 45¢/15 oz: We need one can of diced tomatoes for Tortilla Soup. If you find a variety that's spicy, pick it up for a fun twist on this delicious recipe!
Pantry Total: $11.62
Produce
Avocado, $1.59/ea: This isn't cheap for one avocado, but I'm including it because it's a healthy fat for us.It also helps to make Southwestern Chicken Chopped Salad feel more like a "meal," than just a salad.
Carrots, $.99/lb: You need carrots throughout the meal plan this week, including the Spinach Salad, Green Salads and Tortilla Soup. Time your meals right and you won't have any leftover!
Cucumber, 49¢/ea: We're splurging on a cucumber to help bulk up the green salads this week. While this is a great deal right now, I'd pay up to a $1 for one cucumber if necessary.
Garlic, 5 cloves: 79¢/6 oz: Not every ALDI has fresh garlic, so I went with the jarred minced garlic this time around. You'll use it in the Tortilla Soup and Chicken Fried Rice. Feel free to use extra if you like a lot of garlic!
Grape Tomatoes, $1.79/pint: These are the highlights of the salads this week, and cutting the tomatoes in half stretches them out a bit further than if you used them whole.
Green Onions, $.79/bunch: The green part of the onion is great in Tortilla Soup and Baked Potato Nachos, but don't let the white part go to waste! I suggest adding to either the hamburgers personally.
Iceberg Lettuce, $1.19/head: Any variety of lettuce will work in the meal plan, but I chose iceberg because it was on sale this week. If you find another variety, or a pre-packaged mix that gives you just as much and costs less, feel free to go that route instead!
Onions, $1.79/2 lbs: You only need one onion this week for Tortilla Soup and the Green Salads, but you can also slice one up for Hamburgers and BLTs too.
Potatoes, $1.99/5 lbs: Russet potatoes are inexpensive year round, so we're using them in Baked Potato Nachos and as a side dish to the Hamburgers. If you have extras, feel free to make Potato Wedges with the BLT's too!
Spinach, $2.49/5 oz: Spinach is not cheap, but it's very nutritious and a nice alternative to a typical Green Salad. My ALDI only had pre-packaged organic spinach, so your cost might be less depending on what your store offers.
Tomato, $1.49/16 oz: You need one tomato in this meal plan, for Baked Potato Nachos and for BLT's. My ALDI doesn't sell large slicing tomatoes individually, so you might have extras. Use the Bonus Meal Ideas section below for ways to use them up!
Produce Total: $16.58
Total for One Week ALDI Meal Plan: $46.59
Not too shabby, eh? We're coming in UNDER budget, so if you needed any spices or oils, you've got the wiggle room.
Also remember that you will have a few extras leftover of certain things you buy, so use the Bonus Meal Ideas to use them up so they don't go bad!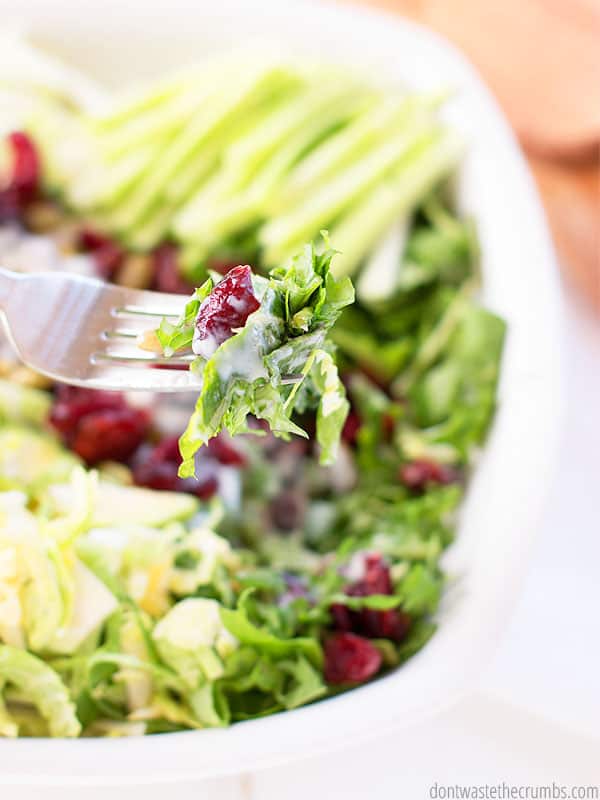 One Week ALDI Meal Plan: Dinners
Hamburgers, Potato Wedges, Green Salad
Spaghetti & Meatballs, Green Salad
Southwestern Chicken Chopped Salad
Tortilla Soup
Chicken Fried Rice
Baked Potato Nachos, Spinach Salad
BLT's, Veggie Sticks & Ranch Dip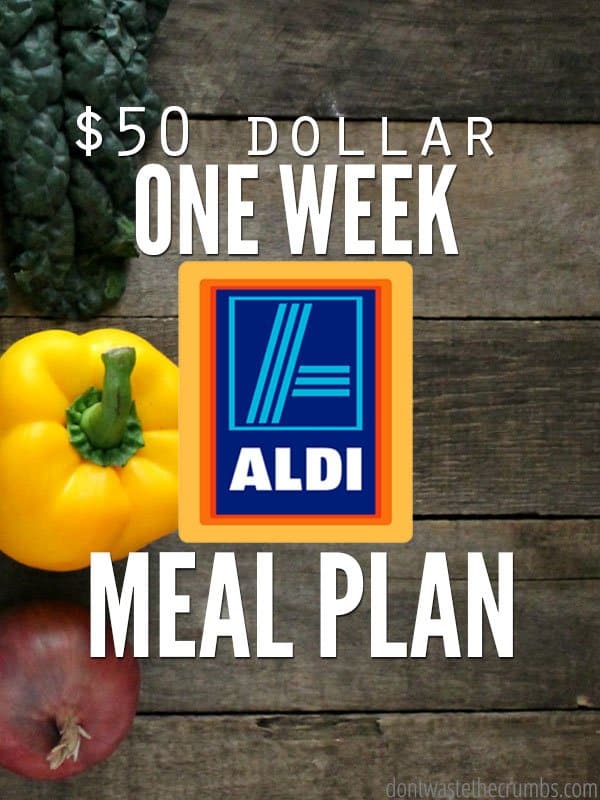 $50 ALDI Meal Plan
Sign up to get instant access to my
$50 ALDI Meal Plan
, complete with recipes and shopping list!
Bonus Meal Ideas:
As you can see from the items above, you'll have a few leftover ingredients from your shopping trip. Here are some bonus meal ideas to use it all up, so nothing goes to waste!
And if you want more, check out our NEW Aldi Meal Plan #2 here!
Do you have any inexpensive meal ideas you can shop for at ALDI? Or ideas for using up the leftover ingredients? Share your ideas in the comments below!