Learn how to create a meal plan and make it work for your family, even around your busy schedule. Meal plan for a week or a month to eat real food and stay on budget! If you'd like all of the learning tools to save big money on real food meal planning, check out my Grocery Budget Bootcamp.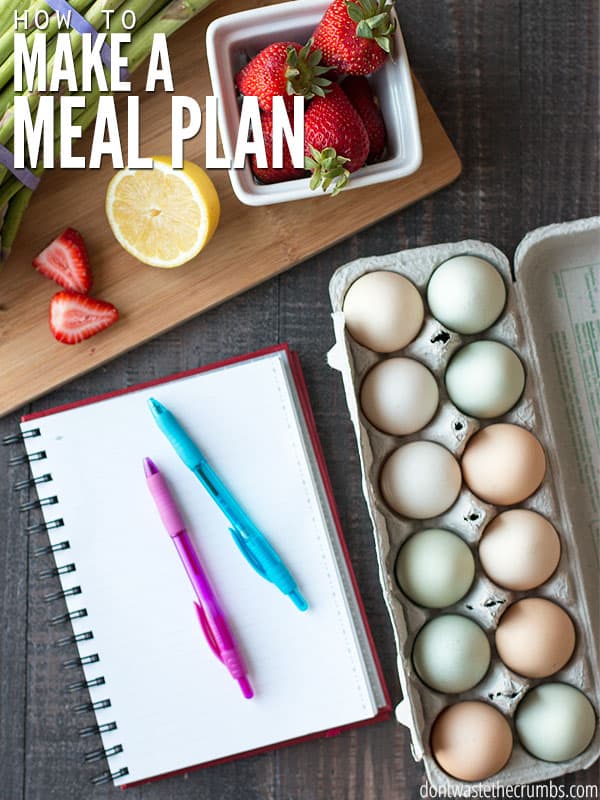 Making a meal plan is the BEST way to keep your family eating real food on a real budget. After a lot of trial and error, I've learned my favorite method of meal planning and it saves me time and money!
Whether you plan meals for an entire month or plan one week at a time, this step-by-step method breaks it down into a simple task.
How to Meal Plan
1. Start Your Meal Plan by Creating Consistencies
Pull out your meal plan calendar and with a pencil, write down any dinners that are the same each and every week.
For example, we LOVE to make our own pizza, so we do that every Friday night.
It relieves stress to plan for one less day each week and saves money because we can buy ingredients in bulk. Plus as a family, we all look forward to that night every week!
2. Plan Your Menu Around Weekly Activities
Dinner often gets tossed aside as a second thought or no thought at all when we have a bunch of things on the calendar. The question is, if we know we have these commitments, then why can't we plan dinner around them? I want you to:
Write down your consistent obligations on your meal plan calendar and alongside it write in "Leftover Night" or "Quick and Easy".

Also,

make a list of your favorite quick and easy meals to make it easy to meal plan for busy nights...
Then, let's say

you have baseball on Tuesdays and Thursdays,

just rotate six different quick and easy family favorites on the first night and save

leftovers

for the next night. (My

slow cooker

is my best friend for these kinds of nights!)
Look, your calendar is already filling up!
3. What Are Your Eating Goals?
Are you working on feeding your family more real foods? Make your healthy eating goals a reality by including them on your meal plan calendar.
4. Filling in the Blanks of your Meal Plan with Categories
You may feel a little overwhelmed at this point, thinking you're going to have to come up with a ton of recipes for the days that are left.
But we're not going to do that. Instead, we're going to pick a few broad categories of meals we like to eat. For example:
sandwiches
pasta
baked dish
grill
potatoes
ethnic
"new dish"
slow-cooker
comfort food
You should choose categories that best fit your current season of life. If it's cold outside, you might want more comfort foods or baked casseroles.
If it's summer, you might be grilling more often and eating cold meals like sandwiches and salads.
FAQs for How to Plan Meals
What are 5 tips for meal planning for one?
Pick out recipes that serve one or two people. Make sure to portion out your meat and make sure to put your leftovers in the freezer. Roast a bunch of vegetables at once and cook things that you wouldn't mind eating for lunch the next day. For more info read, u003ca href=u0022https://dontwastethecrumbs.com/13-tips-for-cooking-real-food-for-one-person/u0022u003e13 Tips for Cooking Real Food for One Personu003c/au003e.
What are the 3 key steps for effective meal planning?
1. Figure out your strategy.u003cbr/u003e2. Take time while making your shopping list.u003cbr/u003e3. Make time to cook.u003cbr/u003e4. Invest in some glass containers for storing your food.
More Ways on How to Menu Plan
5. Choosing Meals Based on What You Have
Go through the freezer, refrigerator, and pantry and notice what you have.
Do you have lots of ground beef?

Perhaps some

burgers

or

Italian meatballs

should be on your menu.

Have a lot of rice, but no pasta?

Aim for Asian dishes since they're more likely to be served with rice.

With the ingredients you already have in your house

, write down recipe ideas next to each category from the last step.
Again, the meals you choose don't have to be extravagant recipes – we're basically brainstorming for the "grand master recipe list" that you can go to when you meal plan again!
As you thumb through magazines, browse websites and Pinterest, and talk to friends, make notes of any recipes you want to try and add the winners to your master recipe list!
Here's a short list of dinner meal ideas to help you get started:
sandwiches

:

burgers

, chicken club,

grilled cheese

baked dish

: breaded chicken, "fried" pork chops

grill

: whole chicken, tri-tip (both make excellent leftovers for tacos or fajitas!)

soup/salad: minestrone

,

Caesar

, chicken noodle,

strawberry spinach

potatoes

: twice-baked,

shepherd's pie

ethnic

:

vegetable fried rice

, stir fry, tacos,

lasagna

"new dish"

: whatever I find in a magazine, blog, or Pinterest

casserole

: chicken/broccoli/rice, sausage/potato/egg

slow-cooker

: beef roast,

pork shoulder

,

whole chicken
6. Meal Planning for Breakfast and Lunches
So far in our menu planner, we've focused primarily on dinners, but we can't neglect planning for breakfast and lunch!
Just as you did for dinner, use the first four steps and work through breakfast and lunch.
Your meal plan for breakfast and lunch can include some favorites, but you may not always need a detailed list for these meals…
Sometimes it is easier to have some grab-and-go options available to create a snack lunch instead of having a very specific meal planned out.
However, if you choose to finish up this part of your meal plan is up to you!
Here's a Short List of Breakfast and Lunch Menu Ideas:
Muffins are a family favorite

in my house for breakfast and I prefer to make a big batch to last us throughout the week.

Oatmeal is another option

that I like to keep on hand.

Homemade Granola and fresh fruit

are great to keep meal planning simple.
Freezing baked goods like muffins, pancakes, and breakfast breads saves you lots of time when you have days when you need to leave the house early.
If you're packing school lunches or sending lunch to work with your spouse, plan options that work with their schedule.
7. Meal Planning Your Way
Remember that meal planning is about getting organized and saving money – according to what YOU eat. It's not about conforming to what someone else does or trying to impress with cooking skills.
If you don't enjoy making your own pasta sauce

, then buy your favorite. Plan one-pot meals or casseroles if you like to eat them.

Even if you're a classic peanut butter and jelly sandwich type

of home – keep it up!
My point is that your dinners don't have to have the perfect blend of meat, starch, veggie, and salad. My plan reflects the nutrition goals and food preferences of my family.
We don't eat out much, and definitely not fast food, (for a variety of reasons, not just nutrition). I enjoy cooking and baking and I'm fortunate enough to have a family who is very forgiving when recipes don't work out as planned (which does happen!).
8. The Shopping List
I prefer to make a big bulk shopping trip at the beginning of the month, and then make little trips throughout the month for fresh items like produce and dairy as needed. Incorporating in-season produce into your meal plans and following these other tips to save on produce can cut down on expenses and help maximize your purchases.
Whether you like to shop at the start of the month or shop every week, here's my basic method for creating a shopping list:
Keep a piece of paper on the fridge

. As an item runs low or out, write it on the list.

As I add specific meals to the meal plan

, add the ingredients to the list needed to complete the recipes.

Review the list and see if I can substitute for something

I already have. Like making

homemade coconut milk

instead of buying it.

When I'm ready to shop, I write down what grocery store I plan to go grocery shopping at. (C for Costco, A for ALDI, and W for Walmart, etc.)
How Do I Make a Meal Plan That Works?
This is the method I used when I first started meal planning, but I totally get that meal planning is not everyone's strong suit. If you'd rather have a plan ready to go for you instead of creating one yourself, I recommend checking into my quarterly meal plans: Frugal Real Food Meal Plans. This is a great idea because:
If you want to dive into more than just menu planning, a good idea is my Grocery Budget Bootcamp. It will give you all the tools you need to save big money on real food eating. Meal planning is just one component of making your grocery budget work. Many people have already saved hundreds of dollars just by going through Grocery Budget Bootcamp!
More Helpful Tips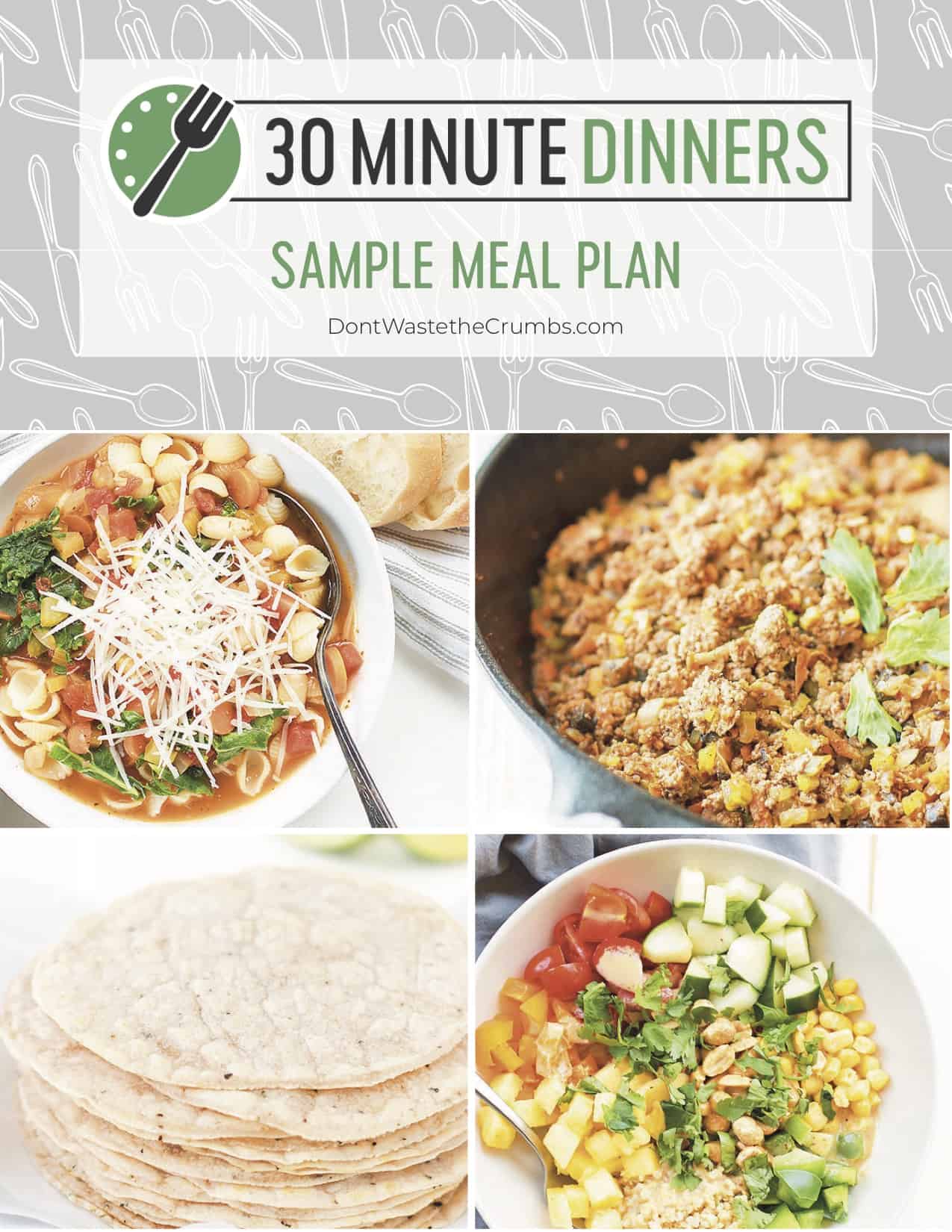 30 Minute Dinners Sample Meal Plan
Sign up to get instant access to my
30 Minute Dinners Sample Meal Plan
, complete with recipes and step-by-step instructions!