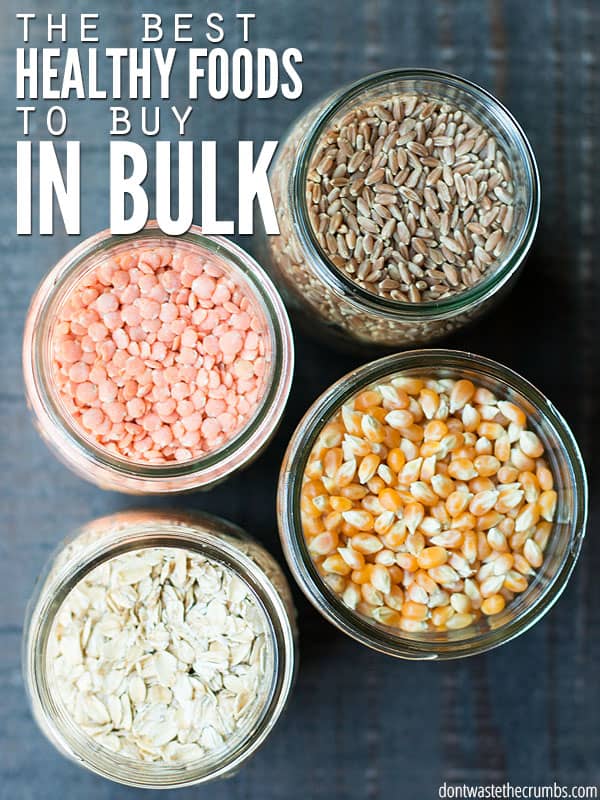 Buying in bulk is one of the fail-proof grocery tips that works time and time again.
The biggest counter to the buying in bulk theory though is not being able to use it all up before it goes bad.
So then I started to wonder, what are the best healthy foods to buy in bulk? What can I buy in bulk to save money, but can sit on the shelf and still be good a year later?
As it turns out, there are quite a few. Some of these ideas require a freezer, but the majority of them will last just fine stored unopened in a pantry or basement.
The next time you build your shopping list, consider buying some of these items in bulk. Knowing that they won't go bad, the only question remains is do you have enough space to store them?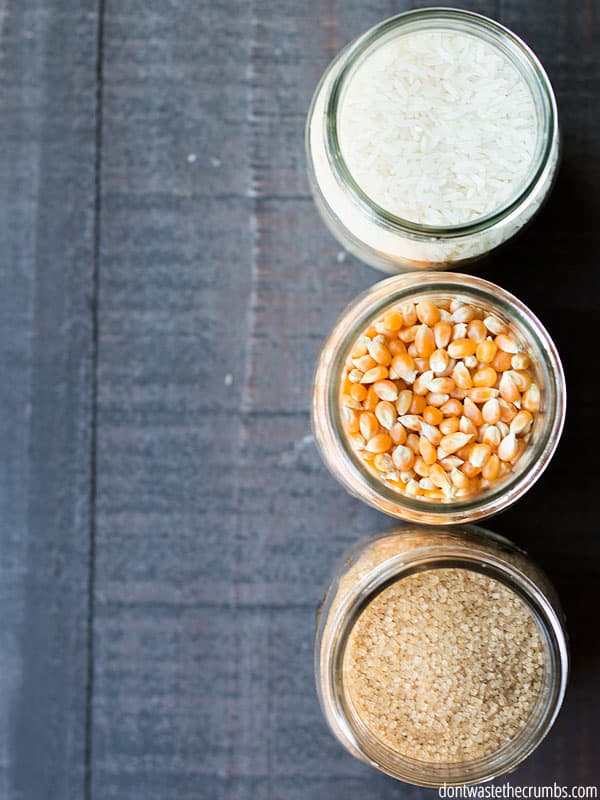 A few quick tips for long(er) term food storage:
Always use airtight containers.
Think lids with seals, not chip clips or rubber bands or paperclips. Keeping moisture and air out is vital to keeping your food fresh while in storage.
What type of containers should you use?
Glass is always best, since chemicals won't leak into your food, and it's your most frugal option if you already have it on hand.
Small Storage
Mason jars or reclaimed glass jars (that once held spaghetti sauce or peanut butter) are perfect for storing smaller amounts of food. Even if you have to use several jars for the same item, they are still your most frugal option.
Medium Storage
However, if you use one particular item fairly often in the kitchen, want to have plenty on hand and don't have space for tons of jars, you can invest in a few half-gallon glass jars. In my kitchen, this would be sugar.
I use 2 cups each week for kombucha and I can forsee the mess I'd made by trying to fill up several glass jars each month. Plus I don't really want lots of little glass jars of sugar in the pantry. I'd rather fill it up once a month and call it done.
For items you REALLY use a lot of, like whole grains if you mill flour on a weekly basis, a gallon glass jar would be a worthwhile investment. A good example of this for my family would be oats.
Oats are a staple in our home, used weekly in both granola bars and in breakfast oatmeal. Even if I used a half-gallon jar, I'd have to refill it every two weeks.
I'm more of a once-a-month gal, and my husband would be more inclined to tote full jars back up the stairs if I only asked him to do it every 4 weeks or so.
Large Storage
When you buy larger quantities of food, like 10+ pounds, you'll want to invest in food-grade storage containers. These 5 gallon buckets and lids are BPA free and have a really tight seal. So much so, a lid opener is recommended.
Just to give you an idea, a 5 gallon buck will hold about 37 pounds of whole wheat.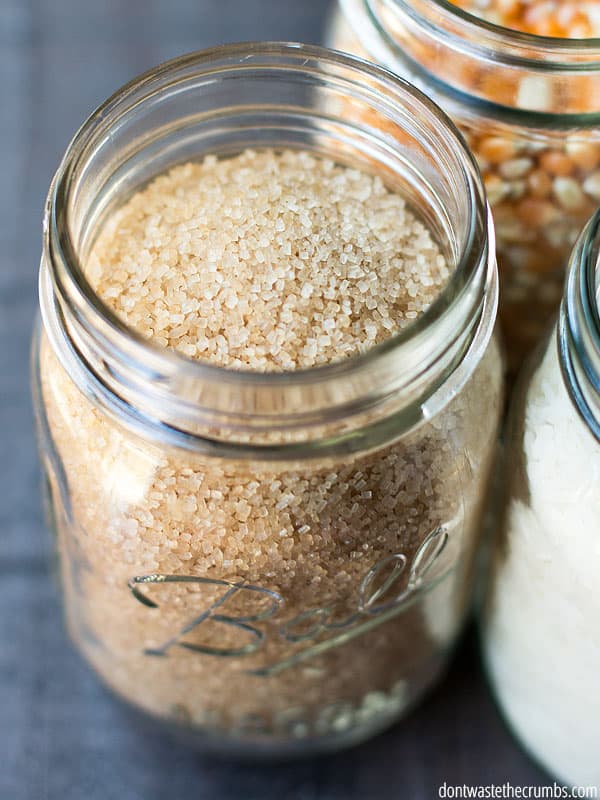 Save Money on Storage Containers
The cost of containers themselves can add up, so one way you can trim that is by purchasing food already in a suitable storage container.
For glass jars, half-gallon and gallon jars of pickles are available at Walmart and you re-use that jar. To get the pickle taste out of the jar, fill it with a couple of drops of dish soap and hot water. Tighten the lid and turn it upside down. Let it sit on the counter for 2-3 days and wash out.
For 5+ gallon buckets, make an initial bulk purchase that includes the storage container and simply refill from there. If the price is better WITH the storage container, continue to buy that one and re-purpose the old bucket for items that don't ordinarily come with storage-friendly packaging.
Make it functional.
If it's not a given, I wouldn't store a bunch of 5 gallon buckets in the pantry. Instead, keep them in the basement or garage (if it's cool) or even in a closet. Keep a smaller container in the pantry for daily use and refill it once a month or as needed. Just be sure to close the lids on the large containers very well when you're done refilling the smaller containers.
Write instructions on the jars.
If you don't have the basic preparation recipe memorized, write it on the glass jar before you throw the package away. You can use cute chalkboard labels, super basic white mailing labels or a permanent marker.
Permanent markers will work for quite some time, and use this method for removing the label from a glass jar if needed.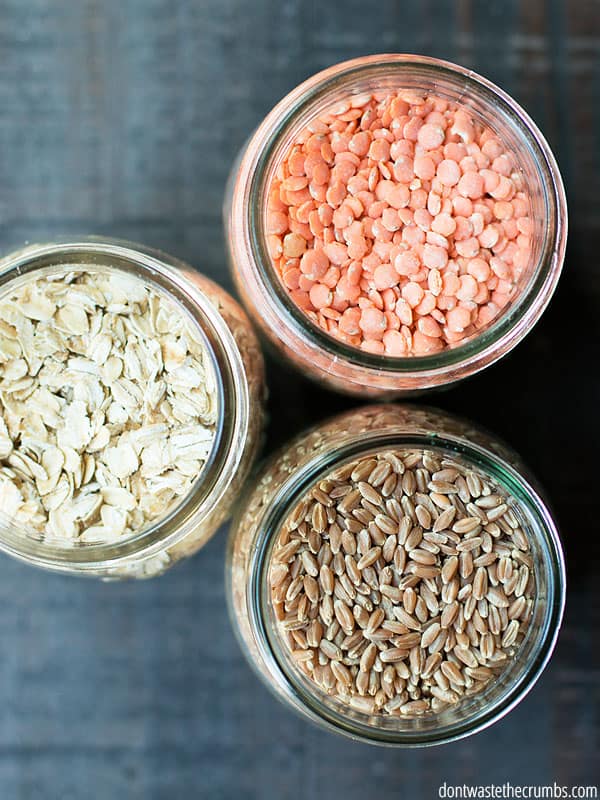 With all that said, which are the best healthy foods to buy in bulk? Let's find out!
The Best Healthy Foods to Buy in Bulk
Whole Grains. Think wheat, spelt, einkorn, etc. You'll need a grain mill, but you'll be amazed at how delicious freshly milled flour is!
Rice (brown or white)
Beans & Lentils
Pasta
Oats (all varieties)
Popcorn
Meat. Store meat in sealed dinner-sized portions in the freezer, rather than in glass jars.
Maple Syrup. Maple syrup will keep indefinitely if left unopened, so aim to buy a case of smaller glass jars, rather than one big jar.
Honey. Unopened, honey will keep indefinitely. Once opened, it's expected shelf life is about two years so long as it is kept in a sealed container.
Coconut Oil
Butter. Store butter in the freezer.
Canned Fish. Similar to maple syrup, it would be easier and more practical to buy a case of smaller cans that one large can.
Canned tomatoes
Vinegar
Whole Peppercorns
Ketchup
Mustard
Frozen Vegetables. Like meat, store sealed in dinner-sized portions in the freezer.
Dried Fruits
Nuts in a Shell. Don't forget the nutcracker if you don't have one!
Sugar
Salt
Do you need some help TODAY with your grocery budget? I created a resource to help you start saving money on groceries NOW. See if My Grocery Budget Toolkit is right for you! -> CLICK HERE
Do you buy in bulk? What items would you add to this list? Do you have any tricks of the trade to share?