These grocery saving tips are timeless & absolutely fail-proof. Plus they work no matter where you live or how many people are in your family. To learn more about saving on your grocery budget, join the waitlist for my foundational course Grocery Budget Bootcamp!
I've been sharing how we save money on food for several years now on this blog, but all of these ideas were put to the test when my family moved across the country.
I was in a new state with new stores and my $330/month grocery budget was out of control.
That's when I decided to buckle down and focus on implementing the grocery saving tips I knew worked! After just one month of using these tips, my grocery budget was back in line.
The three grocery saving tips I focused on are a lot like these ways to reduce grocery spending. They're timeless ideas, and work regardless of where you live, how many people are in your family or how big your grocery budget is.
It's funny how sometimes the most basic ideas are the ones that work the best!
Fail-proof Grocery Saving Tips that Work Every Time
1. Make a Meal Plan
Ah yes, the dreaded meal plan. For people who hate to plan or think ahead or be told what to do, "meal plan" is a curse word.
But let me share this: whether you like it or not, meal planning is one of the grocery saving tips that work.
When people confess why their budget went out of whack, they usually offer things like:
we had plans after school/work and it's faster to get drive through.
it was a long day/night and I didn't want to cook when I got home.
it's overwhelming to look at the fridge and not know what to make with the food I have.
my family doesn't like what I cook so we end up getting take out.
Friends, the beauty of making a meal plan (and always having grocery shopping lists) is that you can take all these things into account and plan for them!
Short on time? Be proactive and purposely plan to have an easy dinner that night. Things like pasta with pesto sauce, grilled sandwiches and salads are quick and easy.
Wiped by Wednesday? Plan for your exhaustion and make it leftover night! Pull everything out, set up a buffet and let the family serve themselves. If pickings are slim, make it a top-your-own-oatmeal bar or just serve peanut butter and jelly sandwiches with fruit. Take a break from fancy and recharge for the rest of the week.
Freaked out by the fridge? Don't look at the fridge – look at your meal plan. Focus on what you planned for the day and one item at a time, pull out what you need. Don't worry about everything else and just cook dinner.
Picky eaters? Ask them what they like for dinner and plan some of those meals. Let the kids help in the kitchen and serve the men meat and potatoes now and then. A little bit of giving on your end means a happier family on the night they didn't get to pick what was for dinner.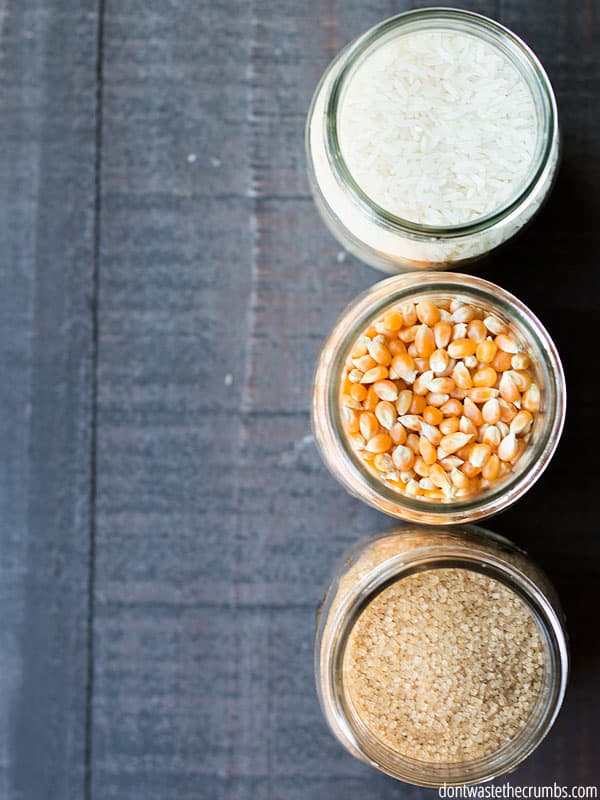 2. Shop in Bulk
There are rumors that the classic grocery shopping tip of buying in bulk doesn't save you money. Also that shopping at discount stores like ALDI and buying just what you need versus buying in bulk at stores like Costco or Sam's saves money in the long run.
Folks, this is simply not true!
Just a couple of months ago I ran a test to see who was cheaper, Costco or ALDI for the items I buy most often. Hands down, Costco had more items for less than ALDI!
Now you might not have a Costco in your area, or think that the cost of a Costco membership isn't a great deal, or worth it (although it is, by the way). Maybe shopping at BJ's or Sam's Club or even shopping online at Amazon would be better for you.
Above all, the point remains the same: you save money when you buy in bulk.
Those who disagree will say that buying in bulk means spending more money by buying things you don't need – and then subsequently wasting food. However, this is when you have to use discretion and only buy things in bulk that YOUR family will use most.
The point is to determine what you DO eat a lot of first.
The next step is to start paying attention to where you can buy it at a rock bottom price.
Lastly, at the start of the month, buy as much as you need for the whole month at that incredibly low rock bottom price and don't buy it again for the rest of the month.
These classic grocery saving tips get you the best deal up front and eliminate the need to shop for the item later in the month (and usually shopping less means saving more).
3. Shop the Weekly Circular
Stores base their weekly sales on three things:
Produce that is in season (like watermelon, corn or squash)
Events going on around the country (like ham before Easter or turkey before Thanksgiving)
Their own 6-week sale cycle (for things like chicken breasts, pork roasts or peanut butter)
Items that fall in the first two categories won't change much between local grocery stores. As a result, Whether you shop at Kroger or Albertsons, it's still summer (or autumn/winter/spring) and it's still the start of the school year (or it's Labor Day/Christmas/St. Patrick's Day).
The only difference you'll find from store to store are the specific varieties of the items (like yellow squash versus zucchini) and the sale price.
As for items that fall into the third category, you can usually switch up your meal plan based on what's available. For instance, if you planned for chicken fajitas but pork is on sale, how about making carnitas instead?
Side dishes and vegetables can easily be tailored to what's on sale too, and by doing this faithfully each week, you could be saving a lot of money every month!
$50 Weekly Meal Plan
Sign up to get instant access to my
$50 Weekly Meal Plan
, complete with recipes and shopping list!
I've been implementing these three grocery saving tips faithfully since moving to Georgia as a result they have helped me meet my grocery budget every month. See for yourself! I share what we spend on food every month and you can go back through all the grocery accountability posts I've published.
Do you have any fail-proof grocery saving tips that always work for you? Share it in the comments below!