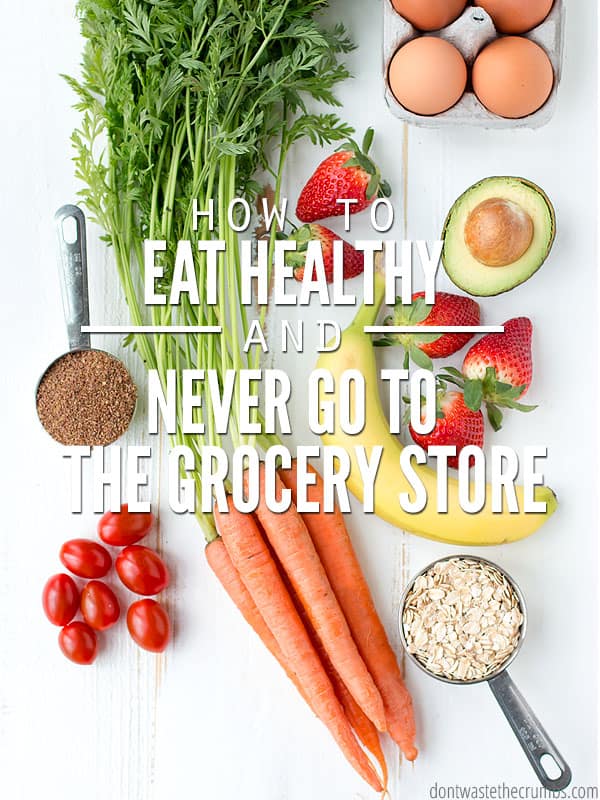 There is no doubt in my mind that you are busy. I'm busy too, and it's why I go through the time of doing cost comparisons, like ALDI vs. Costco.
I want to make sure I'm getting the best bang for my buck every time I shop, without driving all over town to do it.
But with the invention of the internet and online grocery shopping, now you can go grocery shopping without ever setting foot in a store. But does it sound too good to be true?
It's easy to hop online and start ordering everything on your shopping list. But, online grocery shopping is NOT a good fit for everyone, nor for everything.
Before you jump in, ask yourself these four questions:
4 Questions to Consider before Considering Online Grocery Shopping
What is your budget?
Online grocery shopping needs to fit into your grocery budget (here's how to make a grocery budget, if you don't already have one. And here's how much you spend on food.). Just like your local stores, online retailers are in competition to give you the best prices and services they can offer.
Look at several online stores to see which one has the best prices and will fit your budget. Take into consideration if they have a membership fee, shipping costs, home delivery or group drop off.
What are your priorities in regards to quality?
Amazon is my go-to for online shopping. I can find a lot of my favorite products and foods for the best price without sacrificing quality.
But there are other companies, such as Grove Collaborative, that focus not only on quality products, but are also eco-friendly and sustainable.
Are you looking for non-GMO? Grass-fed and/or organic? Read about the companies you buy from to know whether or not you want to support them.
Do you want to buy fresh foods online?
There are services available where you can get fresh groceries shipped straight to your door.
If this is something you want to do, look into their delivery methods and the requirements for each order. Do you have to be at home? Can you leave a cooler out? Do you have to pick it up from a truck at a local church?
Make sure to compare these prices with your local prices too using a Price Book. You may be able to save more if you shop local.
How quickly do you need your items?
There will be a delay with online grocery shopping because it needs to be shipped. Yet some of the best prices out there are online.
You have to think of online shopping like bulk shopping at Costco. Order once a month or so to ensure you get free shipping (if available) and don't wait until the last minute to order. You don't want to run out of toilet paper!
Psst! I have a whole lesson in my course Grocery Budget Bootcamp dedicated to online grocery shopping. This post is a great place to start, but when you're ready to dive in deeper and REALLY learn how to get the most out of shopping online WITHOUT breaking the bank, sign up for my course!

Best Places for Online Grocery Shopping
Amazon
Amazon is the largest online marketplace with a wide variety of food items available. Although they are not specific to natural foods, you can find some amazing prices on quality food and products for the entire home.
There is no membership required unless you join Amazon Prime. Amazon Prime offers free 2-day shipping, streaming music and video and cloud storage. But for me, the 2-day shipping seals the deal AND you can try Amazon Prime for free for 30 days!
What to buy from Amazon?
I typically buy non-perishable food items and household goods from Amazon. I prefer to shop every other month or so, and I'll get things like rolled oats, cashews, ketchup, sponges, dishwasher soap and aluminum foil. When it comes to stocking my real food pantry, Amazon is my go-to store.
Grove Collaborative
UPDATE: I no longer use Grove Collective for multiple reasons, which I explain on this post here. If you're interested in joining Grove, I highly recommend reading my update first!
Grove Collaborative is an online marketplace for natural home products. They feature many brands that are committed to high standards and quality ingredients.
You can select products you love and get them in scheduled shipments, or try new products anytime. I love that you can have recurring shipments with them AND the fact that you can skip or stop shipments at any time. It's nice to have my shopping cart full of the things I already love, but to be able to skip shipments if we're having a tight month.
There is a minimum of $20 for all orders at Grove Collaborative. You get free shipping with your first order and it is only $2.99 after that. If you join the VIP membership for $39/year you get free shipping and free gifts throughout the year too.
I accidentally let my VIP membership expire, but I'm thinking of renewing it soon. The free shipping and free gifts made up for the cost, and it was fun to get to try new items that I ordinarily wouldn't try myself!
What to buy from Grove Collaborative?
I get all of my bathroom and kitchen cleaning supplies from Grove Collaborative. I get shipments about every two months and a typical order for me includes toilet bowl cleaner, tub and tile cleaner, hand soap (sometimes), surface scrub, and dish soap. I've fallen in love with the Mrs. Meyers line, so that's what I usually get. Although last month I ordered Method so I could compare side-by-side.
PeaPod
Peapod is one of the very first online grocery delivery services. They offer a wide variety of products including natural and organic options. The prices and products available are competitive to your local area.
They do not deliver to all locations but they are growing and they use their own delivery service. Use this promo code [ AFF20FD ] to get $20 off your first order of $75+ and 60 days of free delivery.
What to buy from PeaPod?
I haven't personally tried PeaPod because they don't deliver to my zip code, but if I pretend I live at my grandma's house, I can window shop.
Thrive Market
Thrive Market is a membership community that offers a large selection of organic and diet friendly options. You must enter your email in order to view the online shop, but your first order is 15% off and can be placed without joining the membership. In fact, Crumbs readers can get a jar of coconut oil for FREE! Get a free 15 oz jar of coconut oil AND a 30-day free trial to Thrive Market when you spend $29 or more. Click this link to take advantage of this amazing deal.
They offer free shipping for orders over $49, plus various sales and promotions throughout the year. They also offer $10 off when you invite 10 friends to join.
What to buy from Thrive Market?
I've ordered from Thrive Market on a few occasions, and they have really great prices on spices and certain snack-type items (made with real food though, not processed snacks). What I think they're best known for though, is their extensive selection of high-quality foods. I mean, I can't find certified gluten-free purple sticky rice anywhere locally!
Zaycon Fresh
UPDATE: As of June 25th, 2018, Zaycon has ceased operations.
Zaycon cuts out the middle man when it comes to buying meats. They offer a variety of fresh meat, like chicken breasts, ground beef and bacon, delivered to you straight from the farm. Heads up though, you can't place a small order with Zaycon. Everything is in bulk!
You place your order and pick up from a central pick up spot. There's no charge for shipping. When you sign up for their email list you will be alerted to promos and current availability in your area.
What to buy from Zaycon?
I haven't had the pleasure of ordering from Zaycon yet, but members of my course Grocery Budget Bootcamp rave about it. I've heard great things about everything, and one person is even solely buying their meat from Zayon because it's more affordable than even the best sales locally!
Definitely sign up to be notified of sales though. Their regular prices are good, but their sale prices are excellent!
Instacart
Instacart is a revolutionary way to get your groceries. You select your local grocery store(s) on the Instacart app (or the desktop version), shop the items you need, set a delivery time, and wait for your food to arrive!
Verified team members do the shopping and deliver to your door. Instacart offers free delivery on your first order. Then it is only $3.99 for orders with a two hour or more delivery time-frame. If you want your order in an hour, the fee is $5.99.
Instacart also has a membership option where you can pay a monthly or annual fee and have free delivery on orders $35 or more AND get it delivered in under an hour.
Unfortunately, this service isn't available in all locations, but it is definitely growing fast. Check on the website to find out if Instacart is in your area.
What to buy from Instacart?
Since Instacart shoppers go to your grocery store, you can do all of your typical grocery shopping through them. I will caution you to compare prices, because some items seemed higher than they would if you had gone directly to the store. I haven't personally tried this service yet, but I know people who have and really enjoyed the convenience.
Shipt
Shipt is a similar service to Instacart. You shop their online app, set your delivery time, and wait for your food to arrive.
The prices vary slightly from your local stores to cover the shopping and handling. Like Instacart, they have a free shipping offer for members on orders over $35. If you have a smaller order it costs up to $7 for delivery.
Since it's a growing company, you'll have to check Shipt online to see if they deliver in your area. They're not available everywhere, but they are growing!!
What to buy at Shipt?
Like Instacart, Shipt would be the alternative to doing your regular weekly grocery shopping. I also haven't tried this service, but have heard great things. This would be perfect for when you're sick (or taking care of sick kids) or are in the midst of a crazy schedule and just can't get to the store that week.
Drawbacks to Online Grocery Shopping
Online grocery shopping is super convenient, but I think there are three big drawbacks to it:
1. You can't compare prices.
This is one of the key lessons I teach in Grocery Budget Bootcamp because it's a grocery saving tip that works – always compare prices. But it's not that easy, or even feasible, when you're shopping online.
2. Your options are limited.
Walk into any store and chances are there's a store-brand of what you're looking for. This isn't the case when you're shopping online. You're limited to what the online store offers, which can be good if you don't like having many options.
But it can be bad if you're more focused on reading labels than you are with brand names.
3. You have to know EXACTLY what you want.
One perk to physical grocery shopping is browsing the aisles and seeing what's new. You CAN do this with online grocery shopping, but it's significantly harder.
4. There is no clearance section.
I've saved HUNDREDS of dollars over the years just by shopping the clearance section in my local grocery stores. But these sections don't exist with online grocery shopping.
5. You can't necessarily read the labels.
If you're on a budget – like me – and prefer to read labels rather than be loyal to brands, then turning a package over to read the ingredients isn't always possible. Some sites have the ingredients listed, but some don't.
And as you may know, just because it's labeled a healthy term (like natural or even organic), doesn't mean it fits with what you want for your family.
Have you tried online grocery shopping yet? If so, where do you shop and what do you typically buy from there? Share your thoughts in the comments!