What should you buy at Grove Collaborative? I'm sharing my honest review, the best deals, things to skip and whether VIP is worth it! Read on before you buy!
Everything You Need to Know About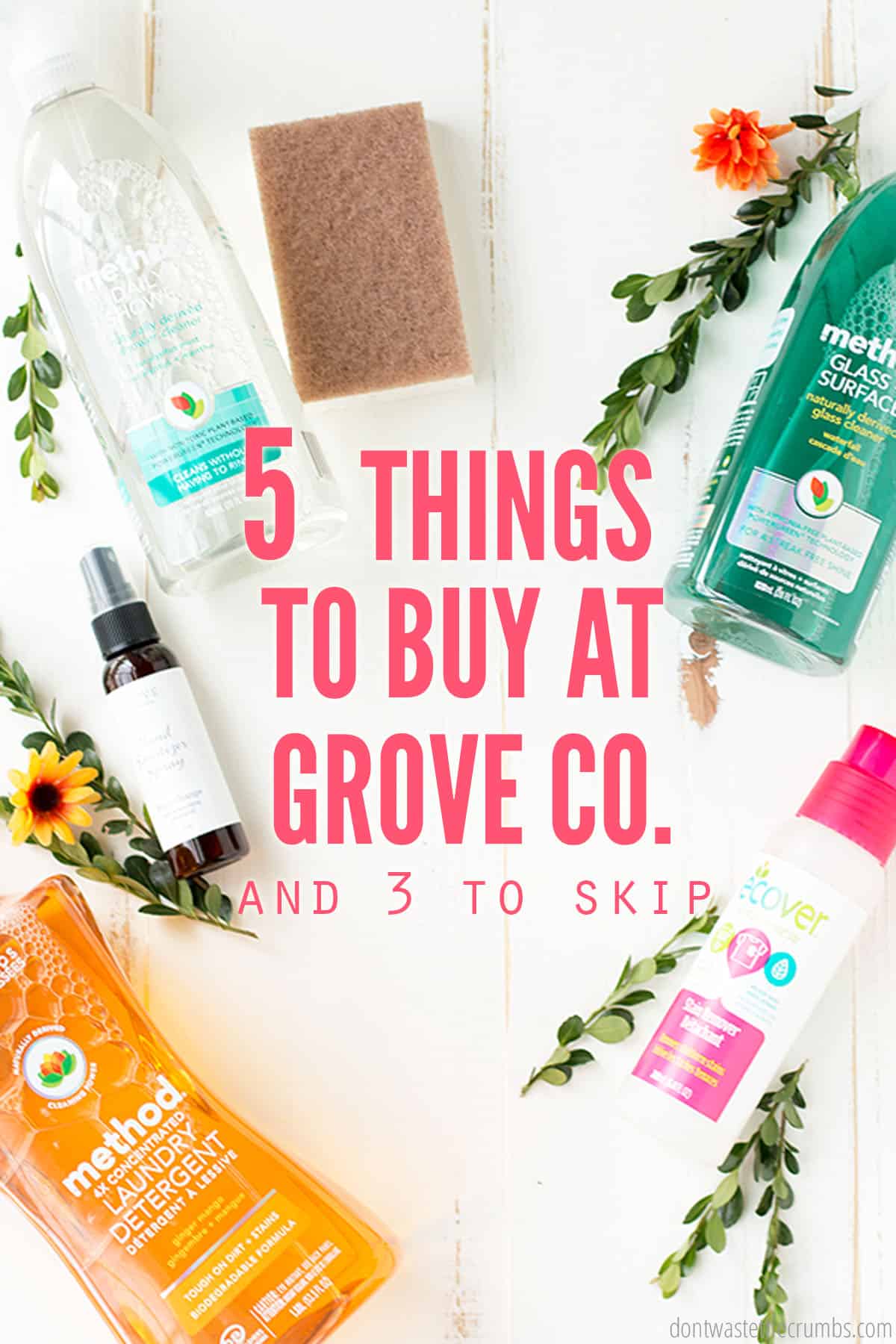 When we first switched to a real food diet, reading labels was absolutely crucial. There are so many different products on the market, and not all were considered healthy or safe.
Reading labels is what inspired us to make non-food things too, like hand sanitizer, foaming hand wash and even carpet deodorizer. I can't enough pronounce half the ingredients listed on some of those labels!
But harmful and unknown ingredients on labels are the main reasons I started shopping at Grove Collaborative. I also love it for:
Savings over supermarket prices
Convenience of online shopping
Control of my budget
Lots of freebies with the VIP membership
And I'm never out of the products I need!
5 Reasons to Shop at Grove Collaborative
1. High Standards for the Products They Carry
One of the reasons I started shopping at Grove Collaborative is because they only sell products that are:
Healthy
Effective
Sustainable
Affordable
2. They're a Certified B Corp Company
Grove Collaborative is a Certified B Corp, which is certification of rigorous standards of social and environmental performance, accountability and transparency. It's like what the USDA organic certification is for food, and what the Fair Trade certification is for coffee.
3. Excellent Customer Service
As I get older, customer service has become increasingly important to me. If I have a problem, I want it resolved without any fuss.
I've had to Grove Collaborative contact customer service a couple times because of a discrepancy in ordering (I took something out of my cart and thought I was charged). Customer service had it resolved quickly and even sent me the item I didn't intend to order, free of charge!
4. Ordering (and Cancelling Orders) is Really Easy
I love that I can set-up automatic orders on my own schedule – monthly, every other month, once a quarter… I set the schedule based on my own product usage.
Because of this, I never run out of what I need, nor have a bunch of products on hand that I'm not using. They email me a week before my order ships, which reminds me to double check my order against what I currently have. Adding or removing items is super simple, and I get what I need, when I need it!
5. VIP Membership Offers Free Shipping and Free Products
The VIP Membership isn't free (but see below – you can become a VIP member for free for a limited time!), but with it comes free shipping and free products every 60-90 days. When you break down the cost of shipping your orders, OR the value of the products they send, either of these options alone pays for the membership.
Now, With all that said, going on a blind spending spree at Grove Collaborative – or anywhere for that matter – isn't the wisest choice.
As I've been shopping there these past few years, I've learned how to spend my money wisely. I have a few tricks up my sleeve, and I'd like to share with you what things are best to buy at Grove Collaborative, and which ones you can skip.
Top Things to Buy 
1. Scrubbing Products
You can make your own DIY bathroom scrub using soap and baking soda, and I even have a tutorial for it right here, but too much baking soda can be harsh on certain surfaces.
Or if you're working on built-up dirt and grime, you might need something with more oomph before switching to a DIY bathroom scrub.
The first time I tried Mrs. Meyer's Surface Scrub, I fell in love. We used it to scrub the years of built-up dirt in the kitchen tile grout at a previous rental house. We tried all sorts of cleaners and concoctions – homemade and store-bought – but this was the only product that actually worked!
Mrs. Meyer's Baking Soda Cream Cleaner is another favorite of mine. Like the kitchen grout, we tried other options too, but this was the best at taking the grime and soap scum off.
2. Refills
When you've fallen in love with a certain product or brand or scent, refills are your best friend. It's like buying in bulk, but better!
At least half of the items I buy from Grove Collaborative are available in bulk, which saves me anywhere from 20-30% off the cost of buying each individual item.
Buying refills means less packaging and less shopping. Remember, if you're a VIP member, shipping is always free. If you're not a VIP member, stocking up on refills will save on shipping costs – but be sure to read below for an opportunity to try VIP for free!
3. Grove Cleaning Cloths
Grove Collaborative sometimes gives these cleaning cloths as VIP free items of the month. They're amazing! I loved both of these items so much that I invested in a second set of each!
Cellulose sponge cloths. They're like reusable paper towels, except they're super absorbent, dishwasher safe and hold up well over time to scrubbing and daily usage.
e-Cloth general purpose cloth. This was my first time using an e-cloth and I fell in love!

When it's wet, you can wash almost anything with just water without leaving streaks. When it's dry, you can use it as a dusting cloth.
I've used it on splattered grease, cleaning up after dinner and scrubbing down the kitchen table. It's gentle enough to use on painted surfaces (think cleaning doors around the door knobs – something the kids can do!) yet still tough enough to get dried on gunk off counters.
4. Laundry Supplies
Making your own laundry supplies is one of the easier natural living DIY's I've ventured upon. In fact, I've been using homemade laundry detergent, stain remover, and bleach alternative for years without any issues.
But that's not the case for everyone, and there are times when I am not able to make them myself, so Grove collective offers these excellent laundry products too!
Laundry Detergent
Fabric Softener
Stain Remover
5. Floor Cleaners
Grove has several options for hard floor cleaners like tile, hardwood & laminate. The best part is that they are safe for pets and kids, and they make the house smell so naturally clean!
Things I Don't Buy
For scrubbing stuff, refills, laundry supplies & floor cleaners, I prefer to shop Grove Collaborative. But there are a few things that they think I'll like that I almost always take out of my cart.
Note – my reasons for not buying these items from Grove Collaborative have nothing to do with quality. Everything I've purchased from them, or gotten for free because I'm a VIP member, has been exceptional. I simply do not buy these items for personal reasons.
1. Walnut Sponges
I've used their walnut scrubber sponge before, but they're a bit out of my price range to buy on a consistent basis. However, I fully take advantage of them when they're free for VIP members.
2. Hand Sanitizing Spray
I created my own hand sanitizer recipe that's really easy to make. Since I already have everything on hand and we don't use it often anyway, I prefer to just make it myself.
3. Toilet Paper
Unfortunately, my toiletry budget doesn't include room for recycled toilet paper.
4. Paper Towels
Ever since we switched to cloth napkins, I simply don't need to buy paper towels anymore! If you're still using paper towels, I encourage you to make the switch. I shared a step-by-step on how we set aside money to do this in this post.
Extras to try
I have an on-going wish-list of things I've been wanting to add to my cart, and I give myself a budget for every time I place an order. This is how I can manage our finances AND still try out new products!
1. Reusable Bags
Grove Collaborative has reusable bags in snack, sandwich AND gallon sizes!
2. Oxygen Whitener
I currently use this homemade bleach alternative, but I'd like to try the powdered oxygen whitener sometime since it might be easier to use with my front loader.
Grove Co. Tips
If you like all your cleaning supplies to have the same scent, I've only ever found whole product lines at Grove Collaborative (like soap, lotion, and body wash, in the same scent).
Plus Grove Collaborative carries exclusive seasonal scents like Peony and Lilac in the Spring, and Orange Clove and Iowa Pine in the Fall.
Grove Collaborative strives to offer the best price on all of their items, and they back this up. If you're a VIP member and find an item advertised for a less price elsewhere, send their amazing customer service department an email and they'll price match!
Exclusive for Crumbs Readers, for a limited time, new members receive a FREE VIP Membership for your first 60 days + FREE shipping and awesome gifts for joining (a Mrs. Meyers gift set & more)! Join Grove Collaborative HERE! 
FAQs
Is Grove Collaborative worth it?
I definitely think so! Between the convenience of having my cleaning products shipped to my door each month, the products from Grove Co. are also more affordable and safer than most supermarket products.

Is there a monthly fee for Grove Collaborative?
There is no monthly fee, but there is a minimum order of $29 for all orders. The VIP membership has lots of perks like free shipping and free gifts, and it is $20 a year (after a 6 month FREE trial).

How do I cancel my Grove Collaborative VIP Membership?
If you have a 60-day free trial, just cancel it before your trial period expires by emailing customer service, or logging into your account. The same goes for your annual membership. Just cancel it before your renewal date to avoid new charges.
5 Days to DIY Natural Living
Being healthy isn't just what goes IN your body, it's what goes ON your body too. Download my free guide 5 Days to DIY Natural Living to learn how to save money while getting rid of harmful toxins throughout your home.
More Ways to Save with Online Shopping