As I was writing these past couple of weeks, I realized that while I've shared my story with other bloggers, I've never sat down to write the whole thing out for you! So here it is in all its nerdy, frugal food glory. I hope you enjoy!
Back in 2006, while on a road trip with my soon-to-be husband, Mr. Crumbs brought up the topic of finances. He thought that since we would soon be sharing bank accounts, we should talk about how much money each of us owed.
I remember not being too keen on the idea, but it wasn't like I had a choice. We were about to share log-in ID's and passwords and open each others mail. We might as well get it out in the open and over with, right?
Well my friends, I won't go into the gory details, but let's just say when you added up everything we owed, it was enough to buy a starter home in the Midwest. A NICE starter home. With upgrades.
And that was scary! Not just that we owed such a large amount, but scary just to look at our debt in terms of totals rather than monthly payments. However, to this day, that discussion was one of the best moves in our relationship.
Fast forward about a year and Mr. Crumbs and I are making ends meet, paying bills on time and paying a little extra each month towards our debtors. We looked for ways to trim our spending, with the first being reducing our dining out bill (which was easily $600). We also traded my always-breaking coupe for a more reliable and comfortable SUV. All in all, were enjoying life as newlyweds.
So naturally, we took the next step as a married couple and bought a house.
And then two weeks later, we found out that we were pregnant.
My Real Life, Frugal Real Food Story
Although we were paying our bills, our sum of debt was still quite large, and quite scary when you consider the mortgage we just added to it and that we were soon going to be responsible for a baby… someone that I heard was quite expensive.
We reigned in our spending almost immediately. There is no way to know what the future holds, but if we were going to ever get out of debt, we had to start cutting some big corners.
We traded the gas-guzzling SUV for a small, compact sedan.
We traded his large sedan for an efficient coupe that was perfect for his 100 mile daily commute (round-trip).
And we cut our dining out budget even more, to just $40 per bi-weekly paycheck.
This was also the time we created our first official grocery budget. After talking about what we considered "fair and attainable," Mr. Crumbs asked if we could do it all on $400 each month. I said we could certainly try!
A couple of months into our new food and dining out budget, we began to see the savings really add up. We were putting hundreds of extra dollars each month to our debt – not just $10 or $20. It was so freeing to see the balances actually MOVE down instead of slowly creep.
Halfway through the pregnancy, we talked about whether or not I would return to work. I wasn't sure what to do either way, but I definitely didn't want to rule out the possibility of staying at home. We decided to experiment with our finances and see if we could survive on one income.
The goal was to save all of my income (and use it to pay off debt and fund a 6-month emergency fund) and live solely on his.
Making the Cuts
In order to make this happen, we had to cut our expenses in half. So we…
Budgeted tanks of gas per paycheck.
Combined our cell phones and reduced the minutes to the lowest plan possible.
Traded in cable for a basic satellite service.
Reduced our internet to the lowest package.
Even traded in our large trash can for the smallest.
We lived check to check, penny to penny for just over four months to give ourselves a reality check of what life would be like if I were to stay at home. And it.was.hard. It was all worth it though, because by the time our son was born, we had three months worth of living expenses saved up and had made serious strides towards our overall debt.
Related: The Secret to a Healthy Grocery Budget // 3 Things to Do Before Making a Budget
Seeing the progress we had made financially, it was easy to make the decision to stay at home with my son. I started a small business that earned just enough to pay for diapers and give us some breathing room each month. Our hard work was paying off!
And then when my son was 8 months old, we sold our house and moved to California.
Yes, there were costs associated with moving halfway across the country. Yes, we knew the cost of living would be higher. In fact, the rent on our tiny 800 sqft apartment was as much as the mortgage on our 1400 sqft house! But because we had worked hard at establishing a budget early on, we knew how to make it work. We knew how to live frugally and reap the rewards of saving money. In just one year, we had paid off half of our debt and nearly funded our six-month emergency fund!
Five months later, and just after my son had his first birthday, we found out we were expecting baby #2.
Having baby #2 didn't worry me. It was the cost of having two kids in diapers that kept the wheels in my mind turning. I was worried that with the cost of diapers (and everything else) going up, we wouldn't be able to save as much as we had been and it would take us even longer to pay off our debt.
Learning to Save More Money
That's when I learned how to coupon. I played the drug store game at CVS, buying toothpaste and lightbulbs and gum so that I could earn rewards to buy diapers. Mr. Crumbs thought I was a little crazy at first, but when he saw our lone linen closet fill up with every toiletry imaginable – and our spending NOT go up – he was on board.
Once I had mastered CVS, I expanded my couponing to include grocery stores. I could get boxes of cake mix for a quarter each. Boxes of cereal for 50¢ and granola bars for less than $2. Getting as much food as I could for as little as possible became "my thing" and I was really good at it. Oh good, that Mr. Crumbs asked if we could lower the grocery budget.
Say what?! We've doubled the size of our family, yet you want to reduce our food budget?
We gave it a test run for a month and aimed for $300. There was a little less toothpaste, and a little less deodorant, but with some creative planning and shopping in bulk at Costco, we were able to meet the new grocery budget goal. This meant that we could be on target to pay off all of our debt before baby #2 arrived, and with God's grace, we did!
Just before our daughter was born, we sent off a car payment – the last payment that officially made us debt free!
Related: Homemade Toothpaste // How to Make a Toiletries Budget

Ditching the Boxes
Fast forward to 2012, when Mr. Crumbs said something that would forever change how I viewed food:
"Honey, I feel like we don't have any food in the house. We're always eating out of boxes."
Hmmm… I really wasn't sure what to think about that. That was the food I was buying with coupons. And I used coupons because we had a strict grocery budget. Was I missing something?
Yes – the food! As I looked around the kitchen and opened all the cupboard doors, all I could see was box, after box, after box. It wasn't food per se, but that's what we were eating on a regular basis.
Boxes of cereal for breakfast. Boxes of crackers and granola bars for snacks. And boxes of cake mix for dessert. All bought because we were on a budget.
Trying to be an agreeable wife, I said I would start looking into our food and to try to buy more "real food" than boxes going forward.
Several documentaries later, (including Food Matters, Food, Inc., King Corn and Forks Over Knives) and I was convinced that our boxes need to go. Until that day, I never thought about how my eggs were raised never crossed my mind. Or the living conditions of the chicken I bought. Or how clean the stalls were of the cows who produced the milk I gave my kids.
I also didn't relate my health to the food I put in my body. I see now that it's a logical conclusion, but at the time, I didn't see the link. The food I eat directly relates to the health of my body.
Mr. Crumbs' gentle suggestion of eating more real food and less boxed food officially became my mission. I had no idea what I was doing or what I was looking for, but lots of things had to change. And the budget wasn't one of them.
I began following some real food blogs and made small changes in our kitchen that didn't impact our grocery budget. Then, I read the weekly circulars, read labels before buying anything and started to meal plan. Also, I carefully tracked my spending and told Mr. Crumbs when we were getting lower on funds so we could be on the same page.
Related: Why I Quit Coupons (and Saved More Money) // Best Foods to Make from Scratch // How to Eat Real Food on a Budget
Then gradually over time, by making one small manageable change at a time, we began eating only real food. It took us eight months to go from all boxes to no boxes – EIGHT MONTHS!
It's also took us nearly an entire year to figure out what number worked best for our grocery budget. Now that we're in the groove of real food, we're feeding the four of us on just $330 each month.
Update: Our journey of real food eating and keeping a budget allowed us to reach our dream goal of buying a home with cash! You can read more about that story HERE.
Baby Steps
You would think that it would be easy to just stop spending as much, turn a blind eye and never buy a box again, but it isn't. Real food is truly a journey, and it's full of lots and lots of baby steps. I know this first hand. You won't succeed if you try to completely healthify your kitchen overnight. That's not me being pessimistic – that's just being realistic! There's too much to learn, too much to replace and too much to make from scratch.
But here's what I do know, what I've learned from experience: It is entirely possible to eat real food on a real budget.
You can do it too.
If you haven't already, I encourage you to talk to your spouse and get on the same page regarding a grocery budget. This post on creating a frugal grocery budget will walk you through the first steps. You Need a Budget Software helps us stay on track with our spending.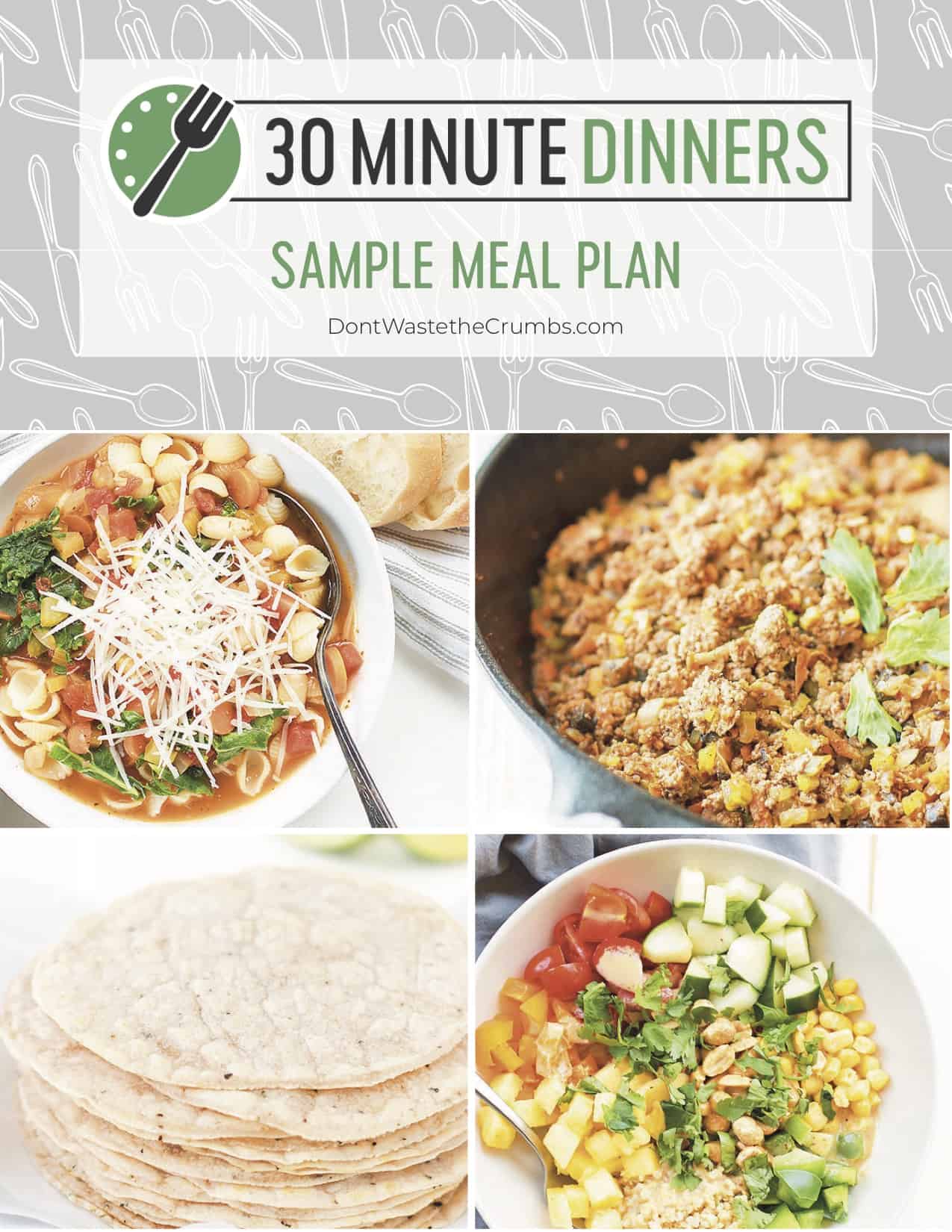 30 Minute Dinners Sample Meal Plan
Sign up to get instant access to my
30 Minute Dinners Sample Meal Plan
, complete with recipes and step-by-step instructions!
So that's my story. Can you relate? Do you have any questions? Please share your story in the comments!