Several years ago my husband and I cut our monthly expenses in half and somewhat randomly set a grocery budget of $400 a month for the two of us based on what we were spending.
Now we've grown to a family of four and REDUCED our budget to just grocery budget of $330 a month.
I've learned over the years that guessing and assuming when it comes to the budget won't work. Coming up with a number for a frugal grocery budget cannot be random. In fact, it must be strategic!
Here's why: numbers don't lie. Your income is a certain number. Your monthly bills are a certain number. The cost of groceries based on where you live and the food you like to eat are certain numbers.
You can't ignore these factors and just hope you can eat food for the month. Heavens no! You must take into account several factors before working with a frugal grocery budget. Don't worry though – I'm here to walk you through it!
Why Make a Frugal Grocery Budget
Before I jump in, I want to offer a good reason to make a frugal grocery budget in the first place: to save money.
What you do with the money you save is entirely up to you. Our "one day" dream was to buy a house with cash, and you know what? We did it!
Maybe your dream is to pay for your kids college so they don't have student loans. Or save up for a new-to-you car. Or to build the emergency fund in case the breadwinner loses their job.
Whatever the reason, the biggest reason to make a frugal grocery budget is to save money. The secondary reason is because food doesn't have to cost so much!
When your eyes are set on the bigger prize, you'll get creative and think of ways to get more out of your grocery budget and the food you buy with it. You'll soon realize that you can eat VERY well for not a lot of money – but it's all about being strategic!
I've shared the exact strategies I've learned from the years of working within a frugal grocery budget in Grocery Budget Bootcamp. However, I want to share the basics of how to make a frugal grocery budget here because I believe it's absolutely vital to ever feeling unstuck from the hamster wheel of real food on a budget.
So here we go!
How to Make a Frugal Grocery Budget
1. Commit
You absolutely, cannot, in any way shape or form, create a frugal grocery budget NOR work within a budget if you're dead set against it. It simply will not work.
So mentally prepare yourself first. Commit to make a grocery budget – no if's, and's or but's allowed. There will be a cap on your spending, and if you reach the bottom of the money jar before the month is over, you're going to have to learn to make do with what you have.
But take heart – eating well with only your pantry at hand is not an impossible task. We once went 33 days without spending any money at all.
Husbands and wives need to be on the same page with the grocery budget as well. A sit down with the family to explain why it's important to have a grocery budget, and how it will allow you to achieve your greater money goals together and stop living paycheck to paycheck.
Soup nights, leftovers and meat-less meals go over much easier to manage when the family knows the reasoning behind them.
2. Add Up Your Current Spending
This step takes a little bit more time. To figure out what you SHOULD spend on groceries, you need to figure out what you ALREADY spend on groceries.
For the next month, keep every single receipt you spend on food, including dining out. We're not going to account for that in the final budget tally, but seeing how much you spend eating outside the home is very insightful while in the budgeting process.
Now be careful – you might be tempted to cheat. A tall cup of coffee from Starbucks or a bag of popcorn while shopping at Target seem harmless, but it's still food and it still counts!
At the end of the month, add up all the receipts for a grand total. This total is your starting point. From here on out, your first goal is not spending more than that on groceries. Your second goal is to lower your spending.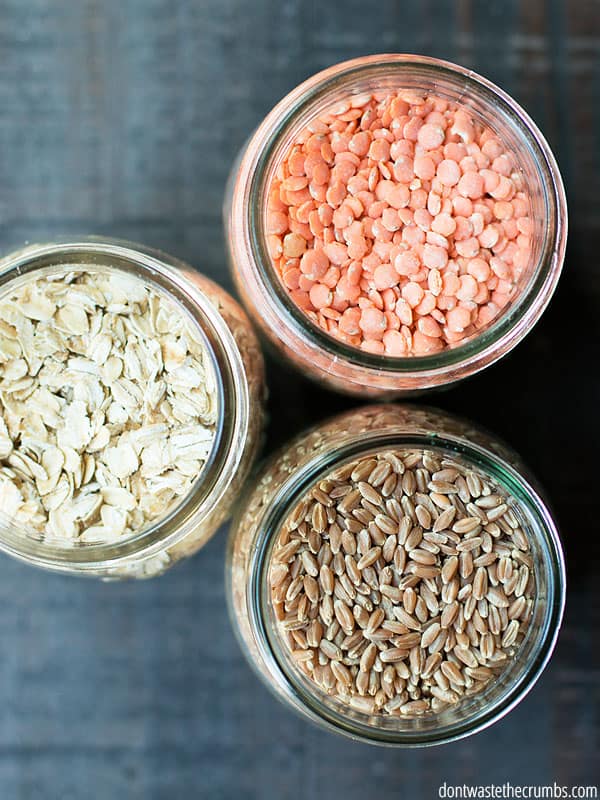 3. Start Cutting Back
This is the bulk of the process and it doesn't happen overnight, so be prepared for the long haul.
There are lots of ways to reduce your grocery spending, with cooking from scratch, buying in bulk and using coupons and rebate apps (although I personally don't use coupons anymore). But here are some "out of the box" ways you can cut your spending too:
categorize your spending according to the foods you bought and eliminate anything that didn't fall into a major food group
stop buying food when you're doing other things (i.e. a bag of popcorn while browsing Target, coffee from Starbucks while running errands)
conduct a pantry inventory (and fridge and freezer inventory) so you can see how much food you ALREADY have before you go shopping again
keep your pantry stocked with real foods so you're not tempted to buy junk or eat out
start a price book (because you can save HUNDREDS of dollars a year)
4. Refine the Process
This is where the rubber meets the road. You want to save money? Then do it.
Make the hard decisions. Skip the wants. Eat leftovers AGAIN and purposely have beans and rice for dinner. Or go extreme and spend just $50 a week on groceries.
Hold yourself accountable. Don't make excuses and just keep trying.
There's no way you can completely overhaul your kitchen and eating habits overnight.  If you want the changes to be successful, they must be done in baby steps and slowly over time.
When you've reached this point, take a look at the types of foods you spend the most money on and start there.
It takes a lot of hard work and dedication to keep up with a frugal grocery budget, but it can be done and let me tell you, it is SO worth it! There is a light at the end of the tunnel and your efforts will bear fruit.  I promise!  Just keep putting one foot in front of the other…
Do you need some help TODAY with your grocery budget? I created a resource to help you start saving money on groceries NOW. See if My Grocery Budget Toolkit is right for you! -> CLICK HERE
Have you made a frugal grocery budget yet? May I ask how much you spend on groceries and how big your family is? I'll go first. For my family of 4 I spend $330/month.