Explore these 10 Ways to Save Money on Coffee at home with these great tips to help you enjoy a great morning brew without busting the budget! Enjoy a cup of coffee with our rich and delicious Homemade Vanilla Bean Coffee Creamer.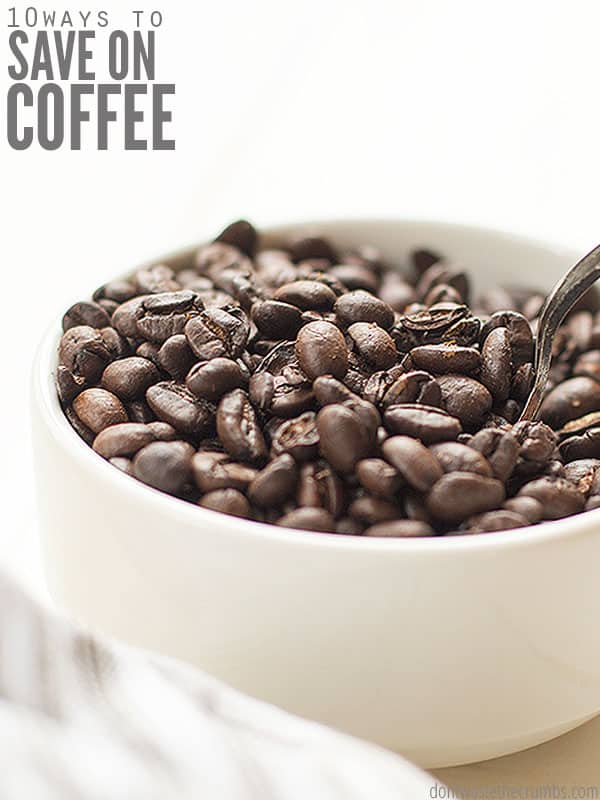 Coffee. It's love – love relationship.
There's no hate when it comes down to this deliciously dark beverage, infused with a teaspoon of milk. Only love.
While we're a pretty frugal household (most of the time), there is no frugality, no compromising when it comes to coffee!
In fact, my husband and I once got into an argument when I suggested we drink up a small container of instant coffee when we ran out of fresh beans a few weeks ago.
Nonetheless, you can still pinch pennies and drink quality brew.
10 Ways to Save Money on Coffee
1. Buy coffee beans in bulk
For the freshest and most cost effective cup of coffee, buy 2-5 pounds of coffee from Costco (we like the rainforest blend from Costco) or Sams, instead of buying one pound from the local grocery store, or 50 lbs in bulk.
2. Grind your own beans
This may sound redundant. "Everyone" knows that freshly ground coffee tastes better, right?
The reasoning is that whole beans stay fresher, longer than ground coffee. Here's what likely happens with ground coffee:
You buy ground coffee and it's great for a few days.
And then your coffee isn't so great.
You blame the coffee grounds, thinking they've gone bad and toss them out.
What have we done? We've literally thrown away money! Which, in the long run adds up to a lot of money.
Preserve the freshness of your coffee and buy whole beans (in bulk). Grind them yourself with a simple grinder – you don't have to get all fancy and expensive. (This was our very first grinder, but I bet you could find one similar to this grinder at Walmart or Target for $10 or so, without spending the extra money.)
3. Grind the coffee grounds…again
Whether you buy whole beans (which I hope you've decided to do) or pre-ground, grind the coffee yourself (again). The best cup of coffee will come from super fine coffee granules.
I owe this tip to a friend of ours. My husband went to visit him a while back and was offered a cup of coffee. My husband found it smooth and clean… so much so that he had to ask what kind it was! Do you want to know what the answer was?
Folgers.
Yep! Nothing fancy, regular pre-ground Folger's coffee. My husband was so sure it was a higher-end, "fancy" coffee, but not so! His friend had merely taken those grinds and ground them again himself, resulting in a superfine granule that brewed a great cup of coffee.
4. Measure the coffee grounds yourself
Some coffee grinders have a setting that allows you to choose how many cups of coffee you're making and in turn, the grinder will grind enough beans for those cups. Be sure your grinder is accurately measuring. My grinder gives me 5 extra tablespoons when I set it for 10.
Think 5 tablespoons doesn't really matter? Think again!

5. Don't grind coffee every day
Save time and grind enough beans to cover about three days. For me, that would be two rounds of my coffee grinder at 10 cups (15 tbsp + 15 tbsp = 3 days of 10 scoops).
When the grinder is done, I measure the grounds into an old sour cream container and then scoop them out from there.
6. Clean out the grinder often
Keeping your grinder clean of clogs means a more efficient machine that will last you longer, and give you a better cup of coffee.
7. Make just enough coffee in the coffee maker
For some reason, we seem to be drawn to making a full pot of coffee… just in case. But how often do we actually drink it all?
Figure out how much coffee you actually consume and then make just that amount. If by some strange chance you want a third cup, you can always make more!
8. Drink yesterday's coffee
The idea that today's freshly brewed cup of coffee tastes better than yesterday's is not always true. The only difference is today's coffee is hot! So what's the solution? Keep yesterday's coffee and reheat it. It's as simple as that!
9. Refrigerate leftover coffee
If reheating yesterday's coffee doesn't sound appealing, consider putting it in the refrigerator instead. Then you'll have an iced coffee ready and waiting for later (which is MUCH cheaper than the coffee shop iced latte).
10. Freeze leftover brew
There's cold coffee in the fridge, but there's a way to keep it colder LONGER without watering down our homemade iced coffee – coffee ice cubes!
Pour the leftover coffee into ice cube trays, freeze and voila! You'll have delicious iced coffee that won't water down as the hours pass by!
Does Grinding Your Own Coffee Save Money?
Yes! Hands down, by following the 10 tips above, you'll find that grinding and brewing your coffee at home is just as satisfying and much more affordable than buying a cup of coffee out. (Save your special trip out to the coffee house for a double shot of espresso!)
Remember that you can also customize your grind texture to save money. A finer grind will go further than a coarse grind.
5 days to save $75
Need to save money on real food? Download my free guide to saving $75 in 5 days using easy, practical baby steps.
More Easy Ways to Save Money