38 ways to save money on food to help slash your food bill and groceries. The best way to save money on real food all year round!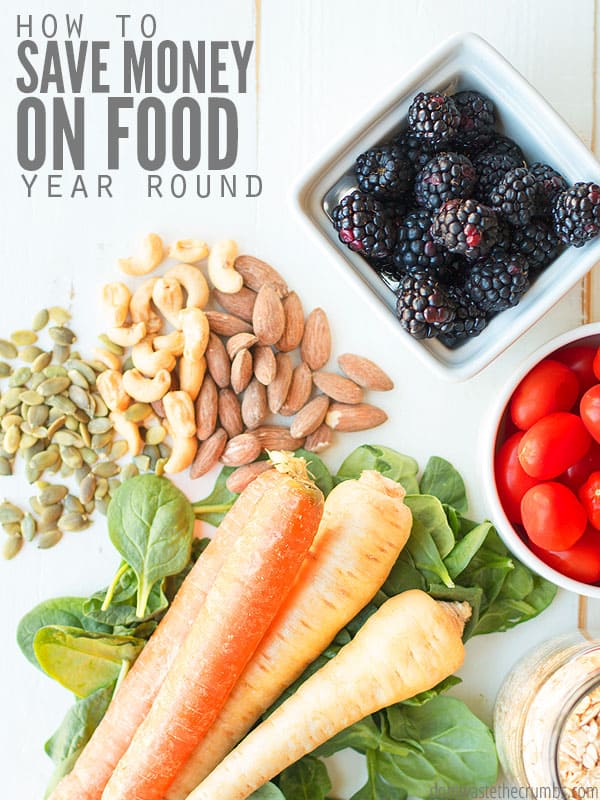 I like to think that with every new season, comes new creative ways to save money on your grocery budget.
Over the years I've learned it's not all about WHAT you buy, but how and when you buy it. In fact, adjusting your mindset on how you shop makes the savings start to add up– and this is EXACTLY what I teach in my course Grocery Budget Bootcamp.
Having the right frame of mind is vital to saving money on groceries,  but it never hurts to have practical tips, too.
I've been collecting tips over the years, the small things we've done to help our grocery dollars go just a teeny bit further, and I'd like to share these 36 ways to save money on food with you today!
Now, there are plenty of "broad scope" tips that I've shared before, like shopping in bulk and cooking in batches and shopping online and eating leftovers and even making chicken stock out of kitchen scraps. So, the various ways to save money on food that I'm sharing today are more specific. These are the types of things you'd find your best friend telling you, or more accurately, the things I'd tell you if we were sitting together at my kitchen table!
I've organized these ideas according to the season, but that doesn't mean a money saving tip in summer won't work for winter. Be sure to read through all of them so you can start using the ones that would work best for you right now!
Ways to Save Money on Food in the Spring
1 – Know what the stores charge
Farmers markets open in early Spring, but before you start shopping your whole list, make sure you know what the stores are charging, too. Check your local circulars or use your price book to compare the two. Purchase from whoever has the best deal that week to save the most money.
Check out my  Ultimate Guide to Shopping the Farmer's Market on a Budget for more!

2 – Buy one extra pound
The fun fruits of the year start making their appearance in Spring, so take advantage by buying just one extra pound of fresh fruit each week over the Spring and Summer. Preserve this fruit by freezing, canning, or dehydrating and if you're faithful, you'll be able to enjoy these fun flavors throughout next winter!
3 – Fresh corn vs. canned corn vs. frozen corn
Sweet corn is best in Summer and you can save by stocking up when ears are 33¢ or less. Cut the corn off the cob and freeze in 2 cup portions. Doing this can save money instead of frozen corn and it tastes much better!
4 – Choose fresh over frozen during the season
Fresh foods almost always trump frozen food when it comes to taste, and they tend to be cheaper when they're in season, too! Make a note on your shopping list to browse the produce aisle first before the frozen aisle, and see if those items are cheaper fresh!
5 –  Make the farmer's market your first stop
Since the selection at farmer's markets vary from week to week, it's hard to predict what you'll find. Make this your first stop on shopping day, so you can take advantage of what's available. Make the regular grocery store your last stop to pick up what you couldn't find, or to fill in for something that was out of your price range.
6 – Buy the whole vegetable
Carrots come with green tops and beets come with sturdy greens. Whenever possible, buy the whole entire vegetable so you can take advantage of those extra items! In fact, I've noticed that the entire vegetable – carrots WITH tops and beets WITH greens – often cost LESS than they're topless counterparts!
Carrot tops can be used as a traditional herb in salads or in pesto, while beet greens can be used interchangeably with collards, mustard greens, and kale. There are many other ways to use food scraps HERE.
7 – Track the price of fresh produce
Tracking the cost of fresh produce in your price book now can help you determine next year what to plant in the garden. Tomatoes and fresh herbs, just to name a few, are easy to grow and growing your own can really offset the grocery budget!
8 – Shop the garden
If you grow a garden, always shop there first. Substitute wherever possible, including fresh produce for canned!
9 – Buy one of the "fun" foods
Some items like blackberries and raspberries are significantly more expensive than others like strawberries and peaches– but that doesn't mean you can't have them! Make room in the budget for just one "fun" item and many more of the lesser cost items. You'll be able to enjoy the fun foods of the season without sacrificing the budget.
10 – Delay going shopping
Eating what you already have in the house is a great way to save a LOT of money. Sometimes we get to the end of a week and think we are just supposed to go get groceries, but the pantry, fridge and freezer still have lots of food. Instead of rushing to the store, delay as long as you can and eat what you have.  They may not be your favorite meals, but they are food that you already paid for. Eat up your leftovers, avoid going out to dinner and try eating a hodge-podge meal instead of the standard protein + veggie + starch.
Learn more about this in my Grocery Budget Bootcamp!

Ways to Save Money on Food in the Summer
11 – Preserve your own
So much produce is at its prime in Summer that it would be wise to preserve what you can for later in the year. Consider canning or freezing tomatoes (including sauce if they're past prime), green beans, and corn. Try to dehydrate your own herbs if possible too.
12 – Weigh your fruits and veggies
Always weigh your produce, even if it's a per item price. Getting in the habit of this will help you identify whether you're getting a good deal for something. Most of the time, heavy produce like melons and winter squash are more affordable at a per-item price than per pound. Aim for $2 or less per item, or 50¢ per pound for a great deal.
13 – Substitute for seasonal
Many people subscribe to CSA's for the summer – myself included. Take liberty in substituting whatever you find from your box with what's in the meal plan. If you get beets one week, but they're not on the menu, save the buttered peas for another night and make beets!
If there's not a local CSA in your area try an online market like Nature's Garden Express!
14 – Eat more fresh foods and less meat
Fresh produce is the highlight of summer – it tastes better and is super affordable. Eat as much of it as you can right now and by default, you might find yourself eating less meat (which costs more). You can even stretch your meat- check out 10 Ways to Stretch Meat at Home.
15 – Cook from scratch as often as possible
This is another great tip we go over in Grocery Budget Bootcamp. But what staples can you try to cook from scratch? Salsa would be a great one. This easy homemade one, this chunky one, or this mango salsa are great to start with. Have you tried bread like 90-minute man bread yet? Even 2-minute mayo or ranch dressing you can make at home to save some money.
Need some more ideas, look at Best Food to Make From Scratch.
16 – Eat out the cupboards
Now is the time to eat whatever items you have stored in the back of your fridge, freezer, and pantry. Summer harvest ends soon and you'll need the room to start putting up fresh foods for this winter.
17 – Substitute for what's on sale
What's readily available varies region to region, so substitute for whatever is on sale in YOUR area. That may mean apples for peaches or apricots for strawberries. Pay attention to the sales AND your meal plan and substitute to save!
18 – End of season produce
Take advantage of the end of the summer by picking up a few extra pounds of fresh produce. Freeze, dehydrate, or can so you can enjoy the freshness into the coming winter months!
Related Post: How to Freeze Herbs
19 – Enjoy apples and squash
Apples and squash make their debut at the end of summer, and there's so many different varieties to choose from that there's something for everyone. Find a variety of apple (and squash) you like and eat to your hearts' content while they're in season.
20 – Go u-picking
Speaking of apples and squash, pick your own for maximum savings. U-pick farms usually don't spray much for pesticides, so while you might not be getting organic, they'll be local, low in pesticides, delicious and affordable!

Ways to Save Money on Food in the Fall
21 – Squash vs. Pumpkin
When you think about it, pumpkin IS a squash, so it shouldn't surprise us that the two can be used interchangeably in most recipes. Switch out pumpkin for squash, or squash for pumpkin, depending on whatever is cheaper!
22 – DIY pumpkin puree
Depending on the price of pumpkin puree, it may be cheaper to make it yourself. But it might not be too! Cost compare by dividing the cost of a small baking pumpkin by 24 and the cost of a can by 15. Choose whichever is cheaper!
Try these Pumpkin Swirl Black Bean Brownies with your own pumpkin puree!
23 – DIY apple cider vinegar
Making your own apple cider vinegar out of apple peels and cores is a no brainer – and it saves a ton of money! Start collecting the peels and cores and start a batch when you have enough. Be diligent through the apple season and you might have enough to last all year!
24 – Stock up on Turkey and Ham
Take advantage of sales in November and stock up on turkey and ham for the next few months. I've seen both meats as low as 49¢ per pound and you can substitute shredded turkey for almost any recipe calling for shredded chicken!
25 – Stock up on baking supplies
Although prices for baking items don't vary too much, baking RELATED items will be more affordable this month. Think baking cups, muffin tins, cookie sheets, bread loaf pans, parchment paper, etc. Make sure to compare your local store prices to online stores like Amazon for these items, too.
26 – Preserve cranberries
Fresh cranberries are on store shelves for a very limited time, so take advantage while you can. Freeze them whole, or consider dehydrating them for dried cranberries year round!

27 – Pears vs. Apples
Pears are in full season in December, and can be used interchangeably in almost any recipe that contains apples. Although apples are inexpensive, too, they are usually affordable year round where pears are not, so take advantage!
28 – Bacon grease for cooking
Always save bacon grease. It's a healthy cooking fat that is essentially free and would otherwise get thrown in the trash can!
Take a look at How to Save on Groceries Without Using a Calculator for more.
29 – Real food appetizers
December usually means parties, and the best dish you can bring is an appetizer tray made with a variety of items you already have. Think of vegetable trays with a sour cream dip (using homemade dry onion mix) or fruit dipped in chocolate. These are very simple, flexible, and affordable meals to take to any party!
Ways to Save Money on Food in the Winter
30 – Maximize citrus
When buying citrus specifically for juicing OR for zesting, always do both. Zest the fruit first, then juice it. Freeze the zest in a small freezer-safe container and measure the juice into 1 Tbsp servings into an ice cube tray. Remove cubes and store in a freezer-safe bag.
31 – Save partial leftovers
When there's partial leftovers from cooking a meal, and you're not quite sure what to do with it, choose one of the following options:
– Produce: add it to muffins or pancakes, a smoothie, or puree it and freeze it into cubes for later.
– Cheese: shred/dice (if not already) and freeze for later.
– Meat: shred/dice and freeze to add to soups.
32 – Substitute produce
Almost every winter squash tastes just like any other winter squash, so substitute for a different variety if one is available for less.
33 – Try a different bean
One of the best frugal proteins are beans, but don't get stuck if you don't have the right variety! Adzuki and pinto beans can be used instead of black beans, and navy or great Northern beans can be used in place of cannellini. As a bonus, you might find a bean to please even the pickiest of eaters.
Learn how to make your own beans from scratch HERE.
34 – Strategically buy in bulk
While almost anything CAN be bought in bulk, there are a few items that should be bought in bulk. Buying yeast and coconut oil in bulk can save you a tremendous amount of money in the long run. If you have extra money in the grocery budget, whether from last month or this month, I encourage you to find a good source for both yeast and coconut oil. Also check out THIS post for 5 fail-proof ways to reduce grocery spending.
35 – Save ALL the bones
Always save ALL the bones from every piece of chicken that comes into your kitchen. Whether it's from a chicken you cooked or from a dinner plate – they can all be used in homemade stock. Store them in a plastic freezer-safe bag and add them to the pot the next time you make stock. This not only re-uses what would ordinarily be thrown away, but adds more nutrients to your chicken stock and allows you to make more stock with what you have.
36 – Make your own spice blends
Spice blends can easily become the demise of your budget, but you can work around this by making them yourself. Buy the plain spices (cumin, garlic powder, etc.) locally for $1 and mix/match to create your own blends. Label appropriately, including how much you need to make a marinade or dressing. Keep the recipe handy (in the spice cabinet itself is a good spot) so you can easily make more when needed.
37 – Include "catch-all" meals
Several meals throughout the month can be designated as "catch-all" meals. These types of meals are perfect for using up small portions of ingredients that you're not quite sure what to do with. Namely, soups, salad, and grilled sandwiches are ideal. Take advantage of these meals and add any extra ingredients you might have on hand that need to get used up.
38 – Meal plan
Make a meal plan so you make sure you use up all the food you already have and have meals that work with your calendar, not against it. If you need some help or a jump start, check out any of my meal plans HERE.
Whether you're a newbie in the real food world or a veteran of Grocery Budget Bootcamp, there is always more to learn when it comes to saving on groceries!
Don't be afraid to try something new
Tuna salad on biscuits? Peanut butter and jelly on an English muffin? Although not a traditional meal, there's nothing wrong with either one of these – especially if you're already making biscuits or English muffins. What's the point of adding more work? Double the recipe you're already making, use it in place of something else, and save time and money.
What is your favorite money saving tip?