Freezing lemons, oranges, & limes is easy and a great way to preserve fruit! Learn how to freeze citrus in a variety of ways – whole, sliced, or as juice. Perfect for making healthy lemonade in any season, cilantro lime dressing for salads, and more!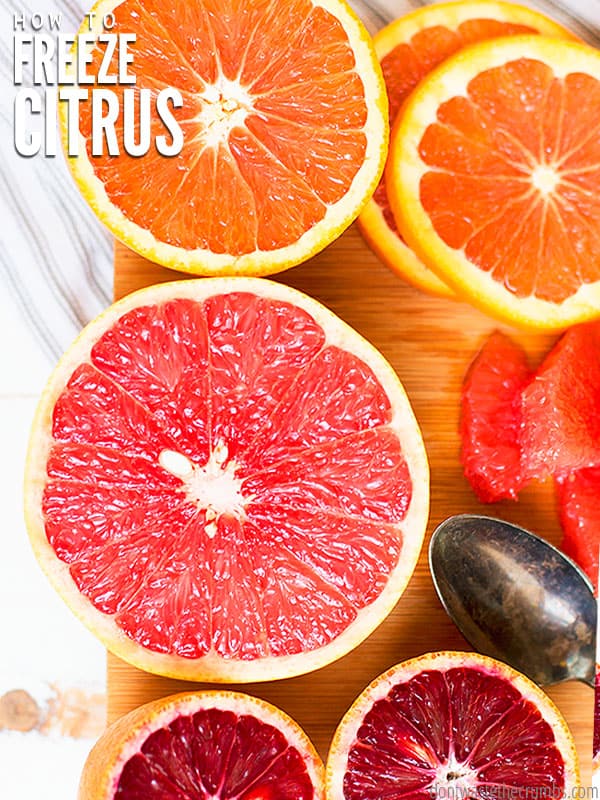 I always feel conflicted when I buy lemons… I only need one or two, but the bag is SO much cheaper!
Even while standing at the store I can talk myself into using the extras for strawberry lemonade donuts, strawberry lemonade kombucha or even chicken piccata… and that uses up maybe half the bag.
But what about the rest?
Thankfully, I've learned how to freeze lemons! And how to freeze oranges and fresh limes and all citrus fruit really, so you can buy that bag and not waste a single cent!
Why Freeze Lemons, Oranges and Limes
Obviously, freezing lemons, oranges, and limes will save you money. Especially if you're like me and can't help but buy the bagged fruits to save a couple of dollars.
But freezing citrus will also prevent food waste, which also saves money, but in a different way.
When you opt for buying in bulk at the store, you're saving money upfront.
But when you avoid throwing food away, you're saving money on the back end because you're not going back to the store to spend more money. You're simply using what you already have!
On top of both of these, freshly juiced citrus tastes good and has many health benefits.
I use bottled juice often in recipes where it doesn't matter quite so much, but when lemon, orange, or lime is a major player in the flavor of the dish itself (like healthy lemonade, cranberry orange granola, and lime crema), fresh citrus is the only way to go.
So let's talk about how to freeze lemons, oranges, and limes!
How to Freeze Lemons
There are a few different ways you can freeze lemons, oranges, limes, and other citrus fruits. No one way is right or wrong, and each method has its own pros and cons. Let's talk about the different ways to freeze citrus fruit and you can decide which works best for you!
How Do You Freeze Fresh Lemons Whole?
Freezing lemons and other citrus fruits whole is the easiest and most straight-forward method. To do this, simply put the whole citrus fruit in a freezer-safe container, remove as much air as possible, and freeze for up to 6 months.
When you freeze lemons whole, it actually makes it EASIER to zest, and the freezing process breaks down some of the proteins in the citrus making them super juicy when they thaw.
If you typically use citrus fruit for the zest and juice, freezing the fruit whole might be a good option for you! This would make healthy lemonade super easy to make year-round!
How to Freeze Oranges Slices
If you know you'll need orange slices later, then you can cut the citrus into slices and freeze them and they'll be ready when they thaw!
This is a great option if you use slices of orange or lemon in recipes like lemon and herb sheet pan chicken, where the slices of stuck under the skin of the chicken before roasting in the oven.
Freezing Orange Segments
If you like to have orange segments in your winter salads, follow these three simple steps:
Cut the orange into segments.
Place the segments in a single layer on a baking sheet lined with parchment paper or a Silpat mat.
Flash freeze for an hour, then remove to a freezer-safe container.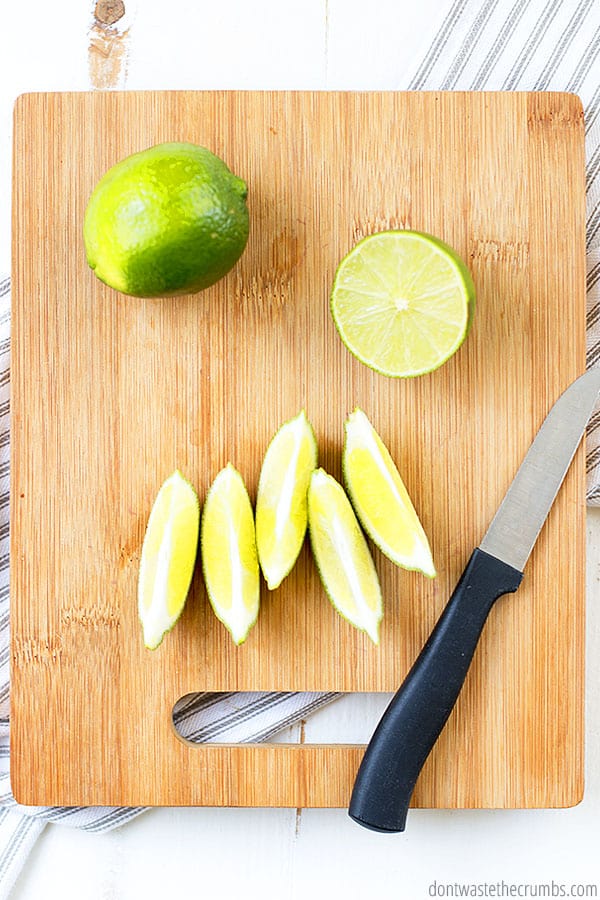 How to Freeze Lime Half Slice
Do you like to add a half slice of lime to your plain sparkling water or as a garnish on your cocktail? Then freezing limes in half slices would be a great option!
Simply slice the lime into slices, then cut each slice in half. Use the same method above for freezing orange segments and store them in a freezer-safe container!
Can you freeze just the rind?
You CAN freeze just the rind of a lemon, orange, or lime if your plan is to zest it later. However, I've found that it's much easier to zest the whole fruit than it is to zest the rind.
Plus, when you zest citrus, you want JUST the colored portion of the fruit, not the white part. The white part is bitter and it doesn't taste good.
Can you freeze fresh citrus juice?
Yes! Juice the fruit like you normally would – with a powerful juicer like this one or a basic juice like I have – and freeze the juice in an ice cube tray.
Most ice cube trays are either 1 tablespoon or 2 tablespoons per cube, so measure before you freeze so you know later how much each cube is. When the tray is frozen, move the cubes to a freezer-safe container, label the container (along with whether each cube is 1 Tbsp or 2 Tbsp) and store it for later!
Best Practices for Freezing Citrus
If you don't have a plan for the citrus you bring home, freeze it sooner rather than later. That way you avoid the risk of the fruit getting hard and gross at the bottom of the crisper drawer while you weren't paying attention.
Always label the contents and date. NEVER trust your future self to remember what is in that frozen container, because you won't remember!
Don't store frozen citrus in the deep dark abyss of the deep freeze. You'll forget it's there, so store it on the door shelf, or someplace else that's highly visible.
Other "How to Freeze" Tutorials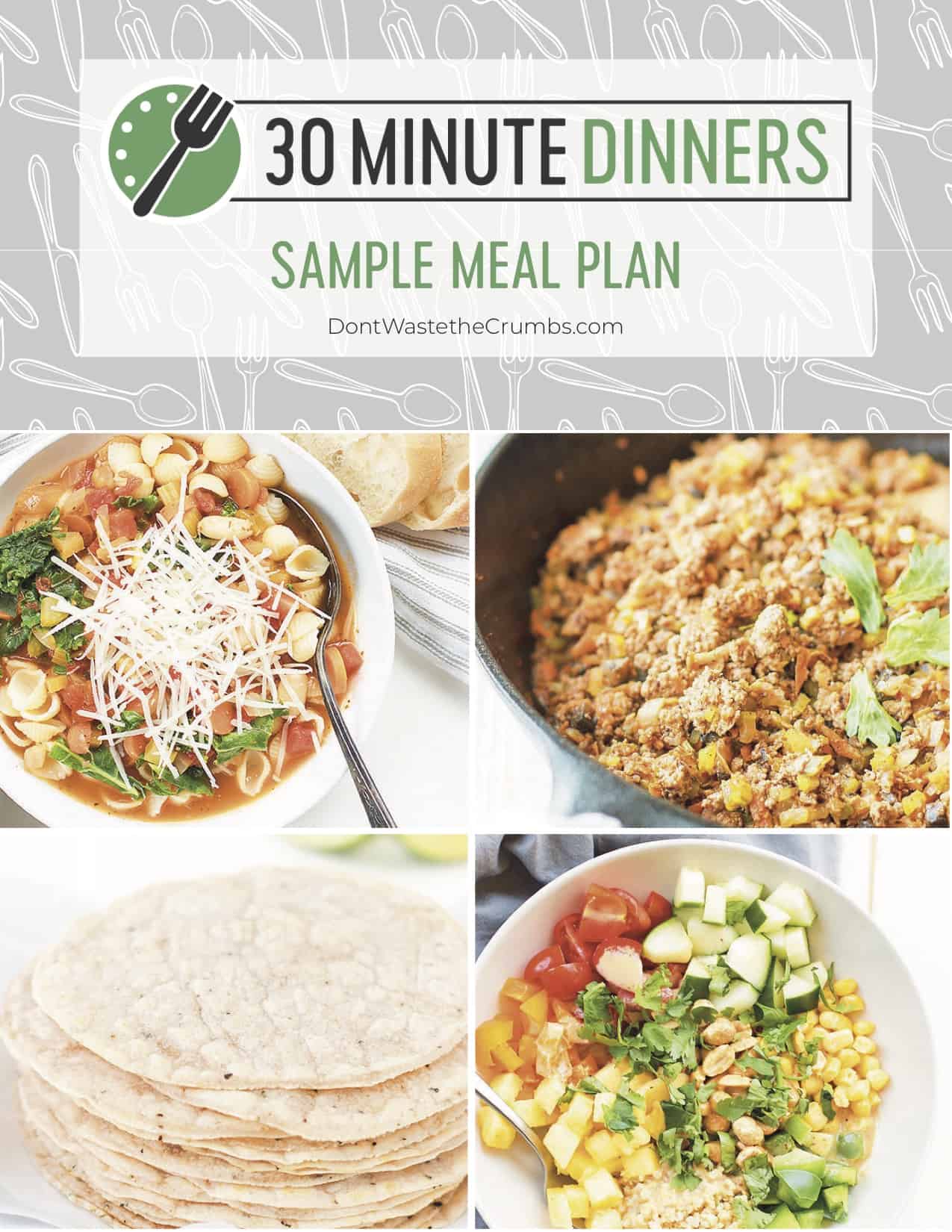 30 Minute Dinners Sample Meal Plan
Sign up to get instant access to my 30 Minute Dinners Sample Meal Plan, complete with recipes and step-by-step instructions!